Reception 2021 admission information
Admission Information for Reception 2021
It is at this time of year that parents begin making the all important decision as to where their child will begin their school journey. We know that many of you will want to see what schools have to offer with your decisions this year being largely based on more remote judgements of settings.
We are still conducting 'look-arounds' for prospective parents/carers on Monday evenings after school at 3.45pm, after the children have gone home. If you wish to attend one of these sessions, please contact the school office on 01543 227210. To keep yourselves and our school community safe, we ask that you wear a mask or visor for these and if you are experiencing any COVID-19 symptoms, you don't attend.
If you are not able to attend, we have also put together this page on our website to provide you with a selection of tools and information to help you get an idea of what life at Christ Church CE (c) Primary is like. We hope that you find it helpful.
If you do have any further questions or need more information, please contact our school office on 01543 227210.
Reception at Christ Church CE (c) Primary School
Christ Church CE (c) Primary School is a two form entry school from Reception to Year 6. Whilst we are extremely proud of our high achieving school where children leave us in Year 6 with very good outcomes and strong life long skills, we are also incredibly proud that our school is a happy place where children love coming to learn. Our caring, Christian ethos underlies everything that we do and the values that we uphold.
Click here to see our EYFS vision statement.
Click here to see our 'Welcome to EYFS at Christ Church' booklet. (Please note that some of the timings within this booklet may have to change due to COVID-19 but the booklet will still provide you with an understanding of the transition process into Christ Church
EYFS curriculum at Christ Church
Please click on the following link to see an overview of our curriculum offer: Curriculum offer overview?
Click on the links below for more information about our curriculum offer:
Phonics
We use letters and sounds to teach the children phonics and we teach this via a programme called 'Bug Club'
How can I help my child to prepare for school?
Click on this link to see what you can do with your child at home to prepare them to come to school in September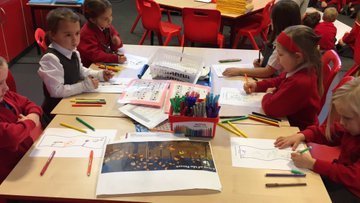 Admissions Process
If you would like to apply for a Reception place for your child for September 2021, we have all the information relating to the procedures below. We hold an introductory parents meeting inviting those who have gained a place at Christ Church in school during the summer term. During this meeting you will learn the specifics of a typical day in Reception as well as finding out more about the whole school.