Our Curriculum Vision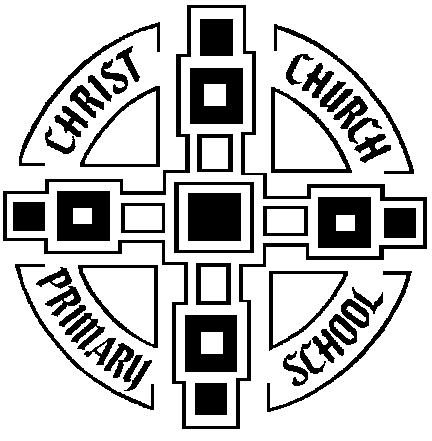 Our Curriculum Vision
'Our Christ Church community is underpinned by a strong shared ethos of high expectations, enthusiasm for challenge and our Christian values. Our values are the foundation of our engaging, balanced curriculum; enabling all children to thrive. Our strong links with our Church and community help to build resilient learners who are well-equipped to contribute to society.'
Our Unique Curriculum
Our Unique Curriculum: At Christ Church C of E Primary School we follow a Big Question curriculum. We use this because we know our pupils thrive on finding out information and developing their understanding in all areas of learning. Our unique curriculum is underpinned by the skills within the National Curriculum to ensure that all children leave our primary school setting as well-rounded, knowledgeable, inquisitive individuals. Subject leaders have an overarching understanding of the skills which need to be taught within their subject across all year groups. These have been carefully mapped out so that there is a clear progression of skills. Subject leaders have developed knowledge organisers to support planning and to inform parents/carers of the learning across school. We ensure that every aspect of the curriculum is carefully planned, and where appropriate children's learning is scaffolded so as to ensure that every child within our school can reach their full potential. Subject PowerPoints are used consistently to recall prior learning across all non-core subjects.
Our Curriculum Intent
Our aim for everything that we teach at Christ Church is to engage and promote high levels of progress and enjoyment. We approach our curriculum through answering five 'Big Questions' in each year group across the academic year. The key subjects covered through these are History, Geography, Art and Design Technology and as many other subjects that link as possible. We link high quality texts to our big questions, which weave reading throughout our entire curriculum. Through structured, well-planned sequences of learning we deliver a broad and balanced curriculum that is ambitious for all and can be adapted for pupils with SEN and/or disabilities.
Subject leaders carefully track the National Curriculum skills taught through these big questions so as to ensure full coverage of the National Curriculum across school.
Download our curriculum policy here.
Implementation
Planning:
We plan our curriculum ensuring we meet the requirements of the National Curriculum and the Early Years Curriculum so that there is coherence and full progression in its coverage. Our teachers carefully plan what is being taught to the children using our long and medium term planning. They then use these, along with their ongoing assessments of the individual learning needs of the pupils within the class, to direct their weekly planning. Teachers use their weekly planning, along with other forms of Assessments for Learning (AfL) e.g. work produced in books, discussions with the children, to be able to respond to the children's learning needs after each lesson. This ensures that their learning needs are met and could include both further support and/or further challenge in subsequent lessons.
Questioning:
Questioning in lessons is rich, probing and focused on learning. Children are encouraged as much as possible to ask their own learning questions too. Effective questioning might be used to:
Make pupils think more deeply
Inspire and enthuse pupils
Develop pupils' imaginations
Establish what pupils have learnt
Summarise the learning
Assess pupils' knowledge and understanding at all stages of the lesson
Establish whether a pupil's grasp of a concept or skill is secure
Identify misconceptions and where pupils are 'getting stuck'.
We believe in providing opportunities that ensure all our pupils love learning. We recognise that the more active role they have in their learning, the more they will want to learn. Our Big Questions lead the way for children to take ownership of their learning; gaining a purposeful and well-structured bank of knowledge and skills along the way.
Impact
Above all, we are proud of the high quality learning outcomes with which our children leave Christ Church. The starting point is our curriculum: what we teach and how we teach it. As a school we are always striving towards even higher outcomes, not just in our results, but in how we shape our children as learners, ready for adult life according to our school vision.
End of Key Stage results and progress figures provide some evidence of the impact of our curriculum. Along with this, pupils' knowledge and skills in non-core subjects can be evidenced through pupil voice and learning journals.
However, we believe that good outcomes should also be measured by how successfully pupils develop as well-rounded citizens.
At the end of their primary education, pupils leaving Christ Church:
take personal responsibility for their actions and their learning.
respect others and themselves, demonstrating empathy, fairness and care towards others whilst celebrating each other's individual backgrounds and talents.
respect of their immediate and wider environment so that they grow up to be responsible British and global citizens.
work collaboratively and get along with other people.
know that making mistakes and taking risks is essential for learning to take place and view this positively.
show resilience when something is difficult.
are resourceful and can demonstrate learning in different ways
support each other with their learning.
know how to assess their own learning and that of others.
know how to reflect on their learning and progress towards their goals.
Phonics and Reading at Christ Church
Phonics:
In Key Stage 1 we use Letters and Sounds to teach the children phonics and we teach this via a programme called 'Bug Club'. Bug Club provides our teachers with an understanding of where the children are in their reading journey; allowing them to allocate appropriate reading books for the children to access both in school and at home. Through Bug Club the children experience both physical books and electronic books (e-books).

Progression in reading:
As the children across school become more fluent readers, they move from Bug Club onto Accelerated Reader which they access for the rest of their reading journey at Christ Church.
Learning Showcases
We are proud of the learning that takes place in school and love to share this with our parents/carers. Pre-Covid, we invited parents/carers in to school every term to work with their child/children and to share our celebrations of their learning. When restrictions eased, we were excited to invite parents/carers to come into school again during the summer term of 2022, to celebrate their children's learning over that academic year.
Parent/child workshops
Over the academic year, parents/carers are invited into school to attend workshops. We believe that workshops are an important way for parents/carers to gain a greater understanding about our school and can also provide guidance about how they can support their child's learning at home. During the summer term of 2022 we invited parents/carers to come into school to take part in a forest school session with their child/children in our environmental area. We believe that this provided a lovely opportunity for parents/carers to work alongside their child/children and learn some new skills at the same time.
More information
If you would like more information regarding our school curriculum, please firstly go to the 'Our Christ Church Curriculum' tab, which provides more information about the planning and teaching within the different subjects or feel free to contact the school office to arrange a meeting with either your child's class teacher or Amy Stonier who is our Curriculum Lead.