Welcome To Year 5
from Mrs Cheek and Mr Tilt


CalendarYear
Upcoming dates:
Thursday 4th July 2pm - 3pm - Learning Showcase
Wednesday 10th July - Value Token Treat at Beacon Park
Forest School - Mrs Cheek's class sessions:
Friday - 5th July & 12th July

Outdoor Games is on Tuesdays
PE (inside) is on Thursday
Please ensure kit is in school on these days.

Recent Letters
Maths - Written Methods July 2018
Year 5 Privileges
Time on the iPad or laptop
Work at the Teacher's desk
Sit by a friend for the afternoon
Bring in your own pencil case or stationary
Wear your pyjamas and slippers for the day
Teach a lesson (chosen once per term only)
Bring in a teddy or football to use in the CSC
Choose a different morning activity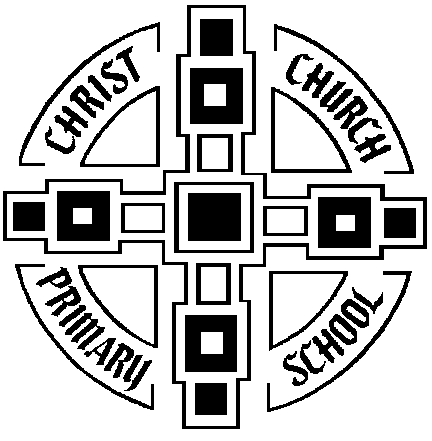 Our Big Question this term is:
South America: How diverse?

Mr Tilt's Class enjoyed their final Forest School session before their well-earned break for half term.
The children have taken part in lots of team building activities whilst exploring the environment around them. 5ST have learnt how to safely light a fire and even experienced preparing and cooking food in the environmental area.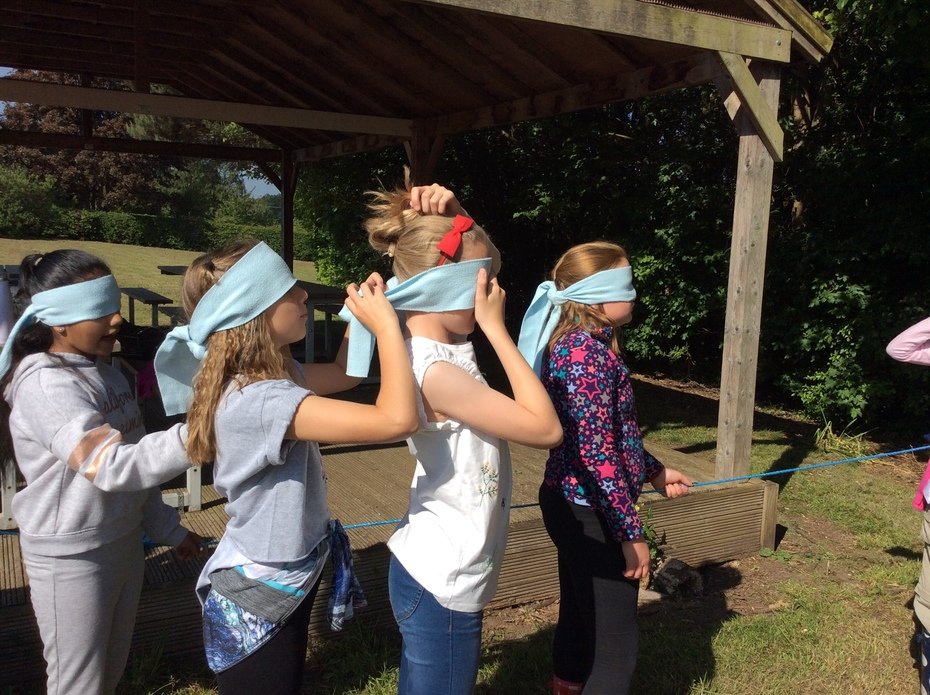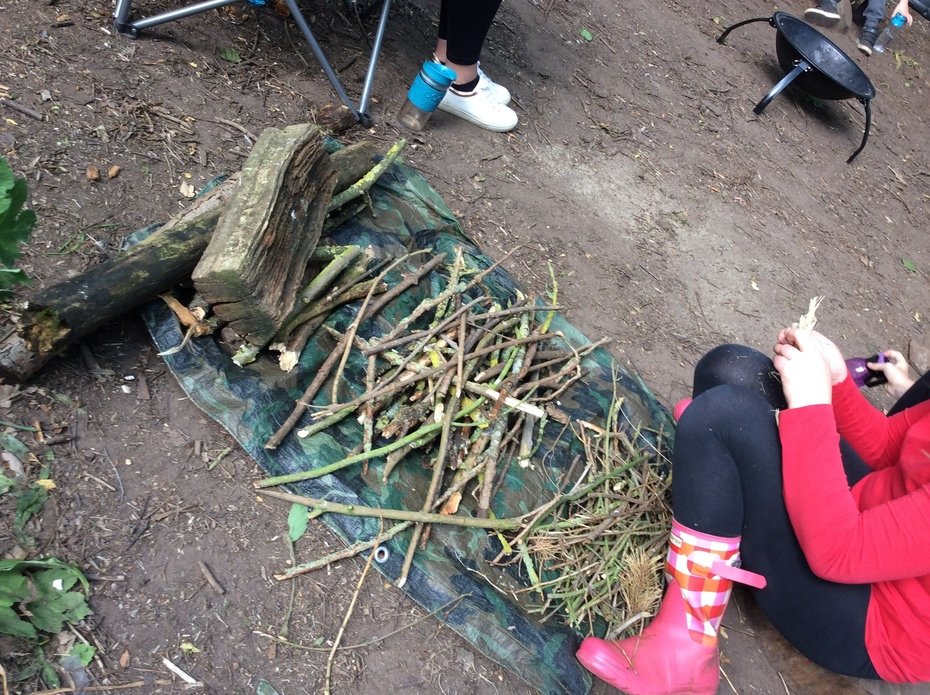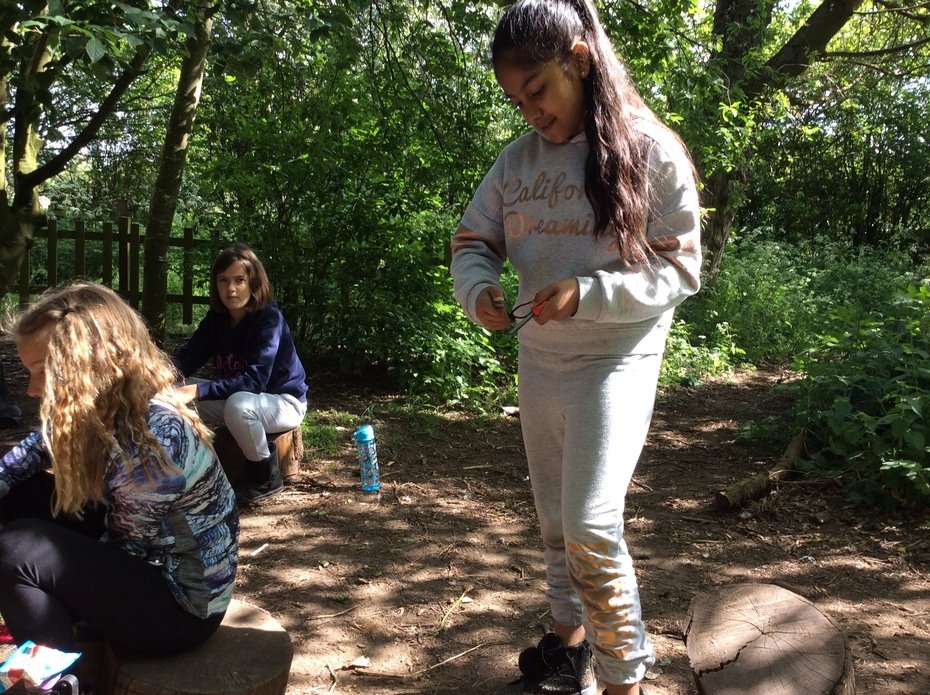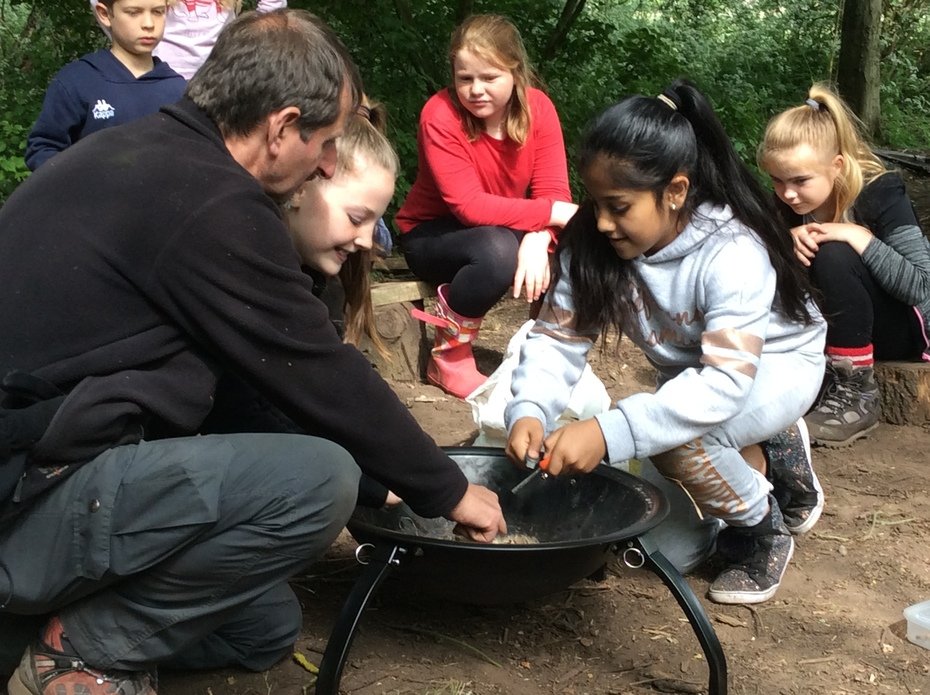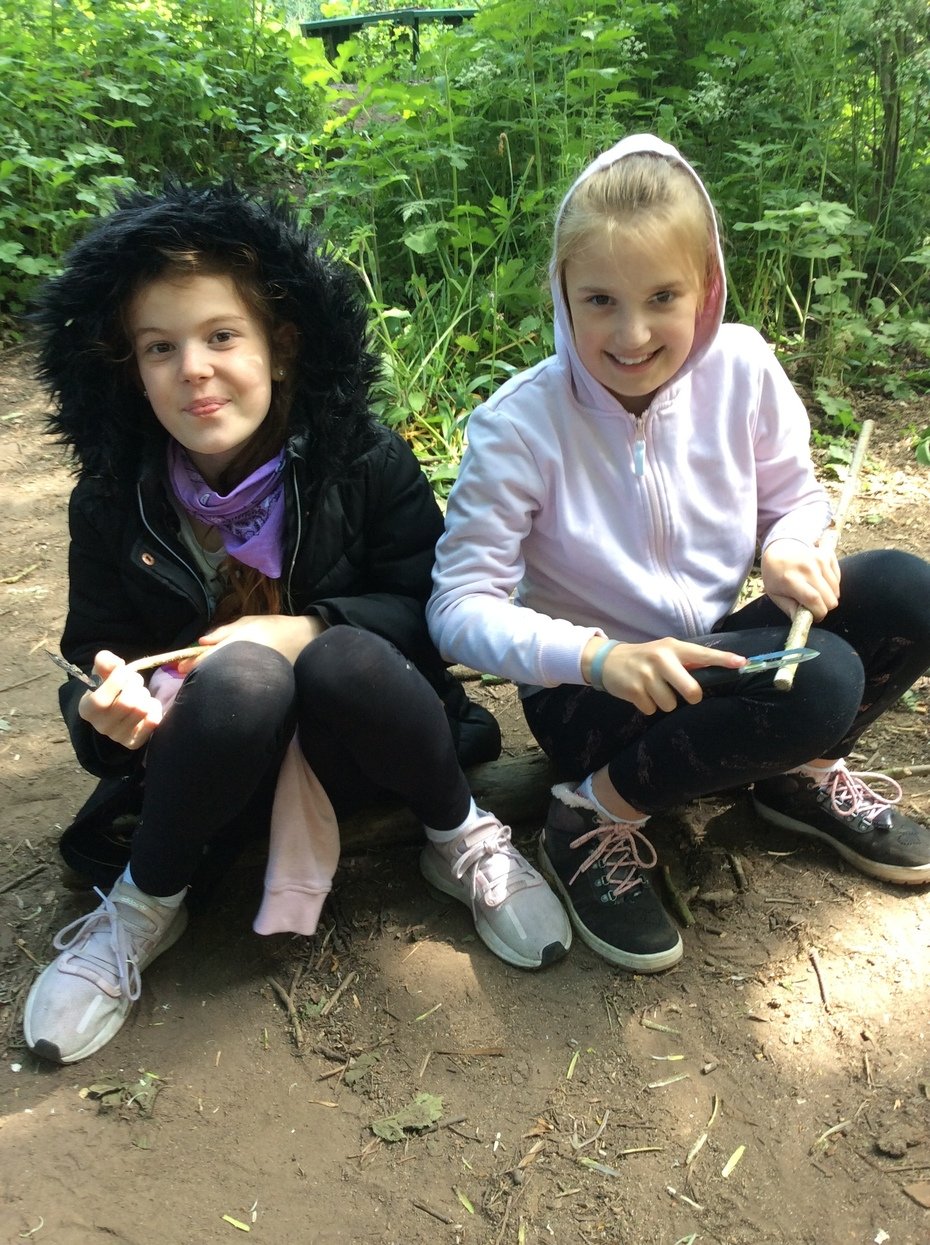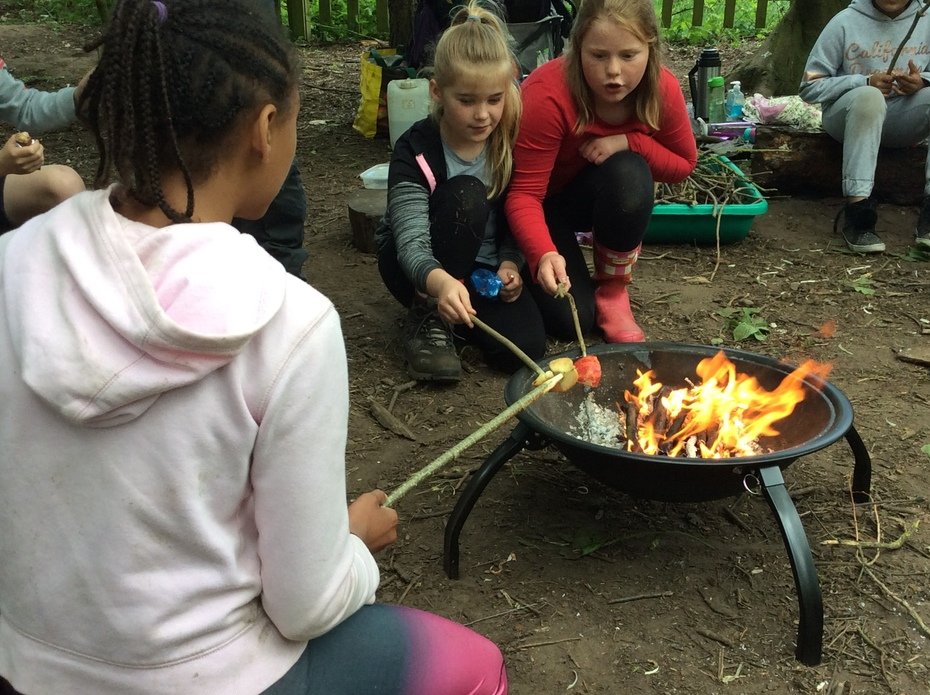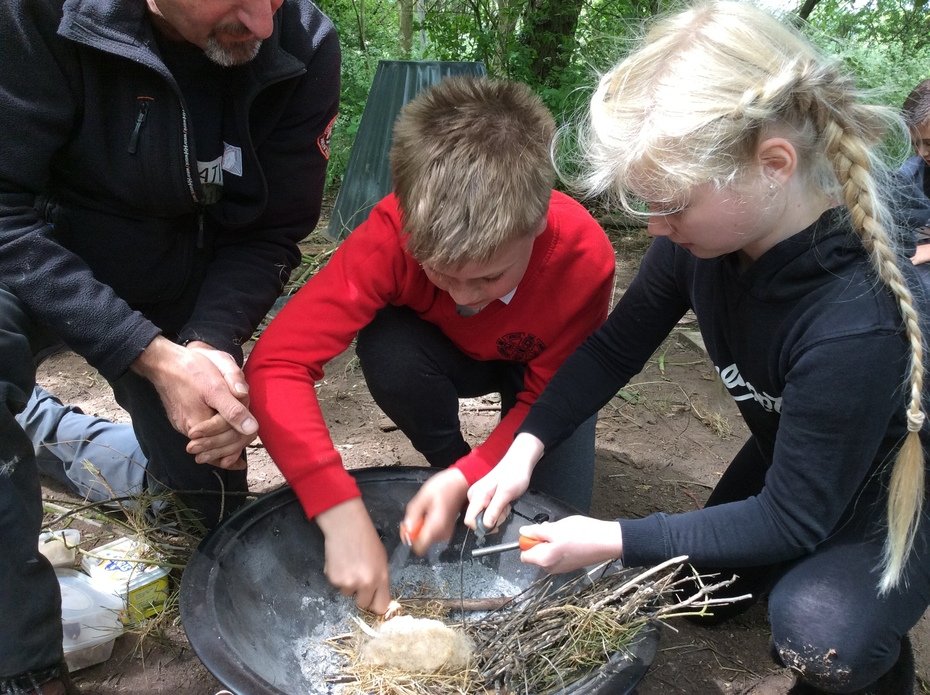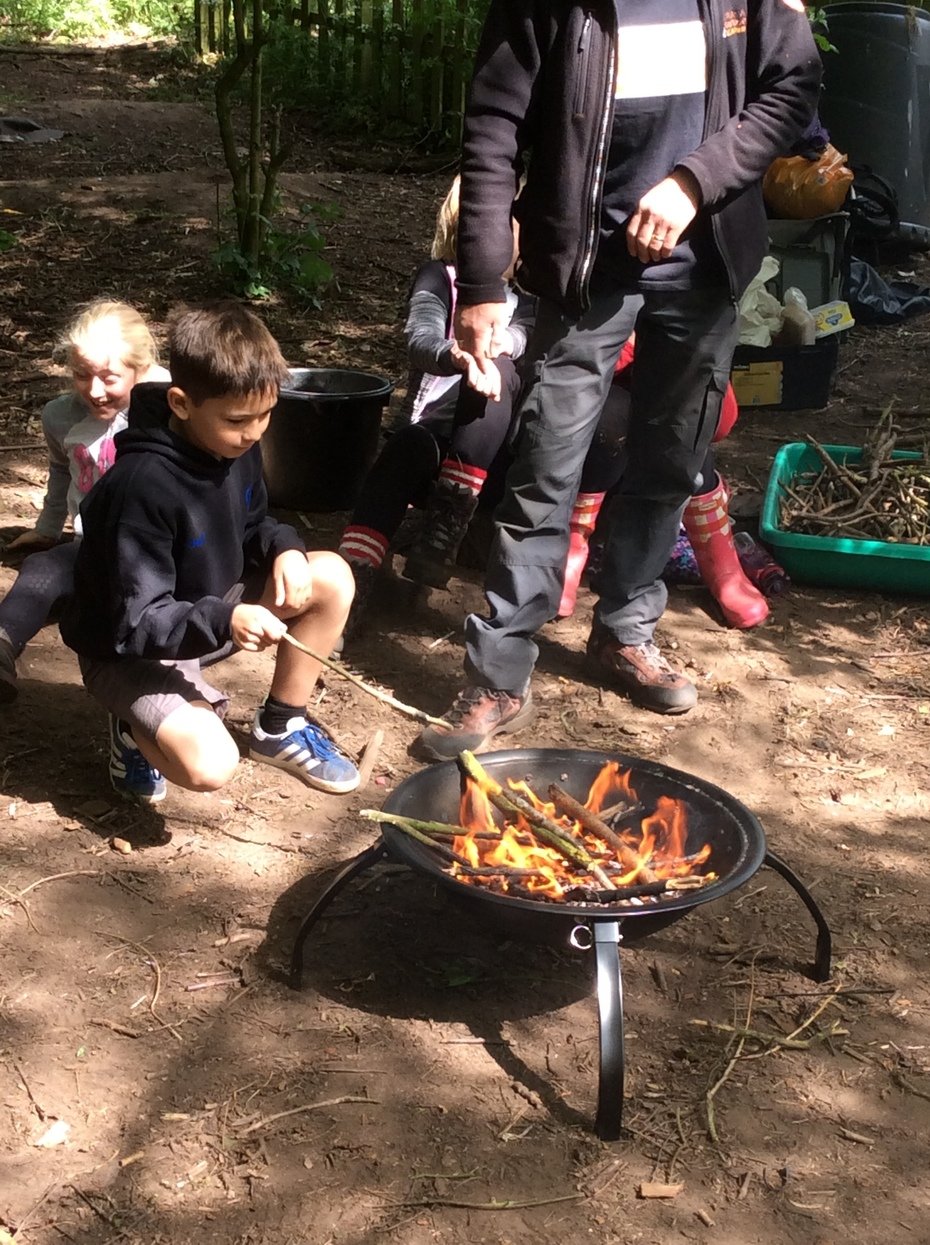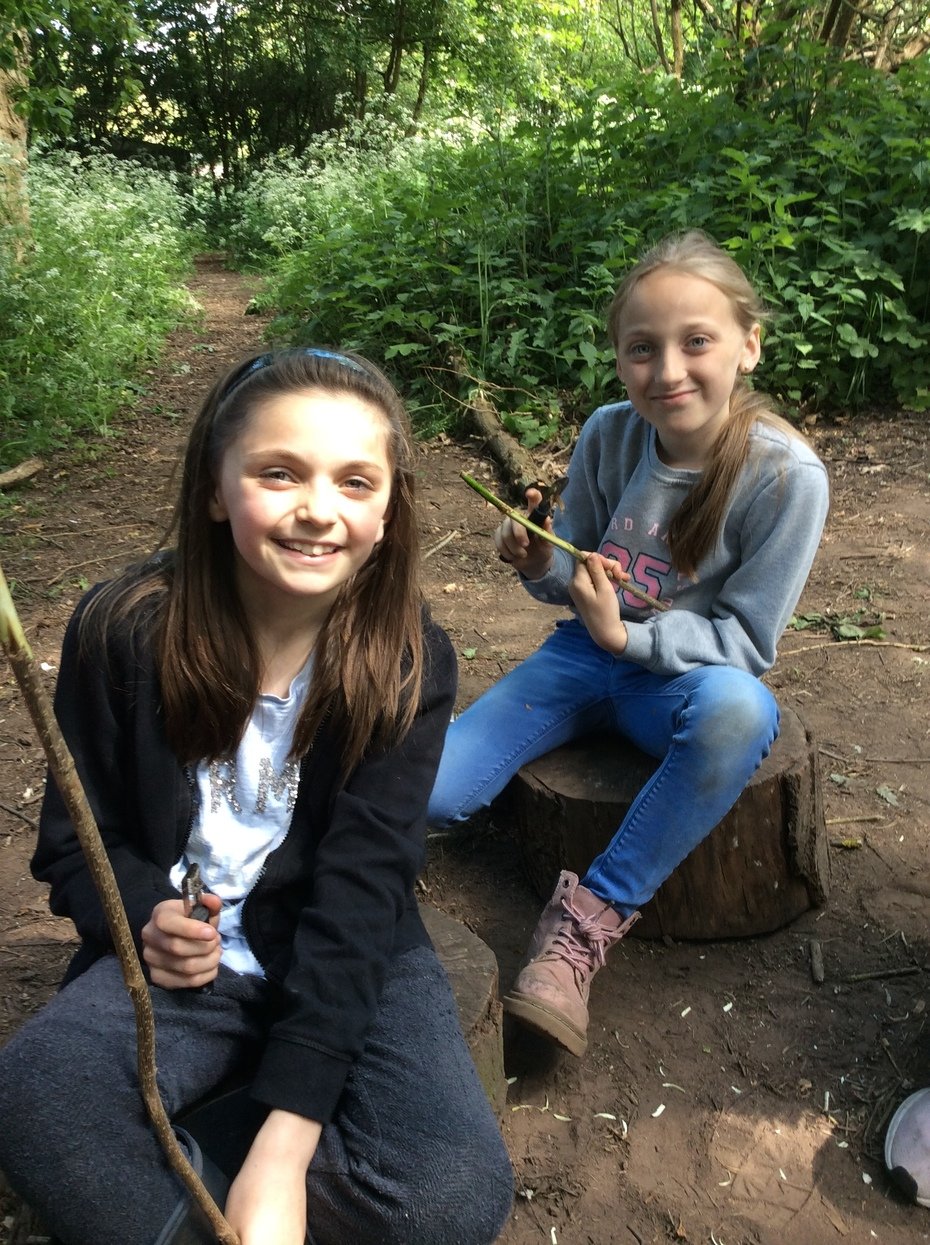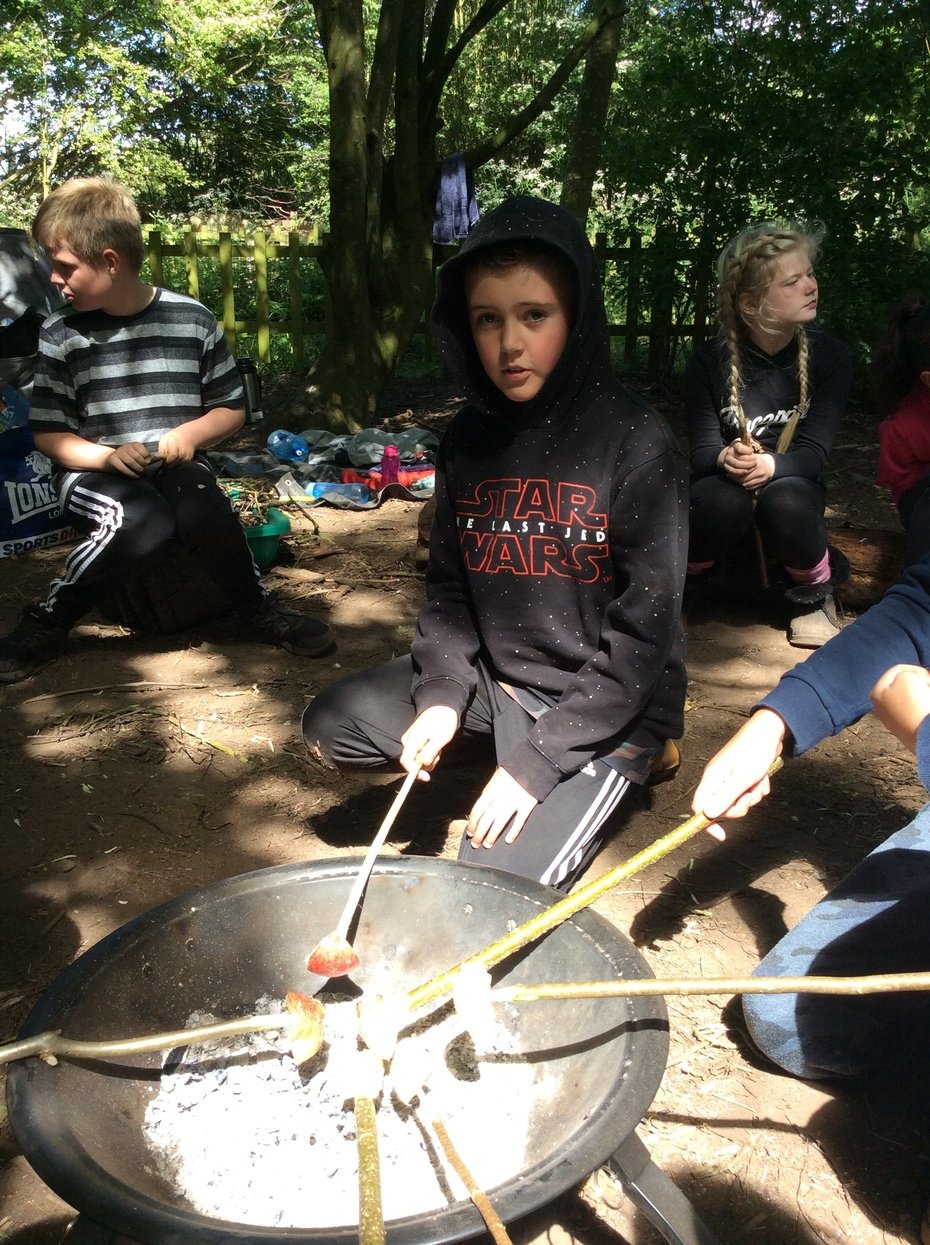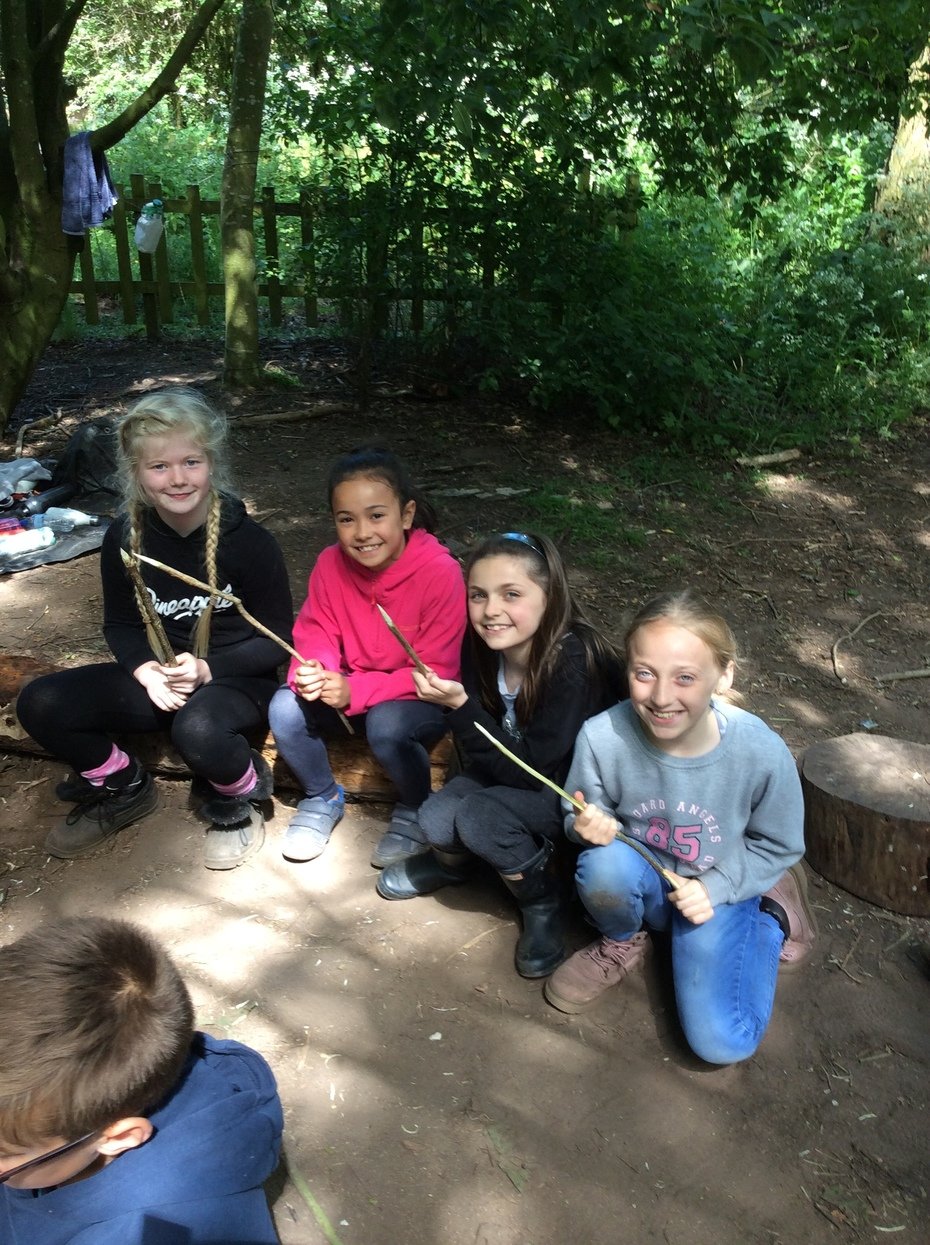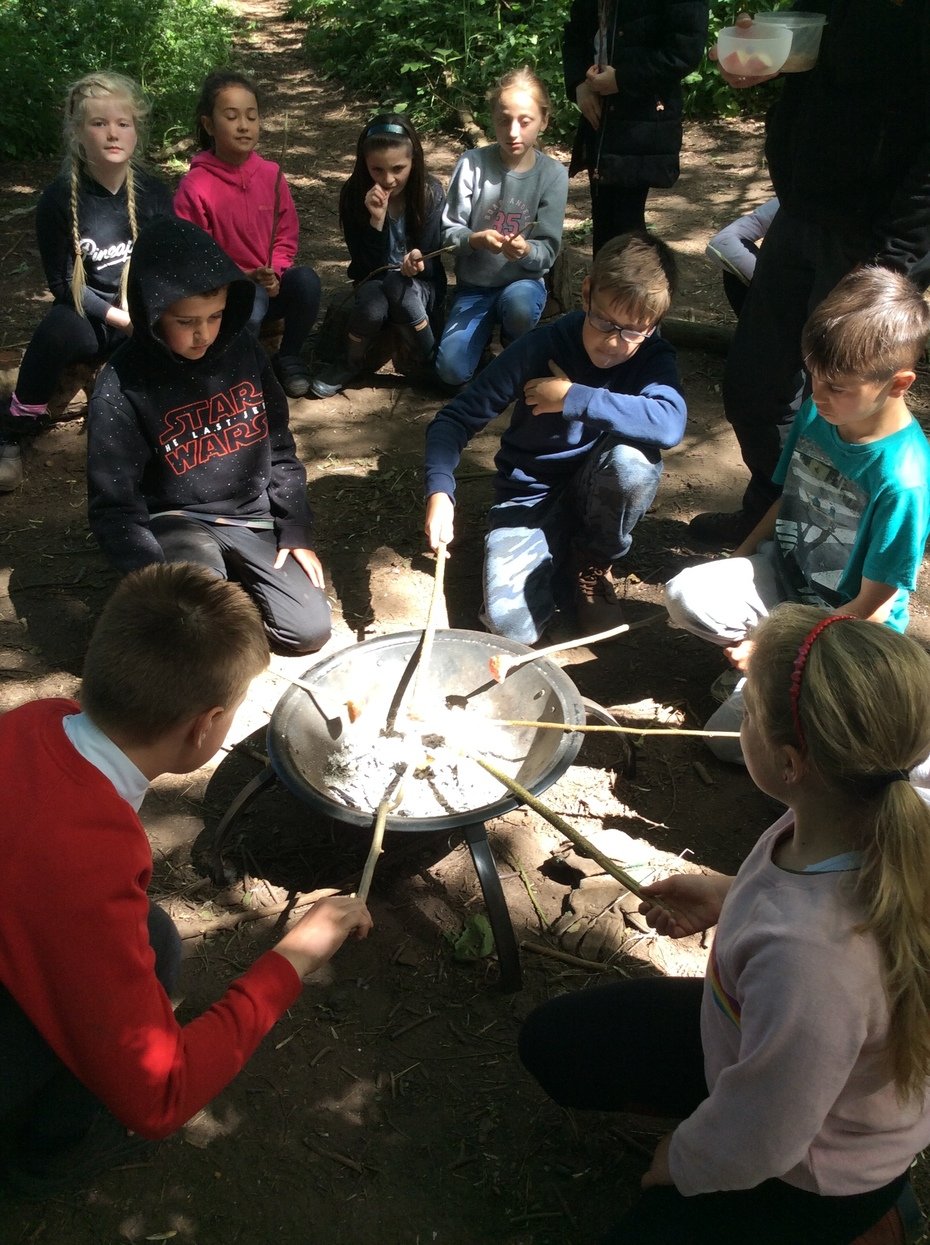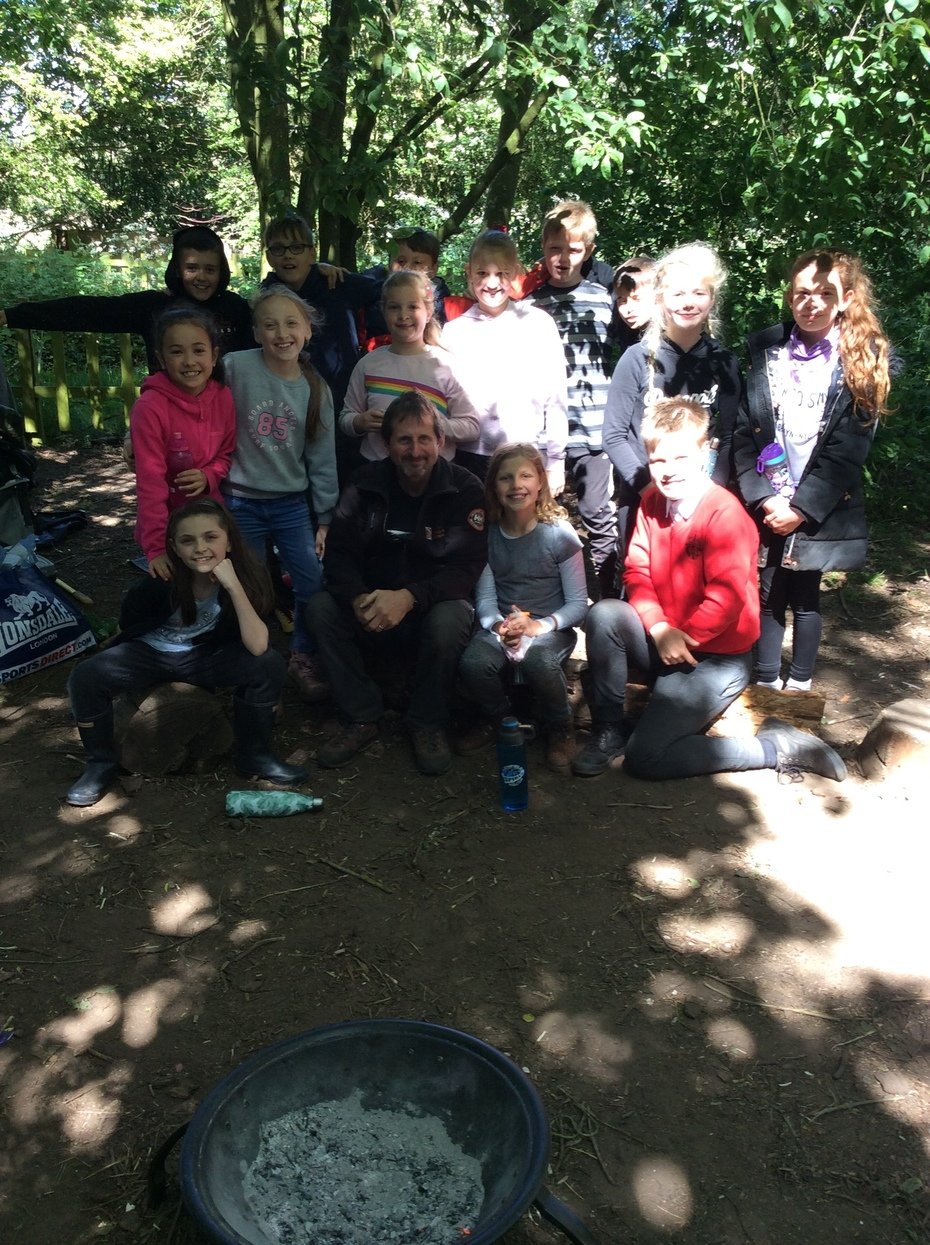 -
Thank you to all the Parents/Carers who have donated to help Year 5's garden for the 'Christ Church in bloom' competition. The children worked hard planting and decorating. It's looking fantastic!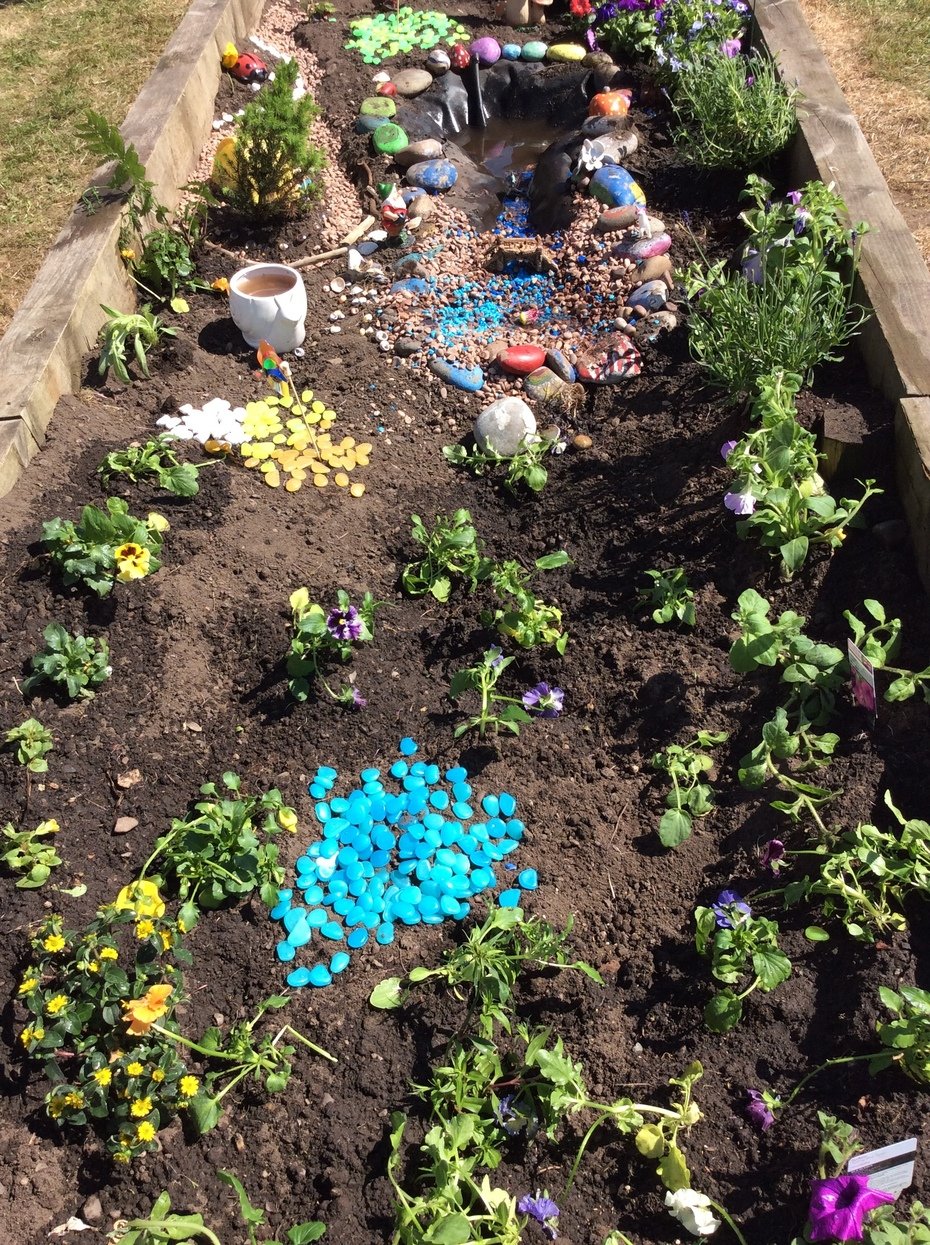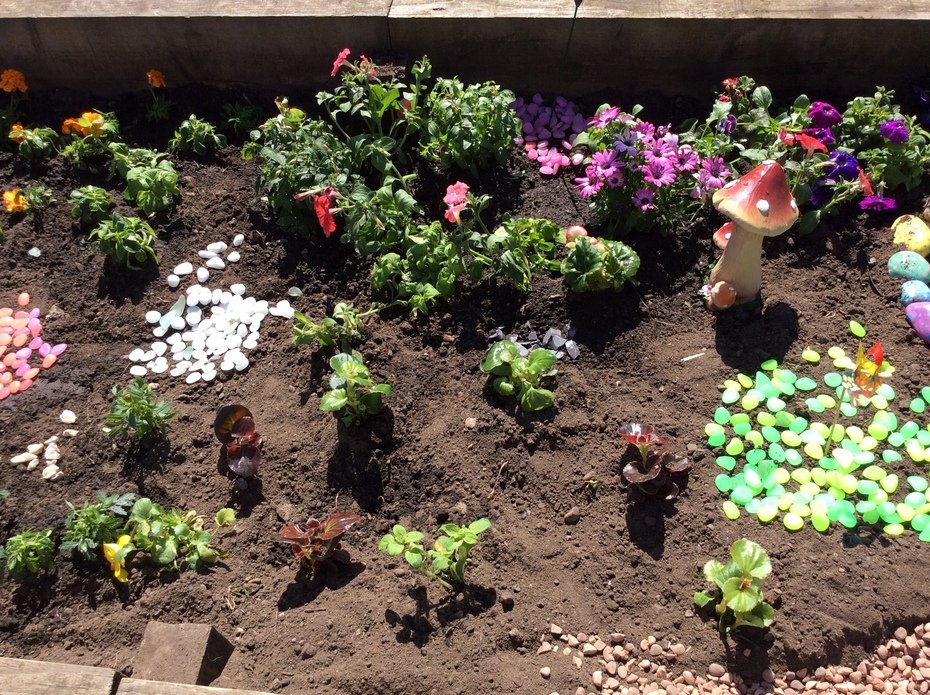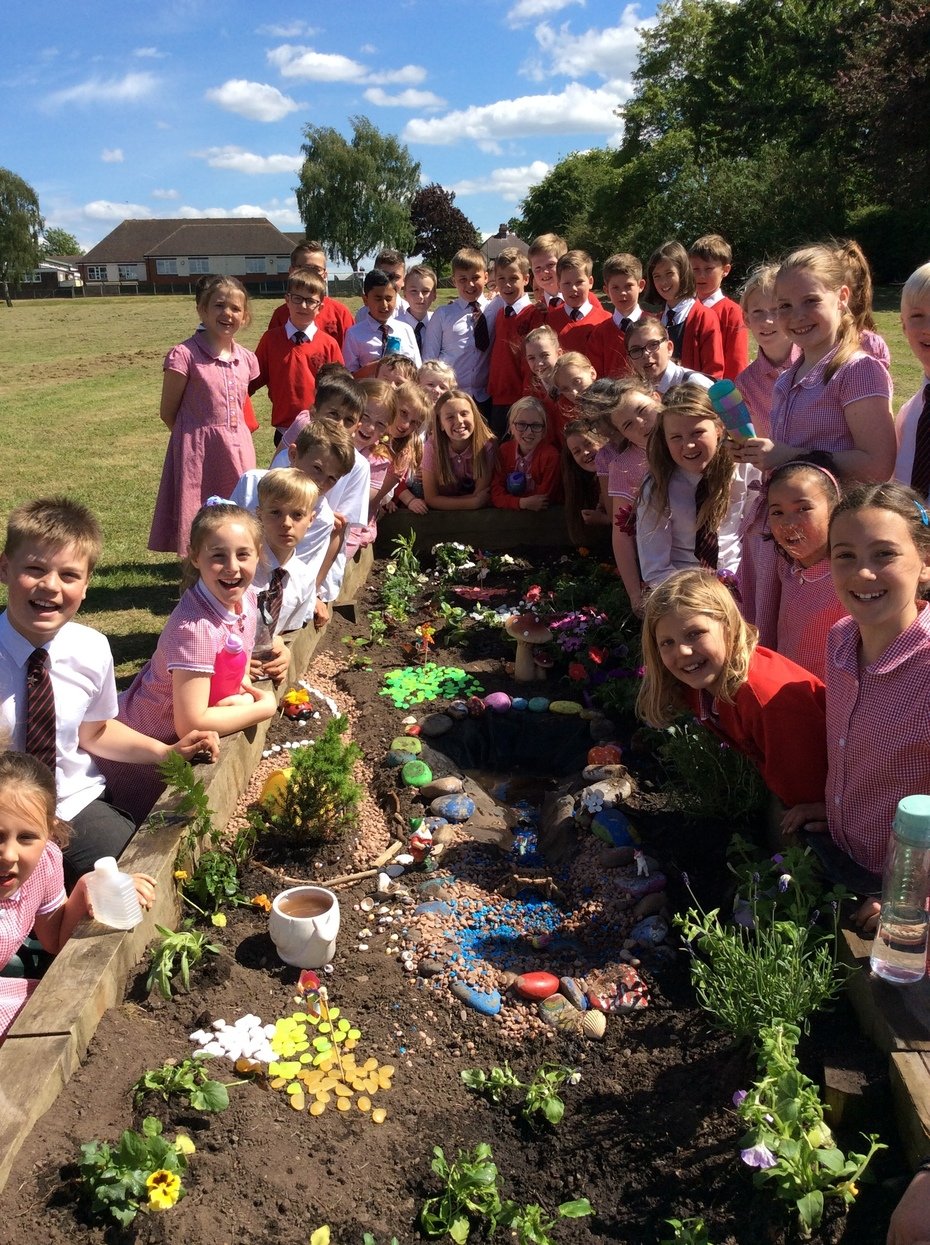 -
The children enjoyed their visit to Lichfield Fire Station to take part in different activities to keep them safe at home. They also talked about the dangers around train lines and canals.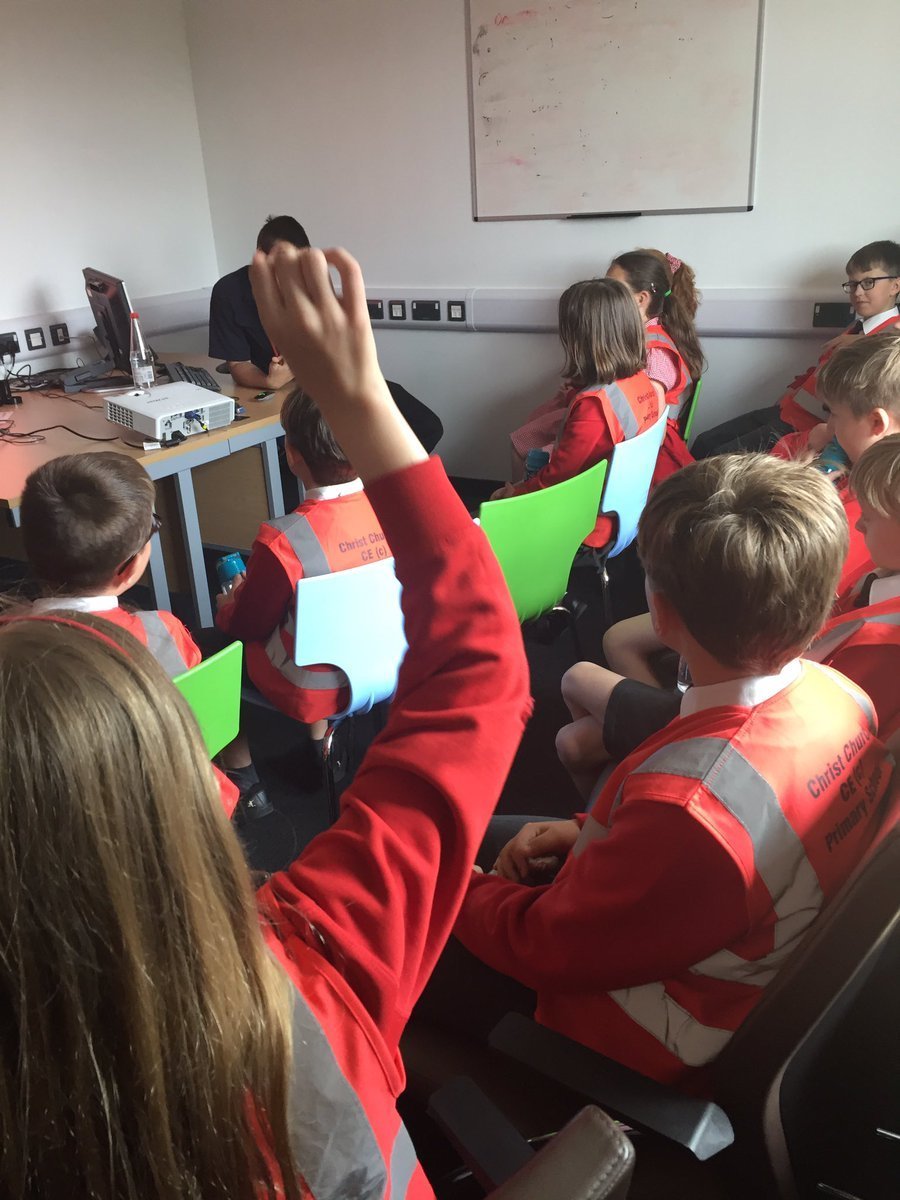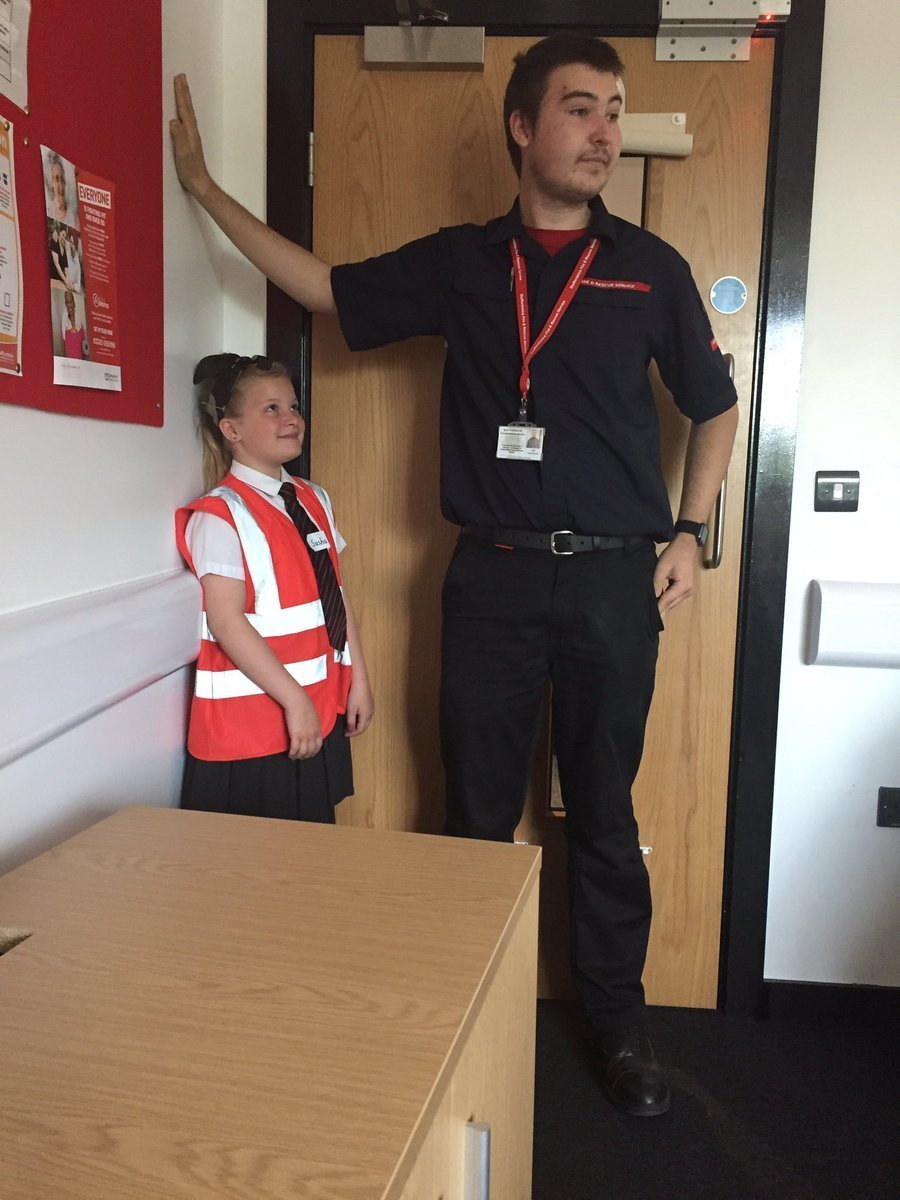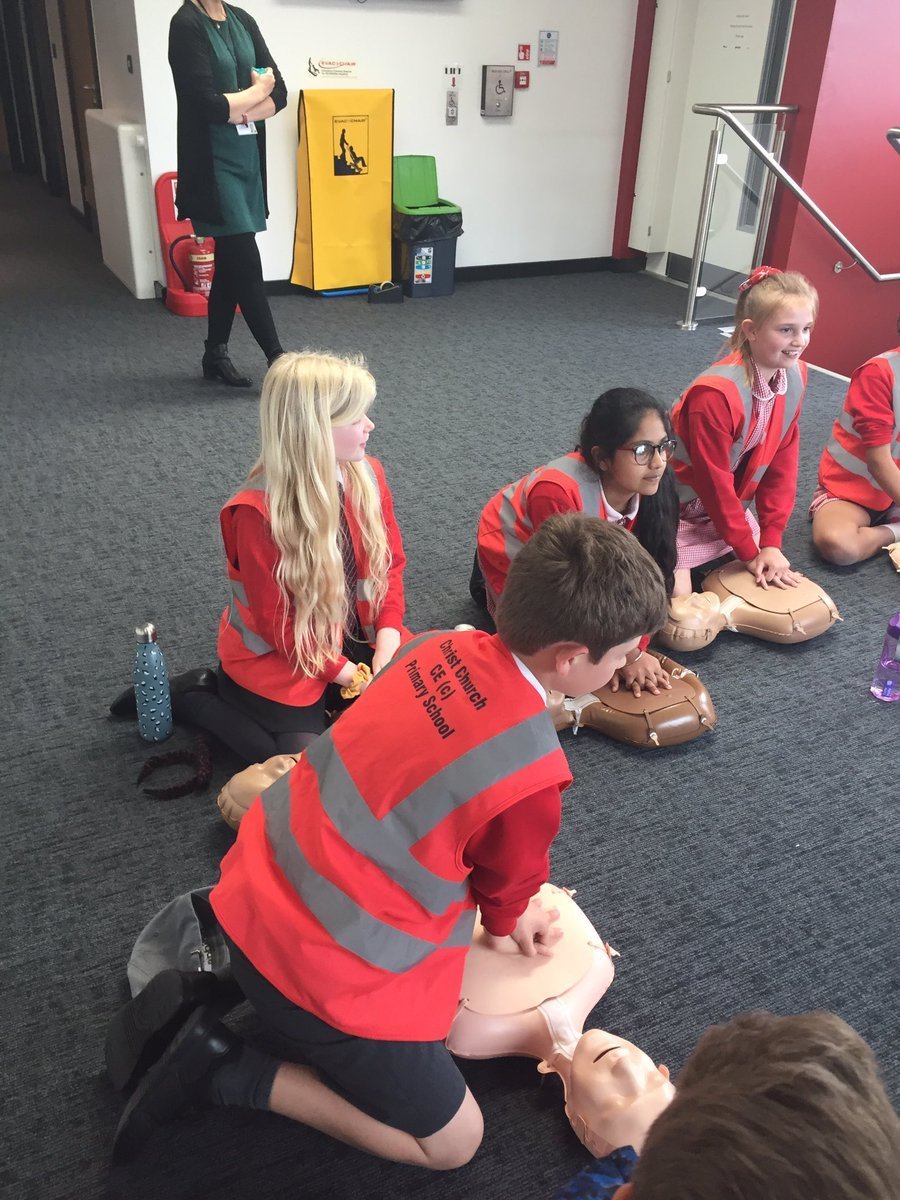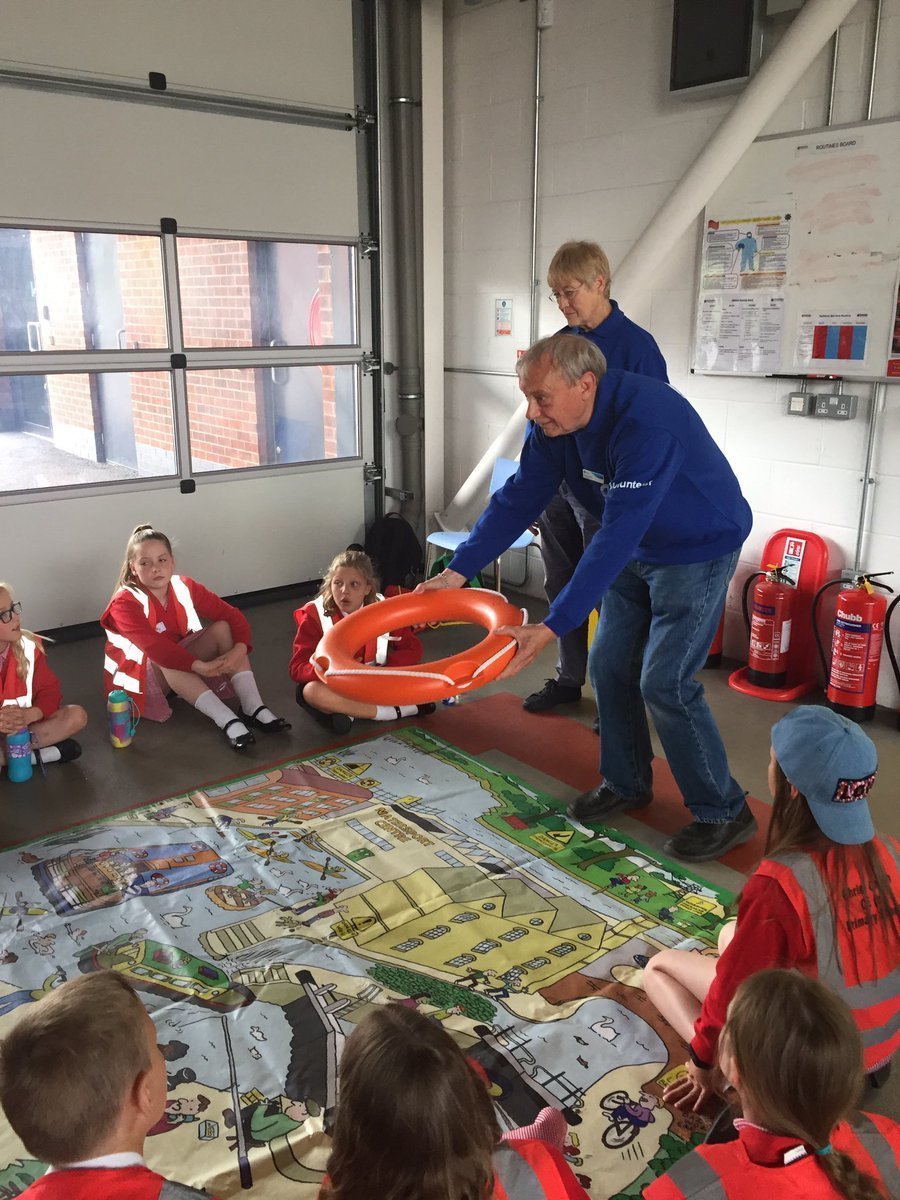 Year 5 did a fantastic job performing their worship in front of the whole school.
They played 'The Climate Chase' asking and answering questions about the impact of climate change and suggesting what we can do to help our planet.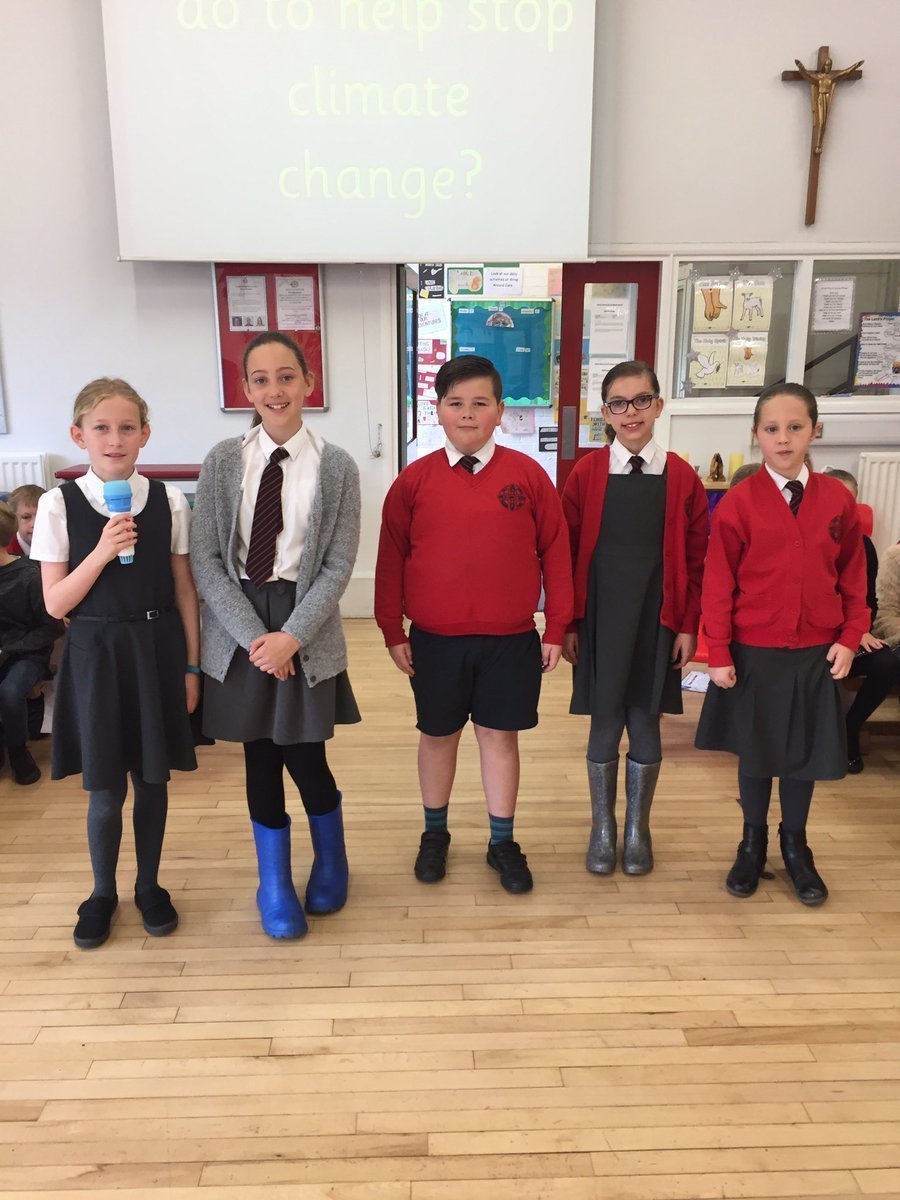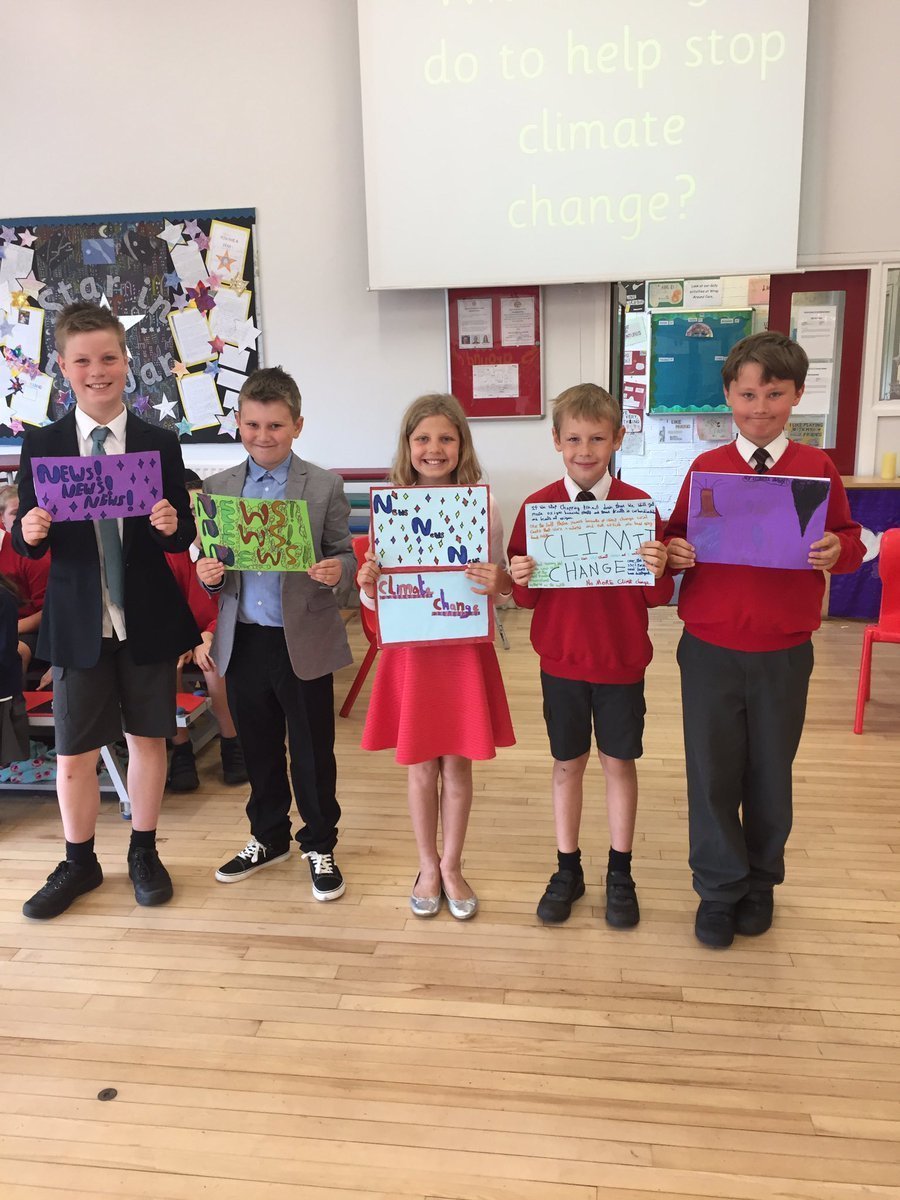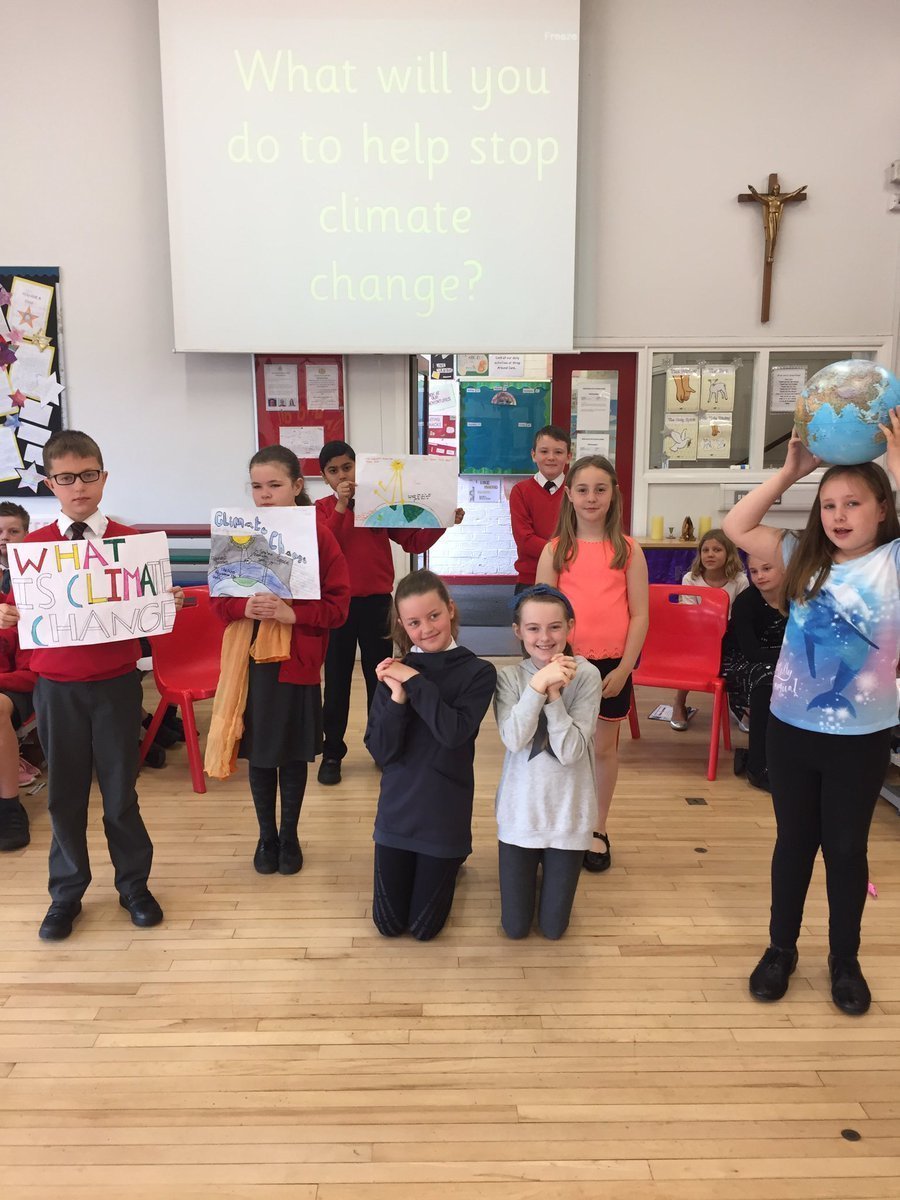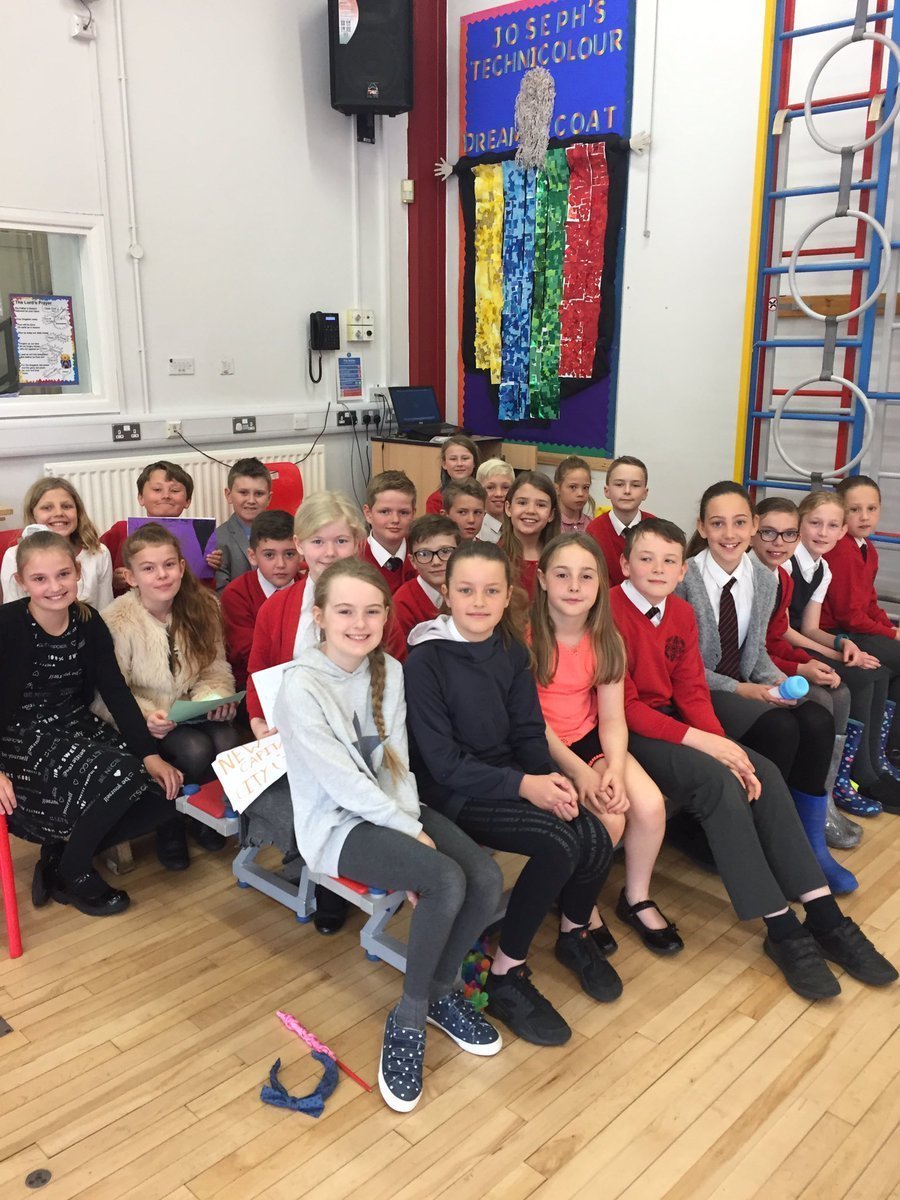 As part of our Big Question, the children have been discussing the positive and negative impact of deforestation.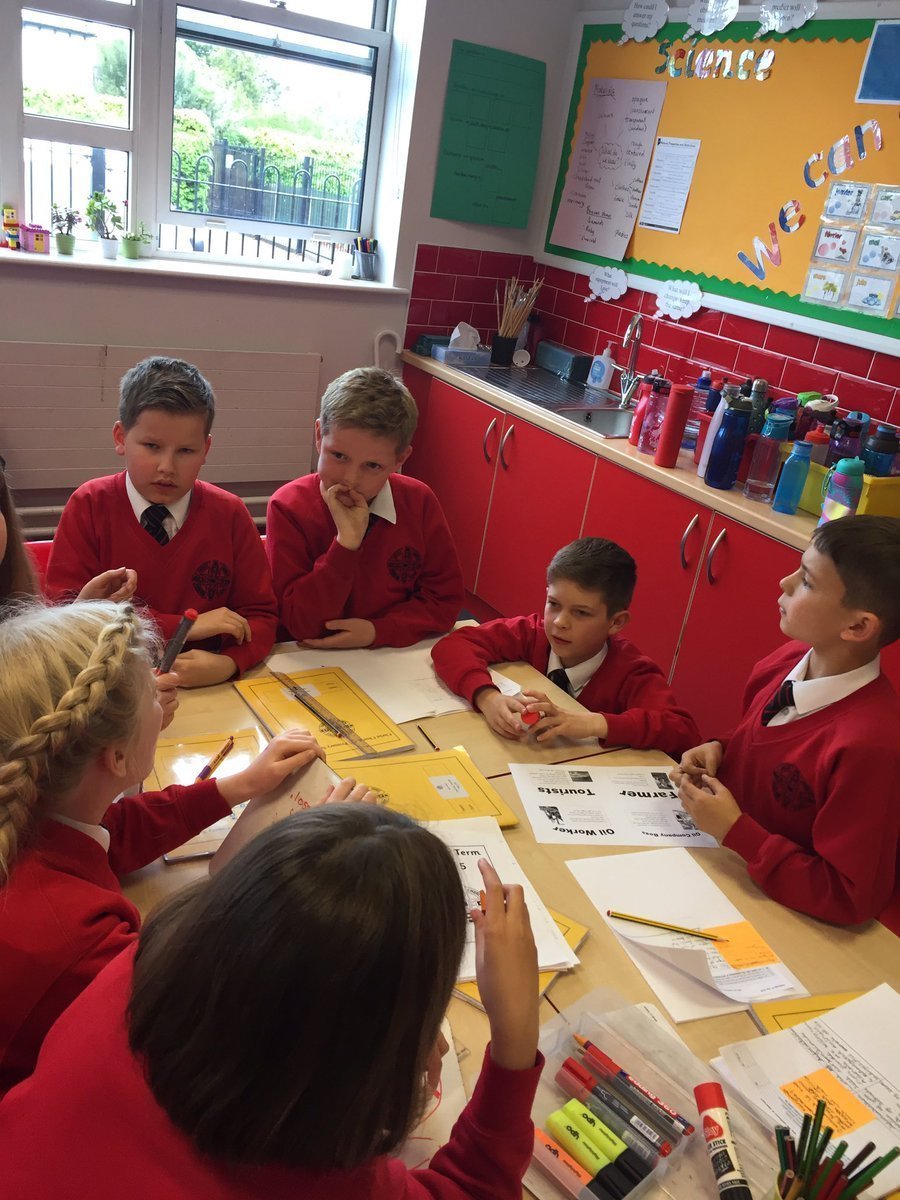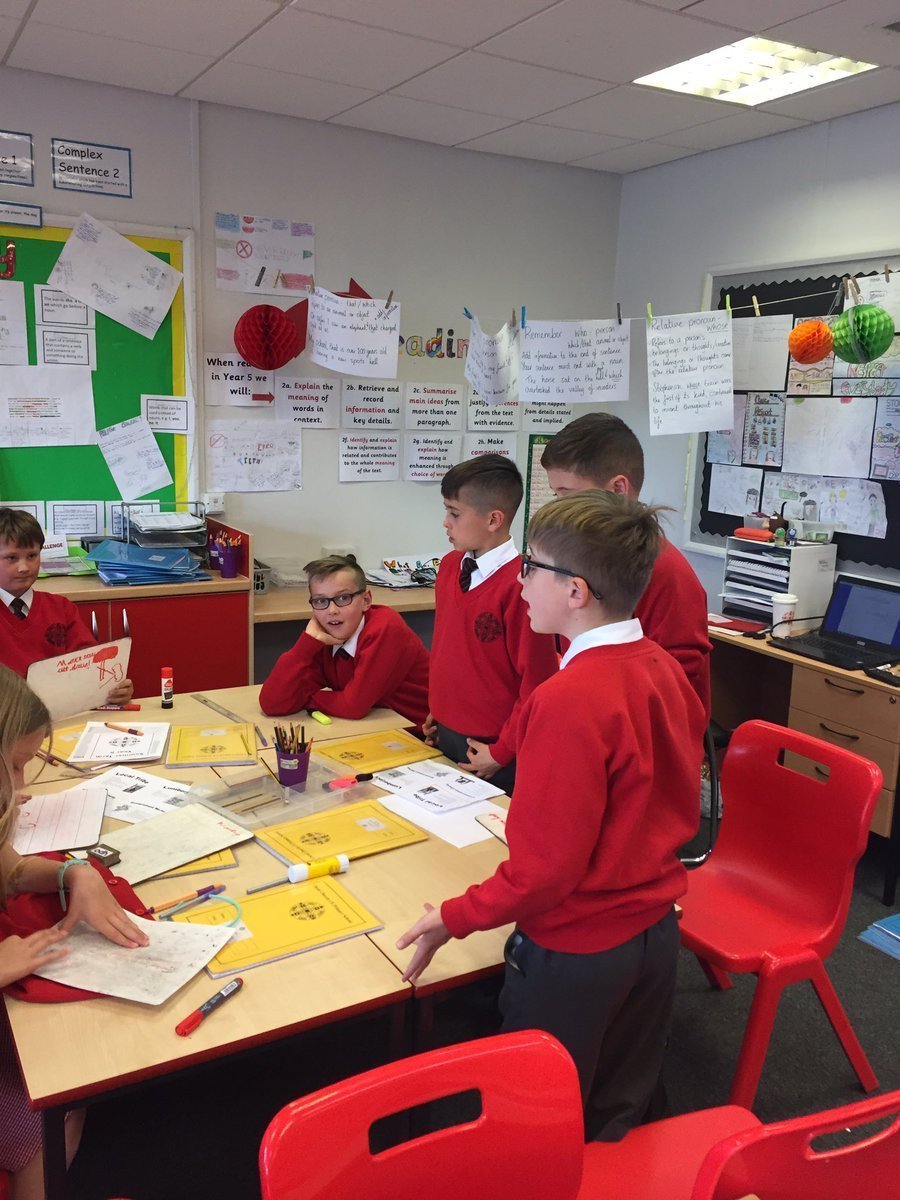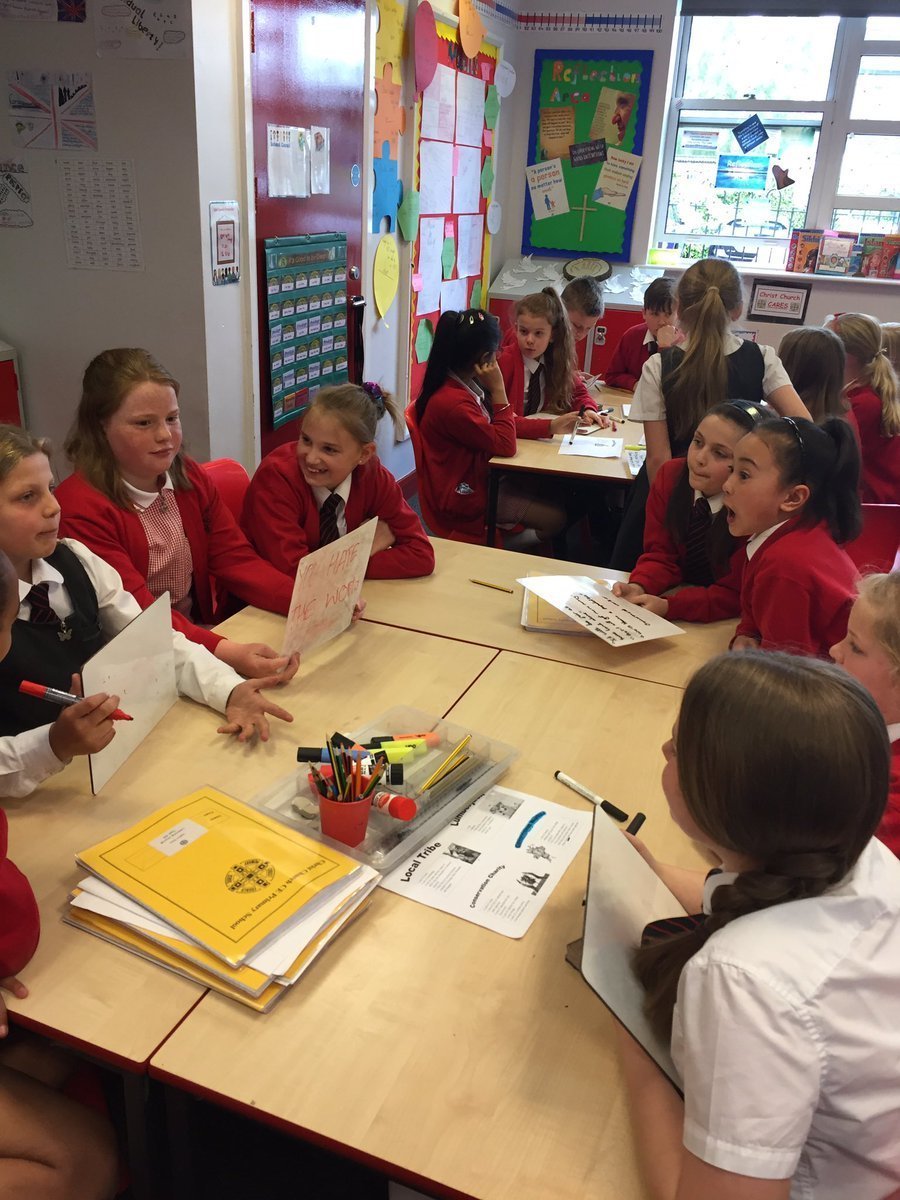 -
Well done to the girls from 5SC who took part in a sponsored silence on Red Nose Day. Having collected and counted all their sponsor money, they raised an amazing £211 for Comic Relief.
Thank you to all their adults who kindly sponsored them.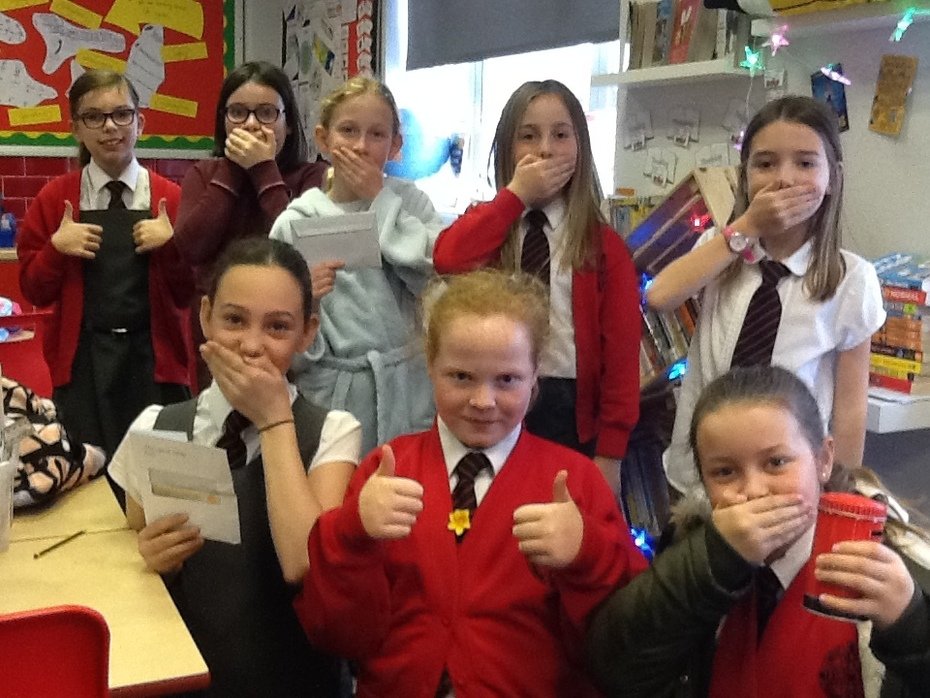 -
On Friday, Year 5 visited Wade Street Church where they took part in a special workshop.
The children were part of a role-play to tell the Easter story and then they moved around the church to learn more.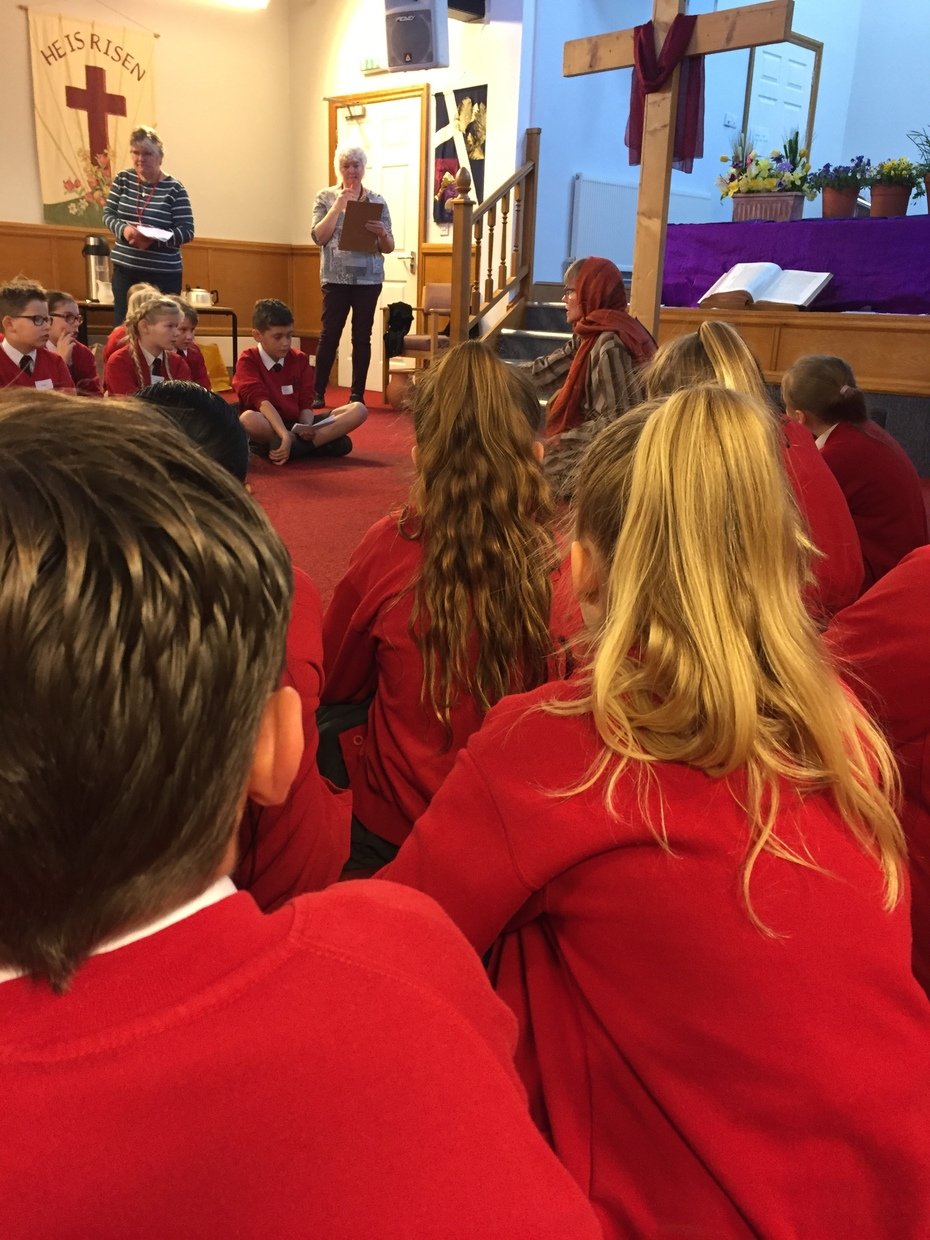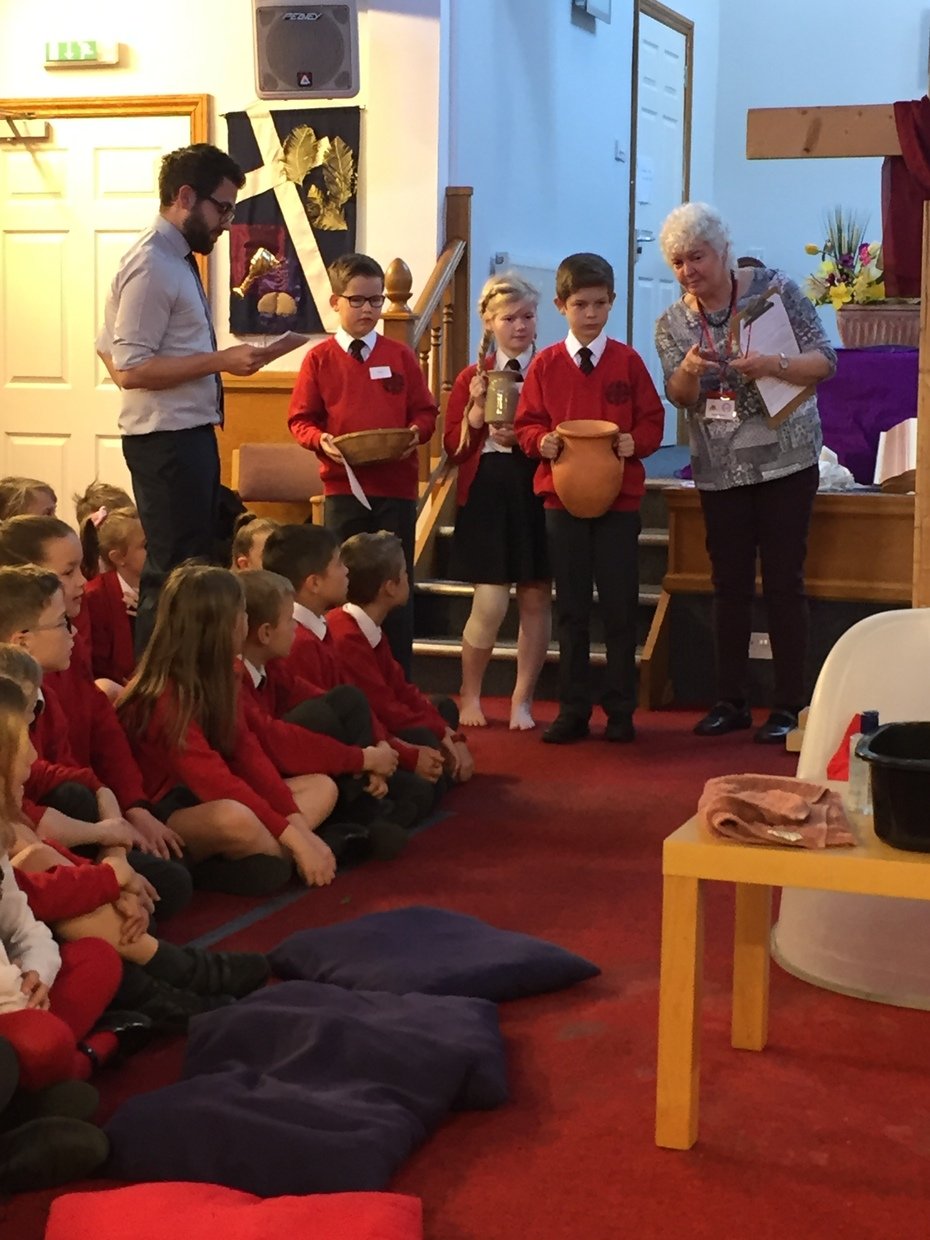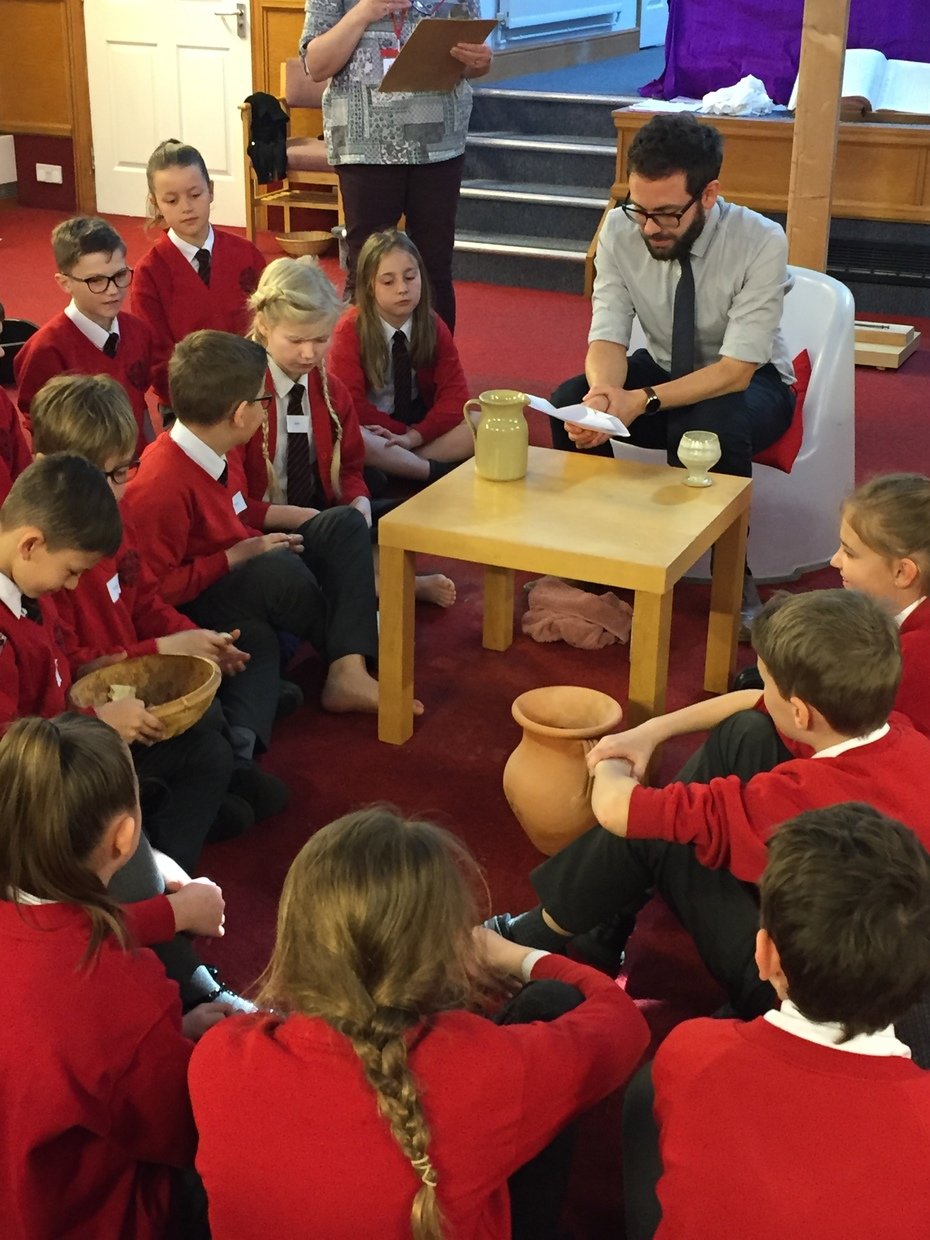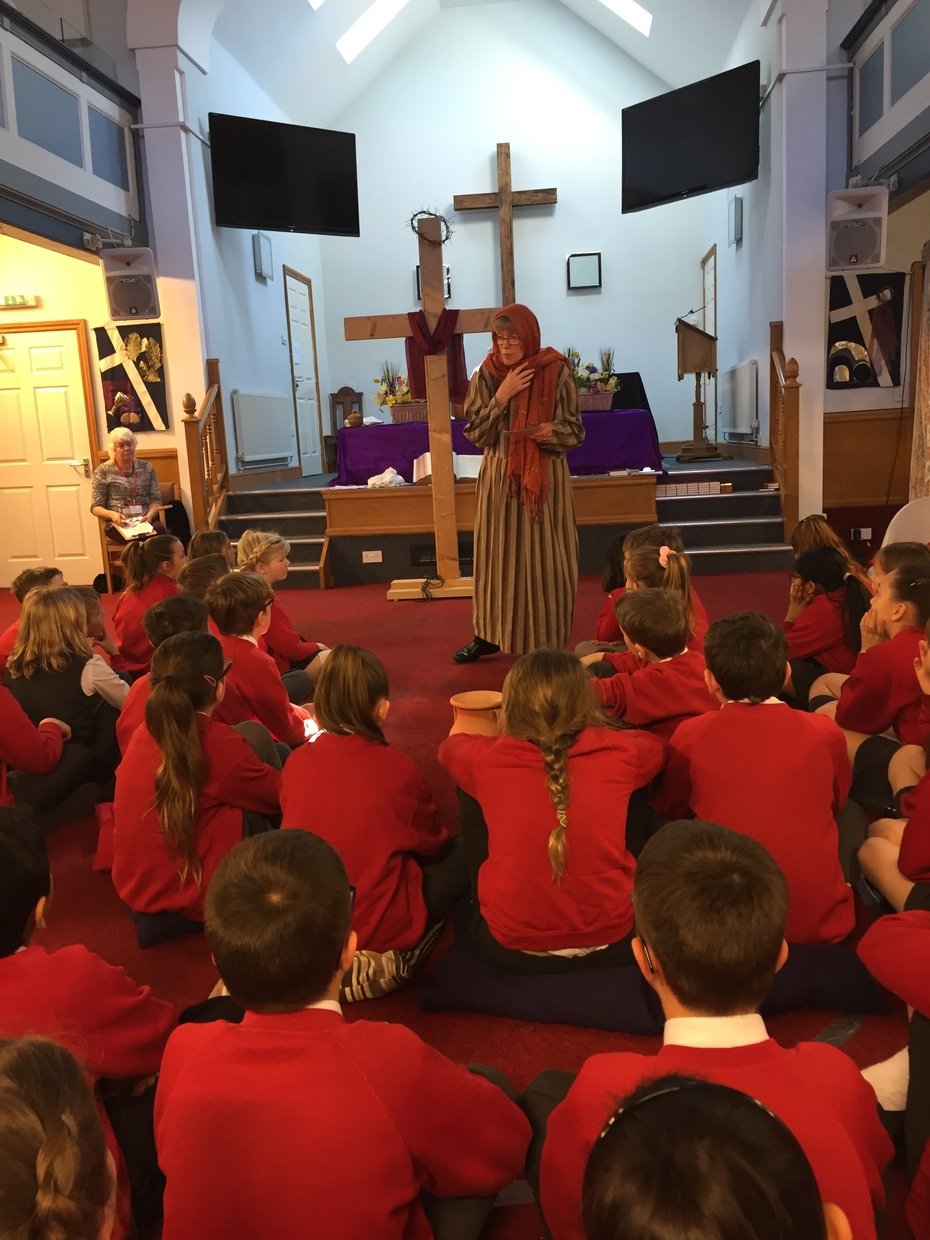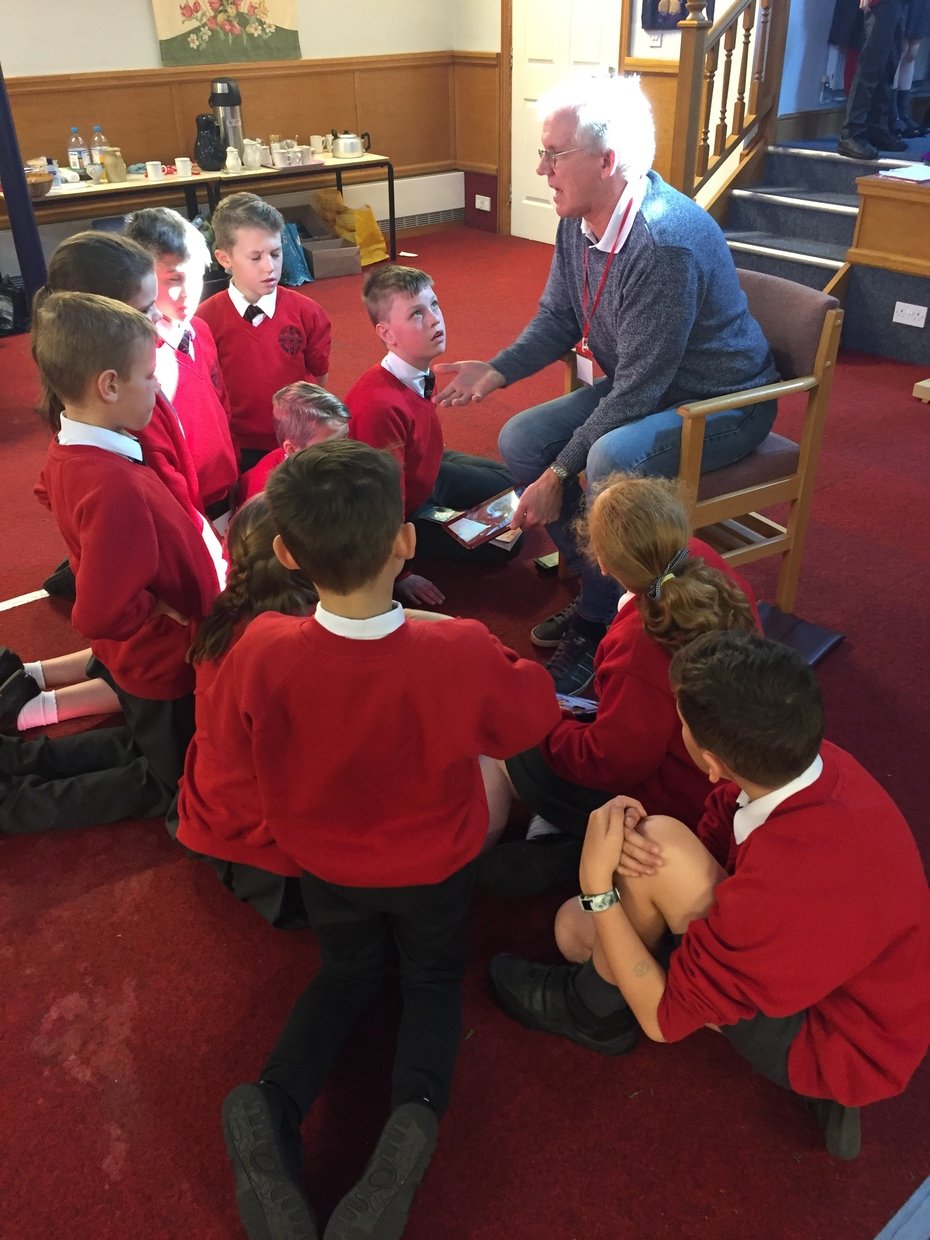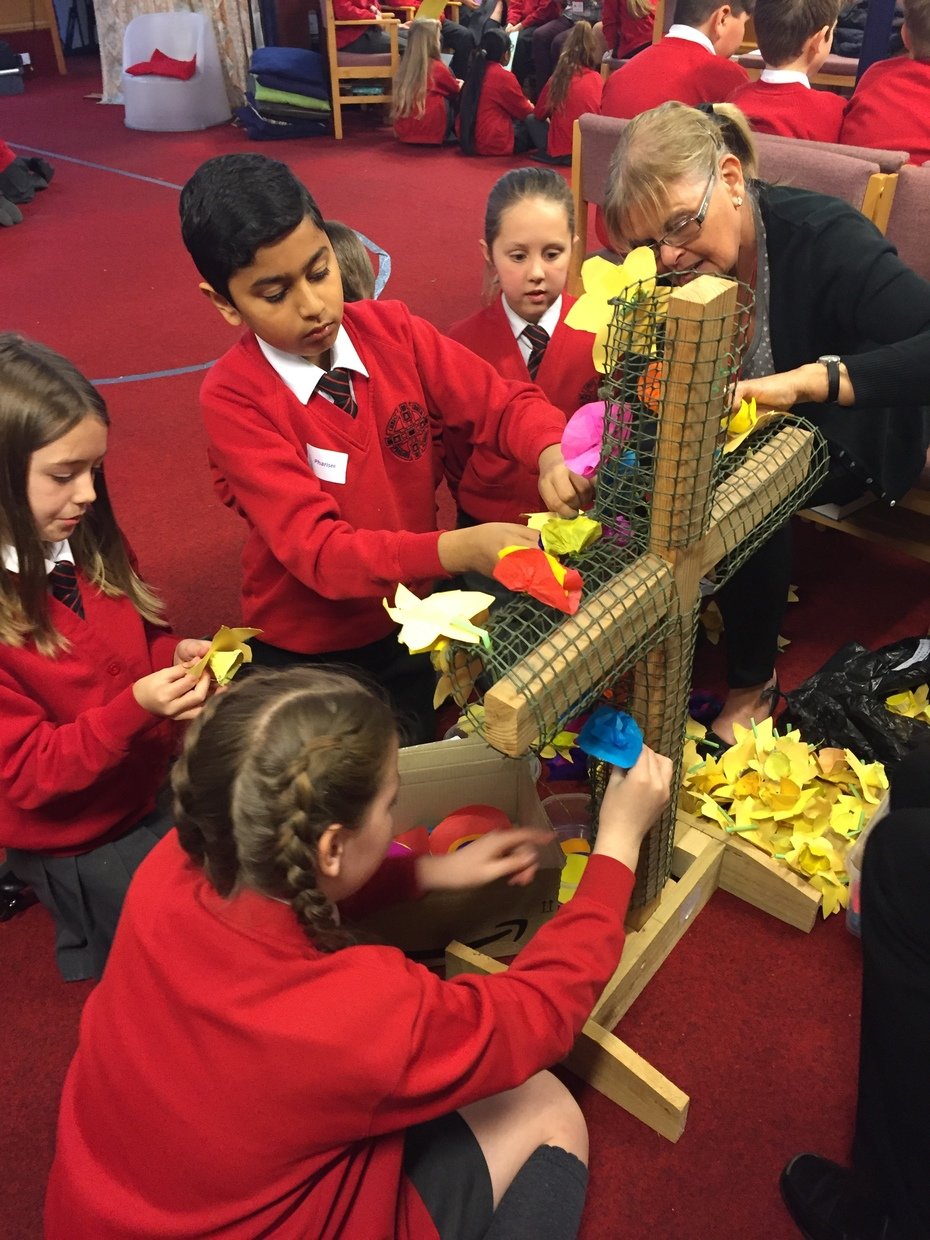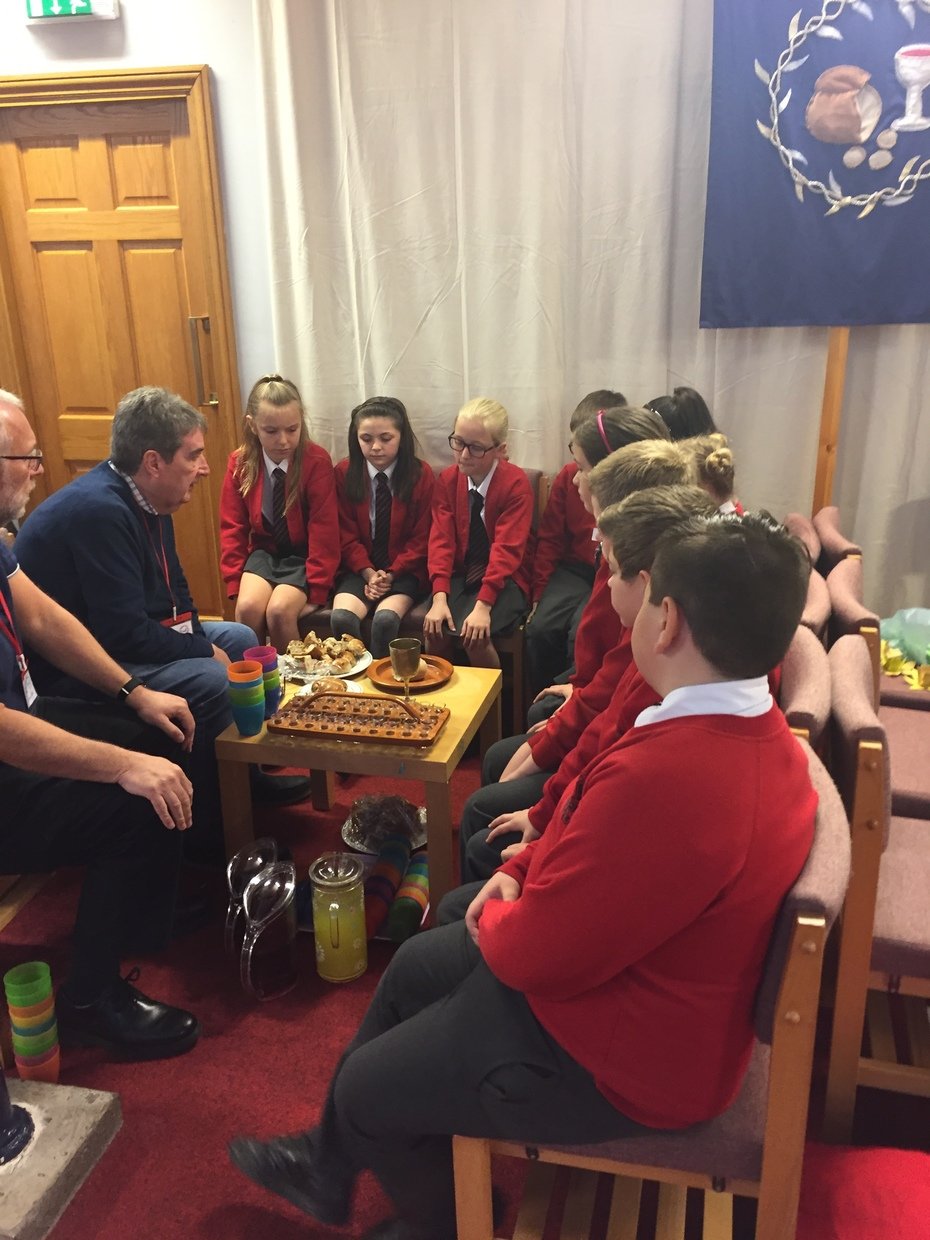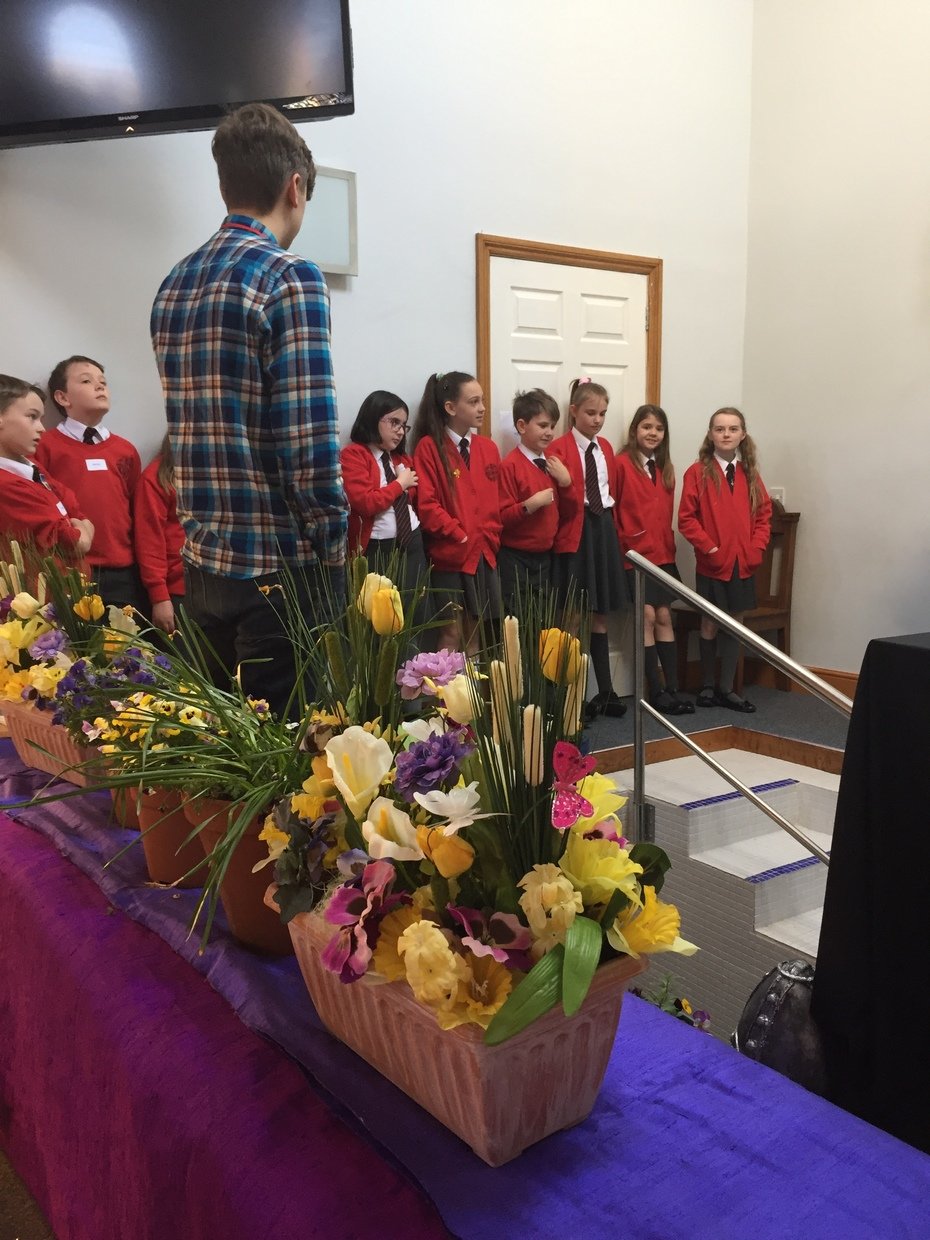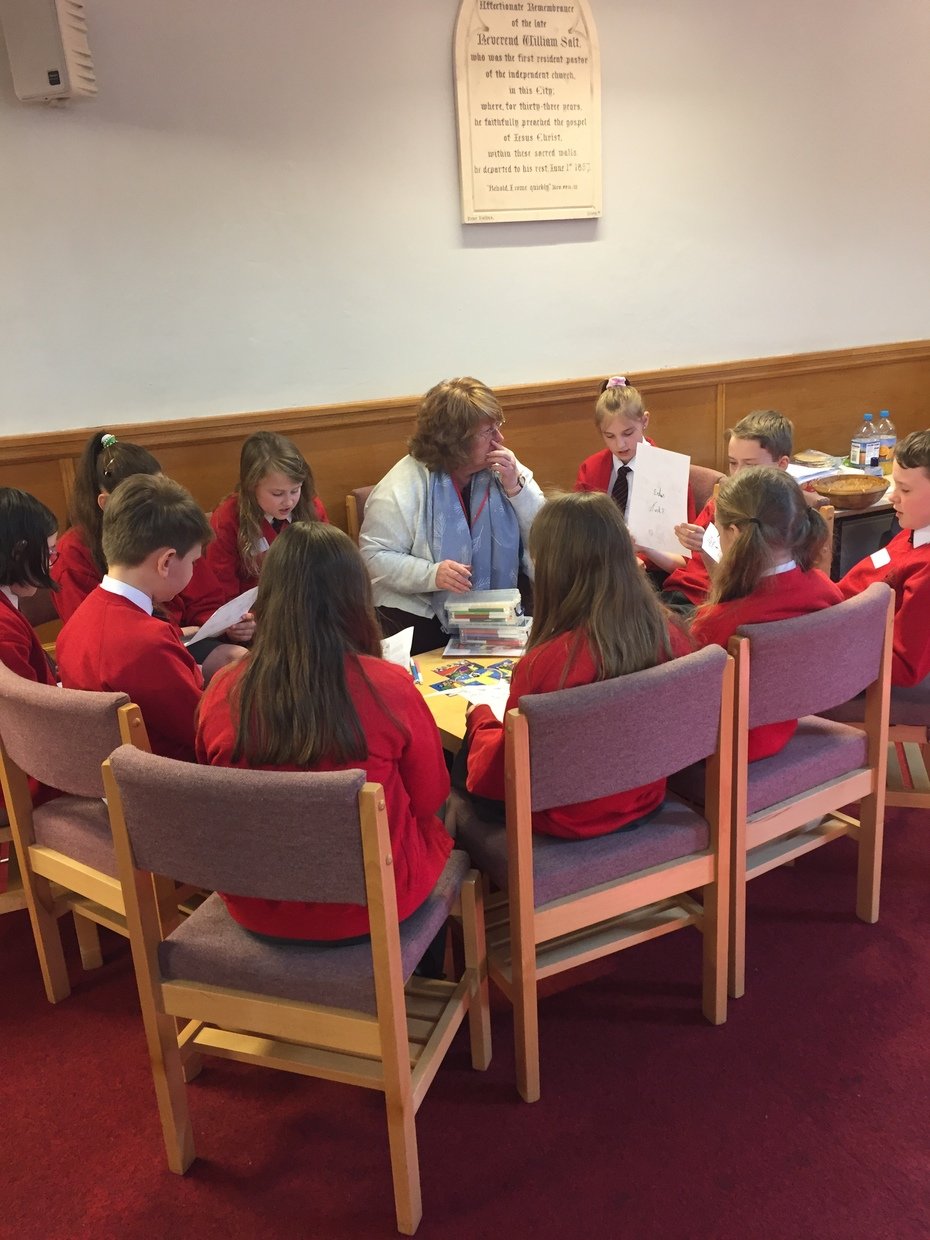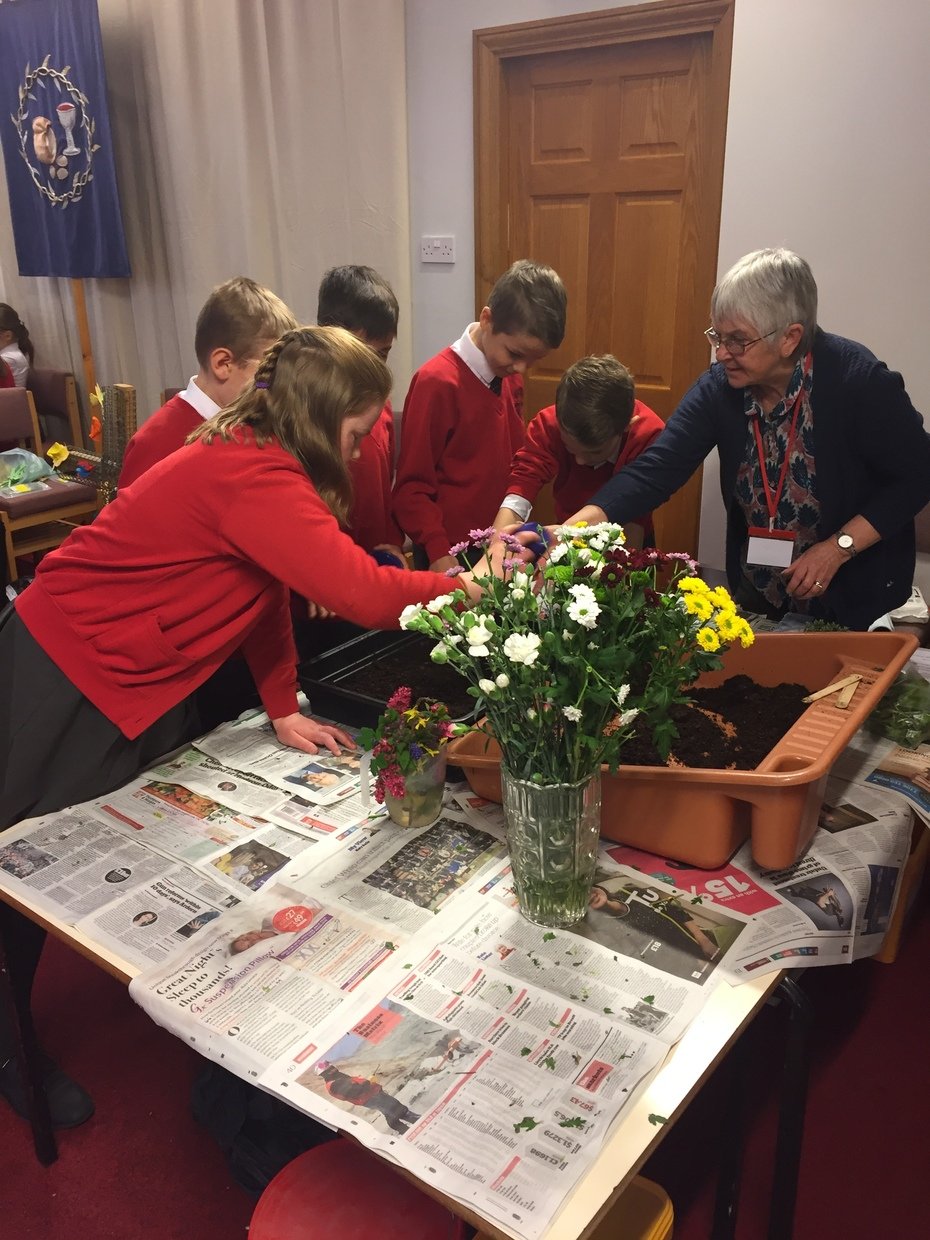 -
Thank you to all the adults who were able to attend our Learning Showcase. The children really enjoyed sharing their learning with you and teaching you all about the water cycle and their sketching techniques.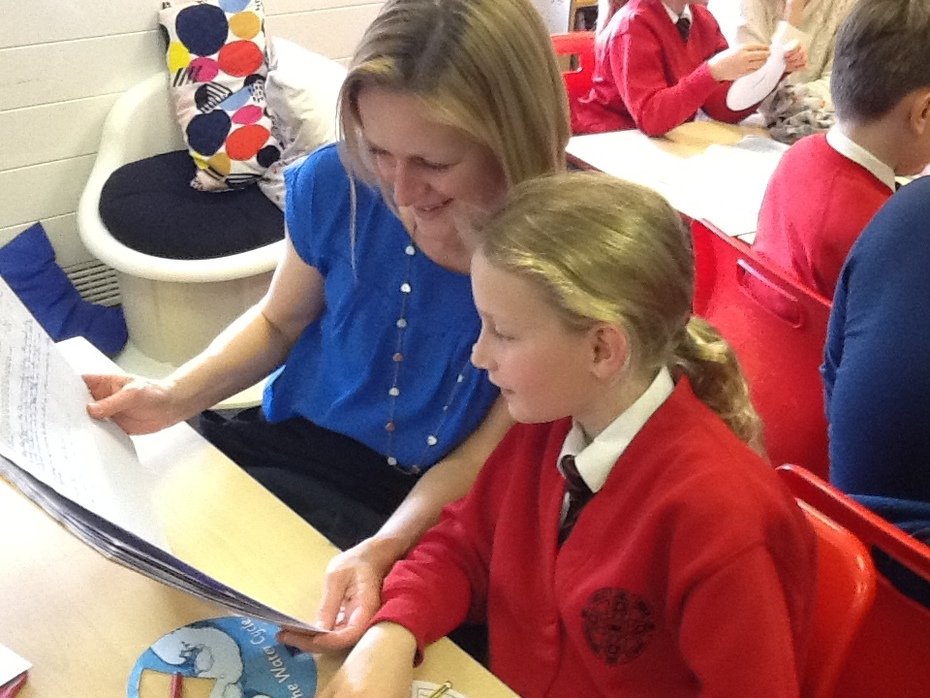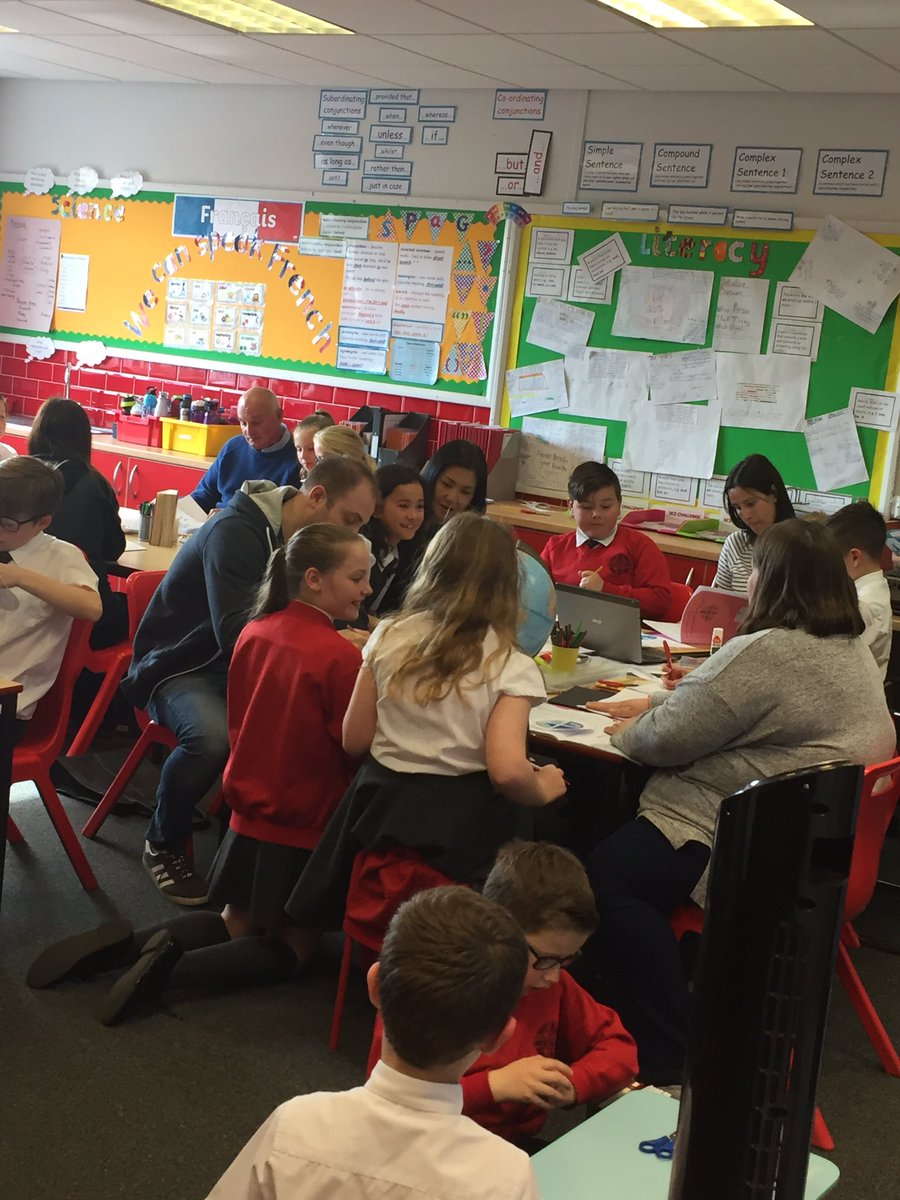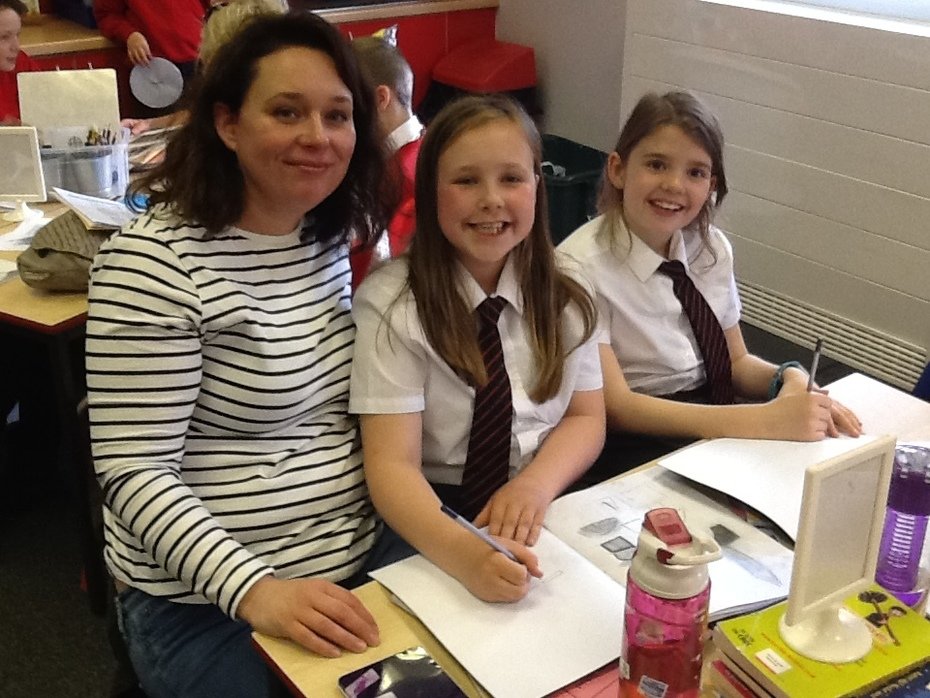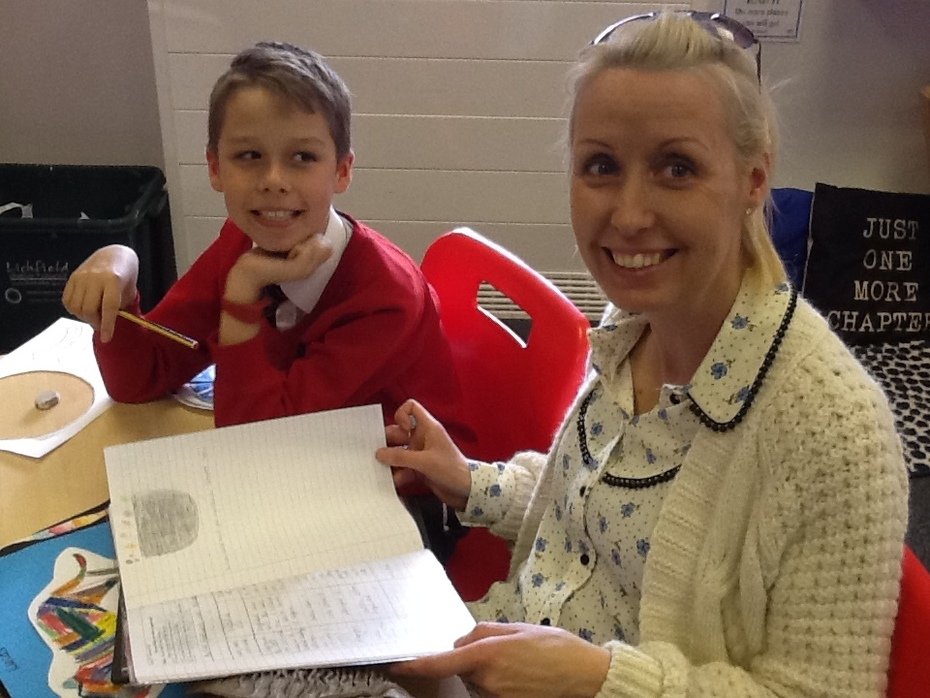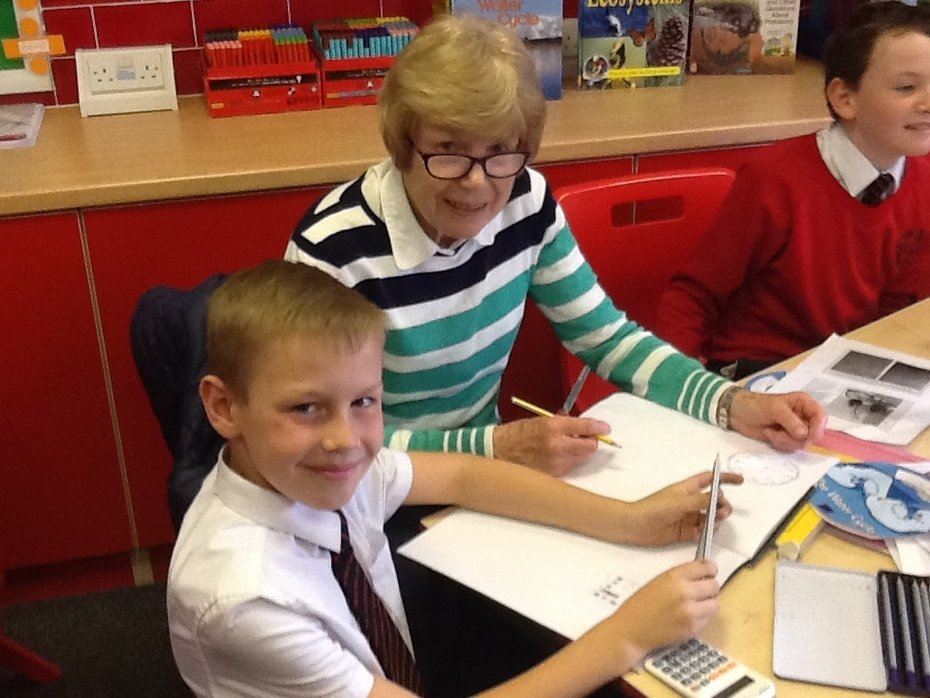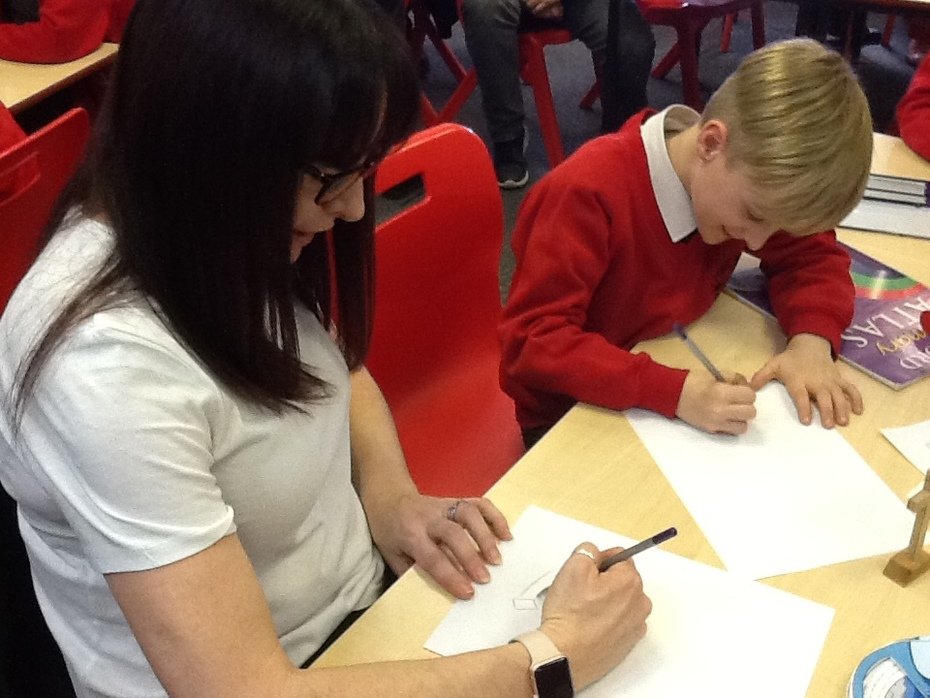 -
It wasn't the best weather and it was Red Nose Day but Year 5 were determined to test their predictions by dropping their eggs onto the hard surface of the playground.
Which material was the best? Did their parachutes work? There were certainly mixed results!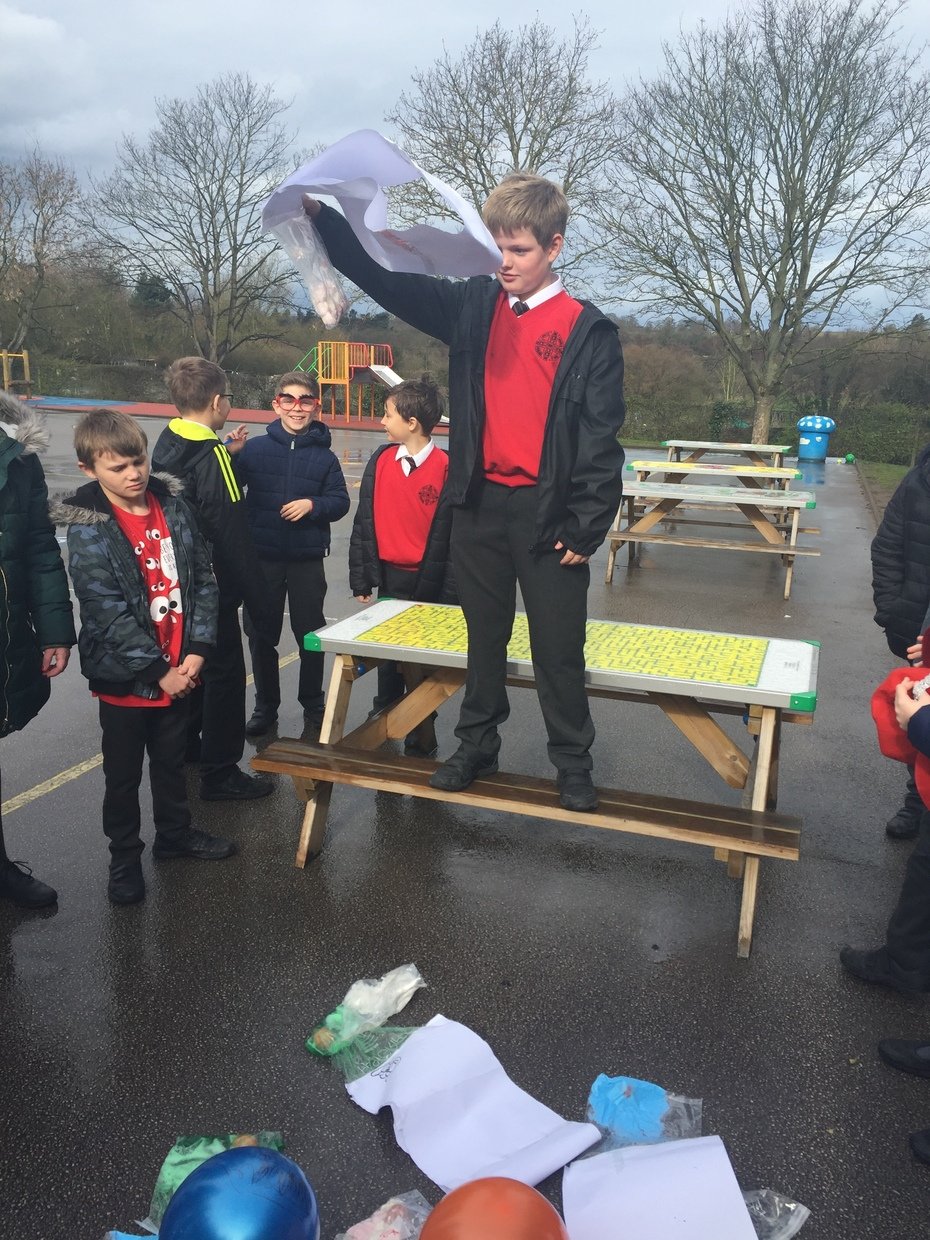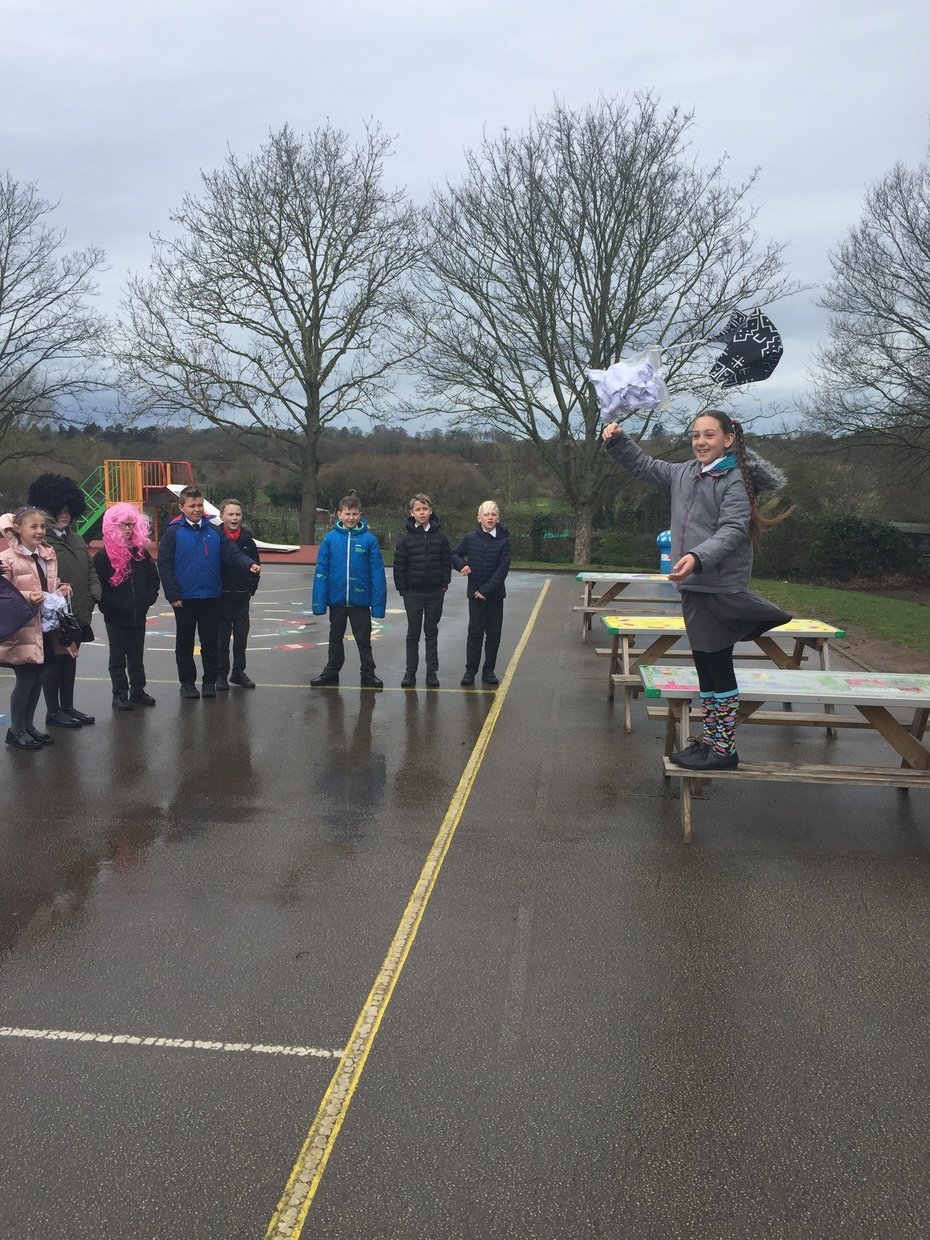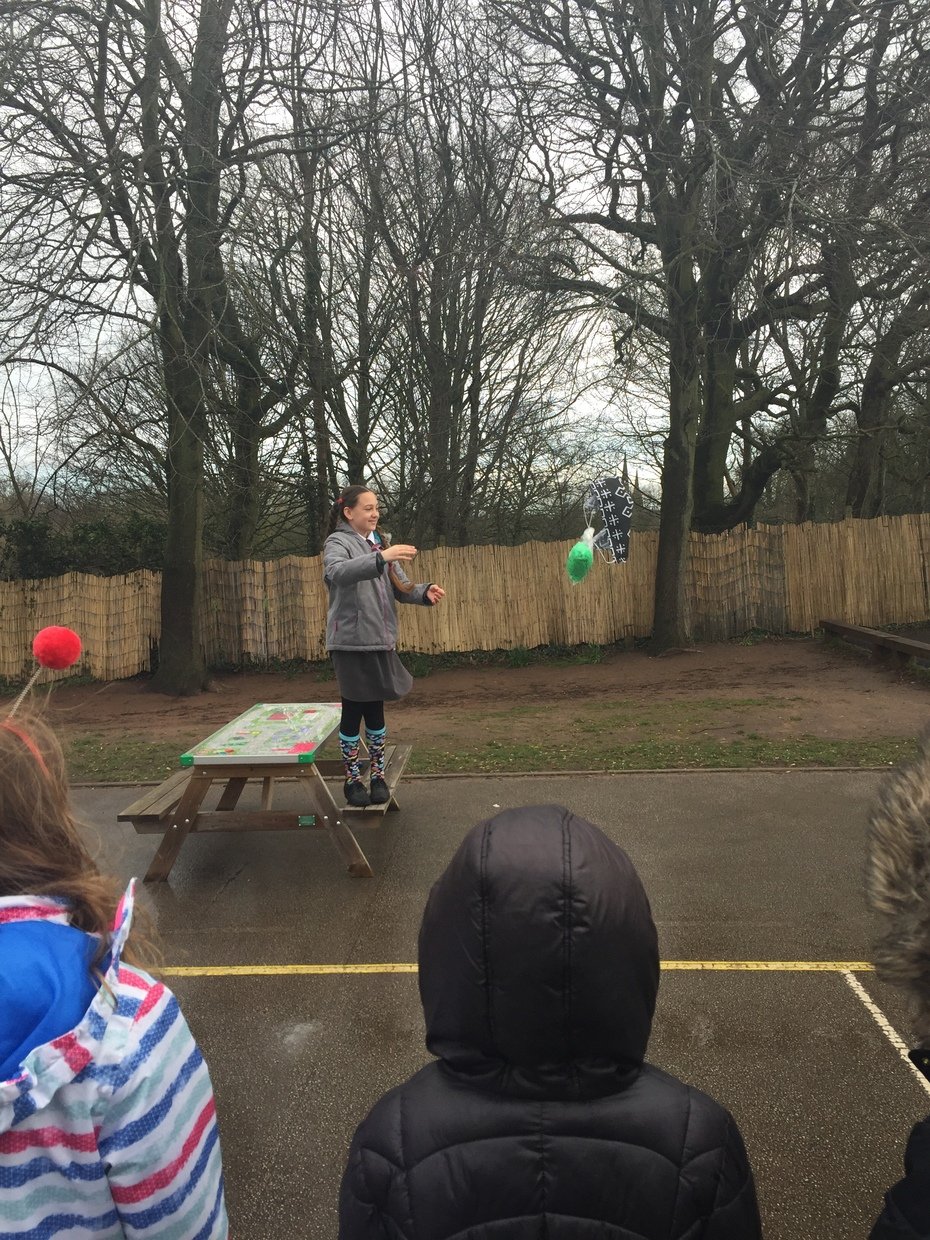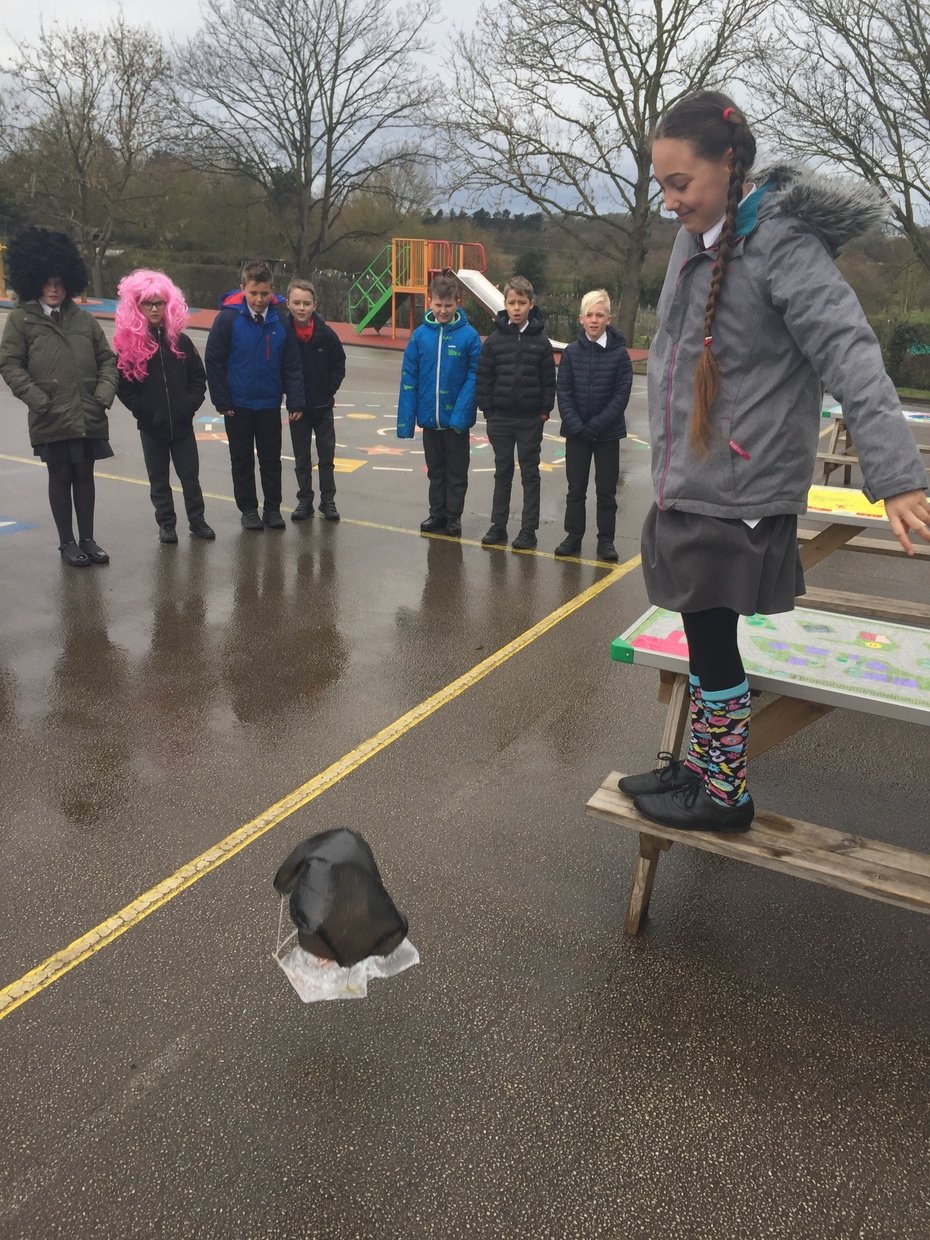 -
Science Week was really fun investigating our question - The big egg drop: will your egg survive? The children decided what materials they thought might protect their eggs and filled a food bag with each of these. They also made parachutes to help slow the egg down before it hit the ground!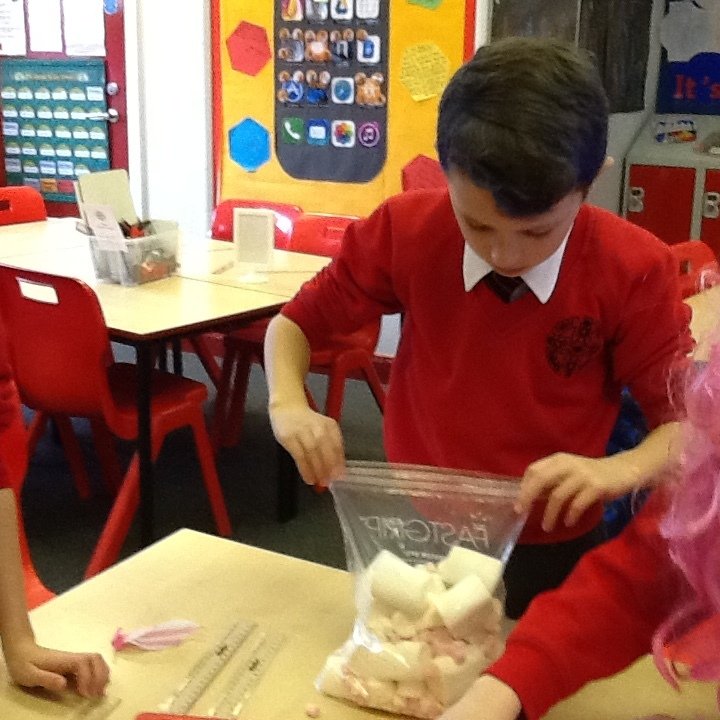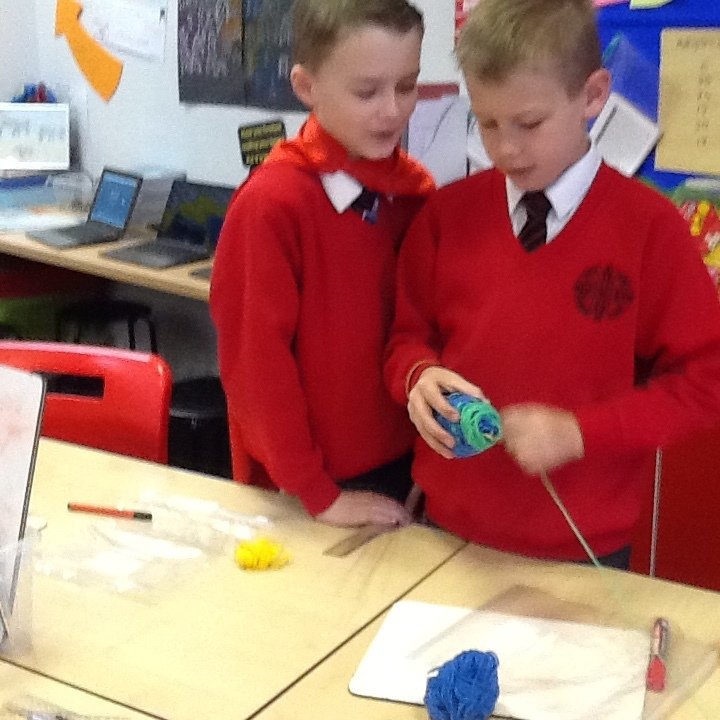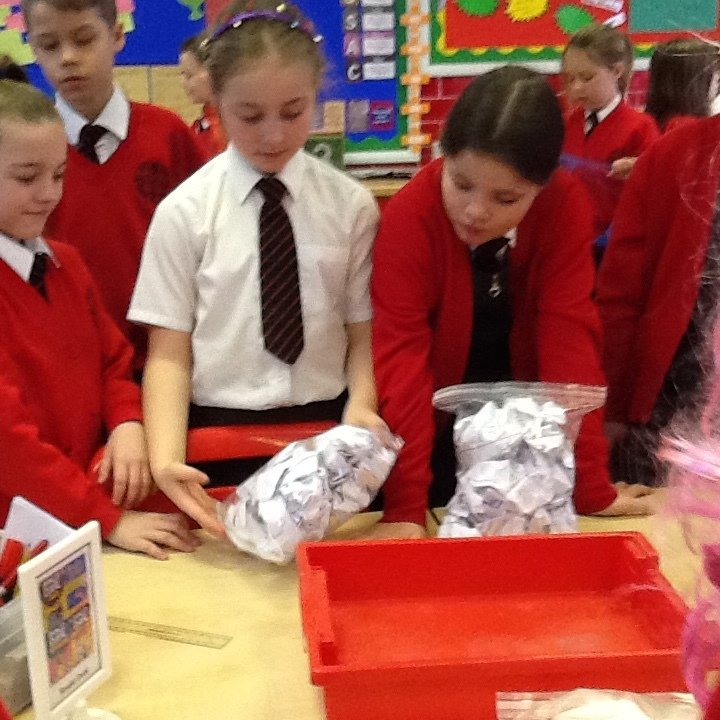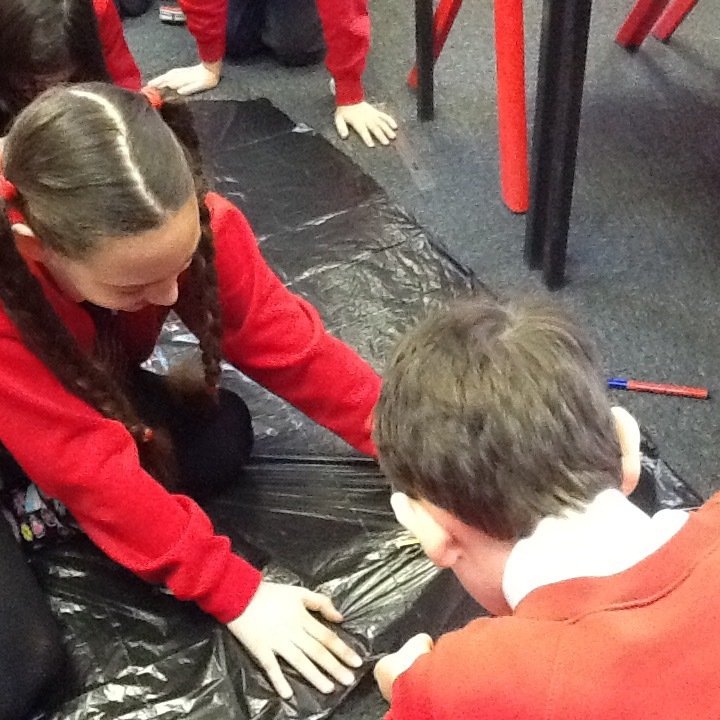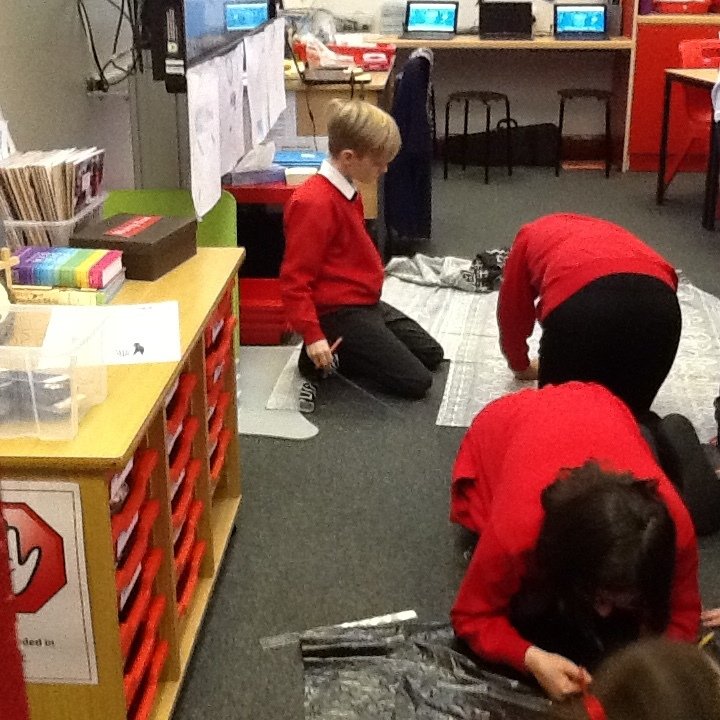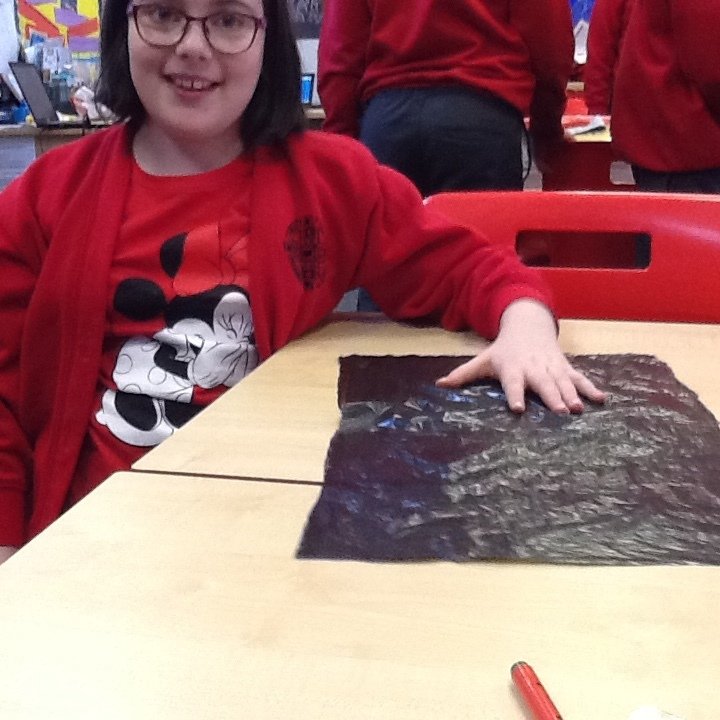 -
Year 5 dressed up as their favourite characters to celebrate World Book Day on Thursday.
Mr Tilt's class enjoyed sharing stories with the children in Year 2. A great day enjoying books!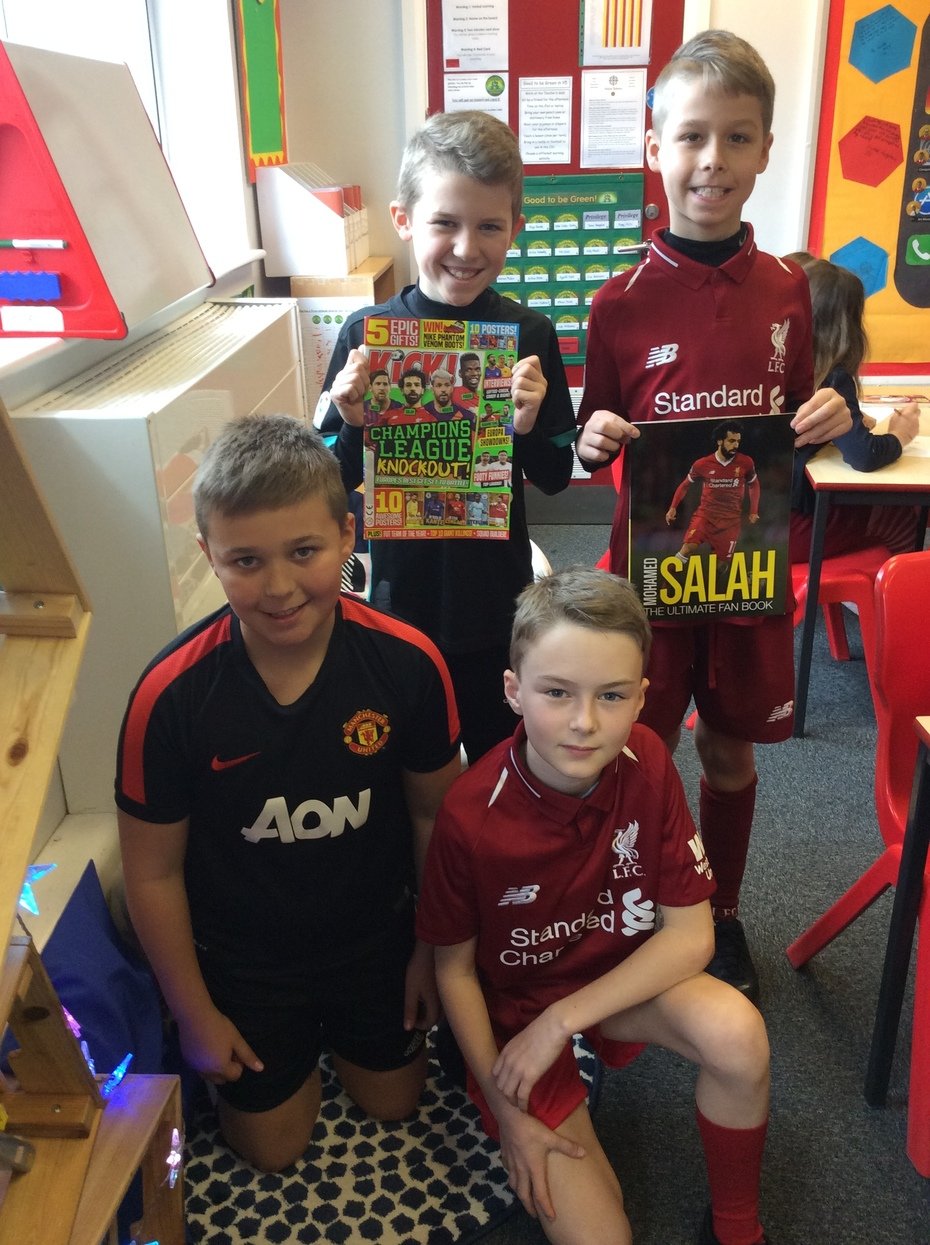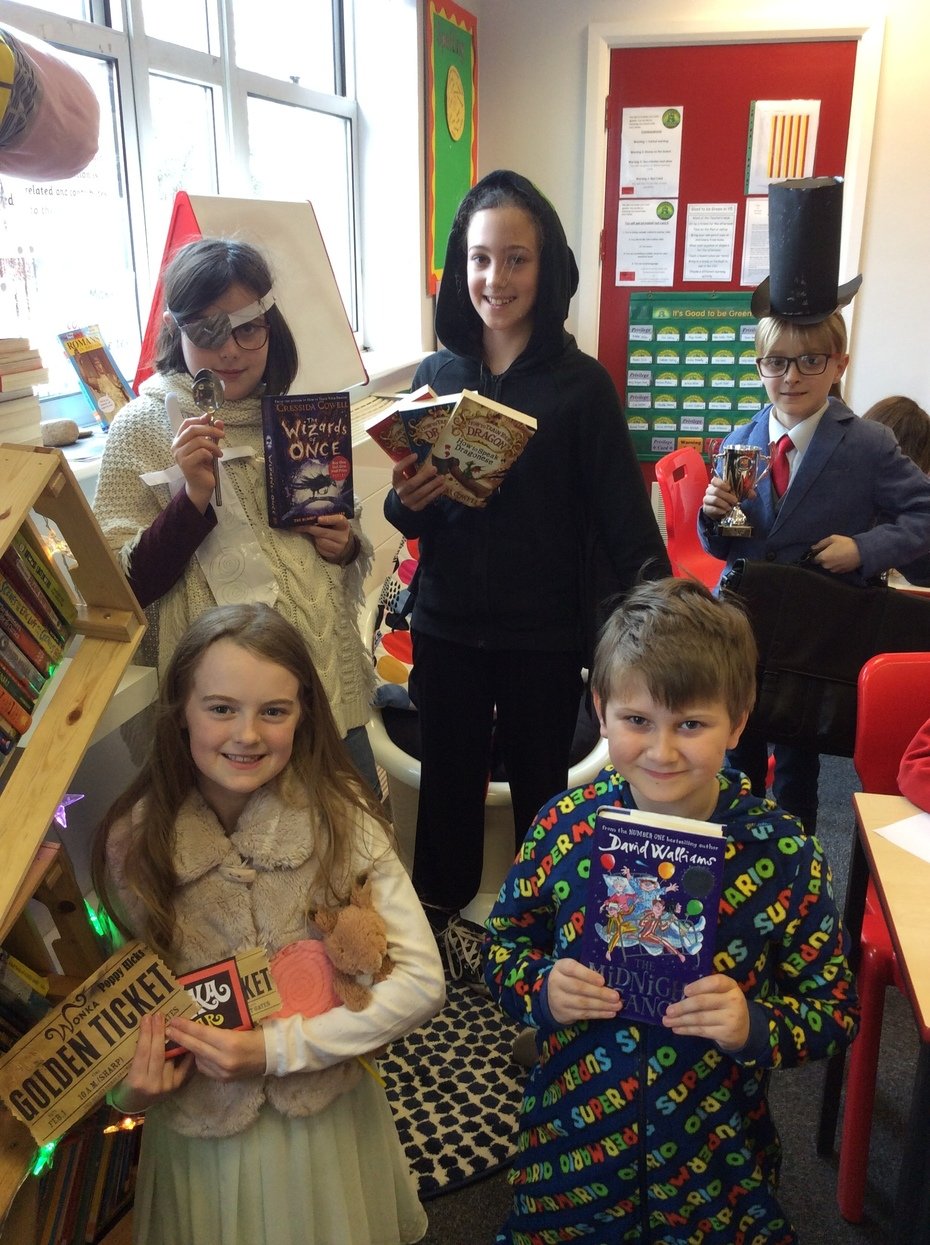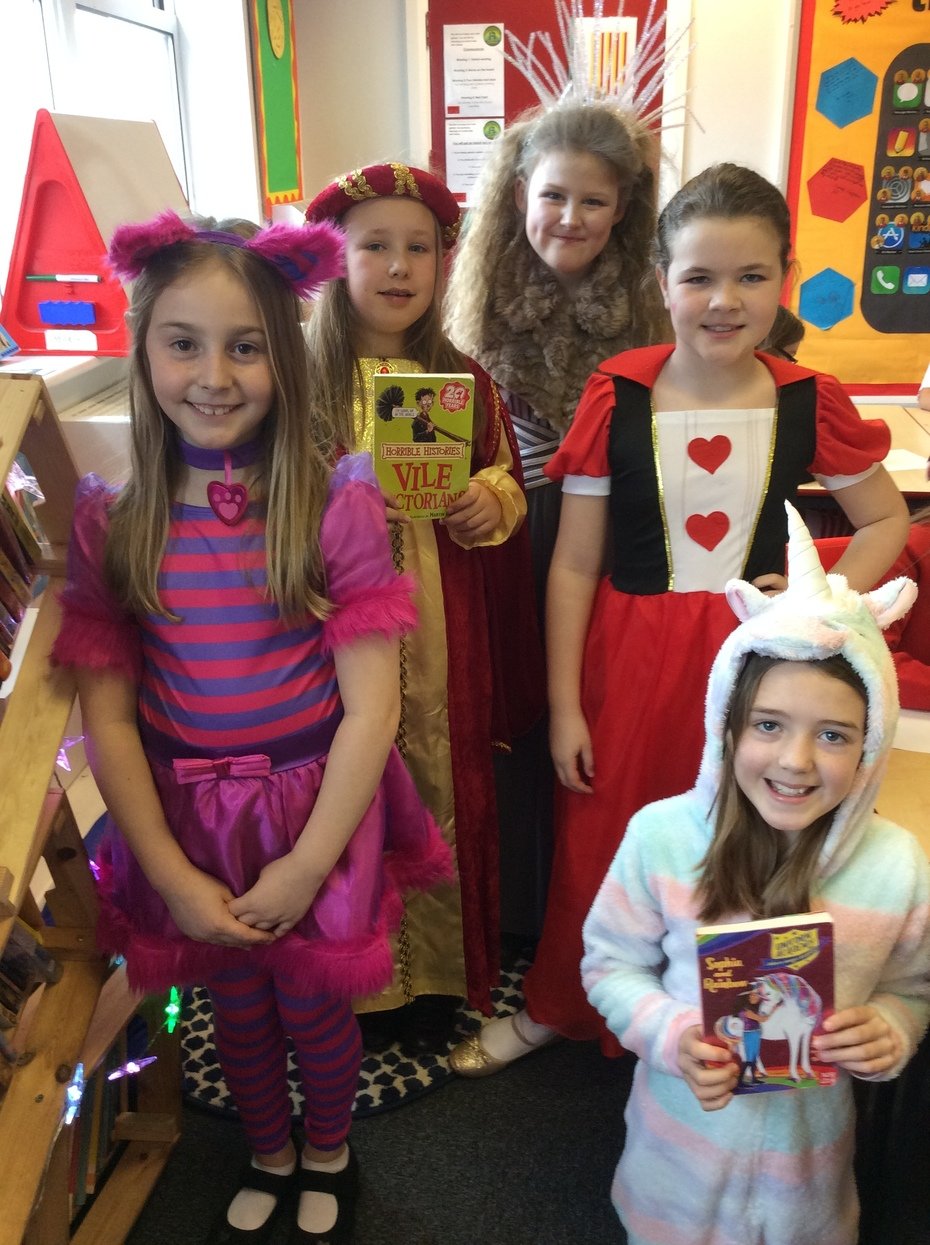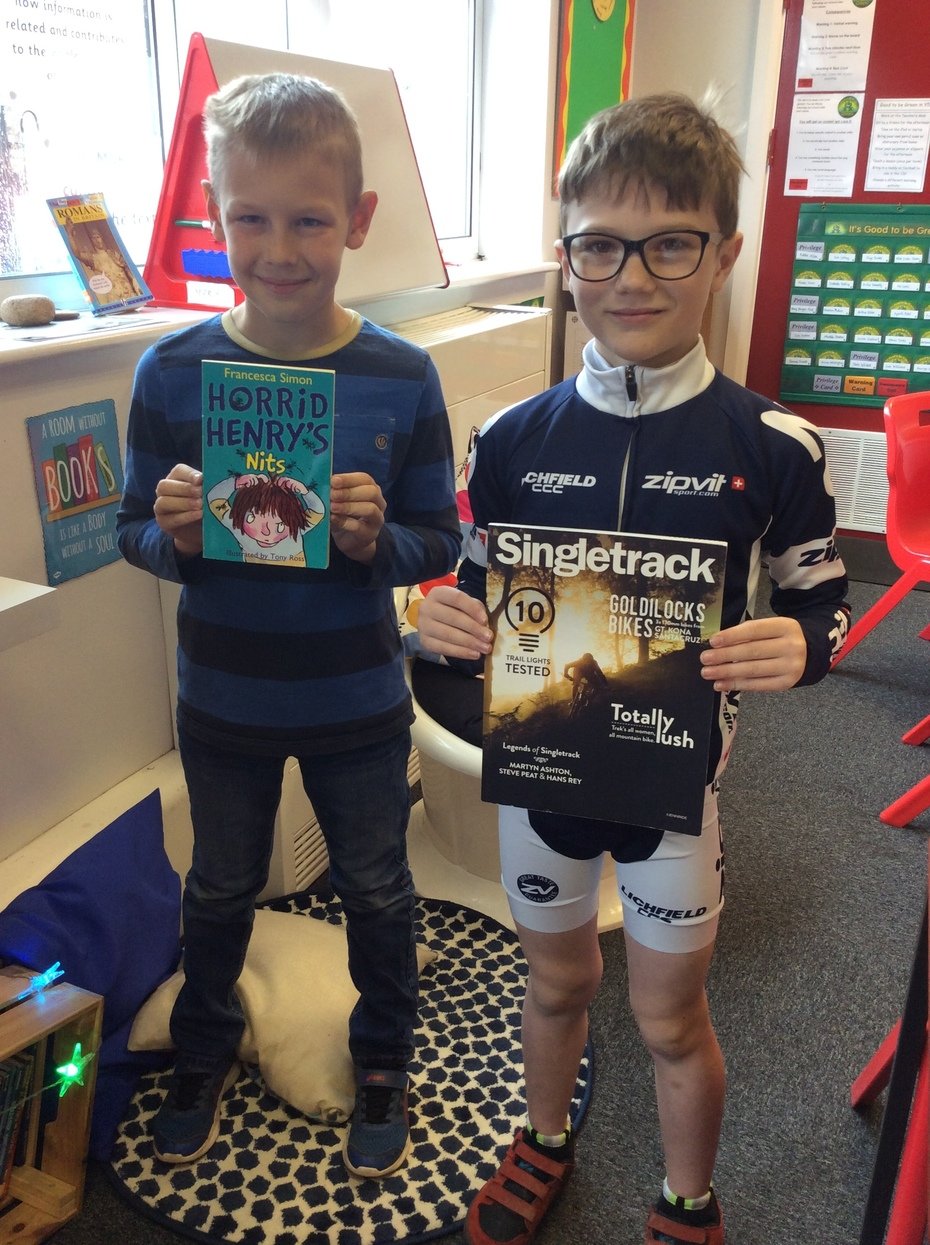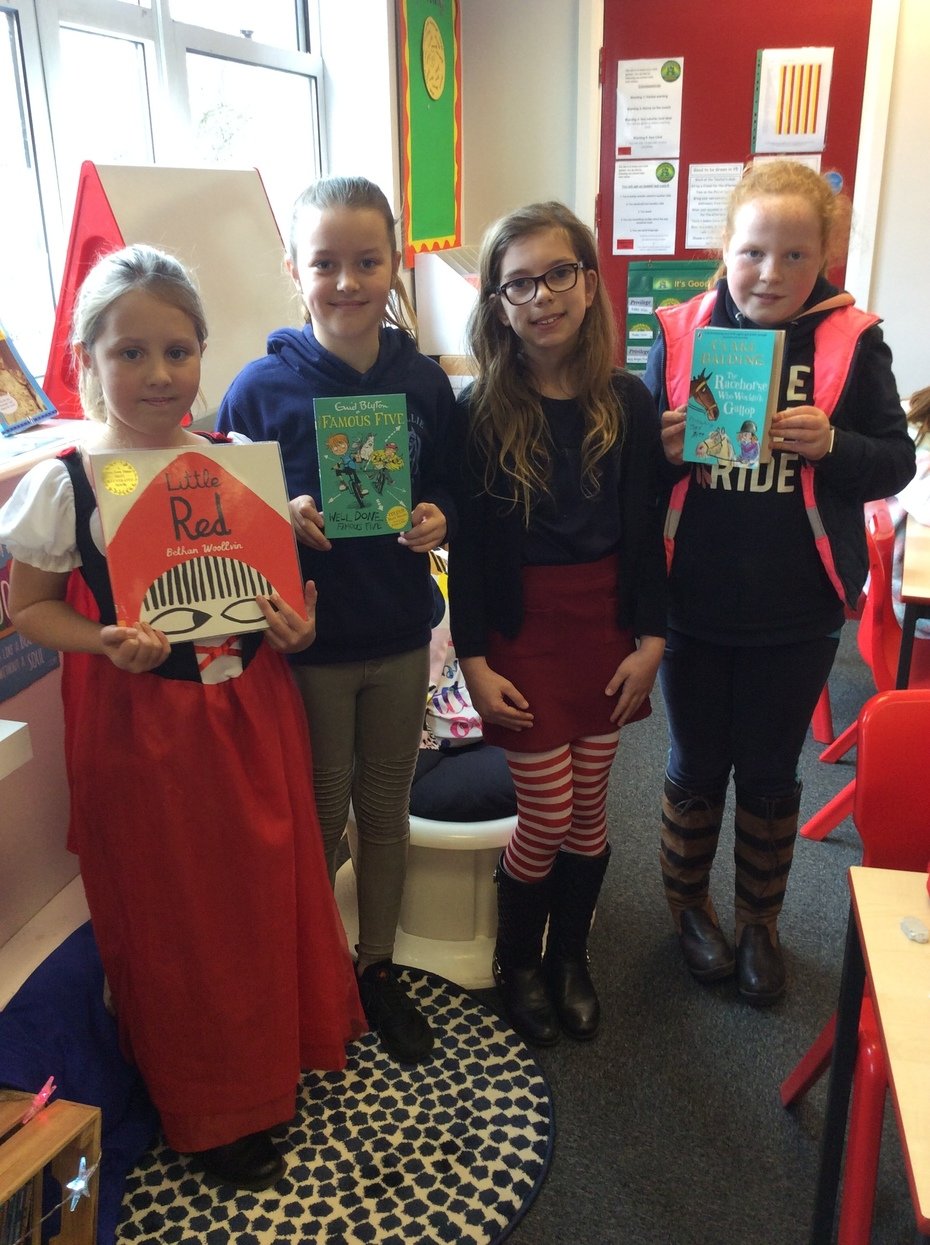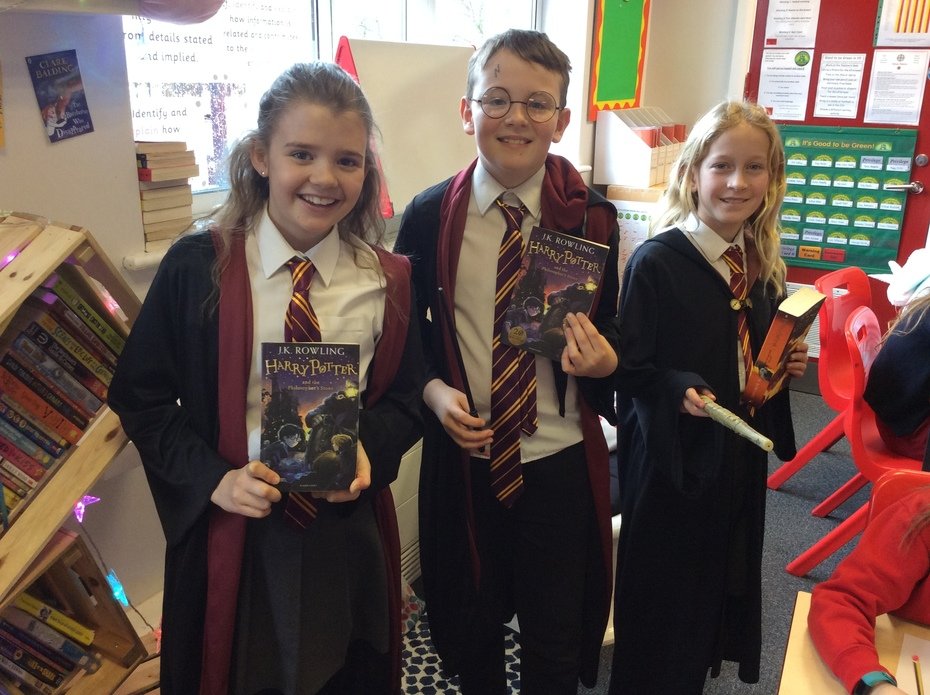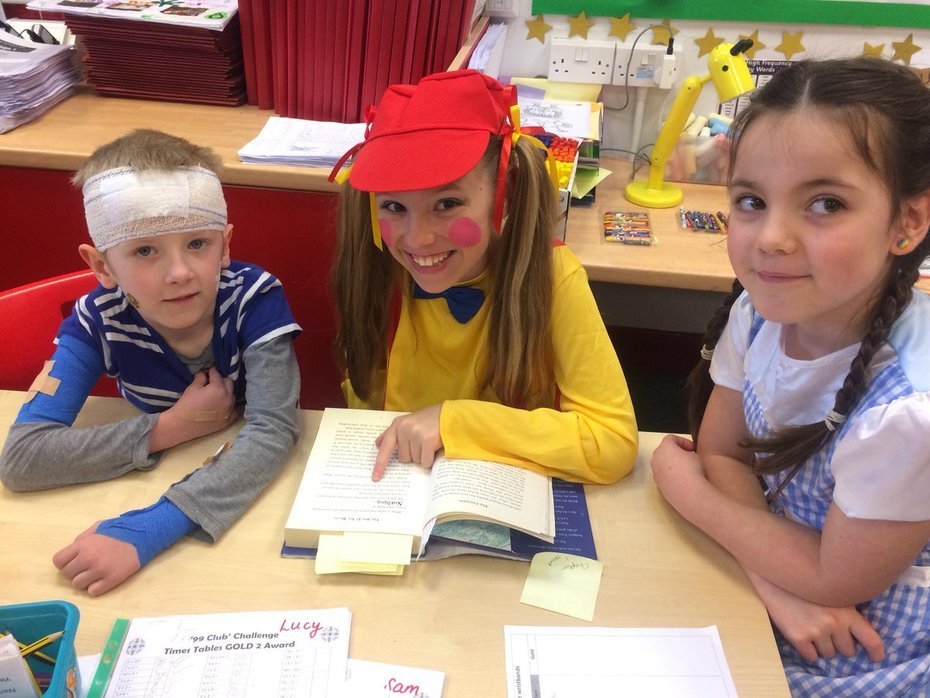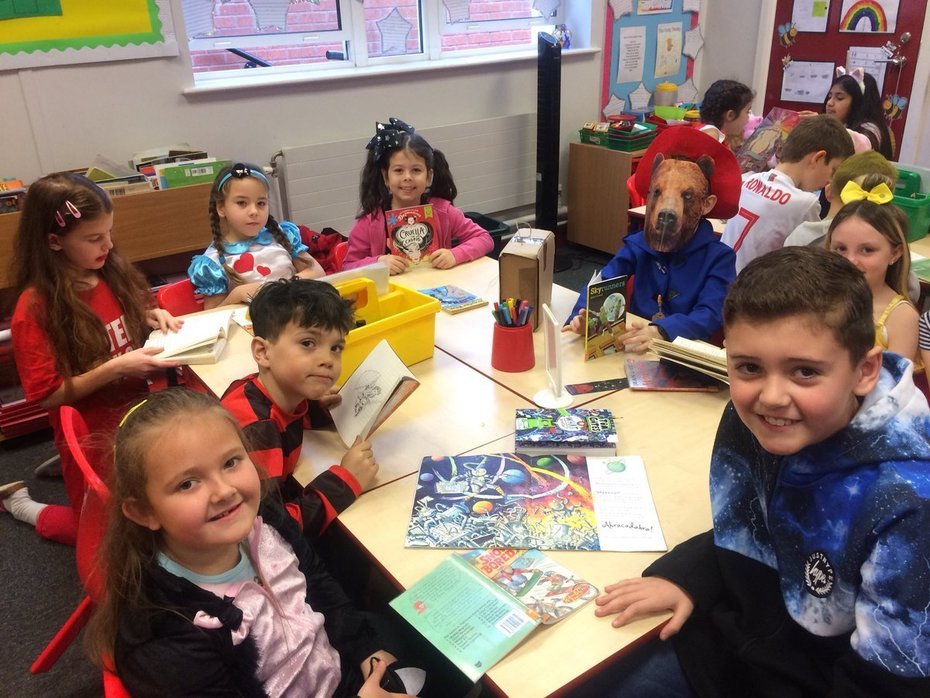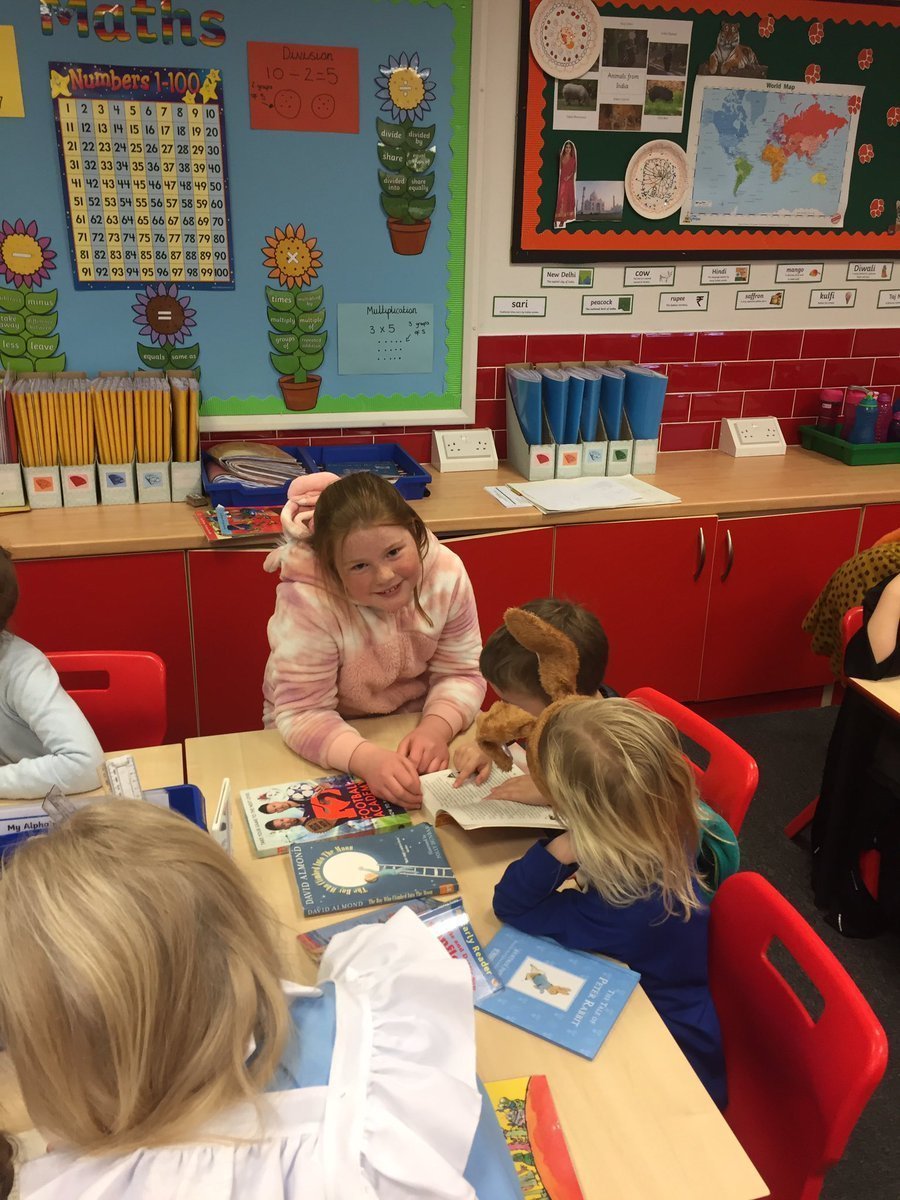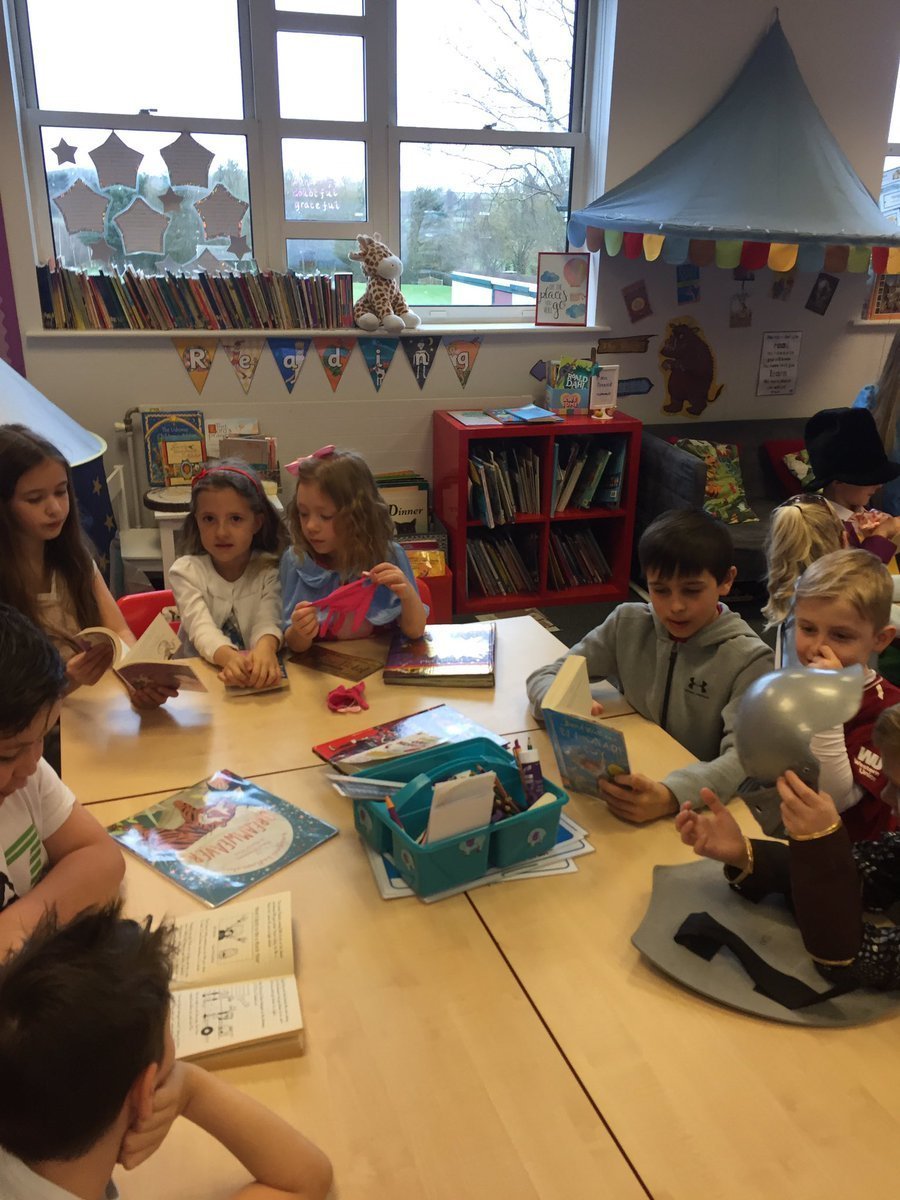 -
On Thursday, Mrs Cheek's class had a great morning working with their grown-ups at their Inspire workshop. There was pizza making, painting like Michelangelo and even writing postcards from places around Italy. Thank you to all the adults that came to join us.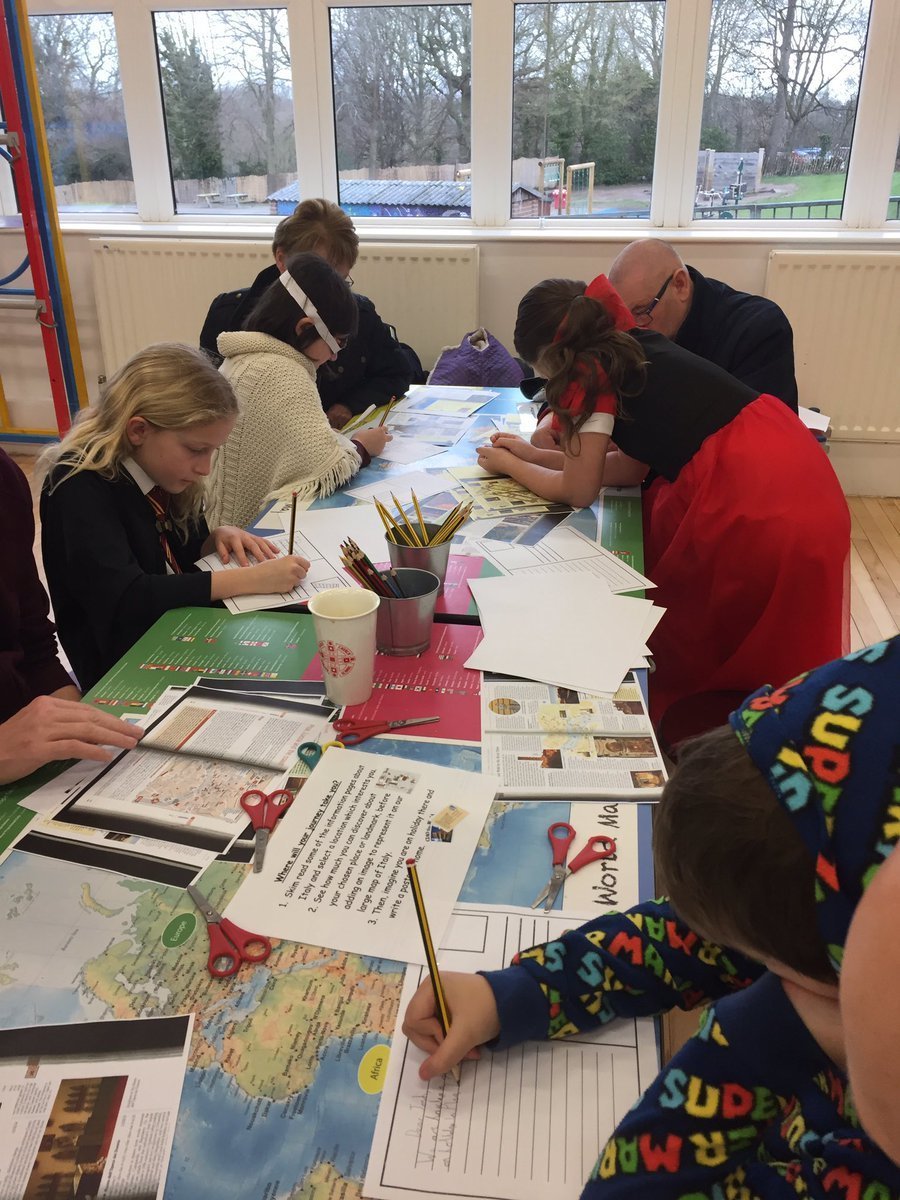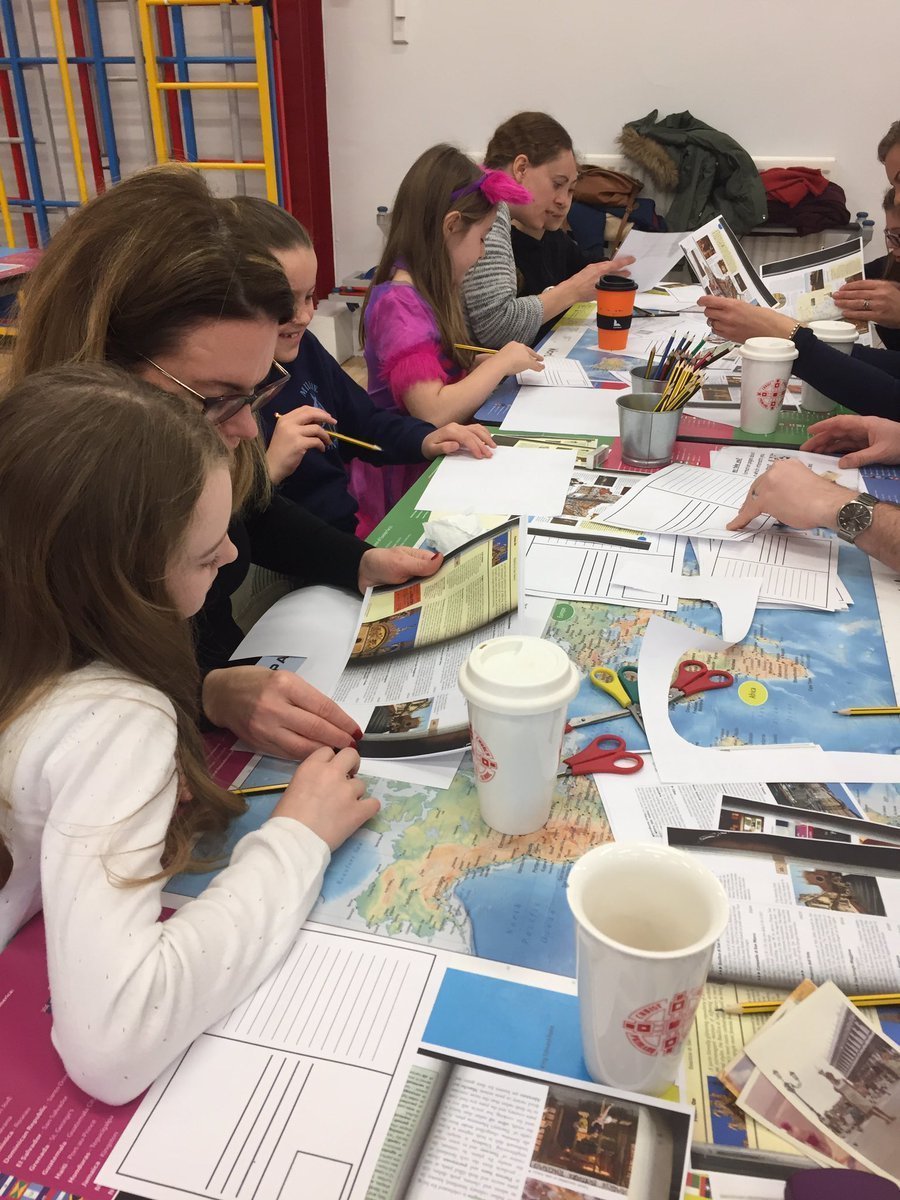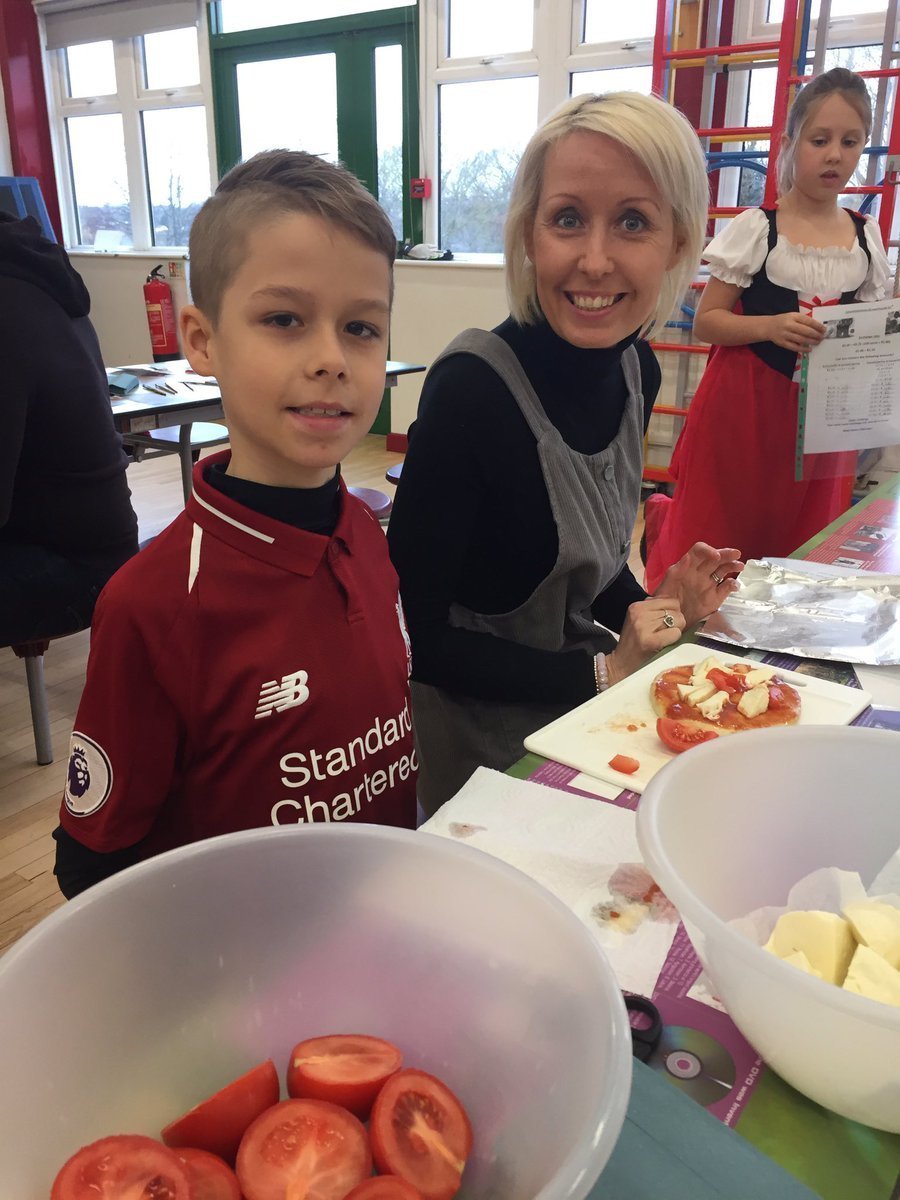 -
Last week, the children experienced a day they won't forget in a hurry when they arrived at school to find things in an unusual state! Christ Church was visited by aliens overnight, who left plenty of evidence to show what they had been up to. Year 5 got started straight away with their investigations, even helping Reception discover what had happened outside.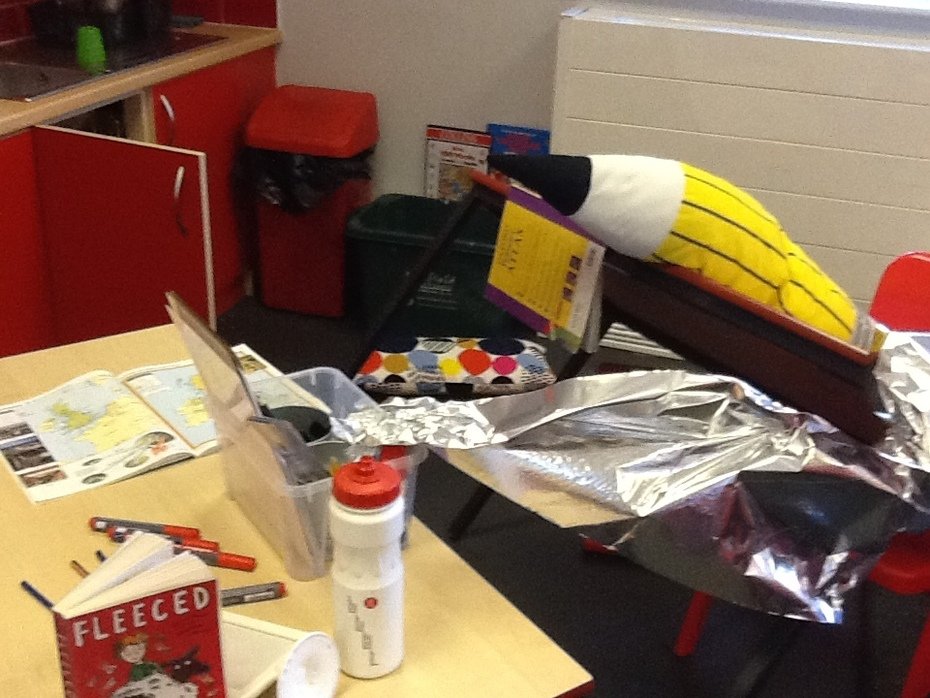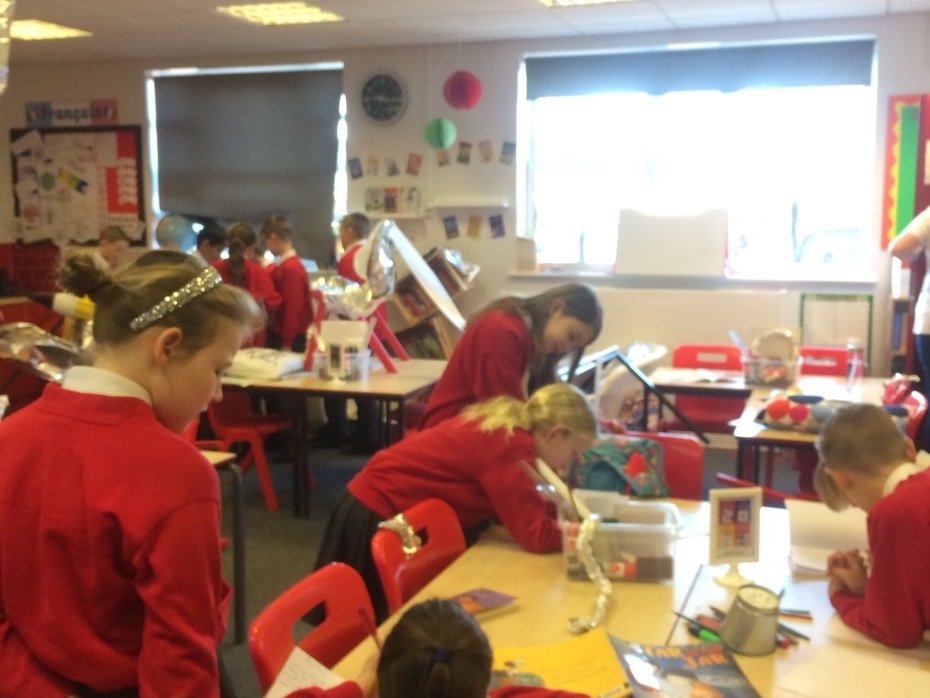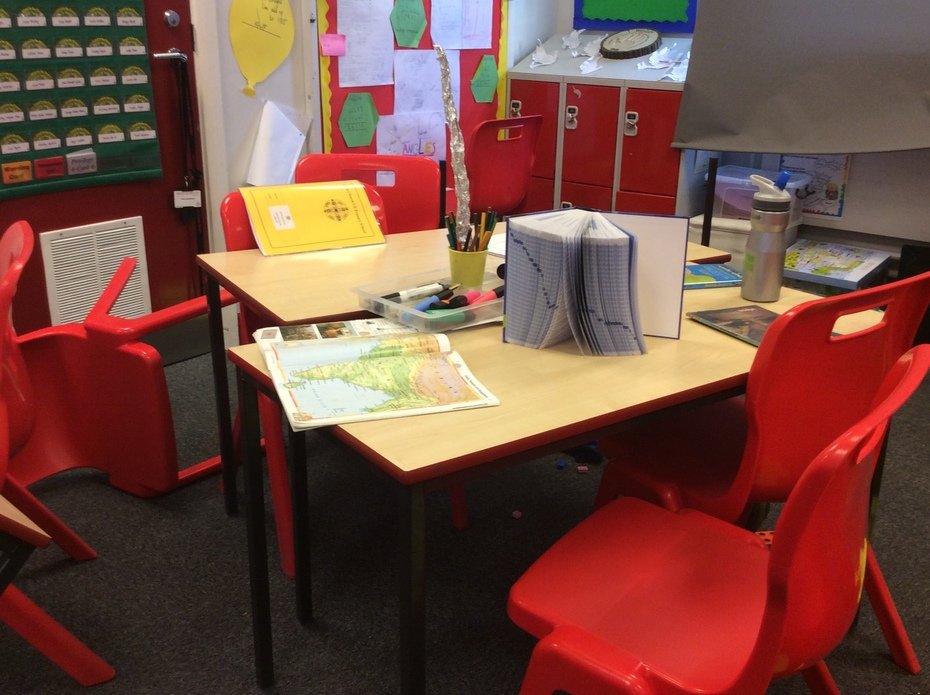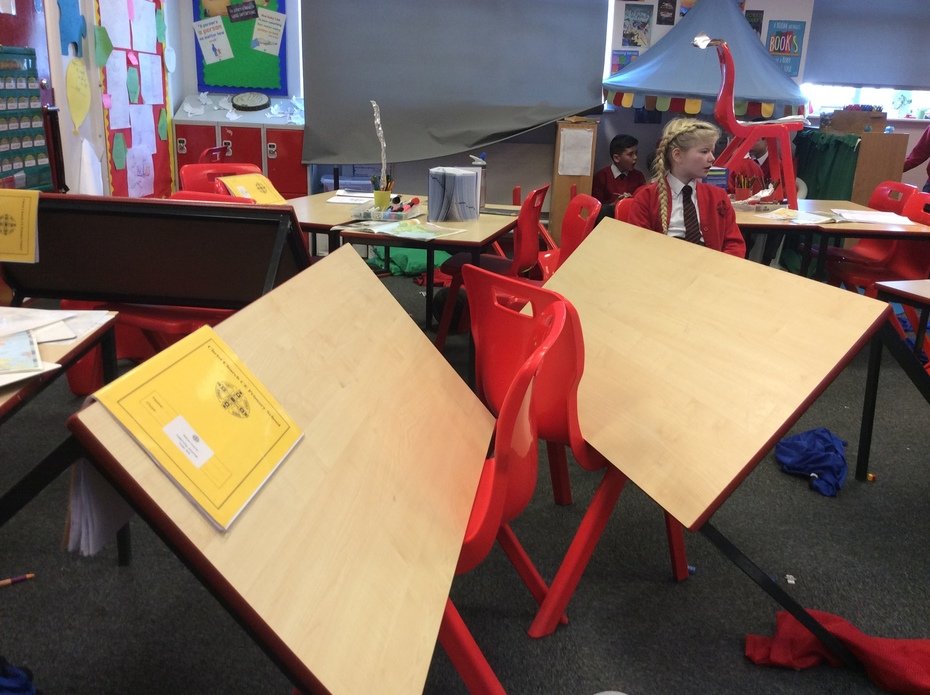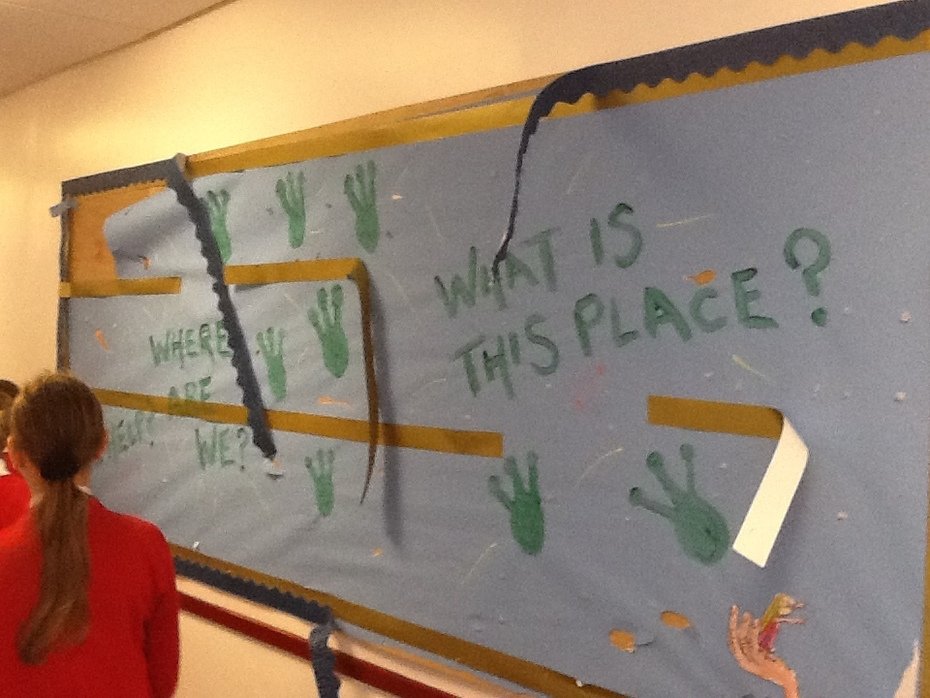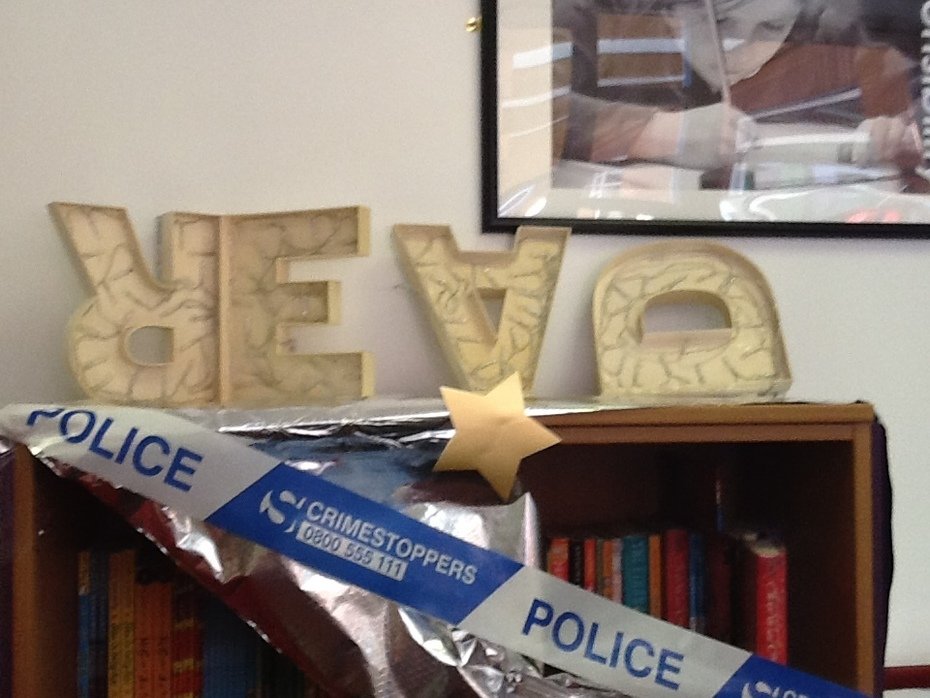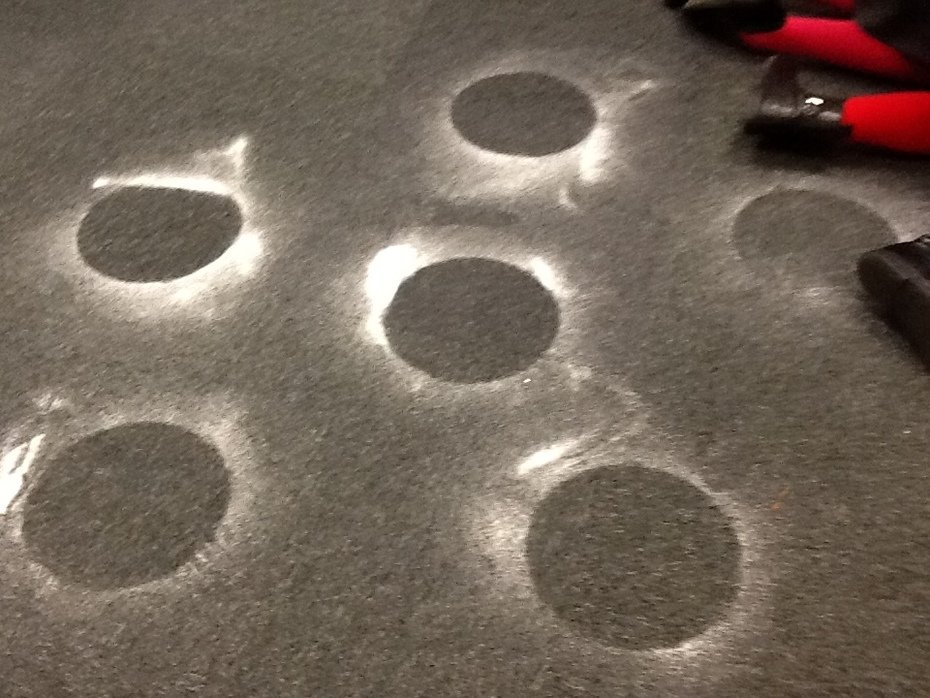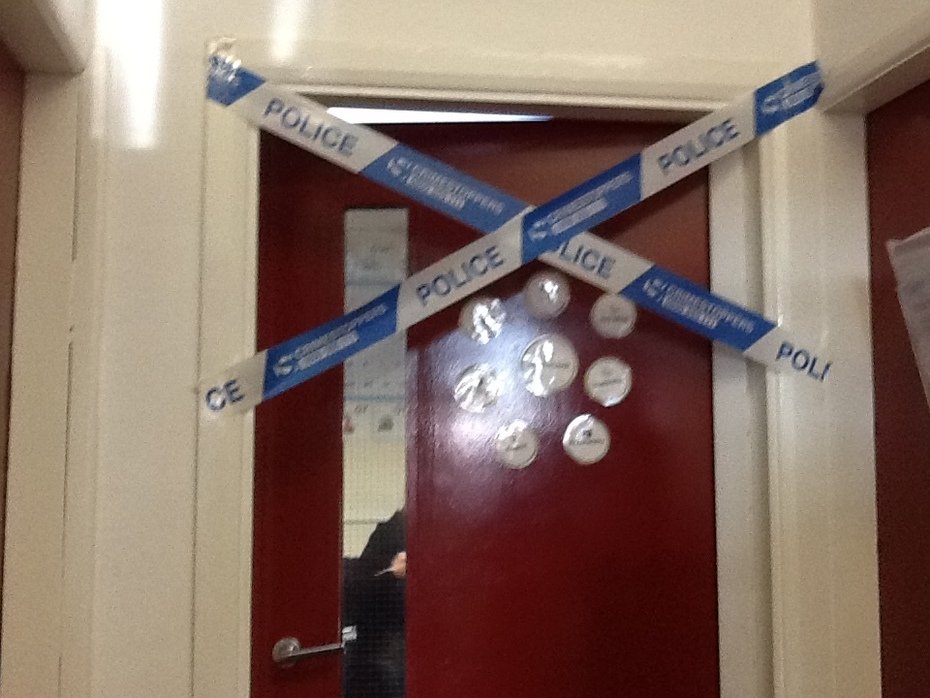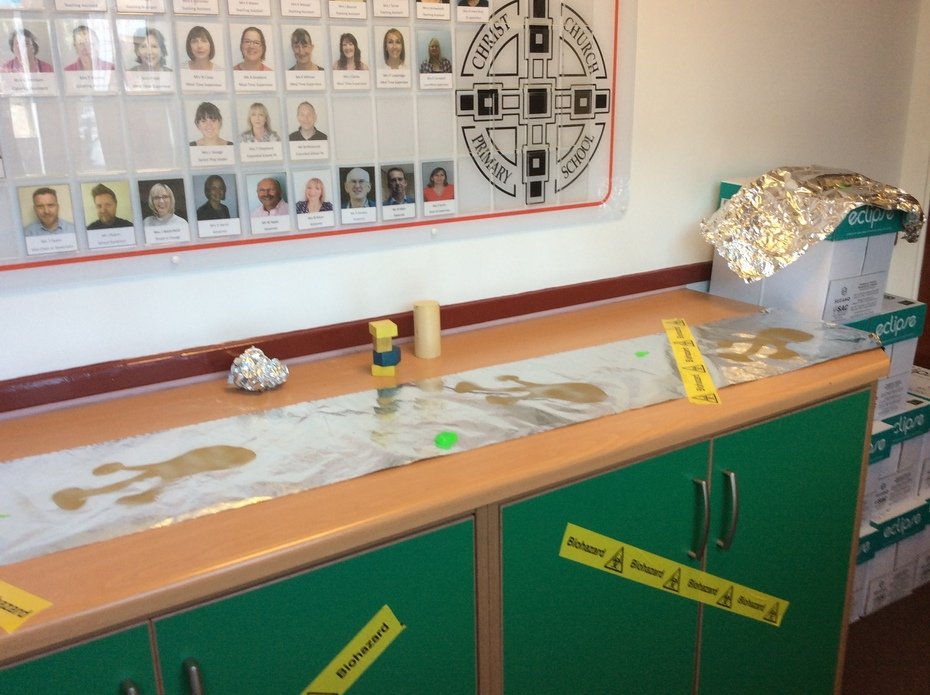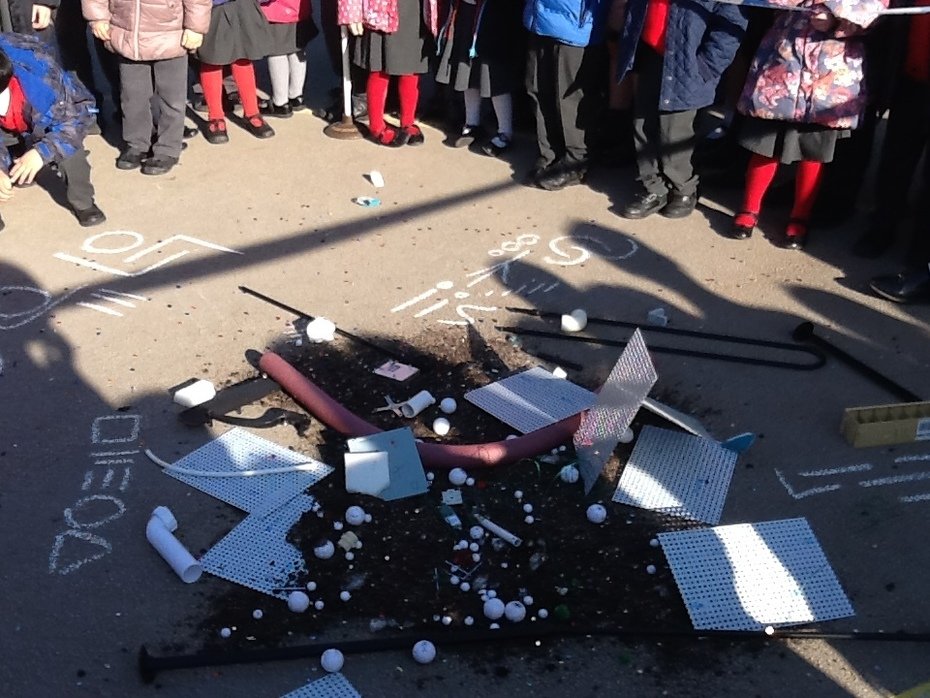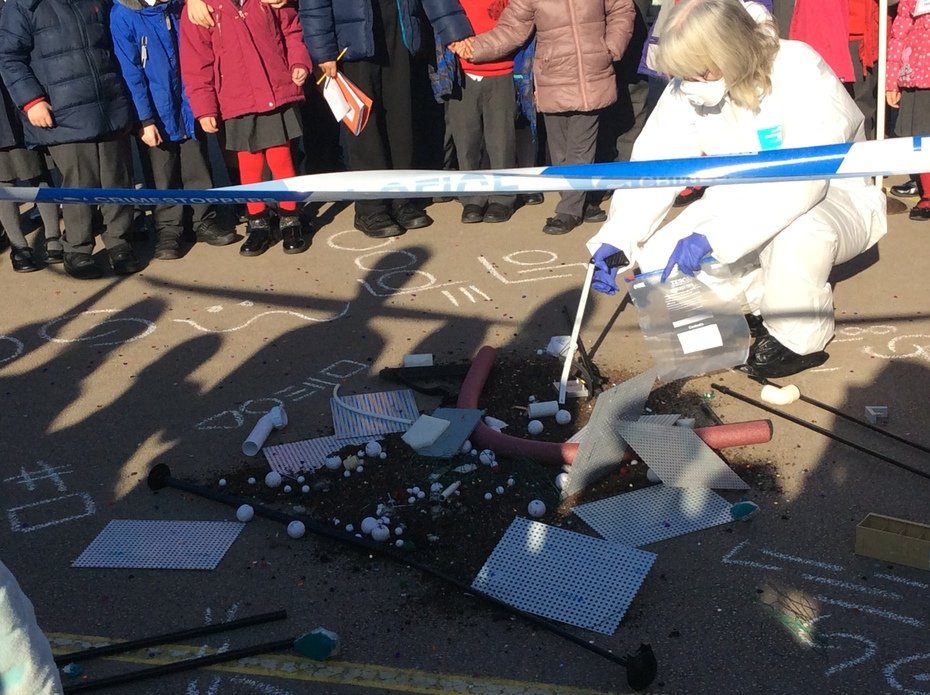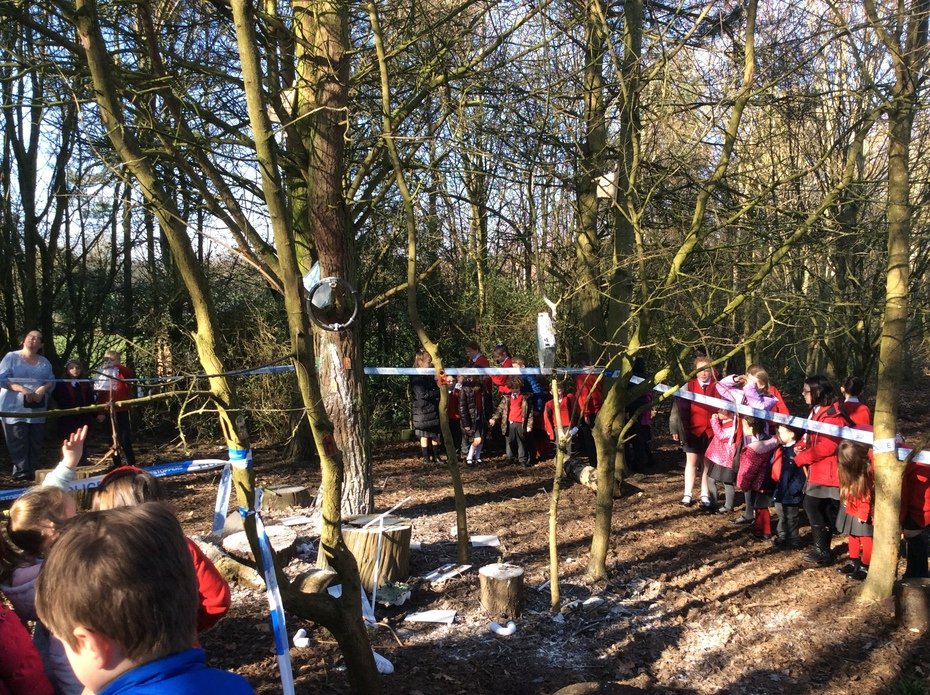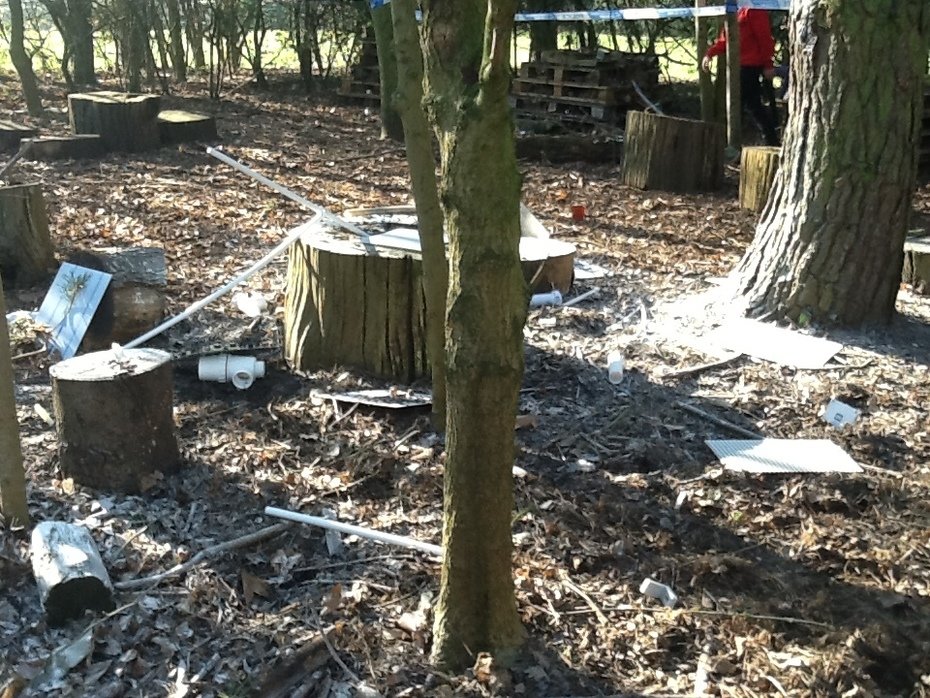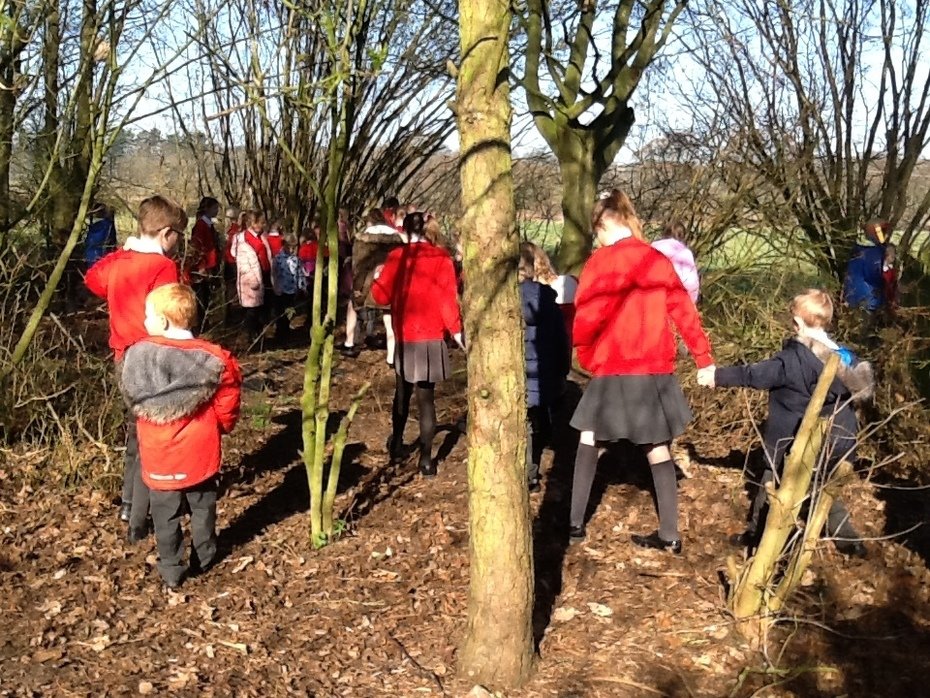 -
The children returned to school for the new half term to glorious sunshine for their PE lesson.
They started with laps of the track for Marathon Kids, alongside Year 1, then they learnt about the importance of the fielder in cricket.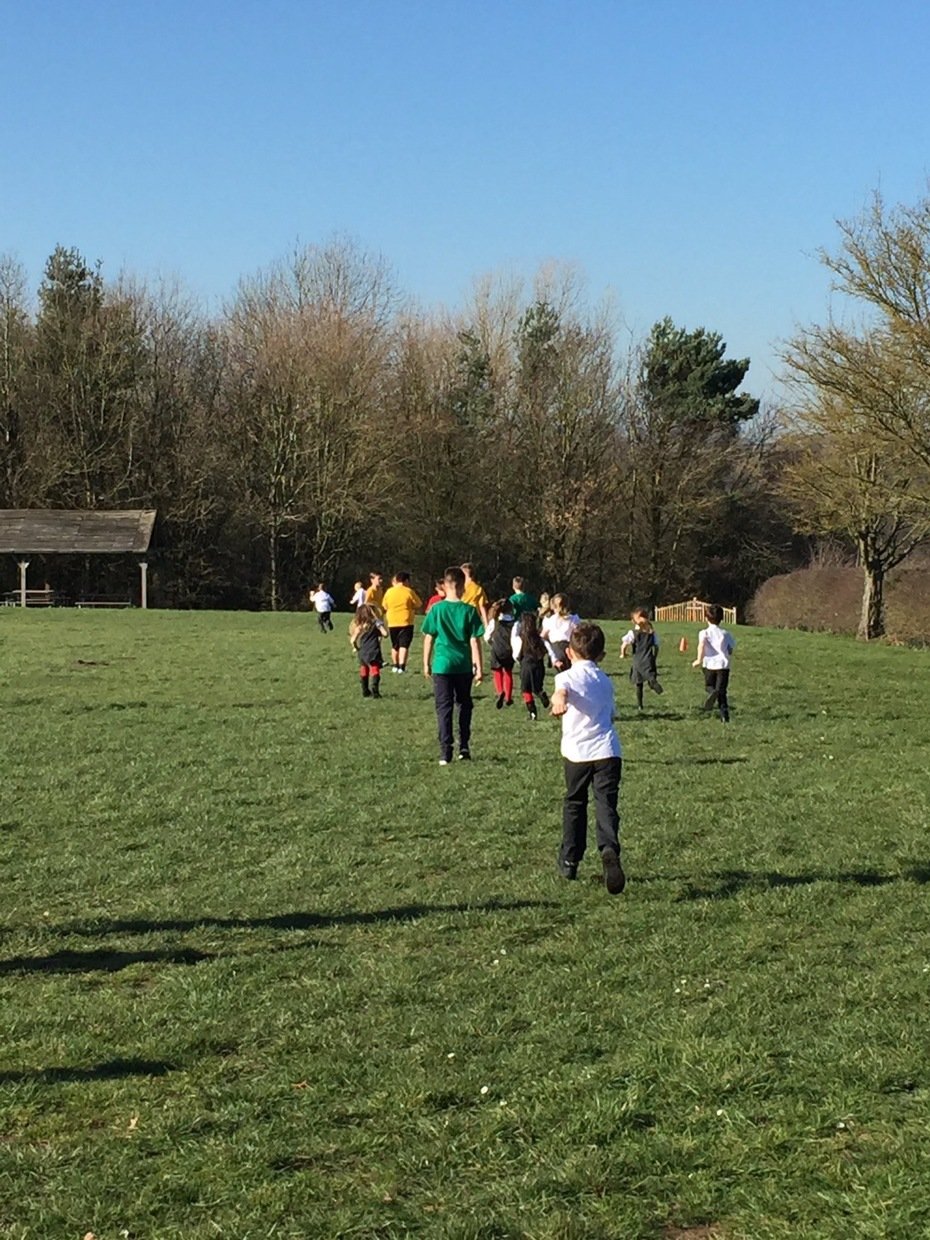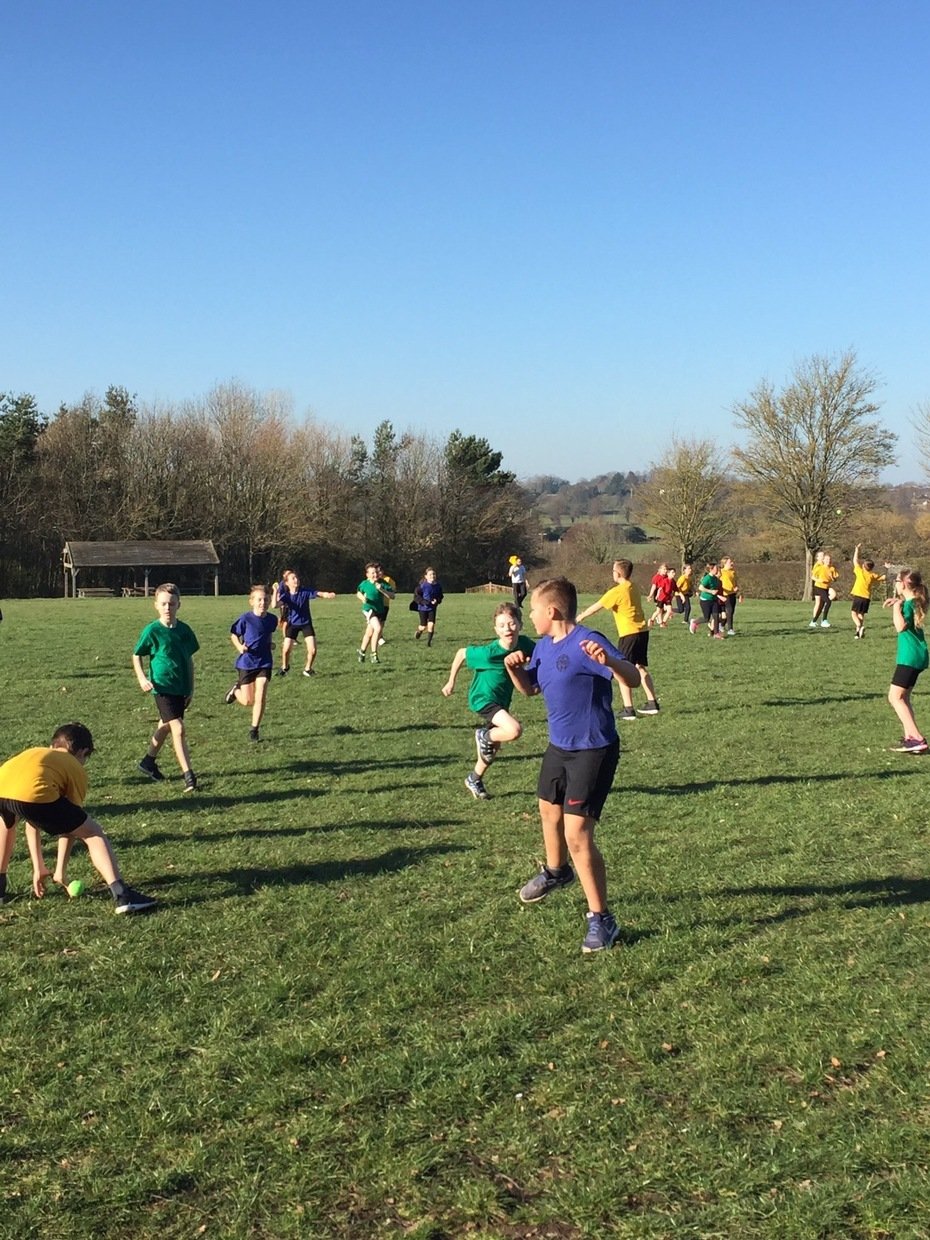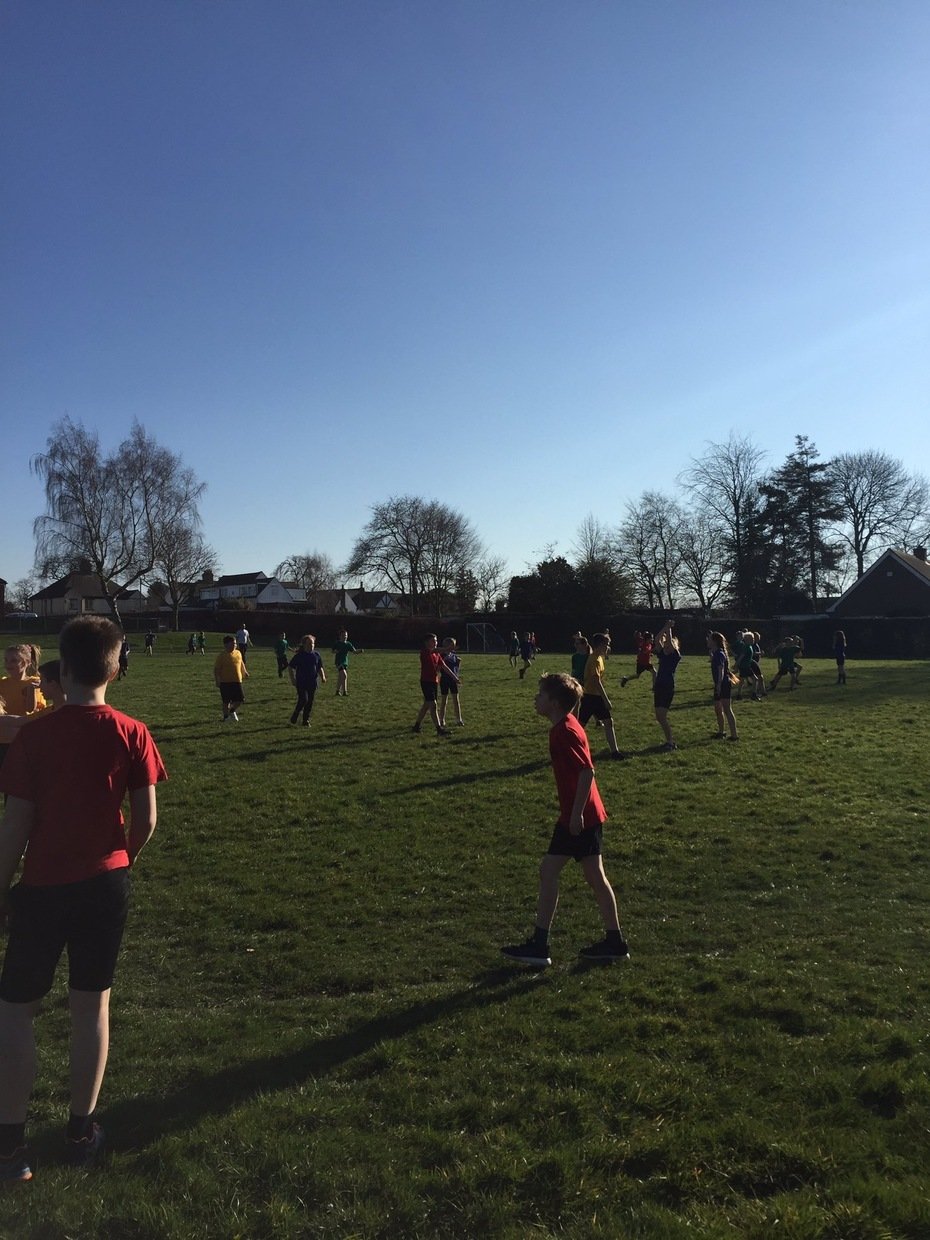 -
To end our topic of shape in Maths, Year 5 have been learning all about the properties of 3D shapes. They used their new knowledge to create their own top trump cards and play against each other.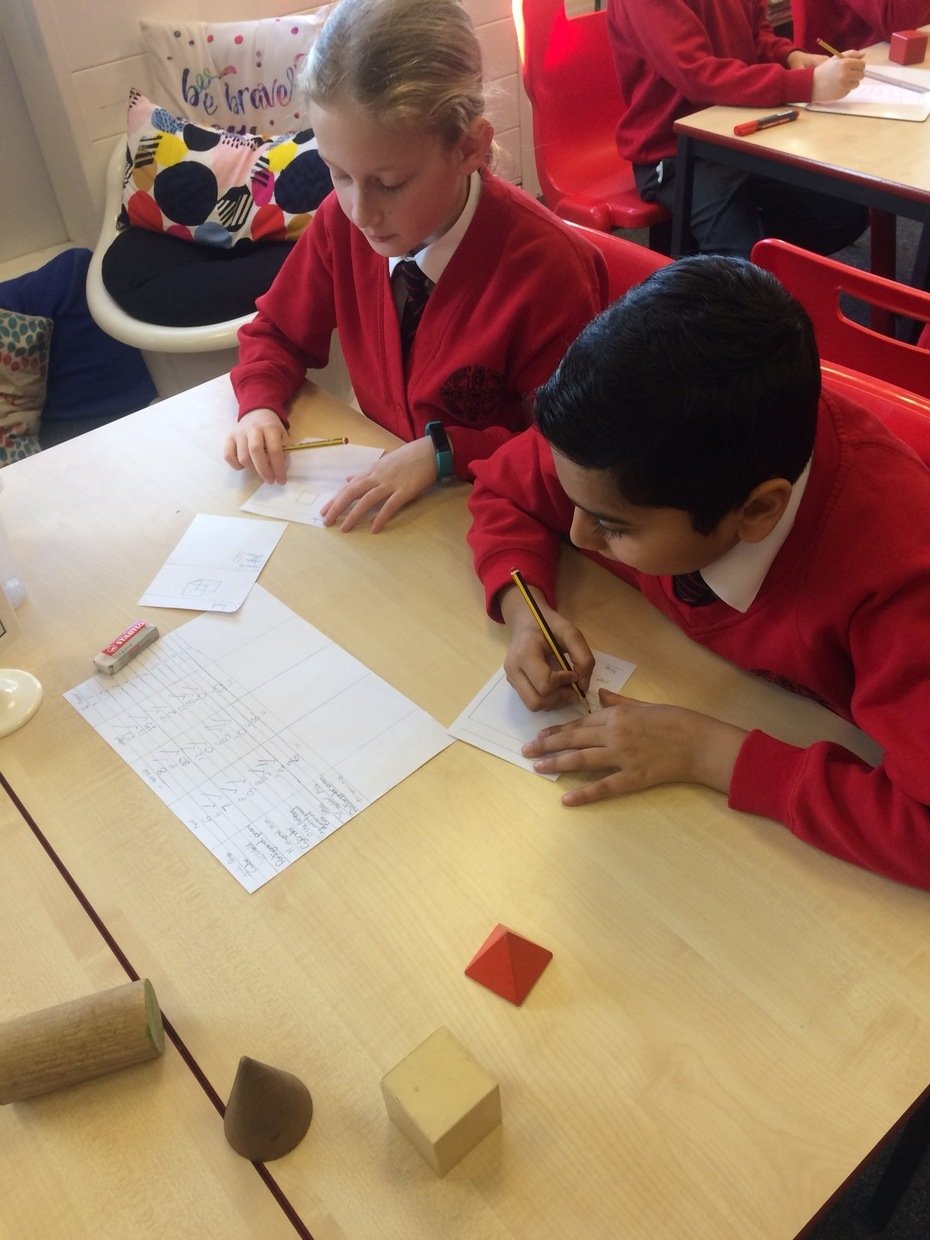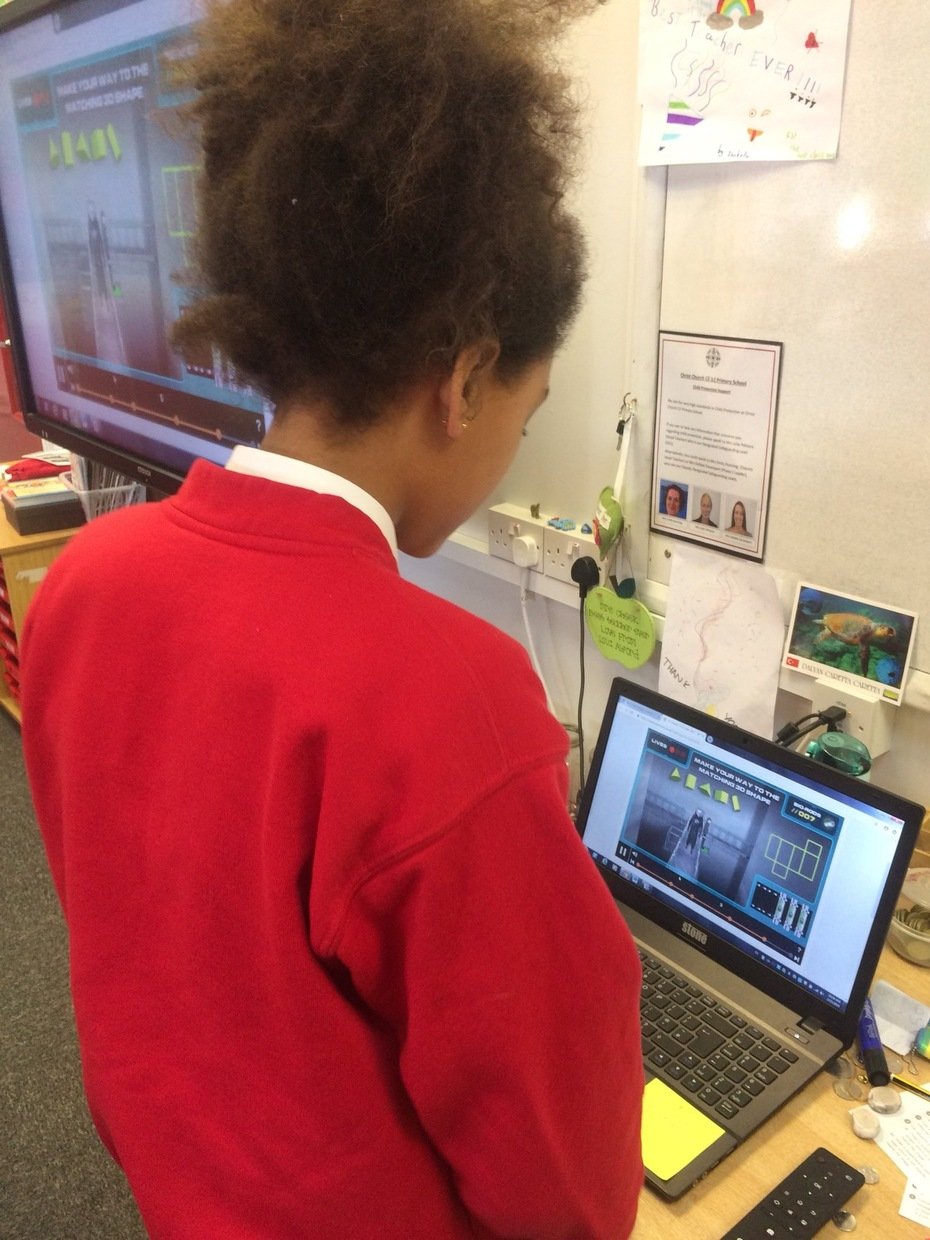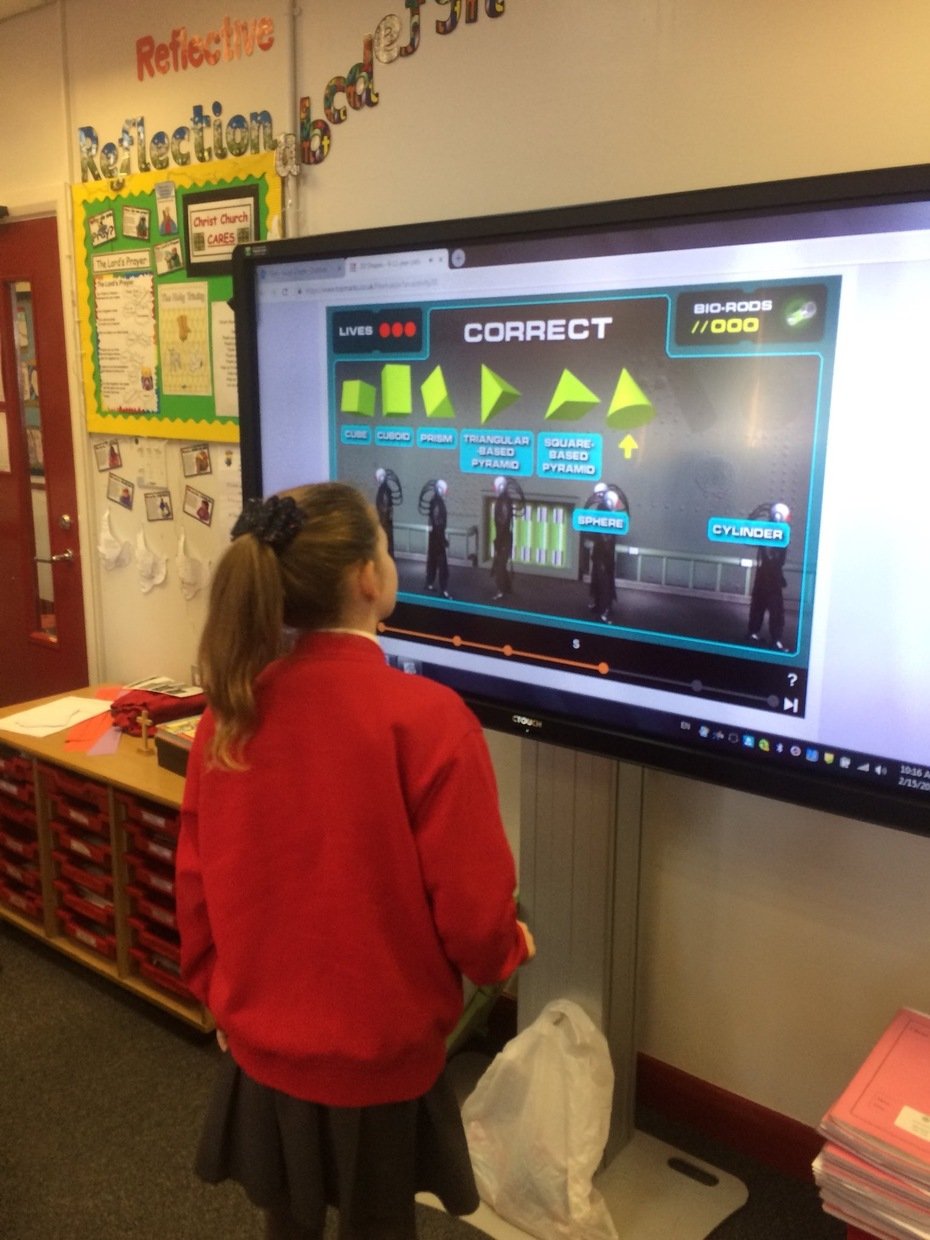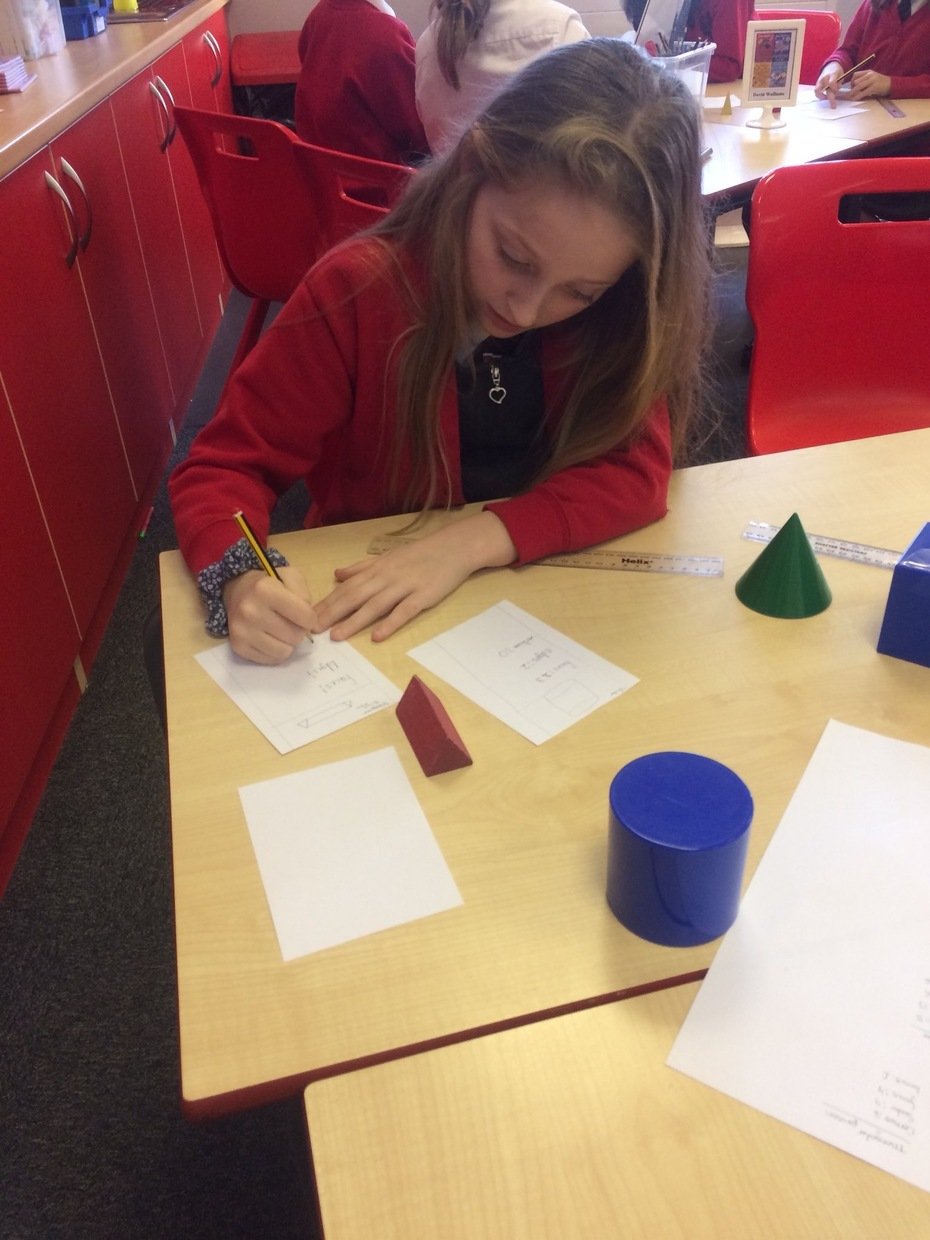 -
The children enjoyed their first experience of Author Hour in Year 5. Look at these amazing writers!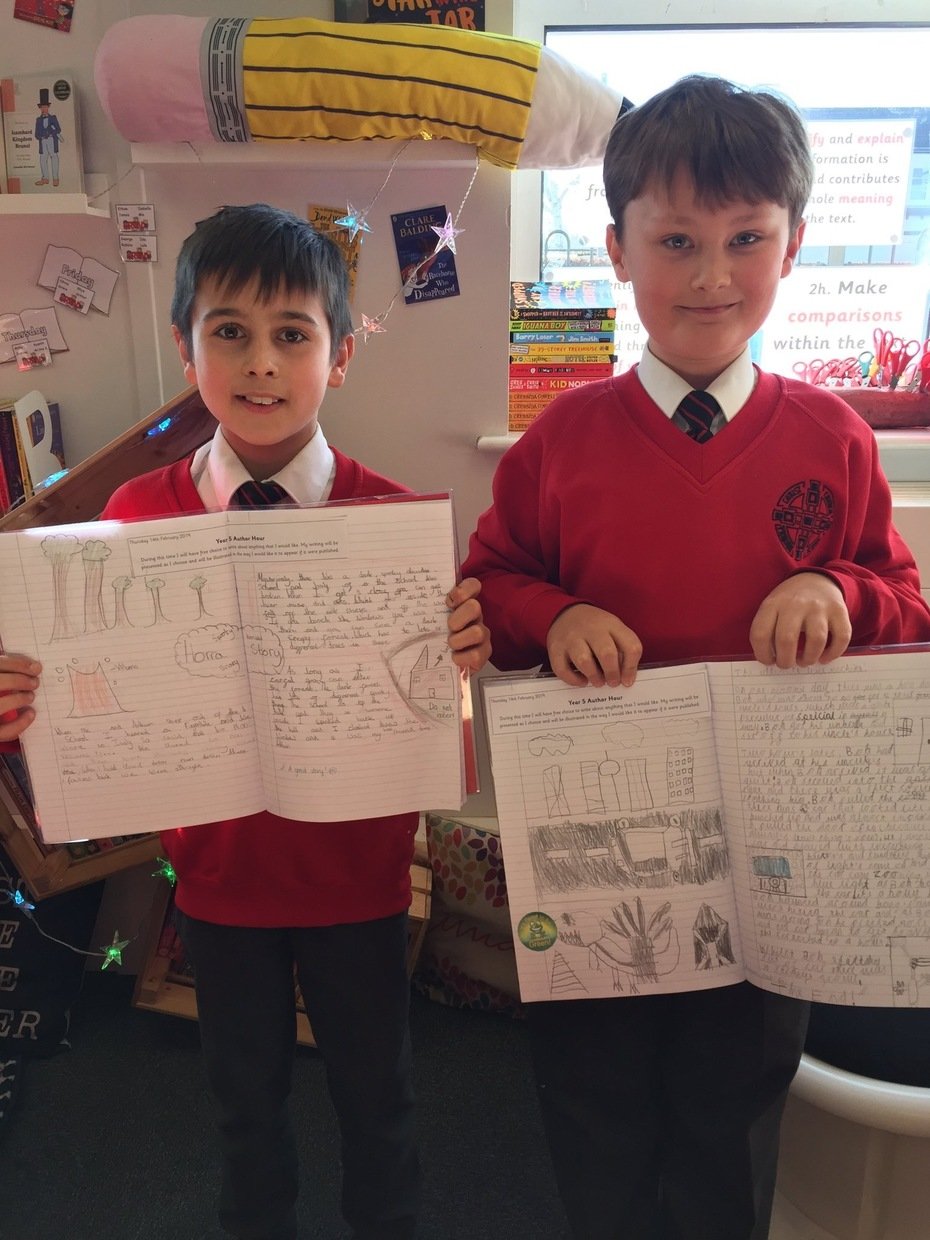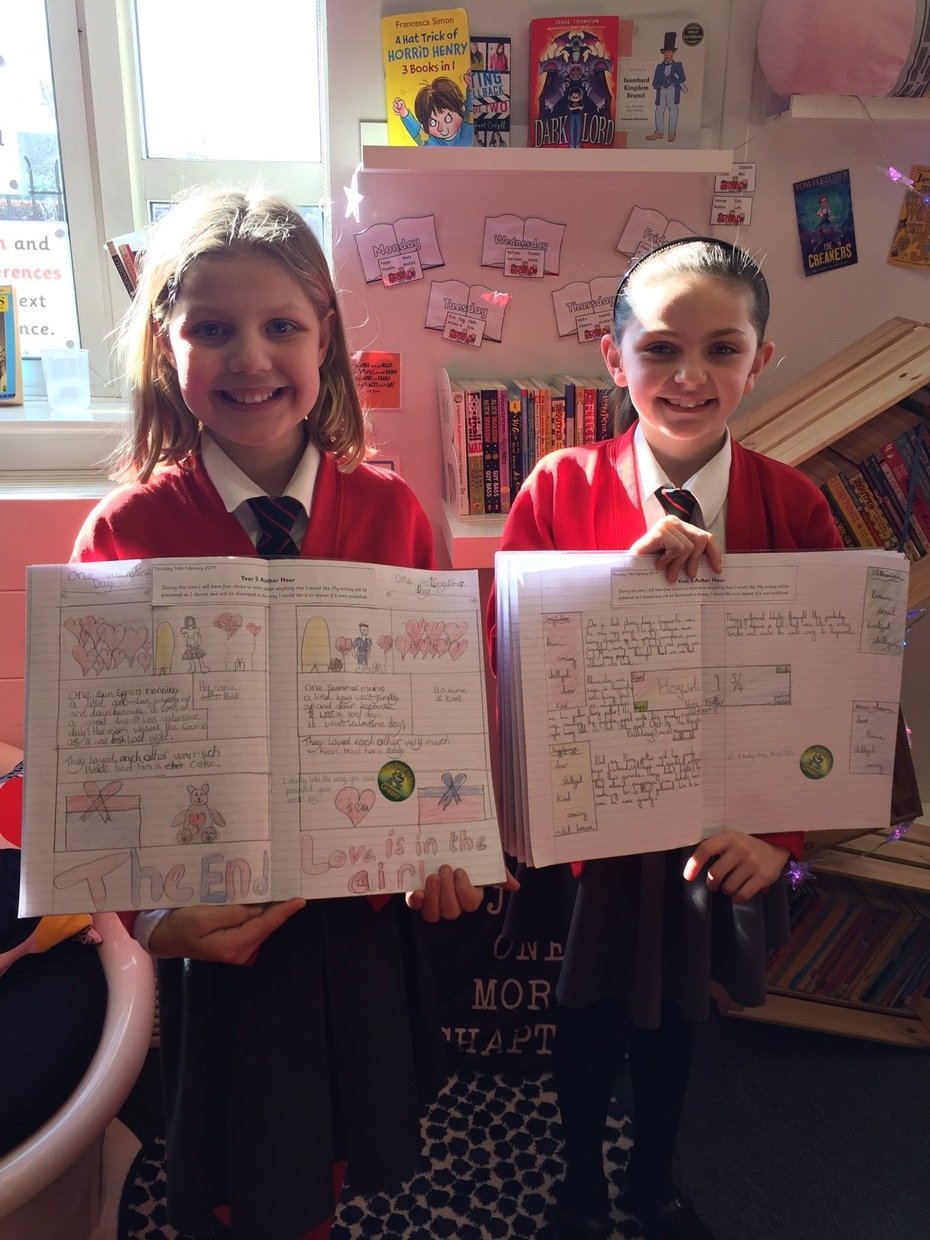 -
In Literacy, the children have been sharing ideas to help with their description.
We can't wait to see what wonderful ideas they have.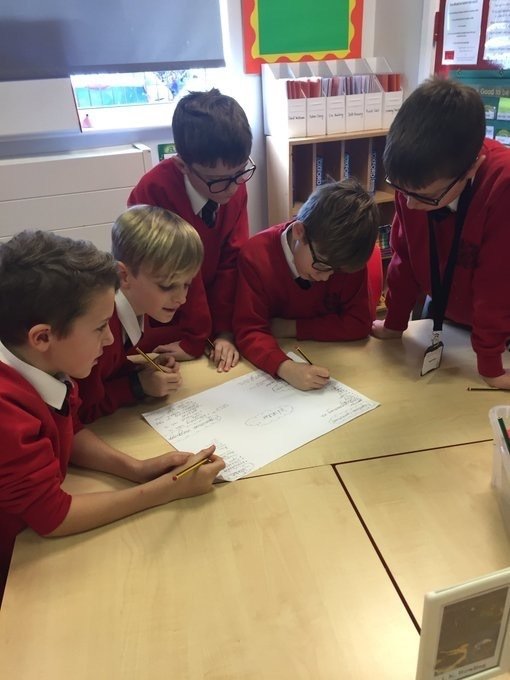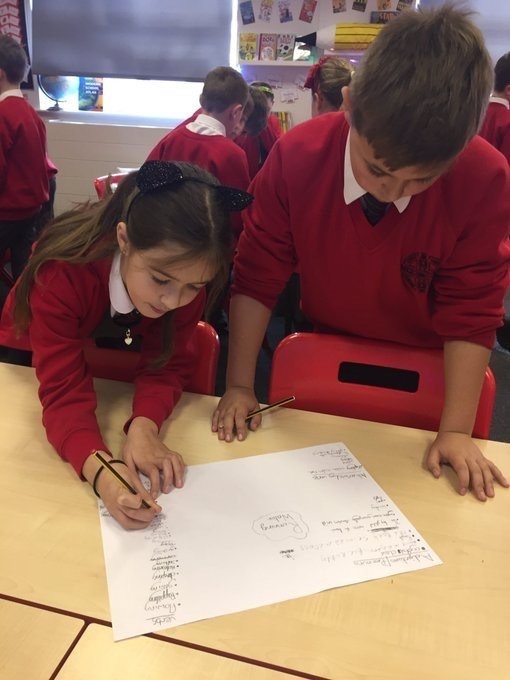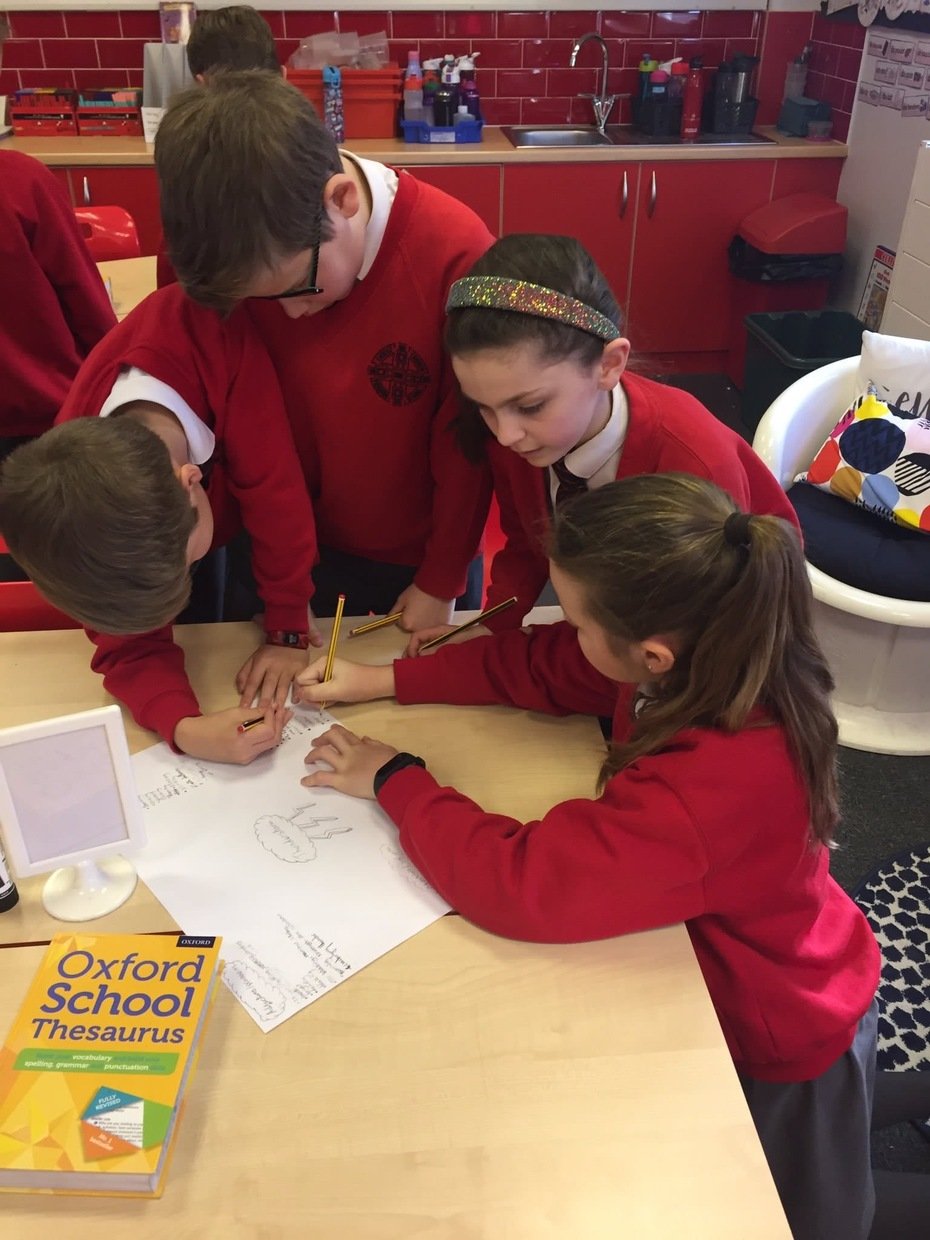 -
Year 5 performed a worship to share their writing skills with the whole school.
Children read out their information reports and shared their leaflets about the different European countries they had researched. They were brilliant!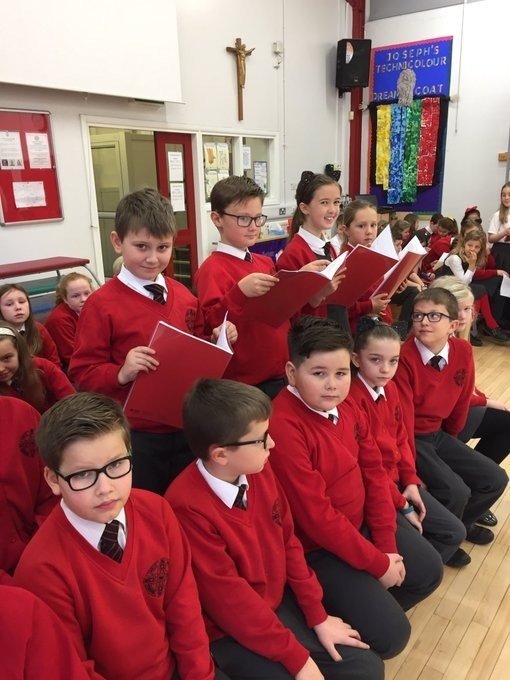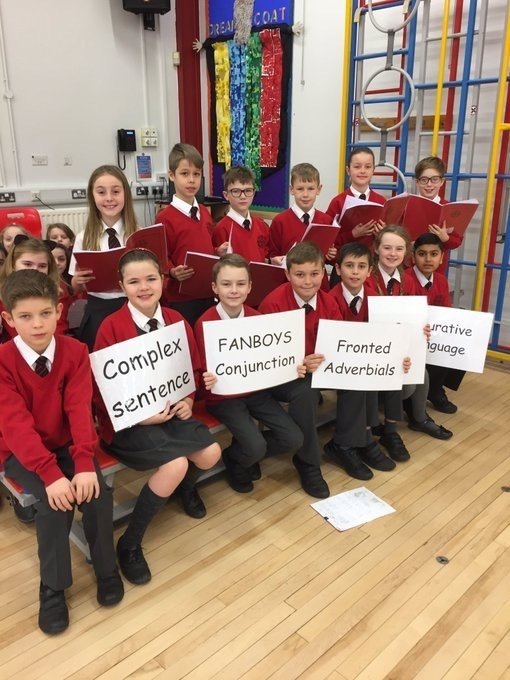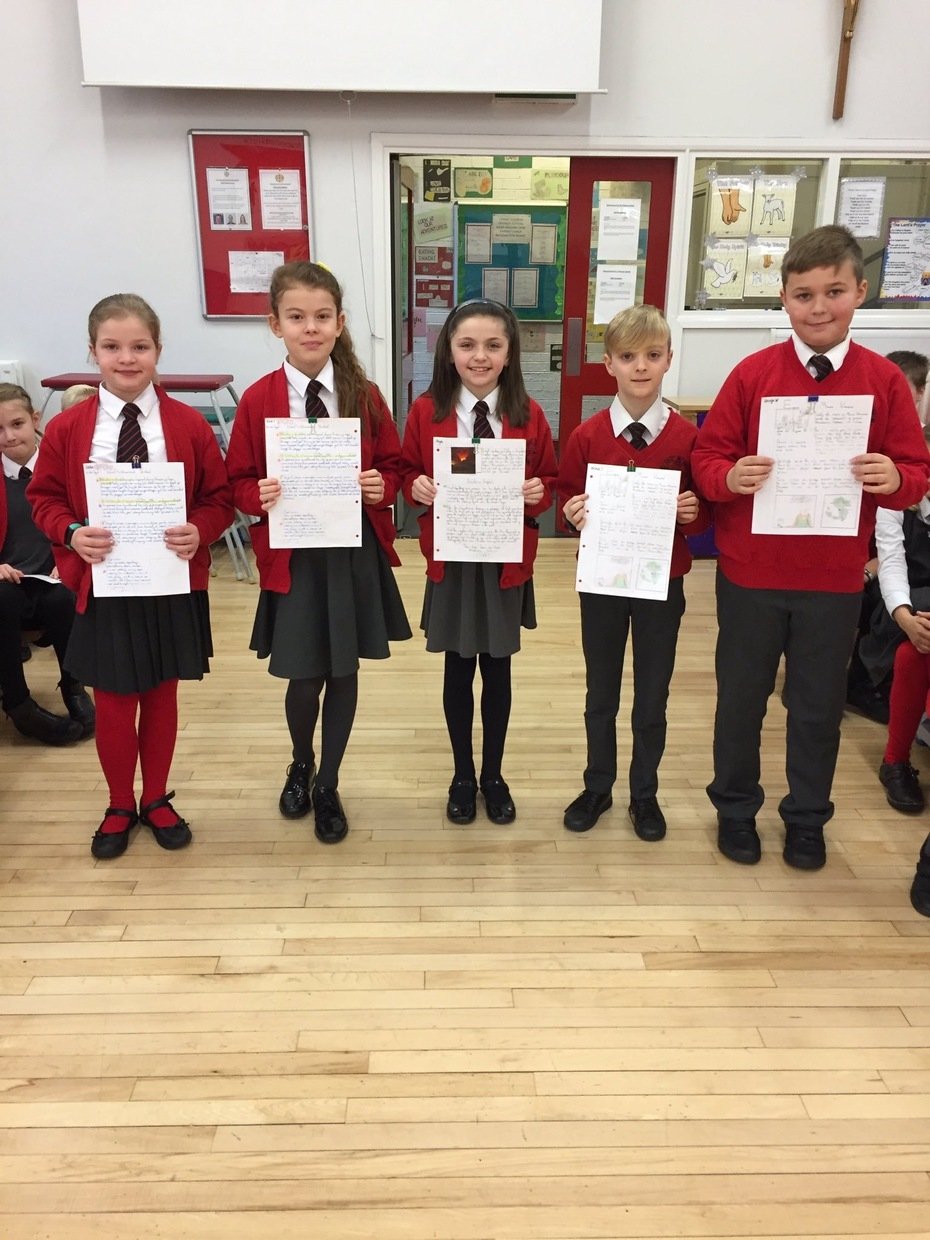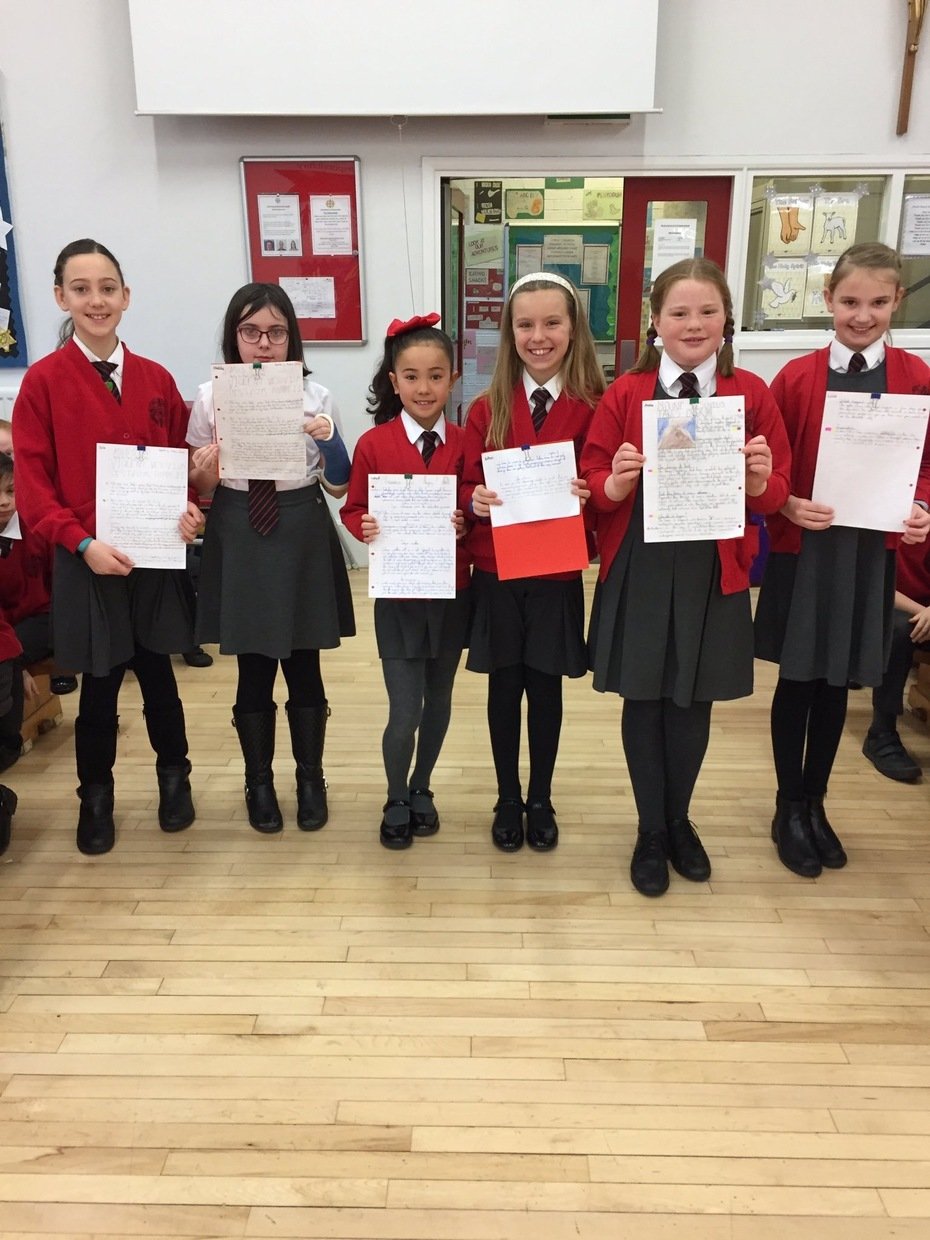 -
In Maths, the children have been learning how to use a protractor. They searched the classroom, measuring different angles that had been marked out.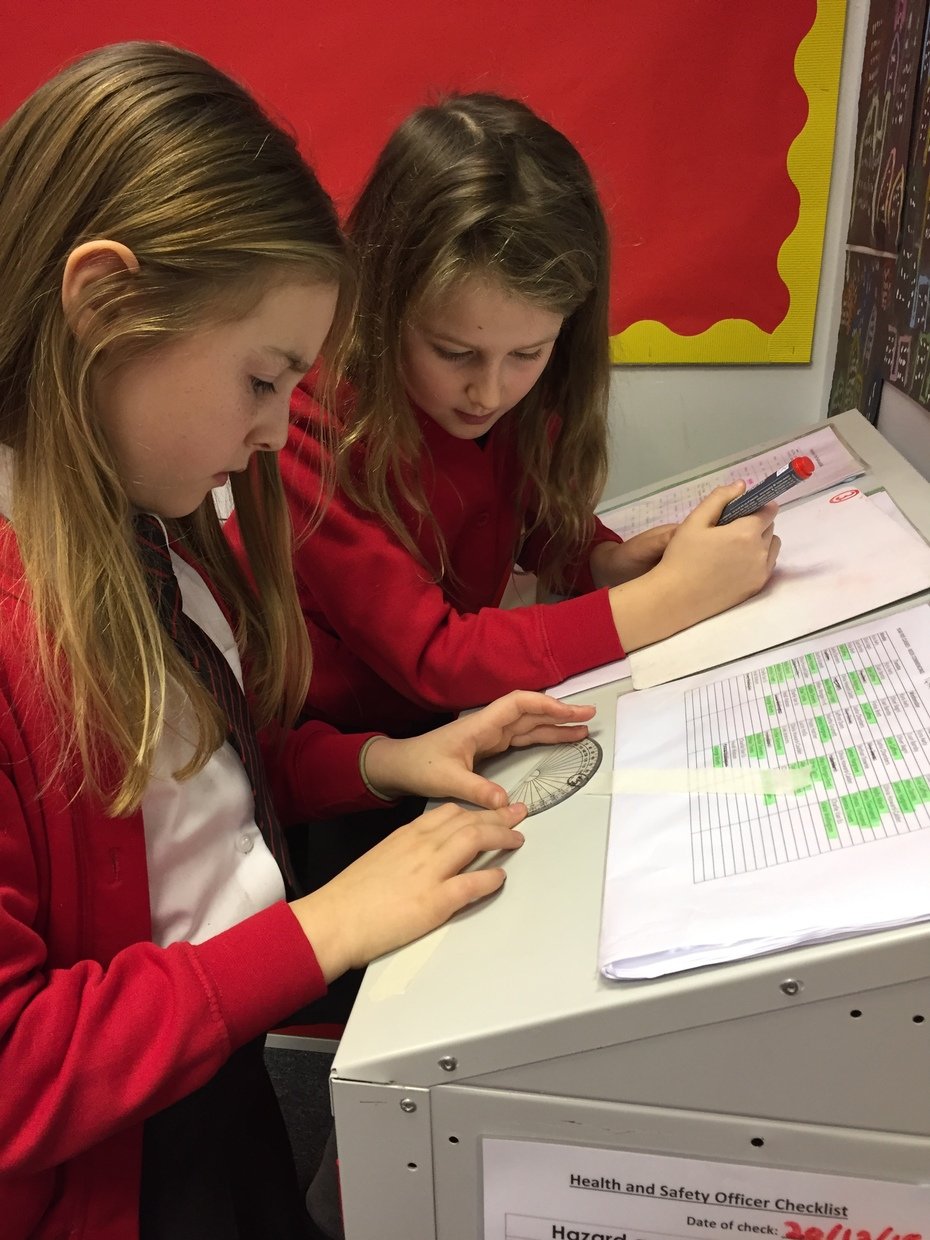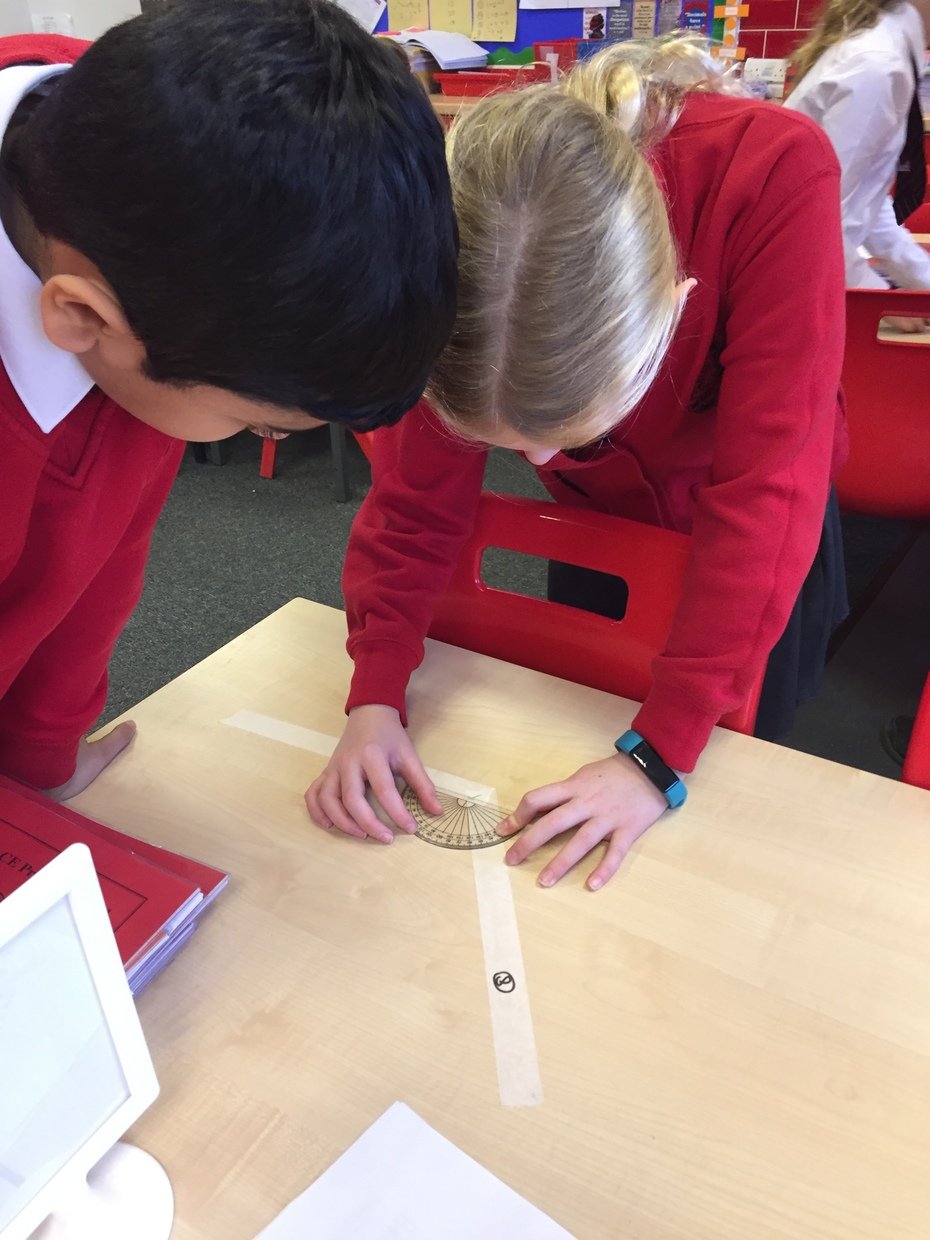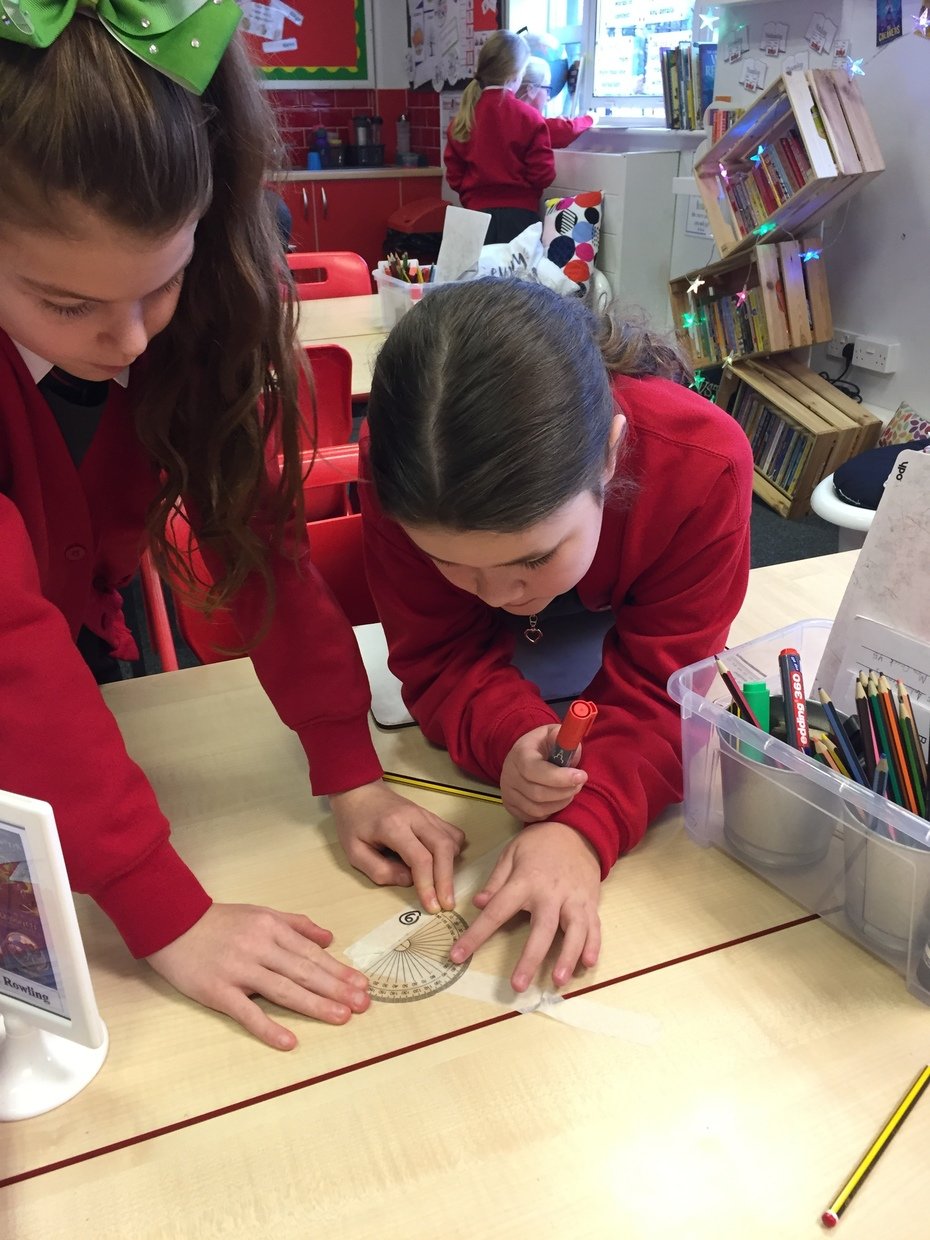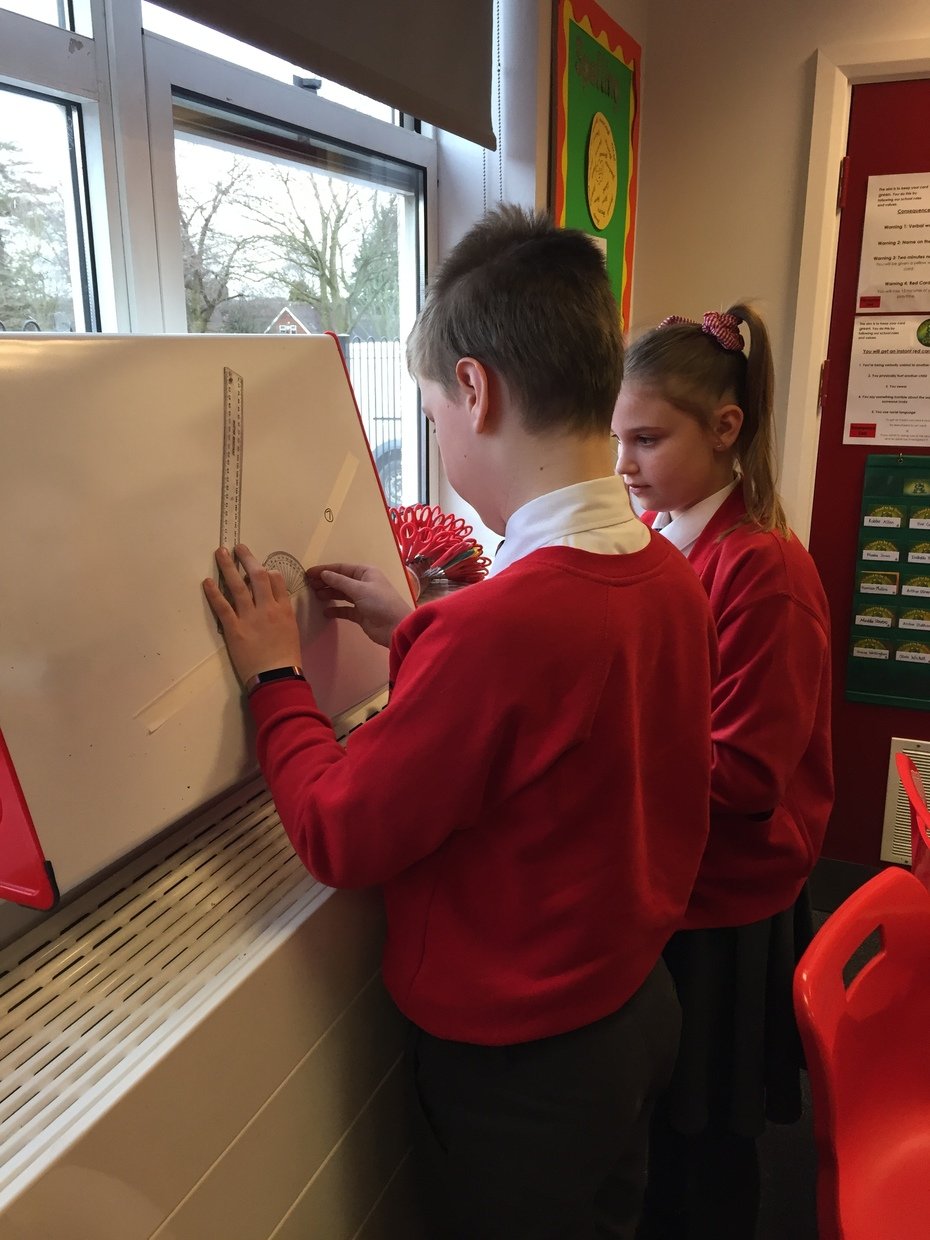 -
Year 5 started the new school term learning basketball skills in PE. They tried hard to control the ball while bouncing it and some children even tried some tricks!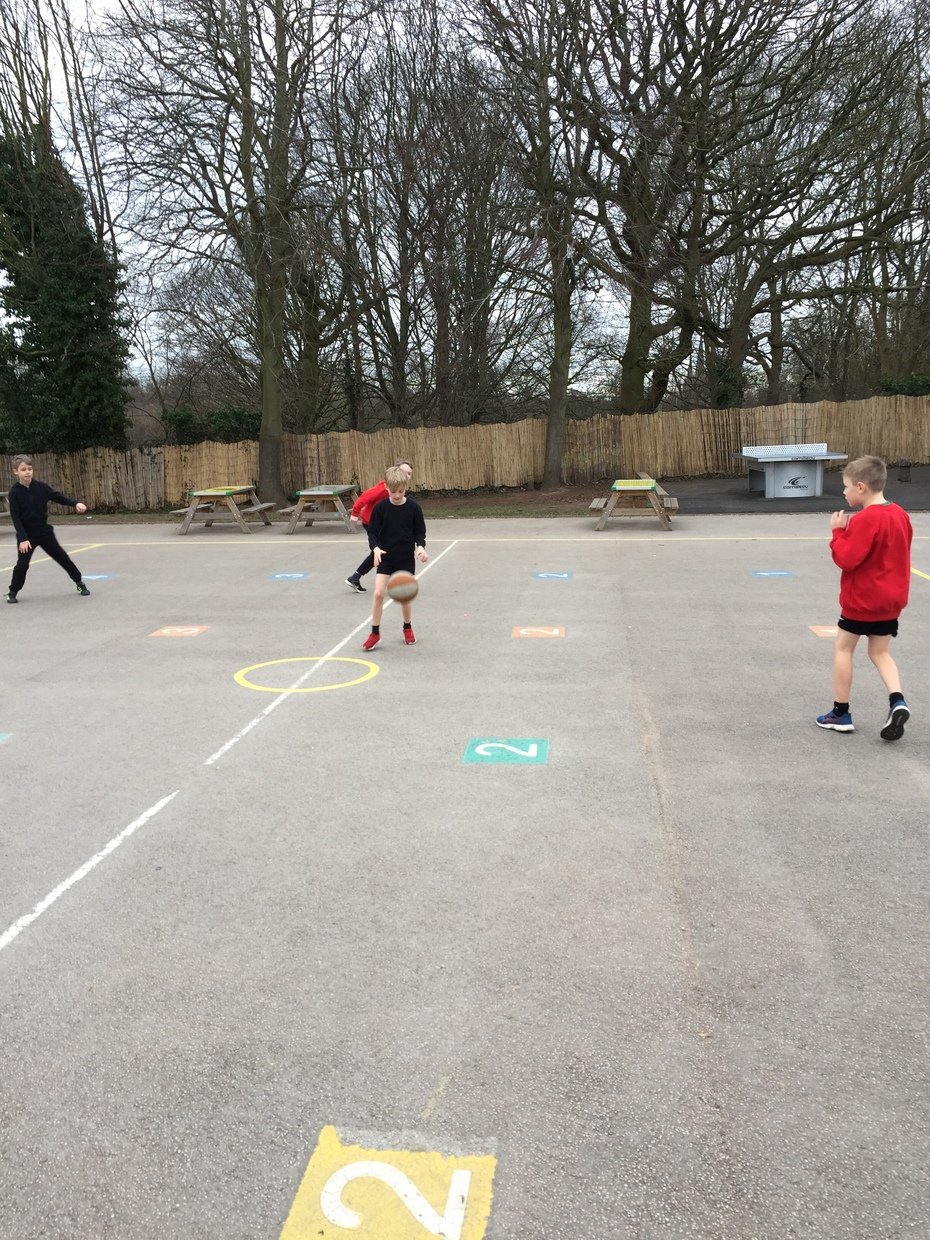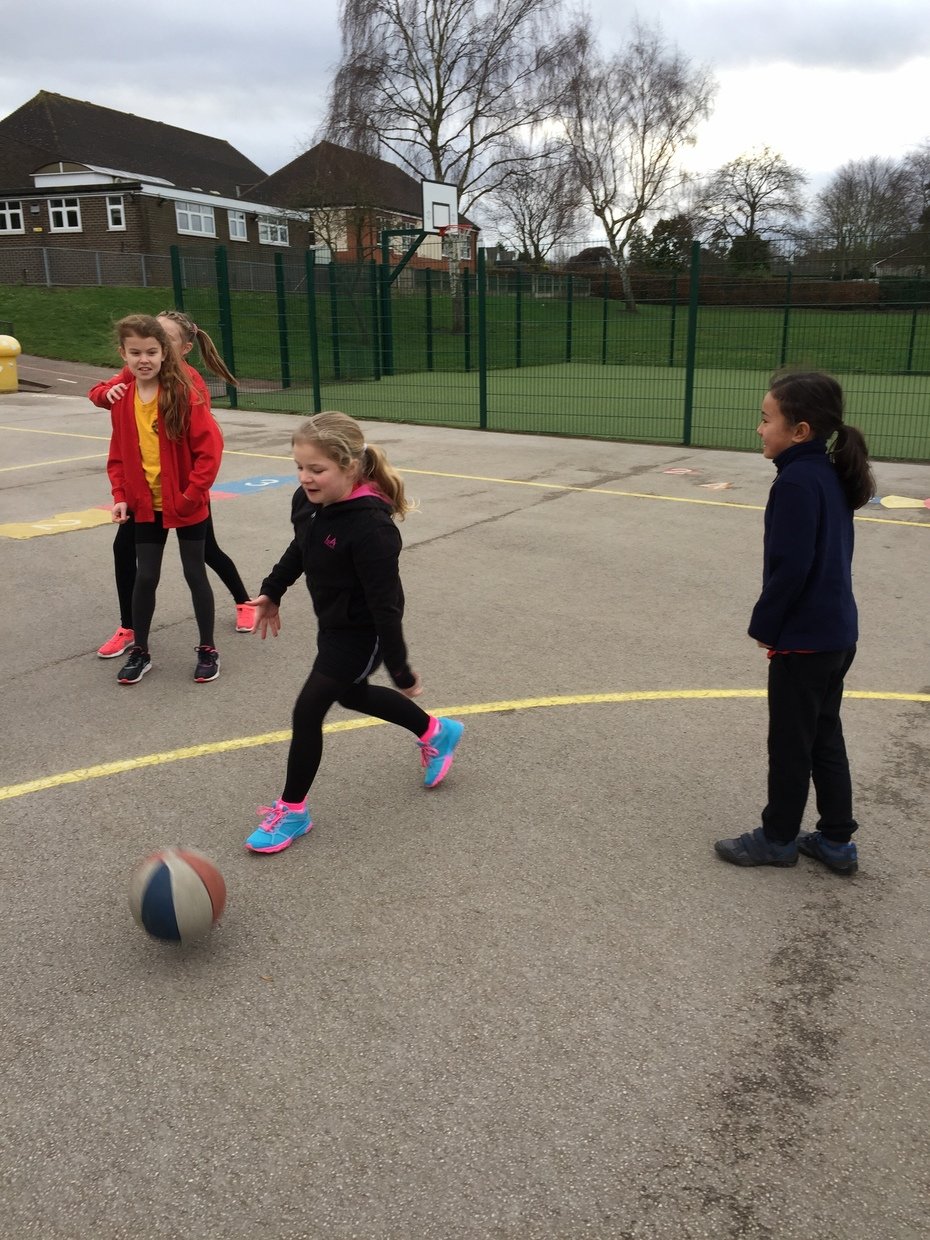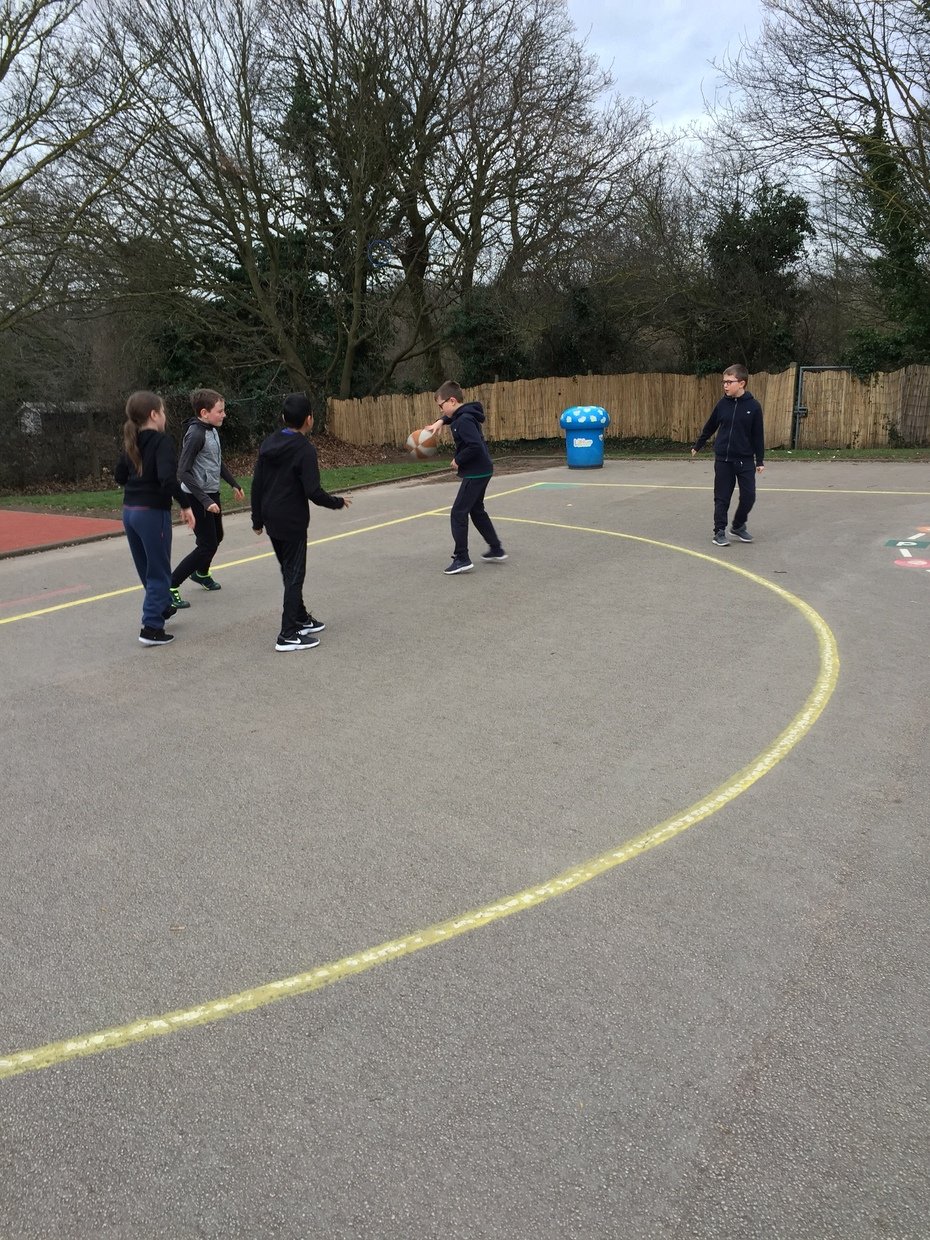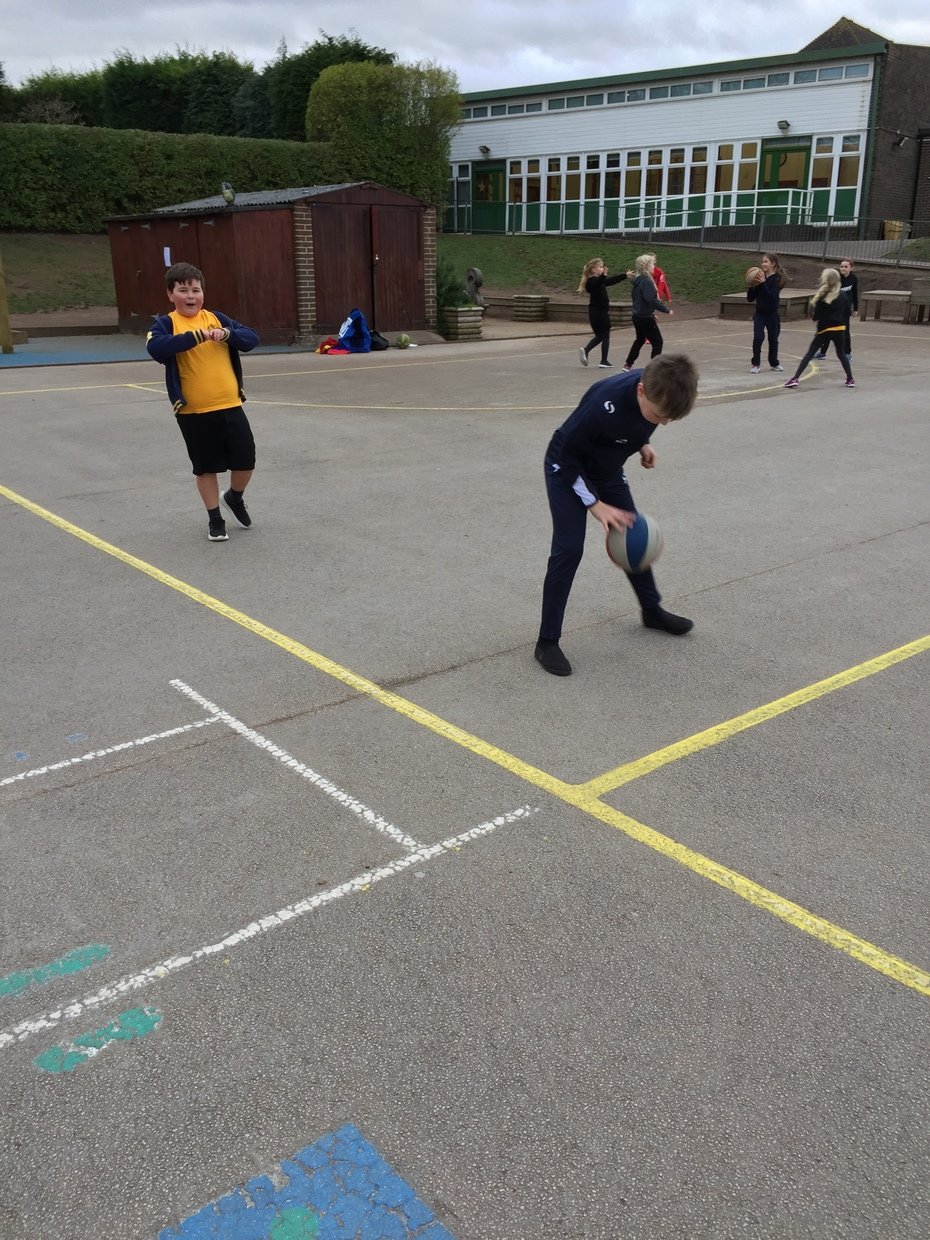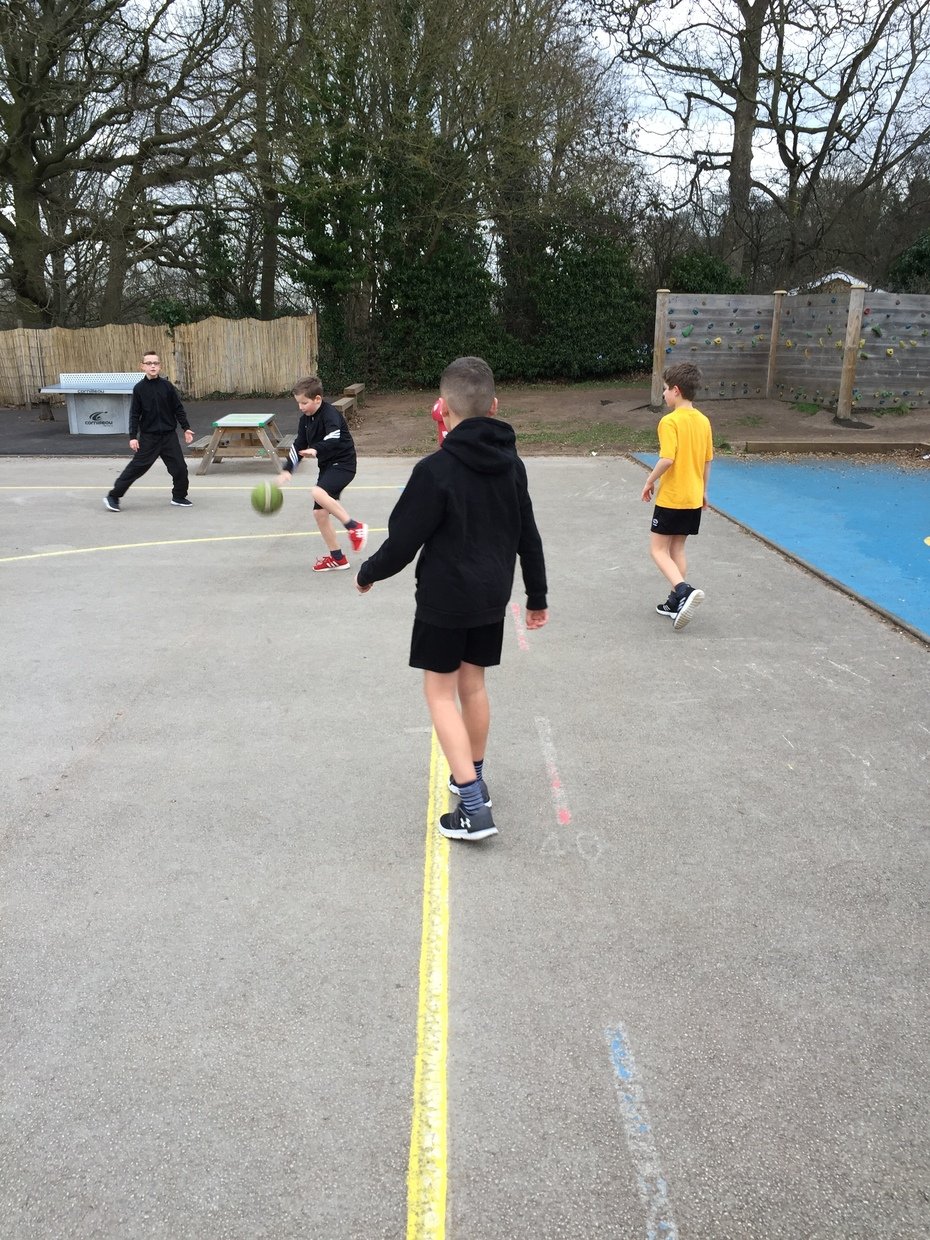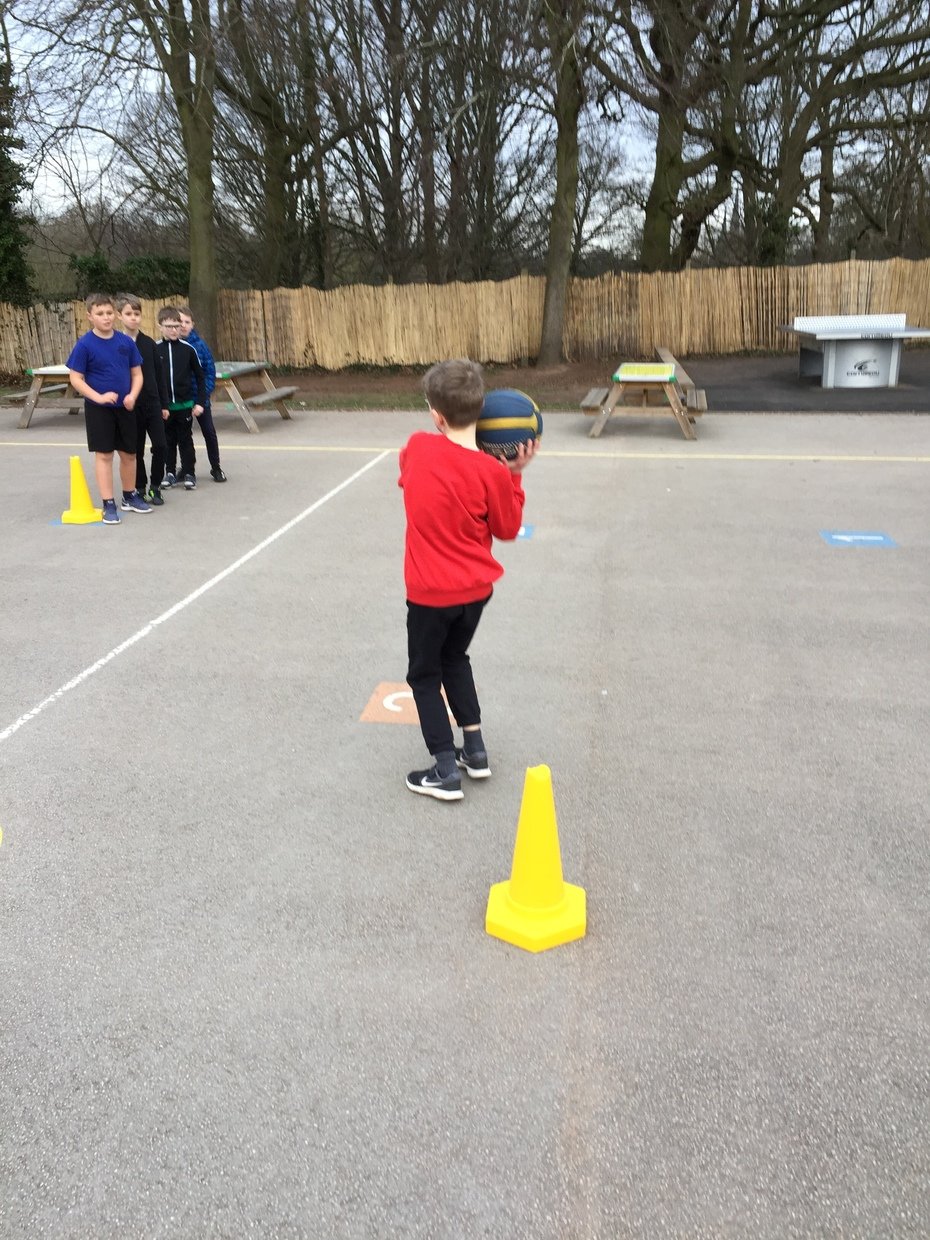 -
In 5SC, the children have been opening an unusual advent calendar this month. They have been enjoying unwrapping books from their book advent calendar.
Here are just some of the treats they have opened so far.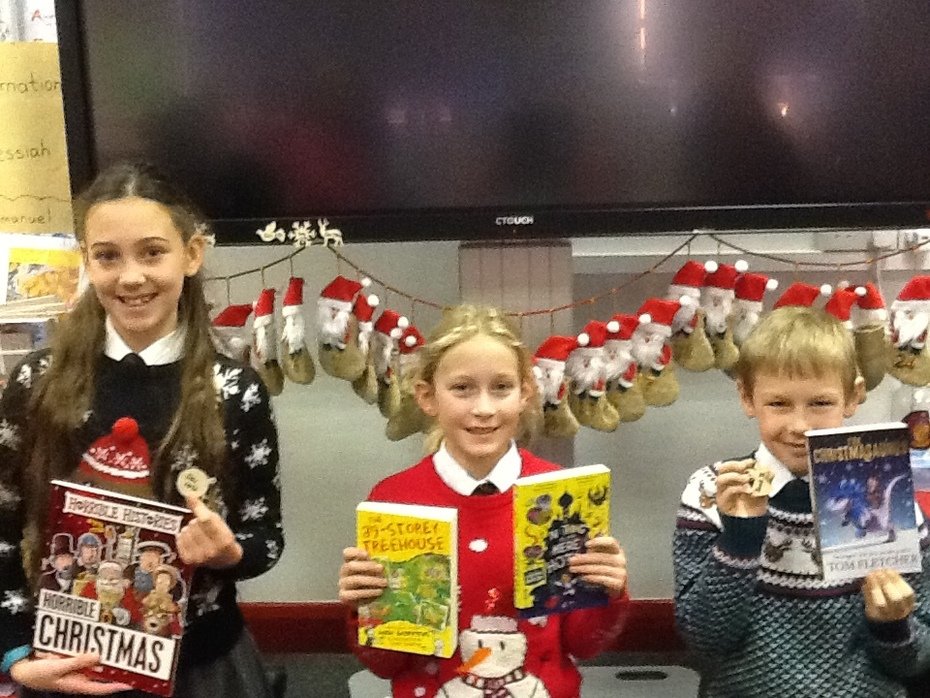 -
The children have been learning about separating materials in Science this week and have set up an experiment to see if they can separate salt from water through evaporation. They have placed their cups of salt water solution in different locations to see which one will evaporate quickest.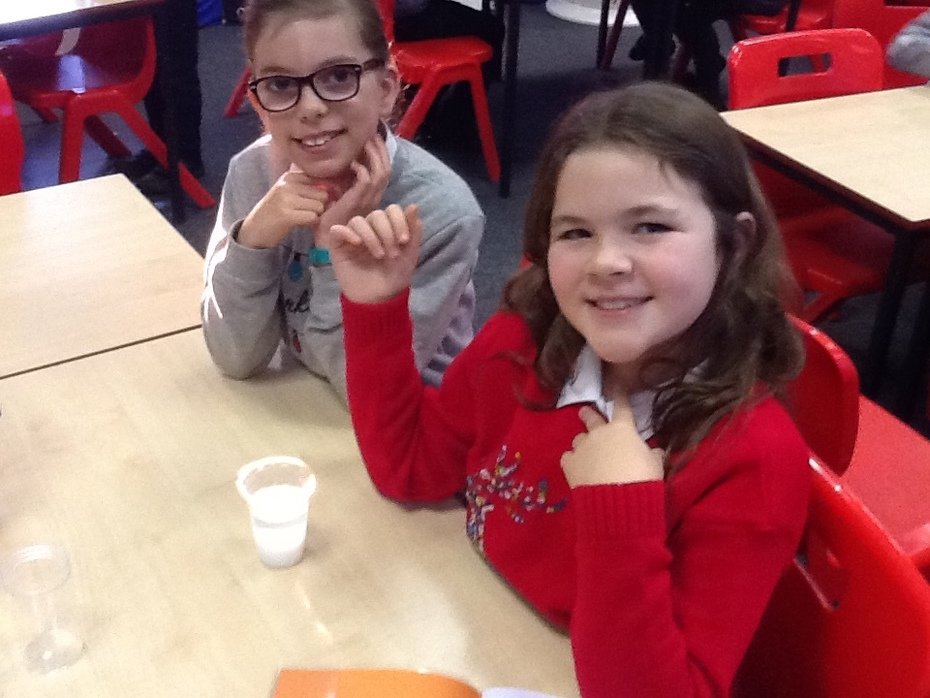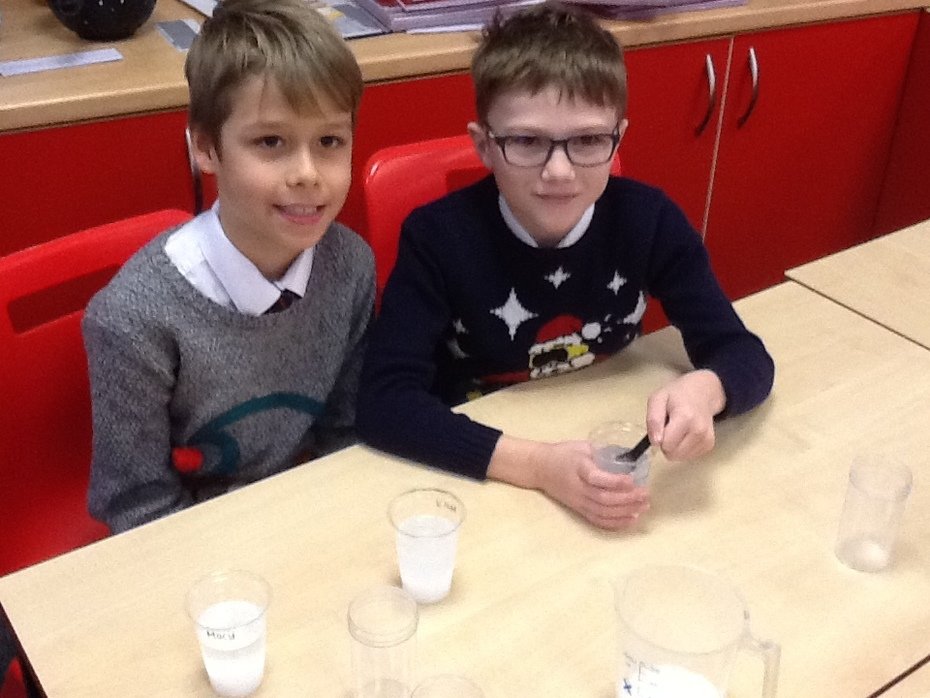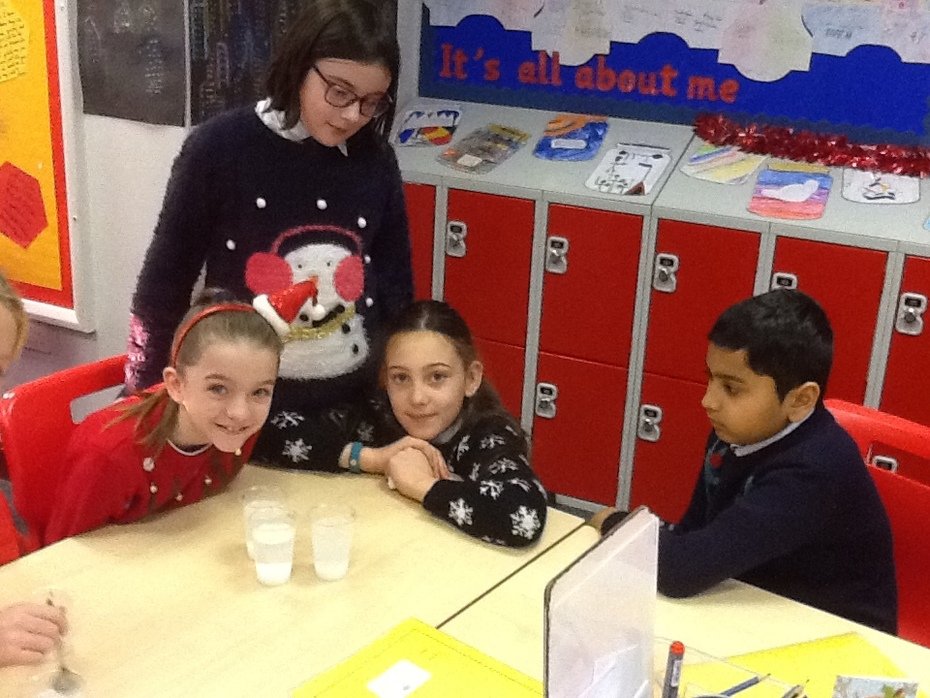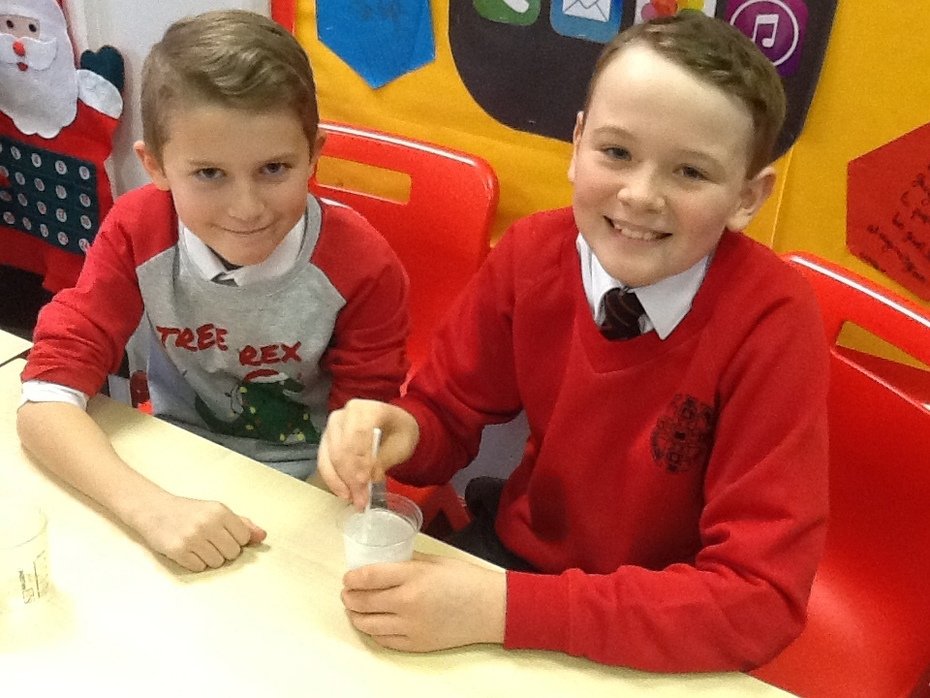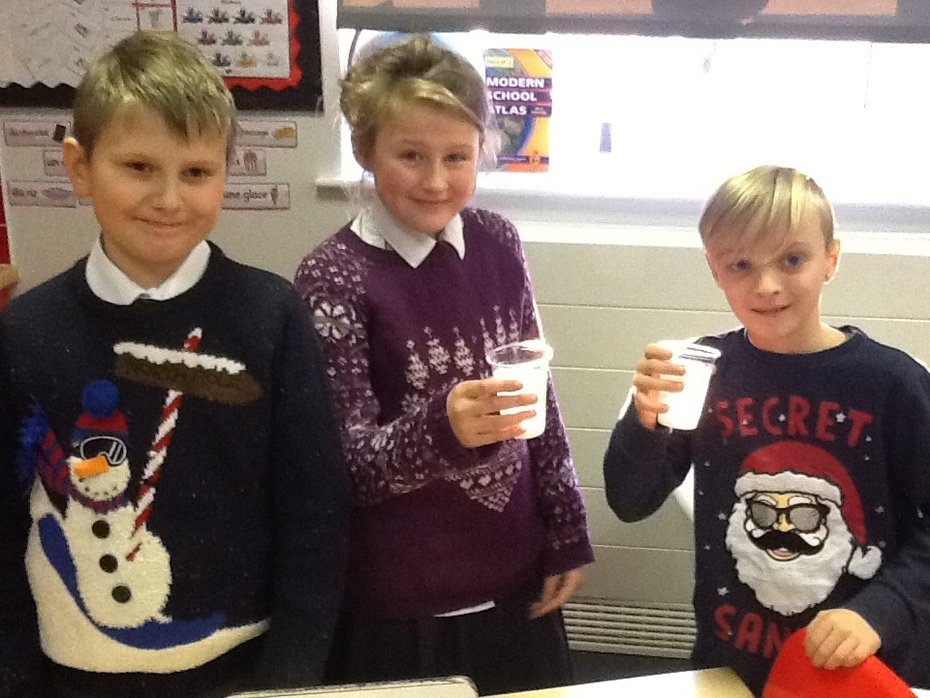 -
This week, the children have been completing different lessons based around the book 'Star in a Jar'. Year 5 have produced some super artwork based on their version of a night sky. Take a look at our budding artists.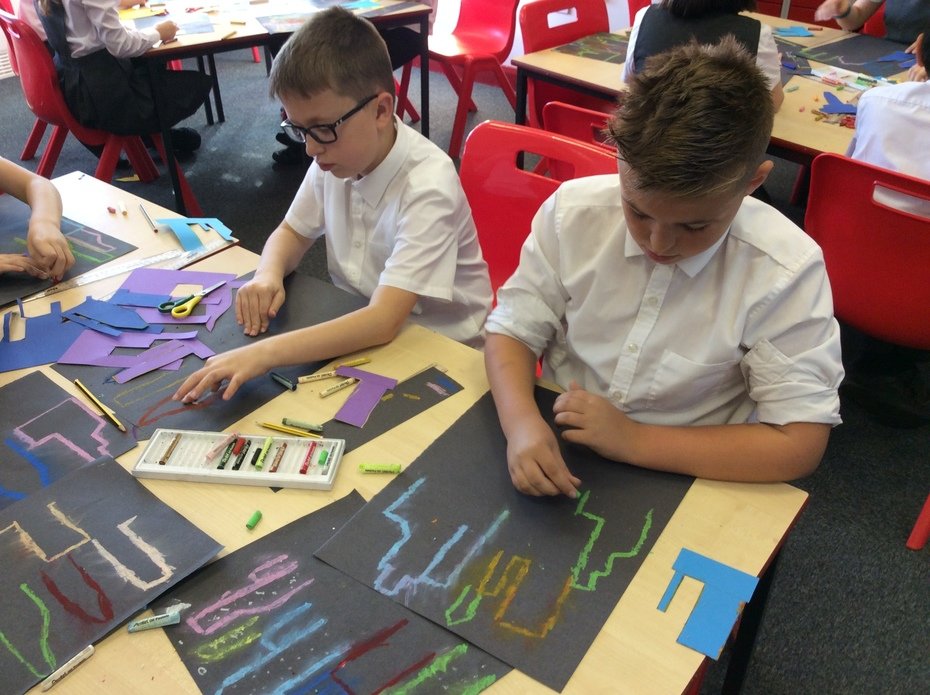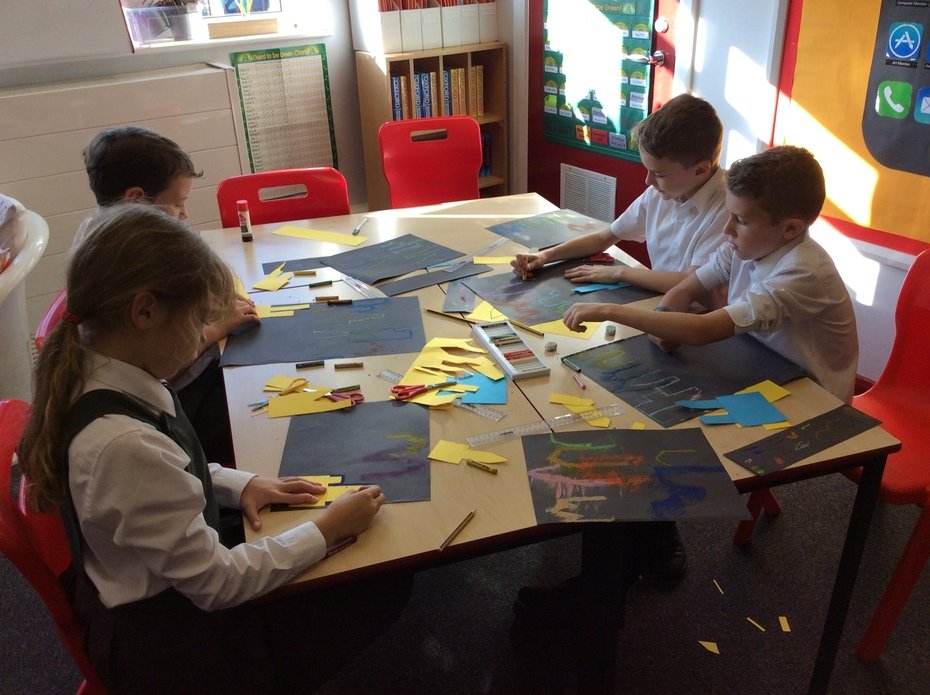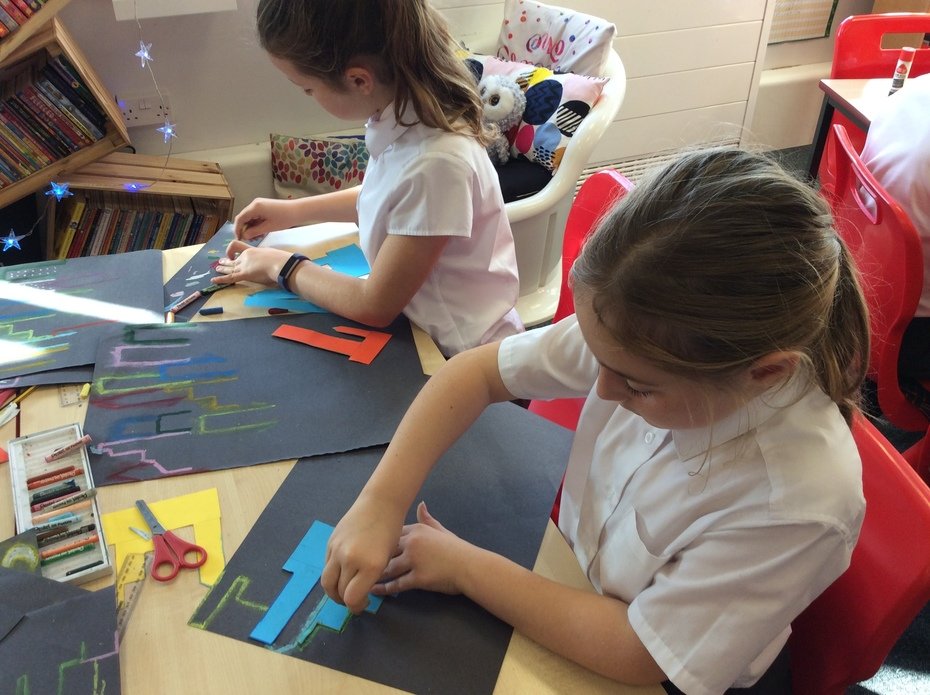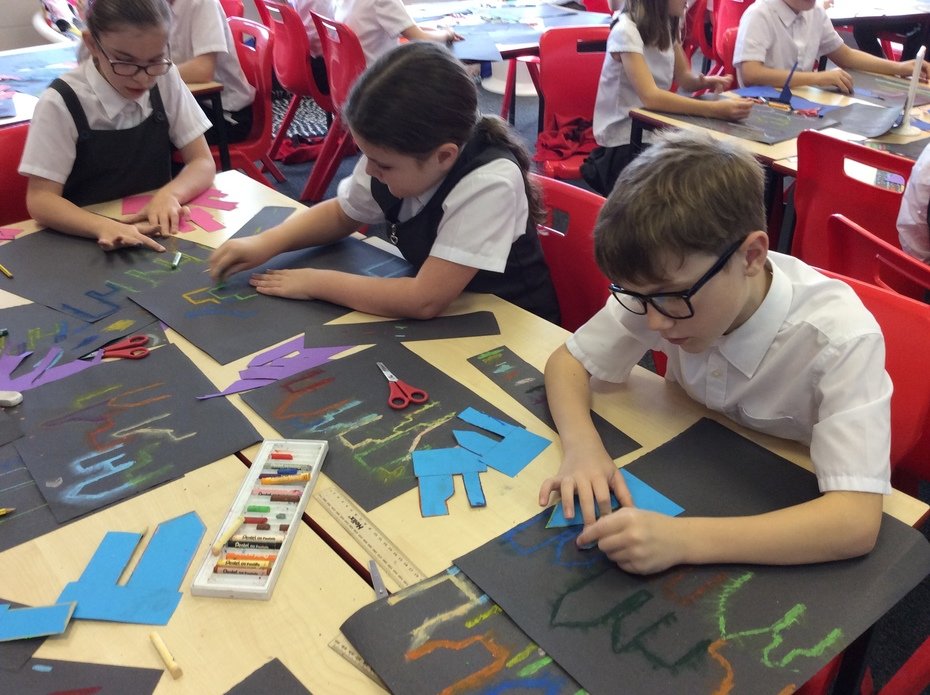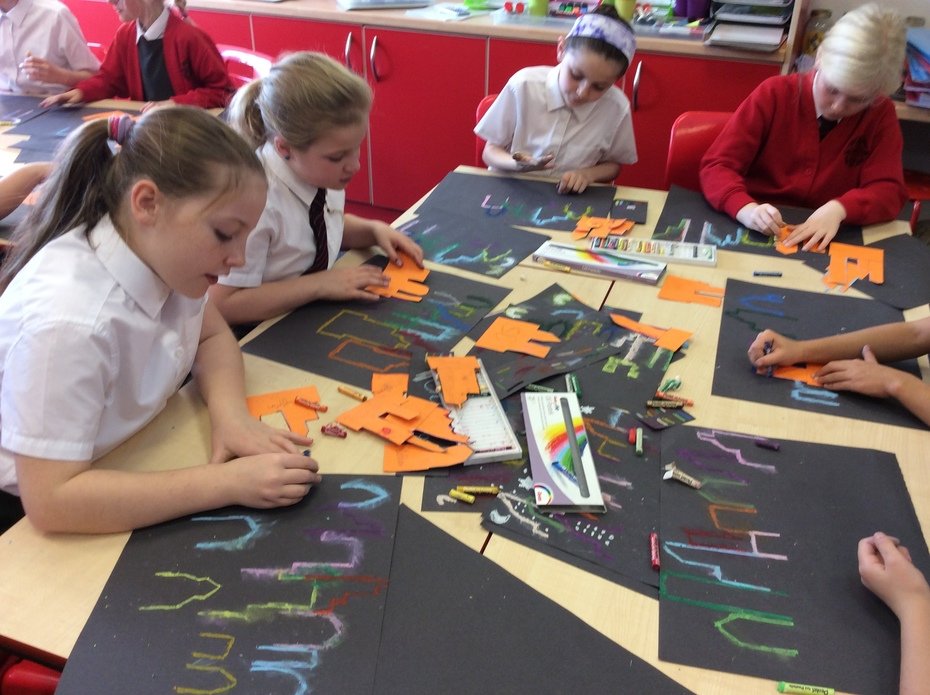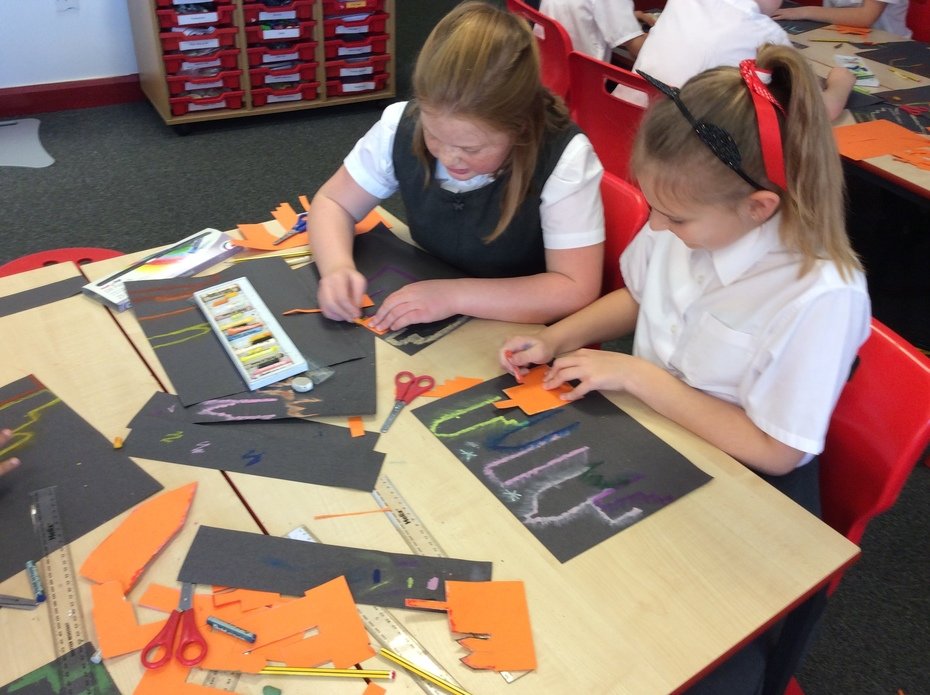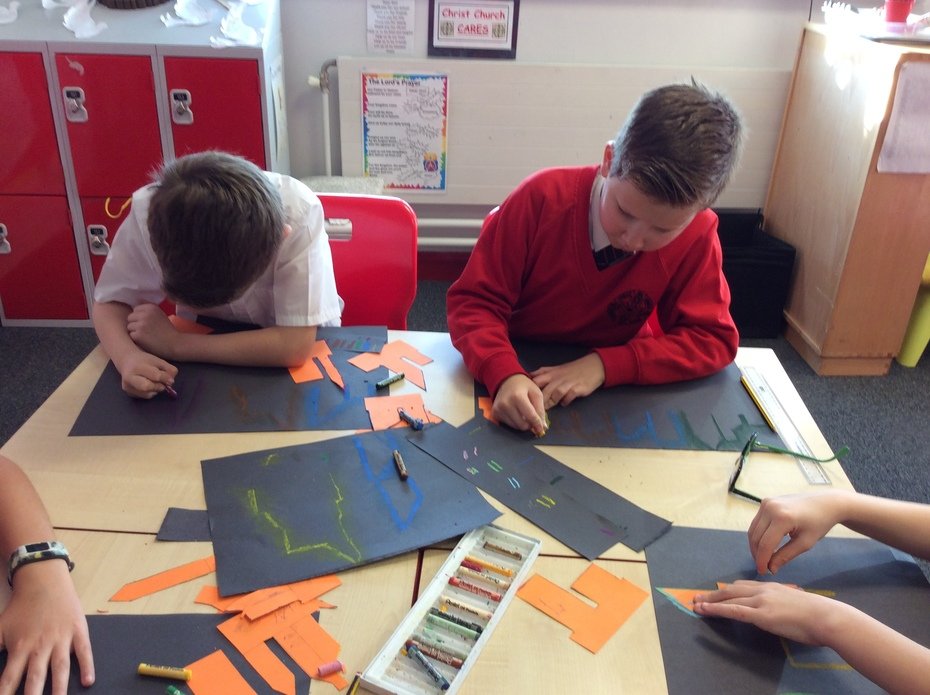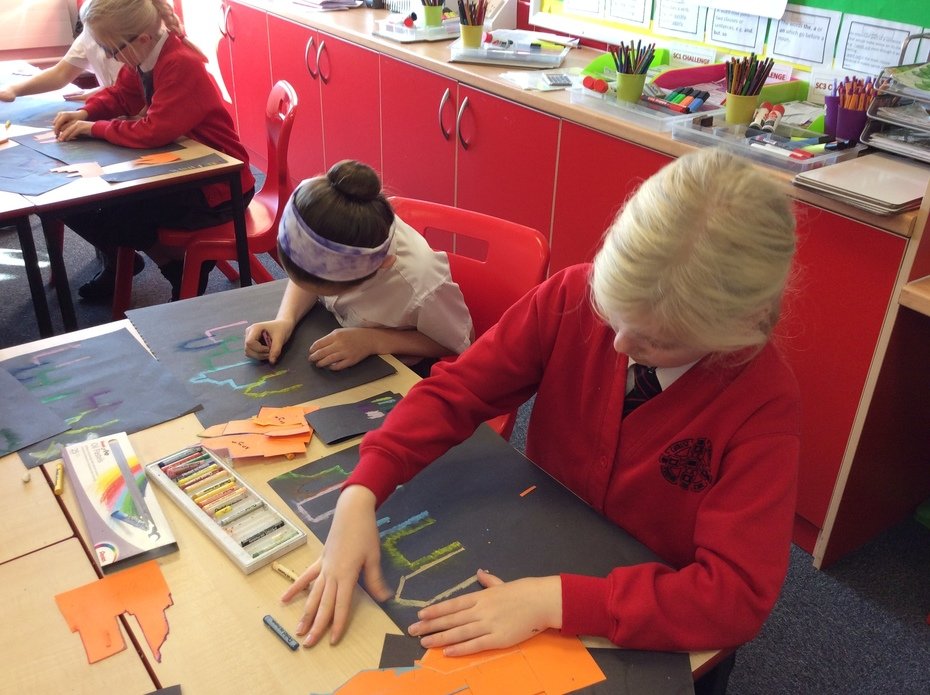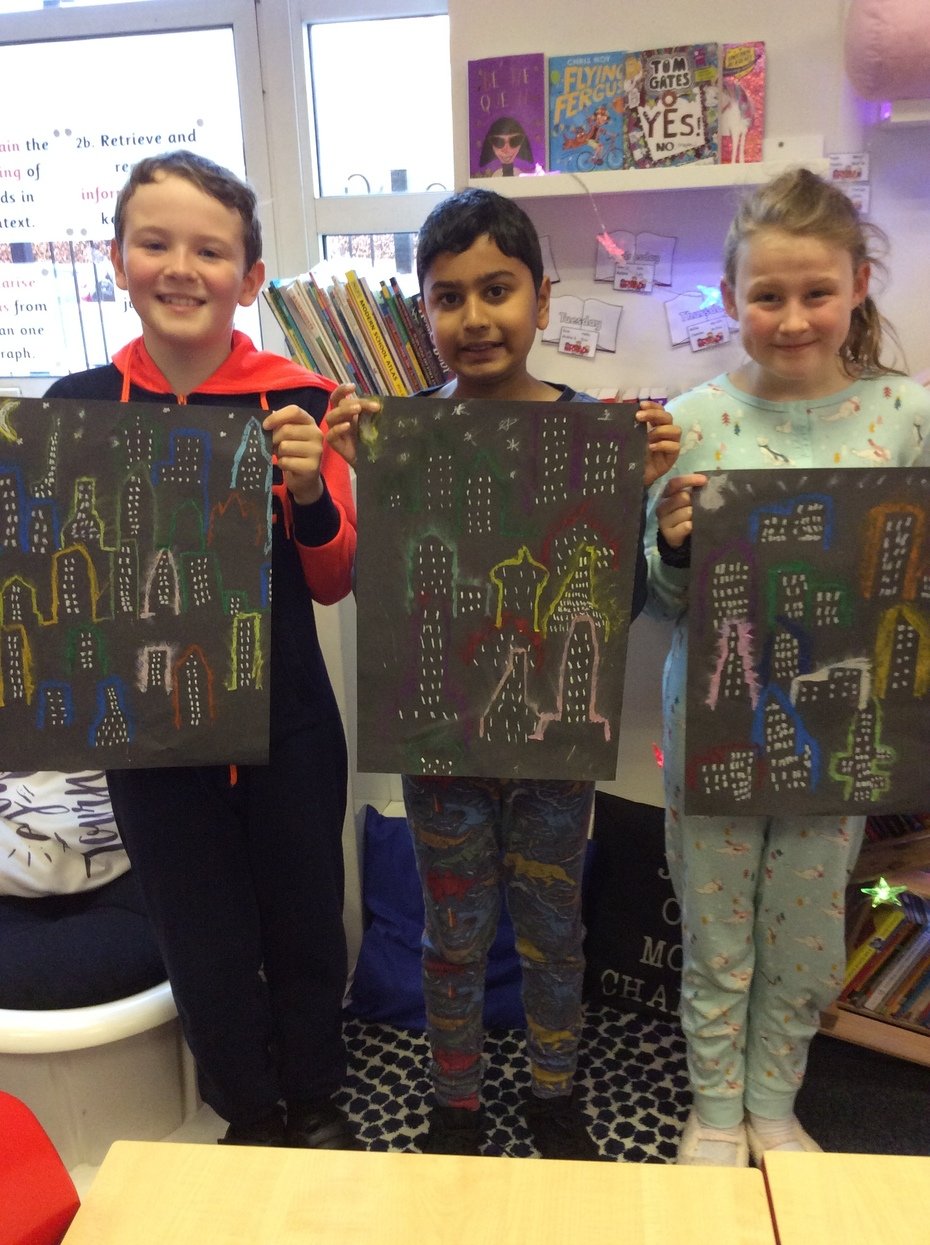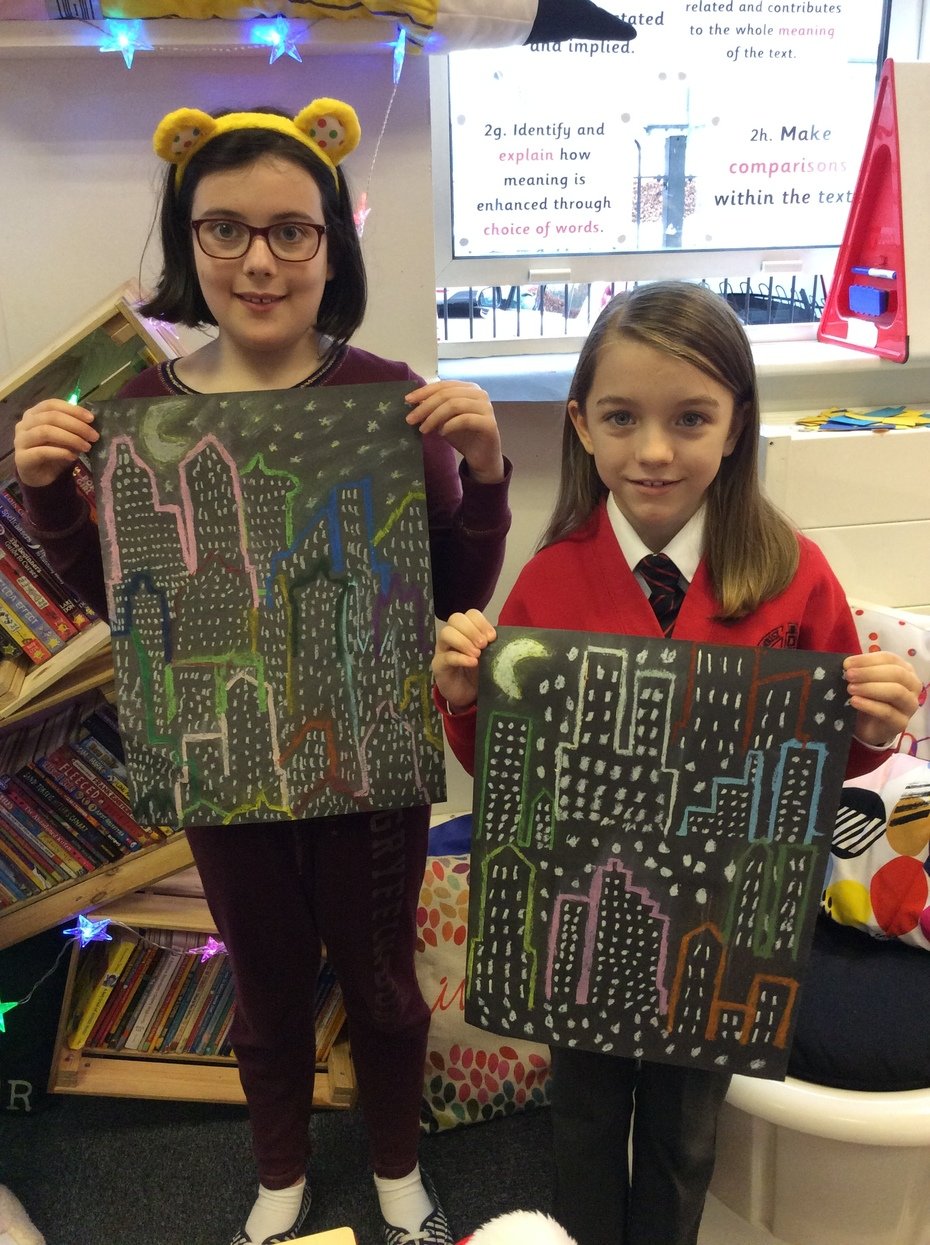 -
Year 5 have started Marathon Kids this week. This year, the children have a longer period of time so they can achieve more than one marathon. Who's got their running shoes ready?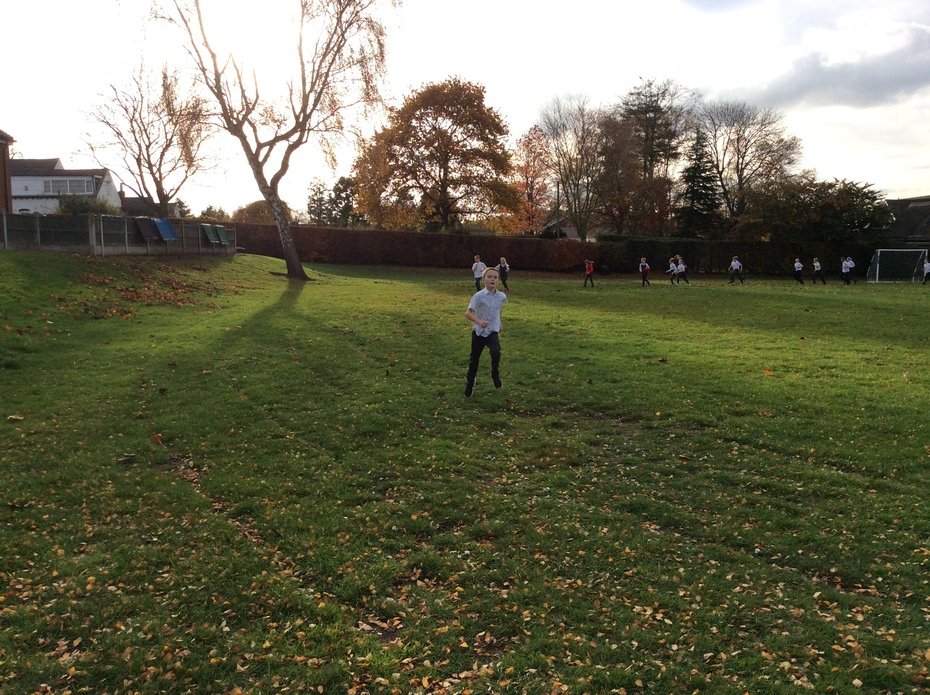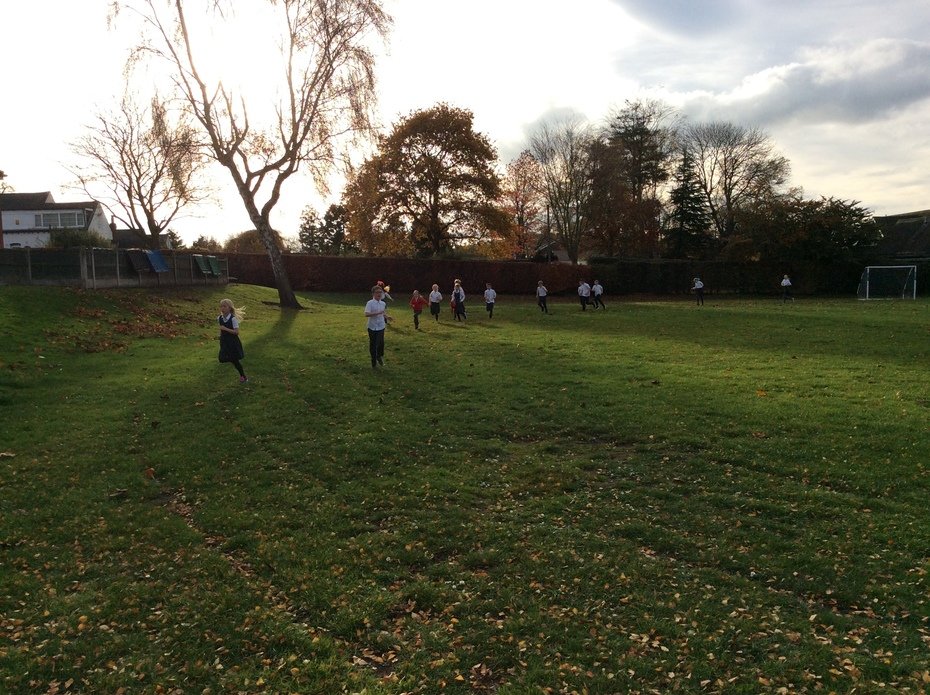 -
In Science, the children have been learning about dissolving and they carried out an experiment to find out which solid would dissolve. There were some surprising results!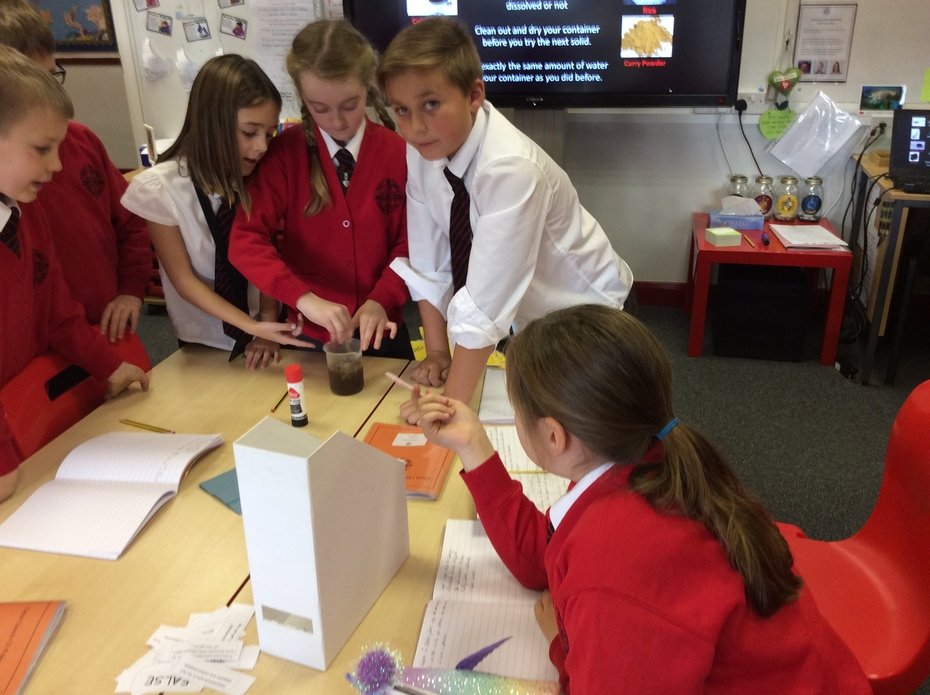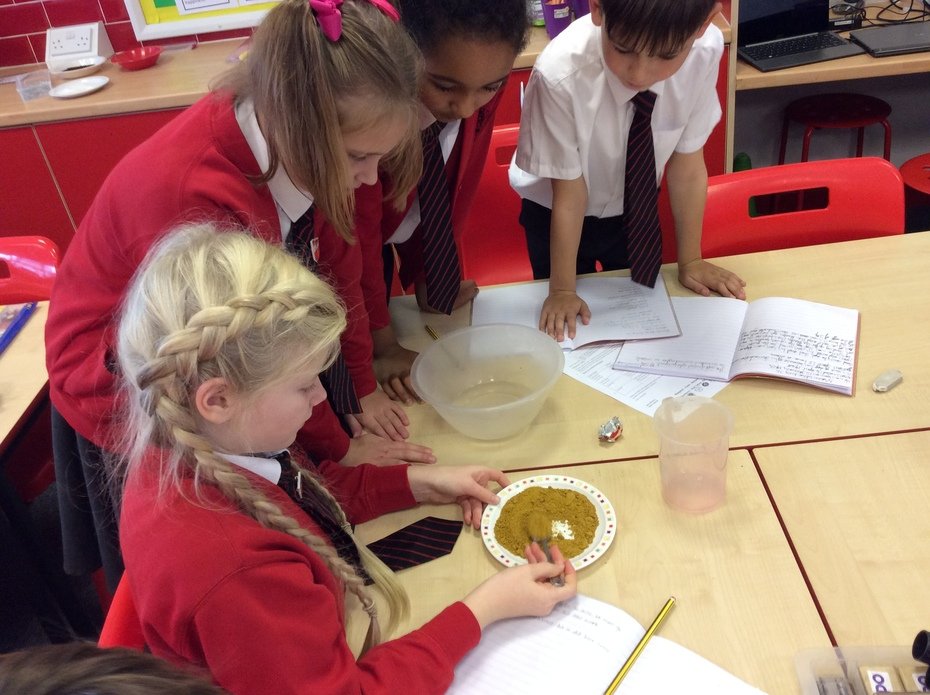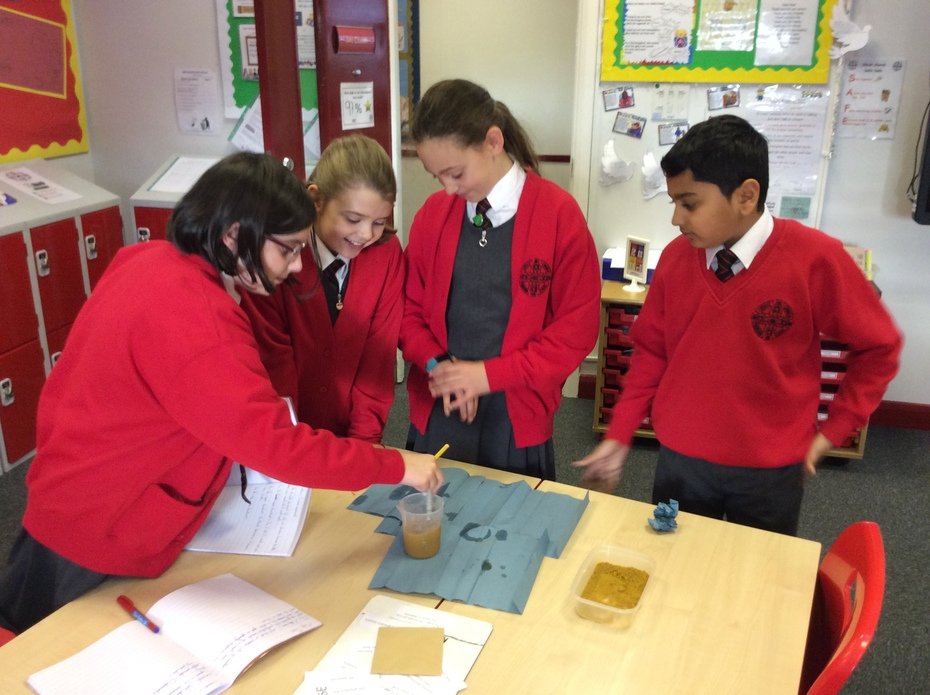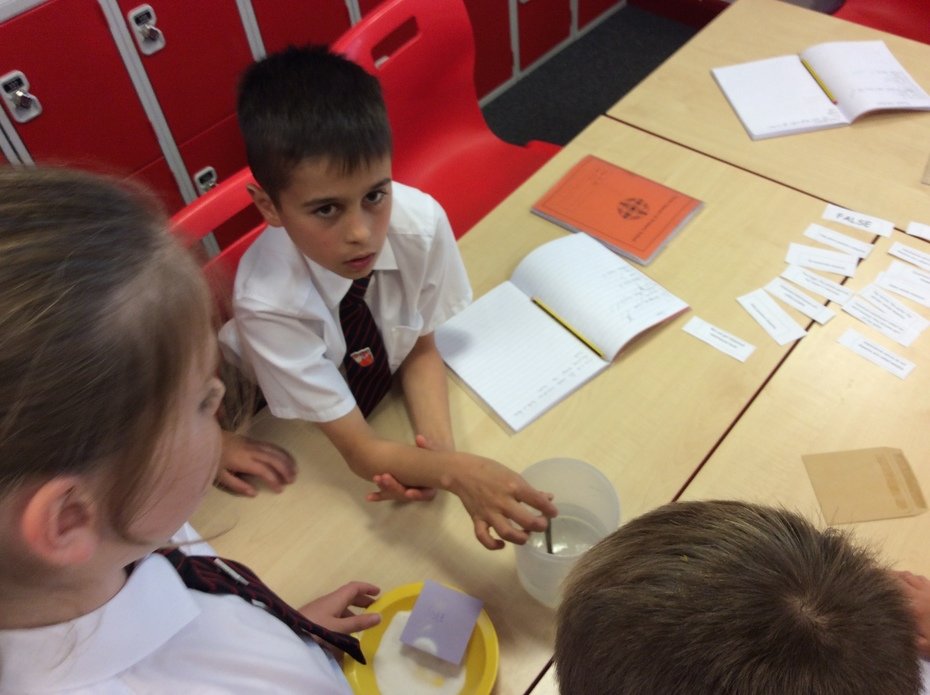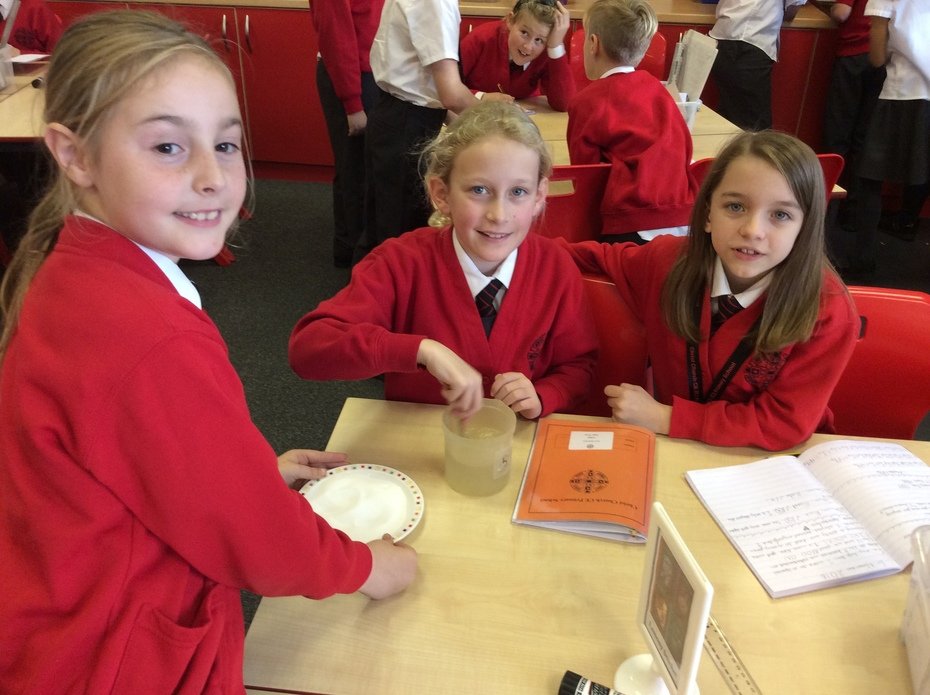 -
After the half term holiday, Year 5 came back to times table bingo in Maths.
They played their own mini games on each tables to get ready for their lesson on division.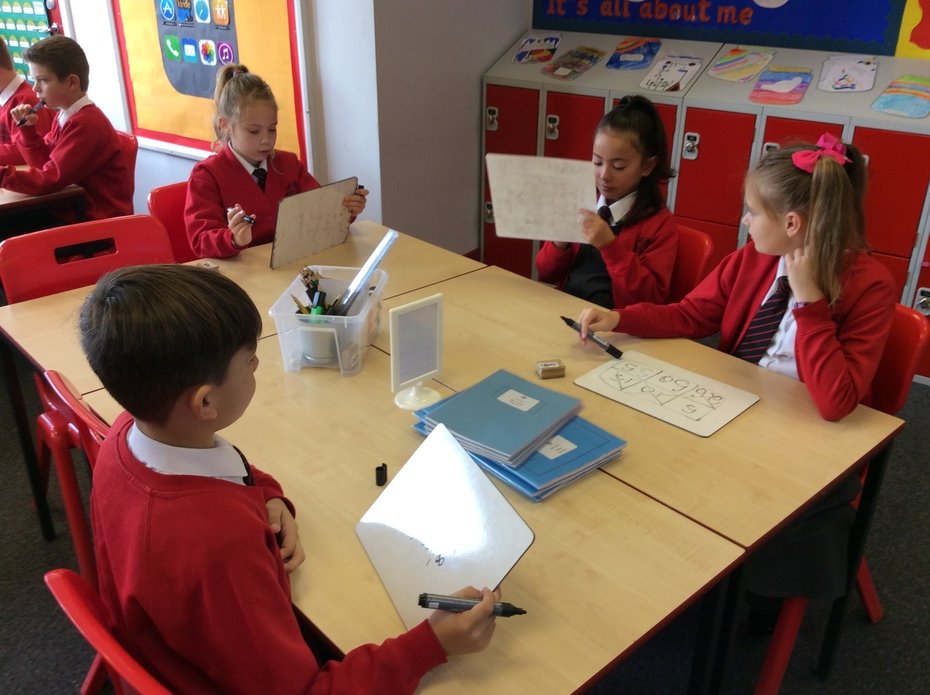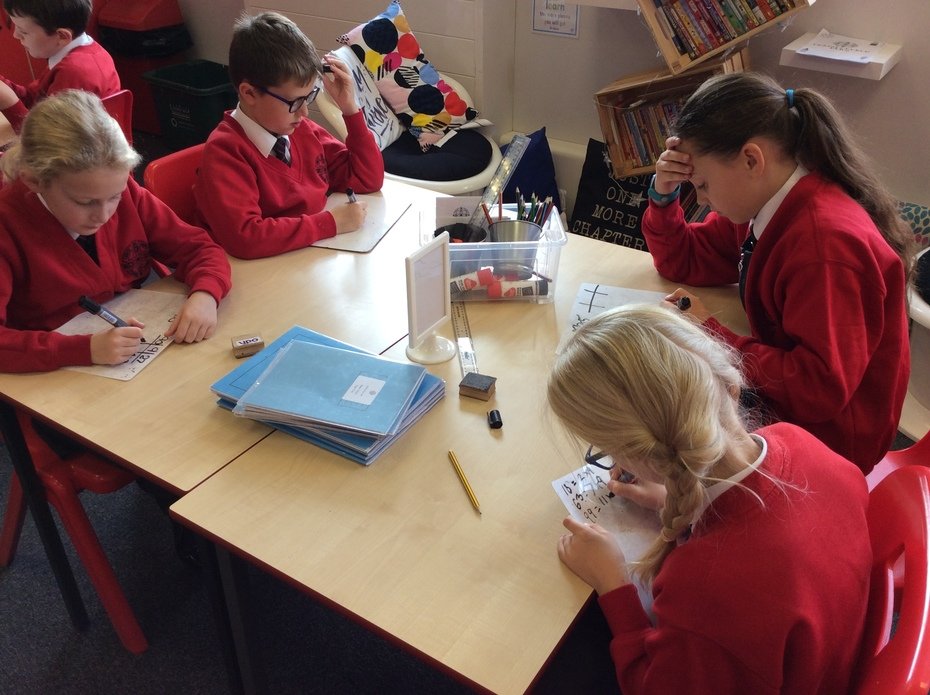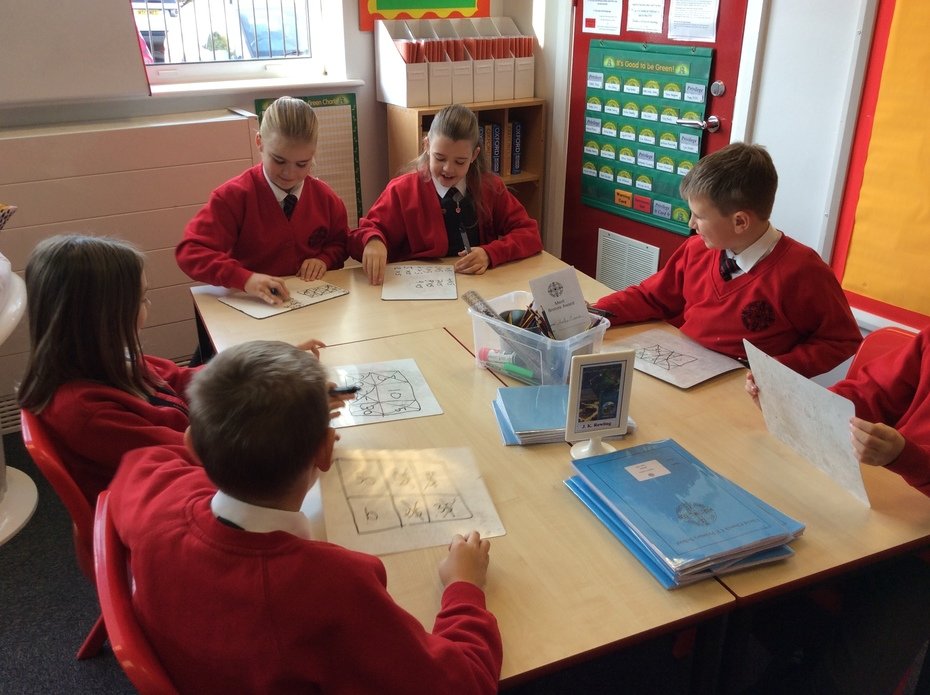 -
In music this week, the children have been using percussion instruments to aid their performance of the song we have been learning this half term. They worked in groups to decide on how they wanted to perform their section of the song. It was very noisy while they practised!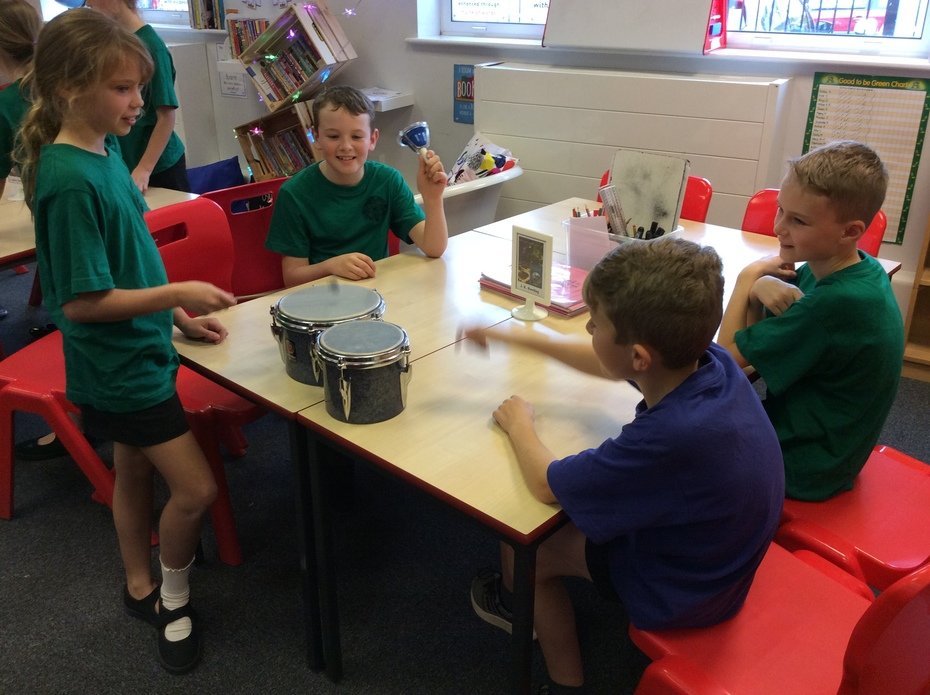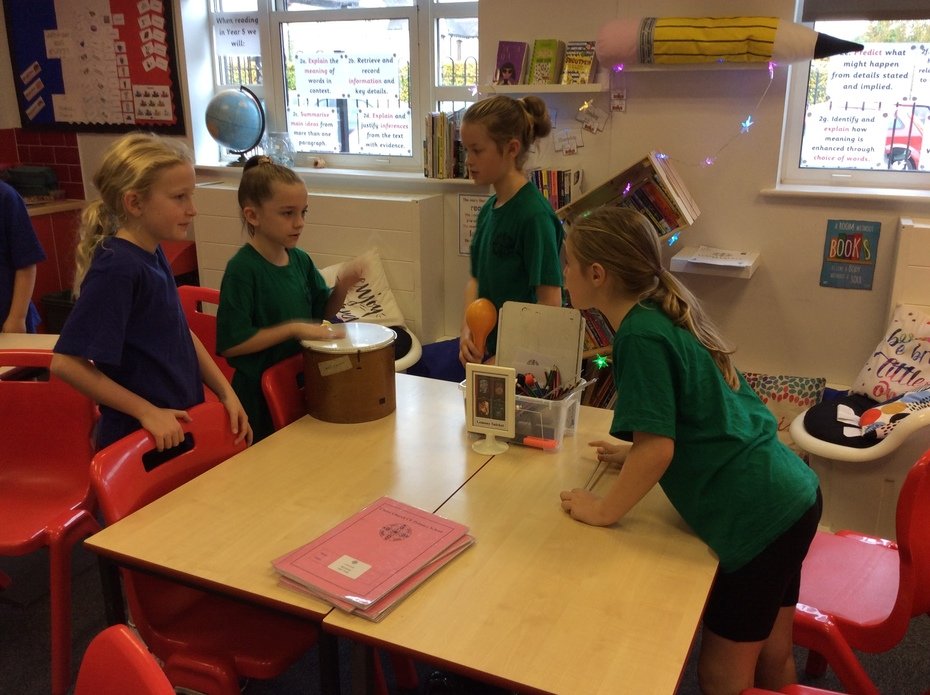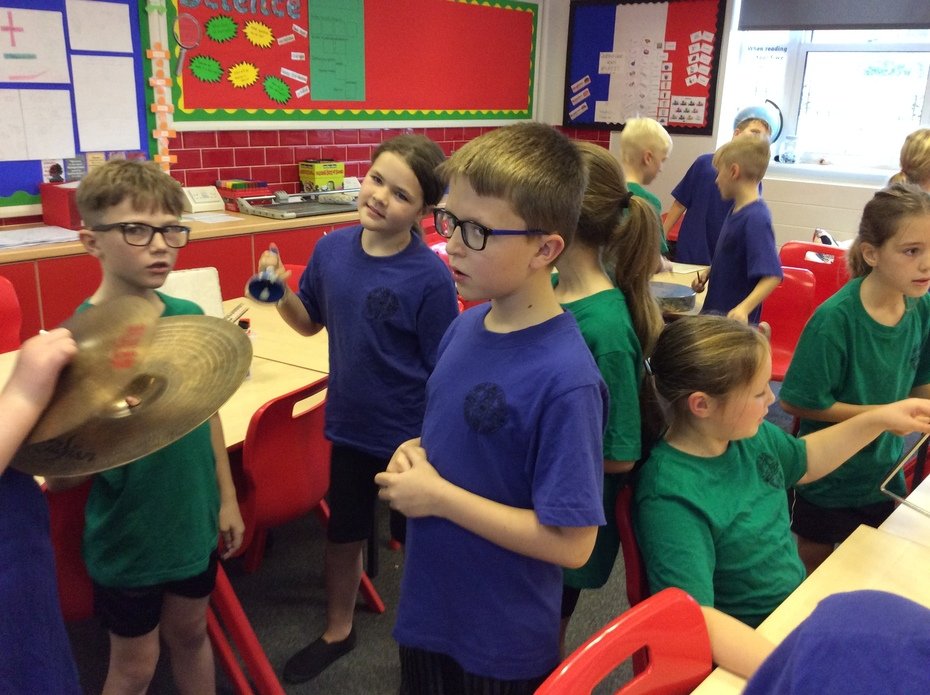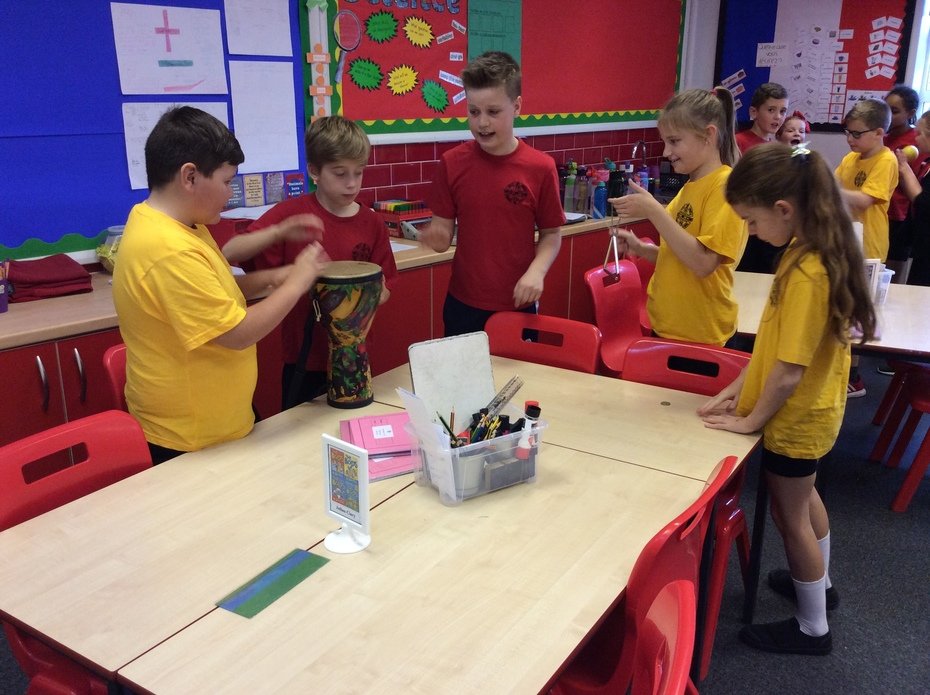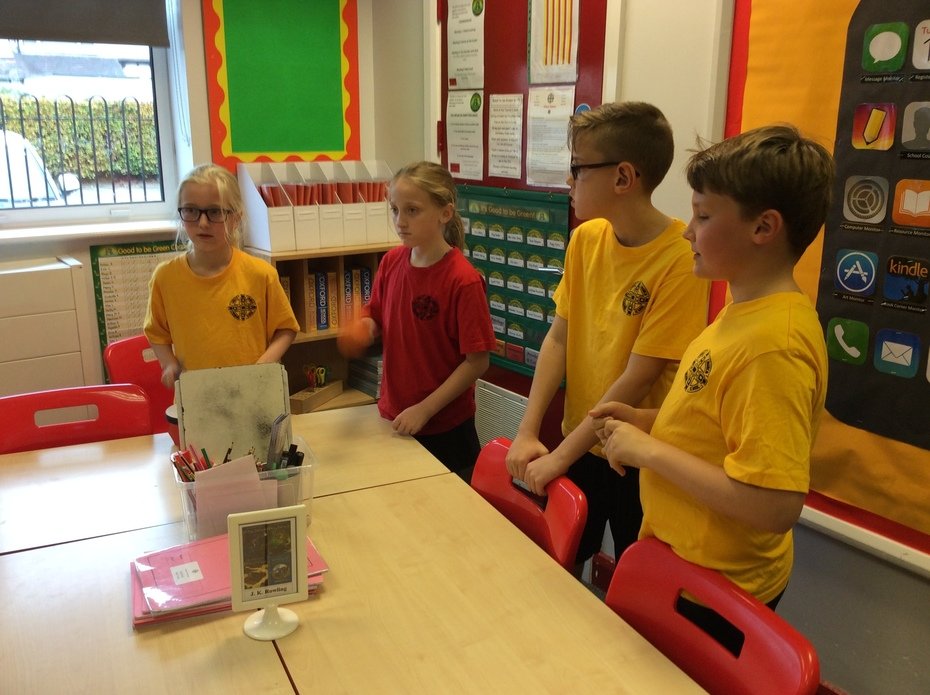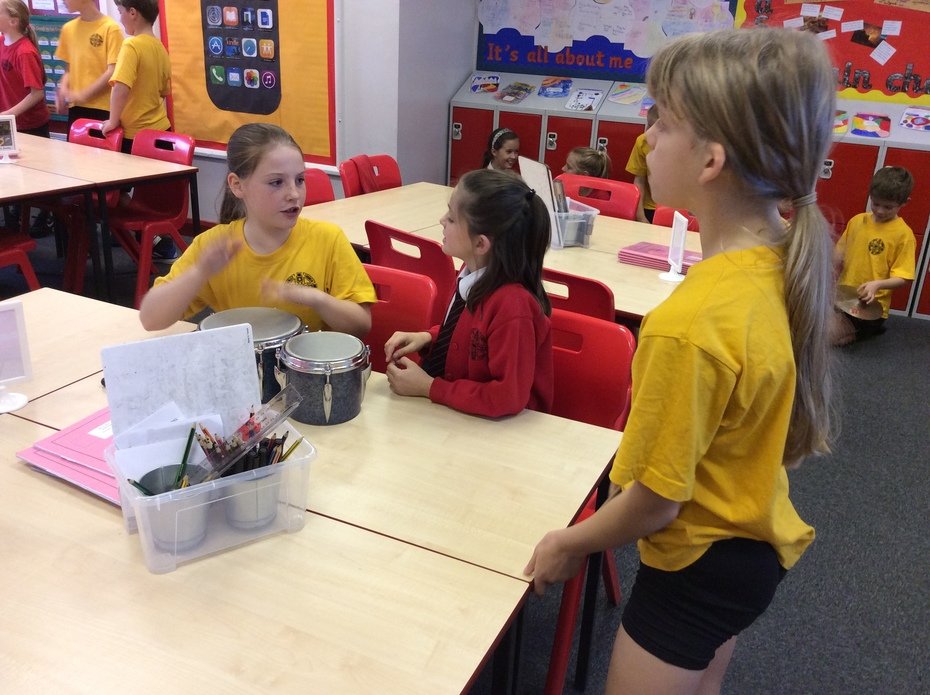 -
As part of Black History Month, Year 5 have been learning about Martin Luther King and how he played an important role in the civil rights movement. The children worked in groups to research his life and put their information into a template of his figure.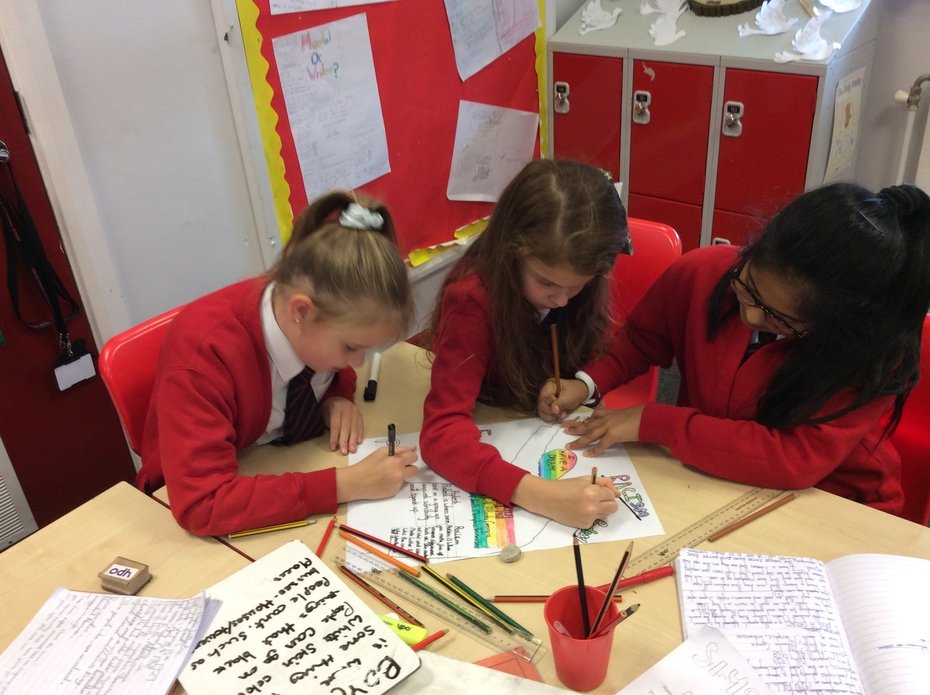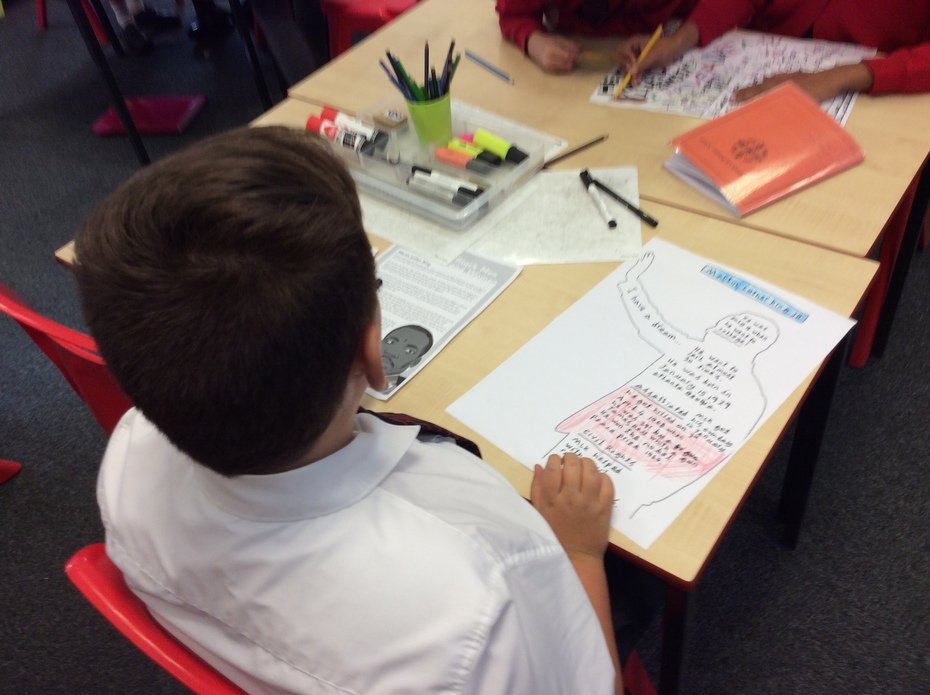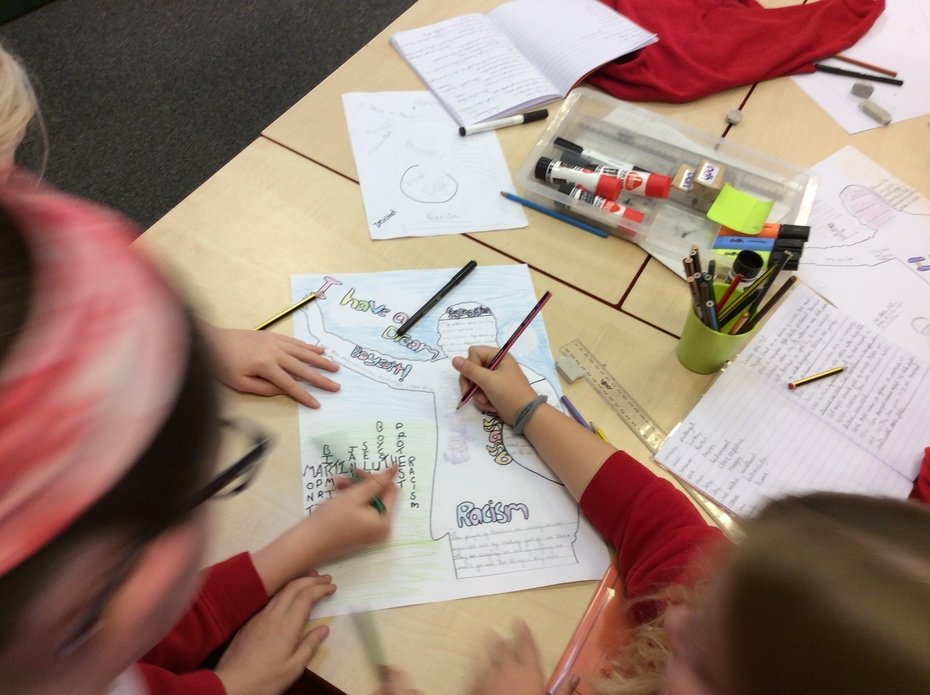 -
As part of our Big Question, the children have been learning about the Industrial Revolution. They have been finding out about how changes in things like population and factories being built had an impact on Britain. This week, the children worked in groups to share their ideas about the impact of coal mining.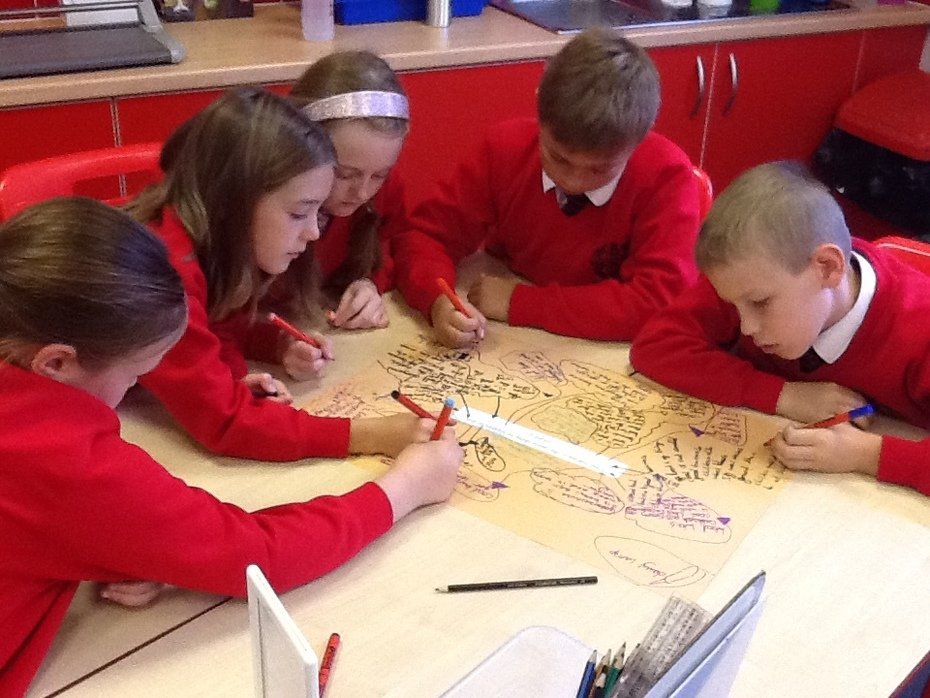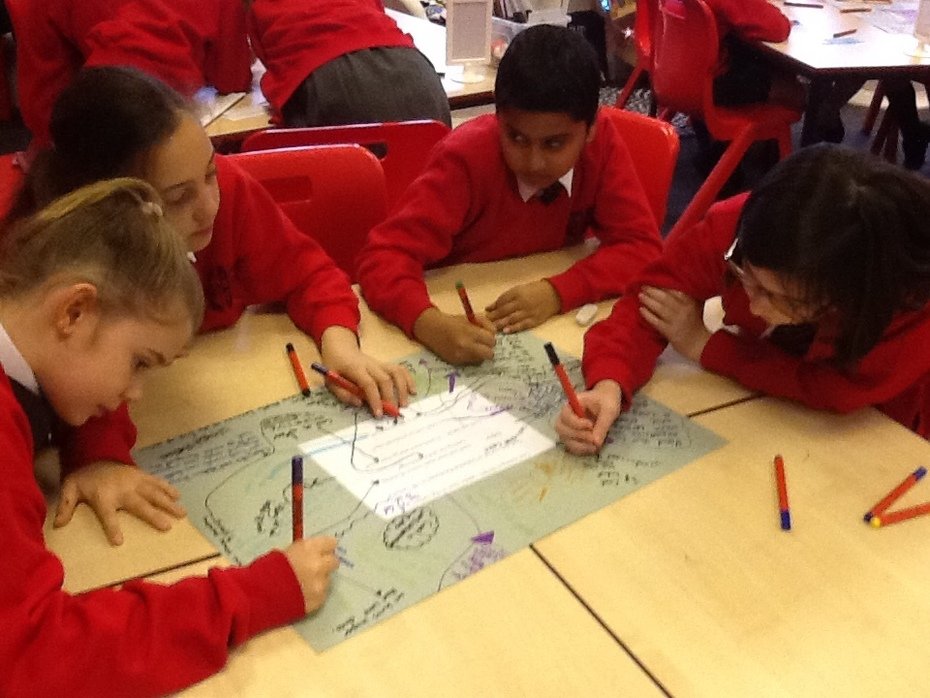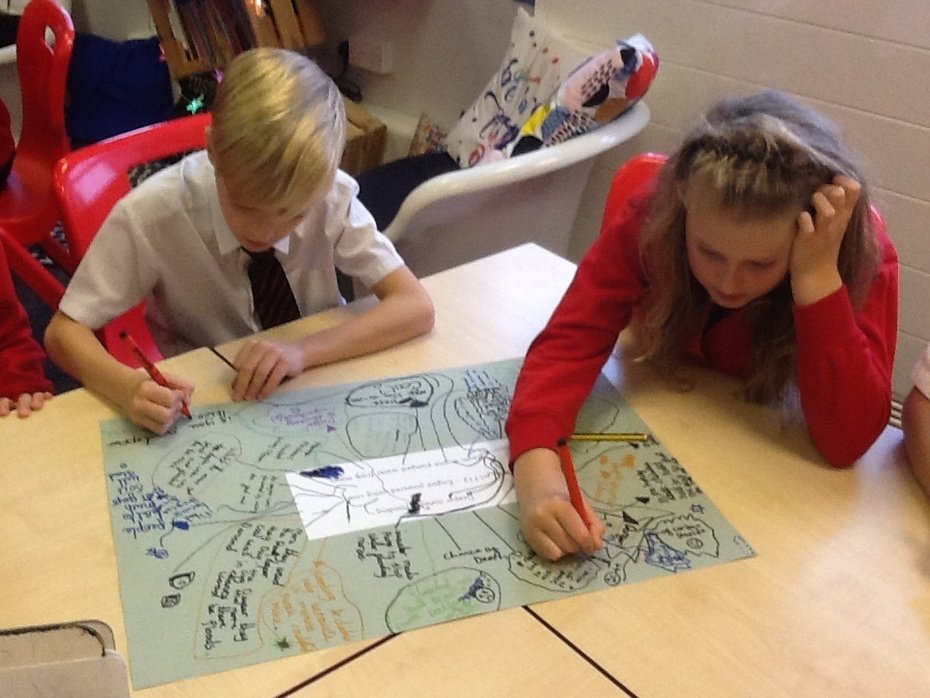 -
Mrs Cheek's class have been taking it in turns to enjoy the reading area in the classroom.
They even suggested a timetable so everyone can enjoy the space.
Have you seen our 'magical' crates that hold our books?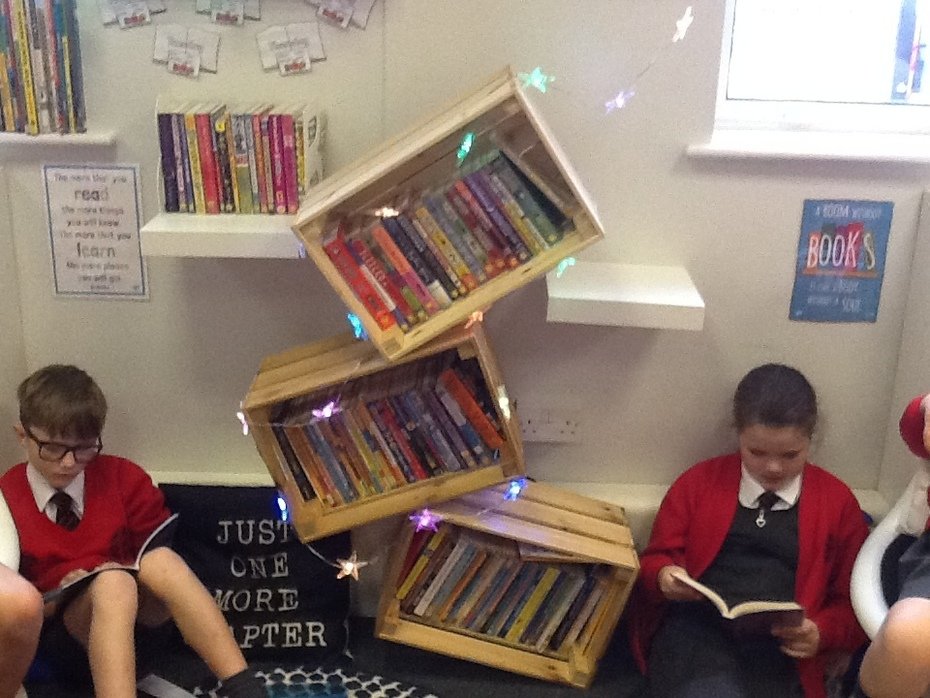 -
Rehearsals for our Harvest Worship are in full swing! Year 5 are excited to perform to the rest of the school and Parents/Carers at the Church on Monday 22nd October at 3:30pm.
We look forward to seeing you there.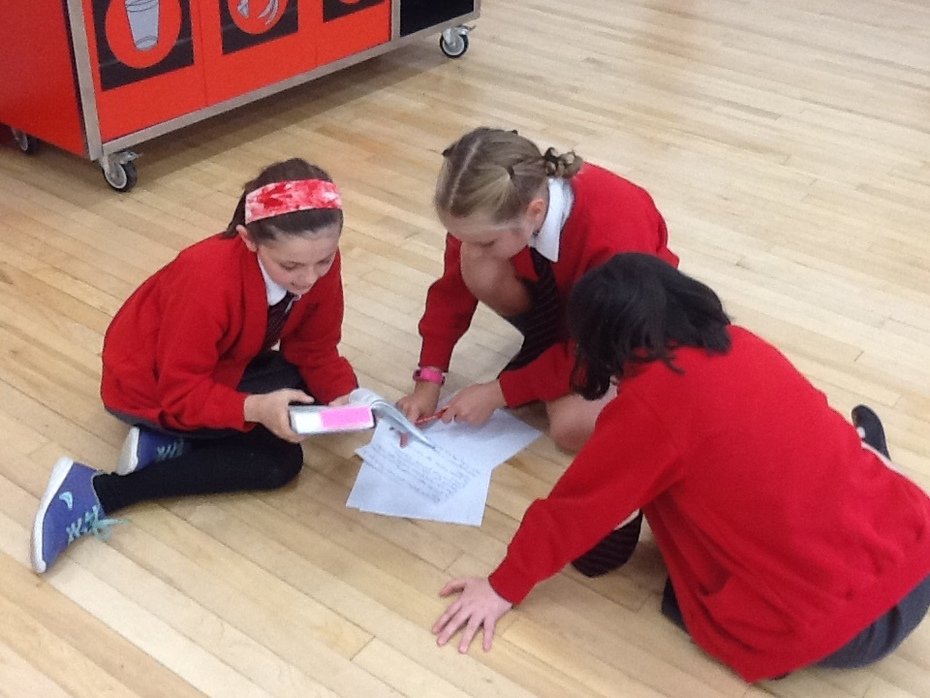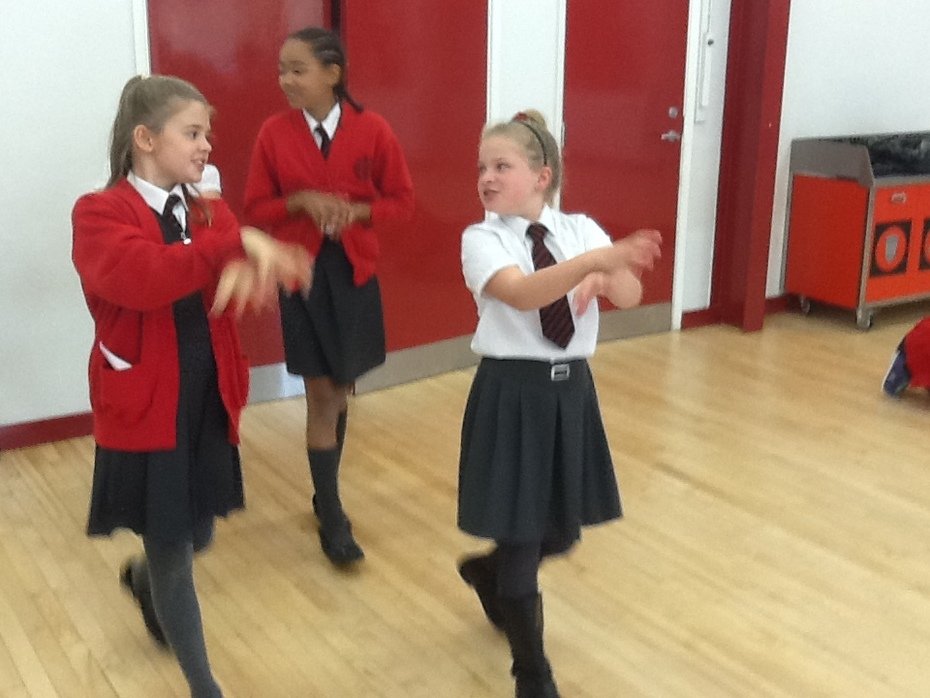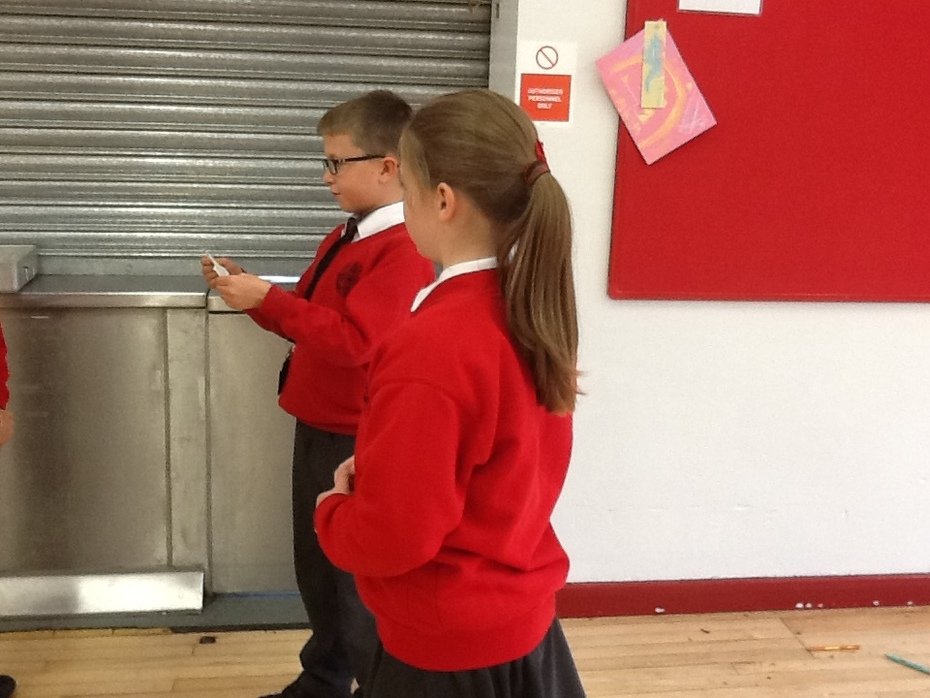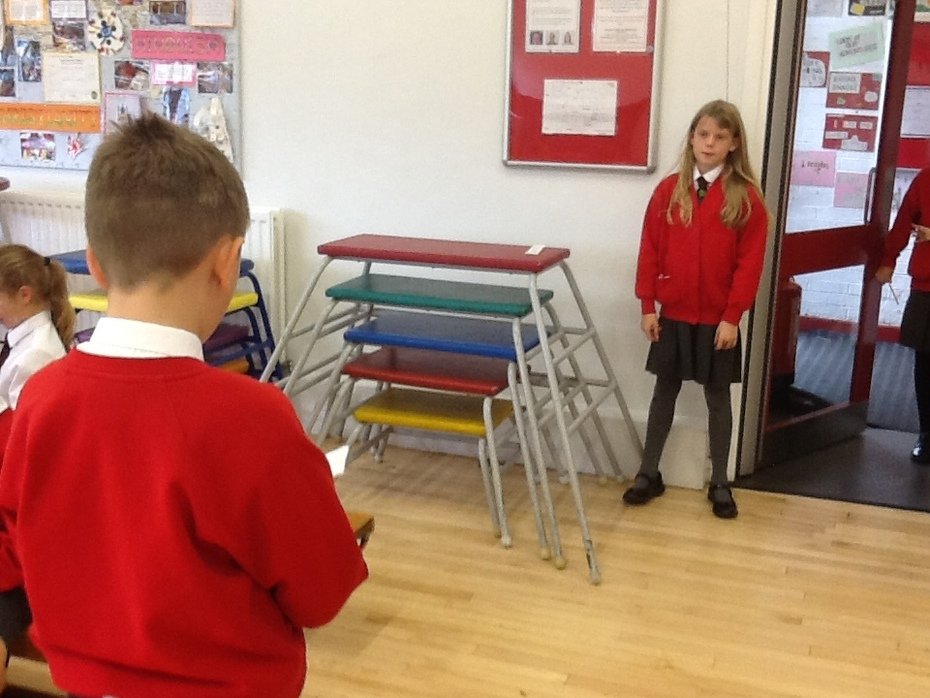 -
This week, Year 5 have been putting their newly learnt Netball skills to the test with some mini games.