Welcome To Year 4
from Mrs Cheek & Mr Tilt
The teaching assistant in Year 4 is Mrs Turner.
Calendars
Upcoming date for your diary
Year 4 Summer Showcase - Friday 14th July at 2pm in the School Hall

We now have Outdoor Games on a Wednesday (as of May 2017) and indoor P.E. on a Friday.
Please make sure you have the correct kit in school.
Recent Letters
Our Big Question this half term is:
Would you have survived during World War II?
Worship
On Friday 30th June, Year 4 performed their Whitemoor Lakes Worship to the whole school. The children shared their memories of their residential and explained what activities they took part it in while they were away from home. The children spoke clearly and sang their campfire songs loudly! We hope our Y4 Parents are ready to see it at our Showcase on the 14th July.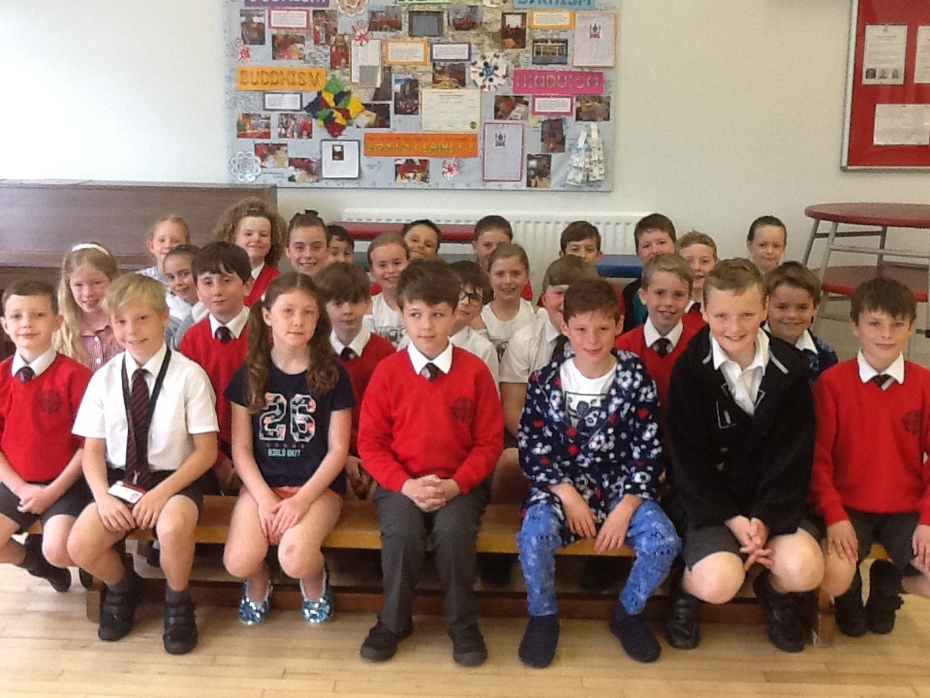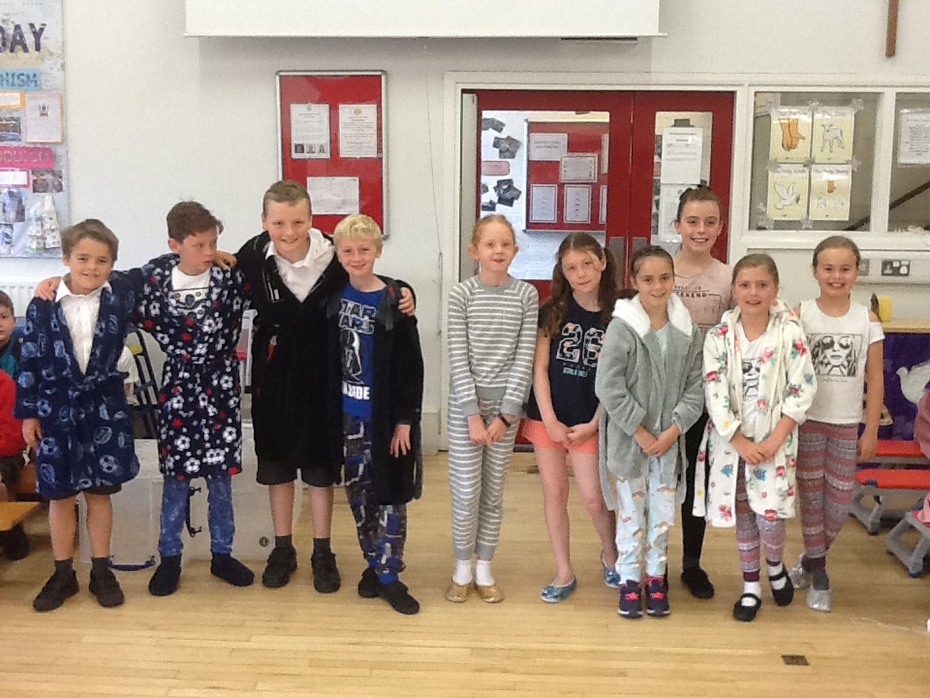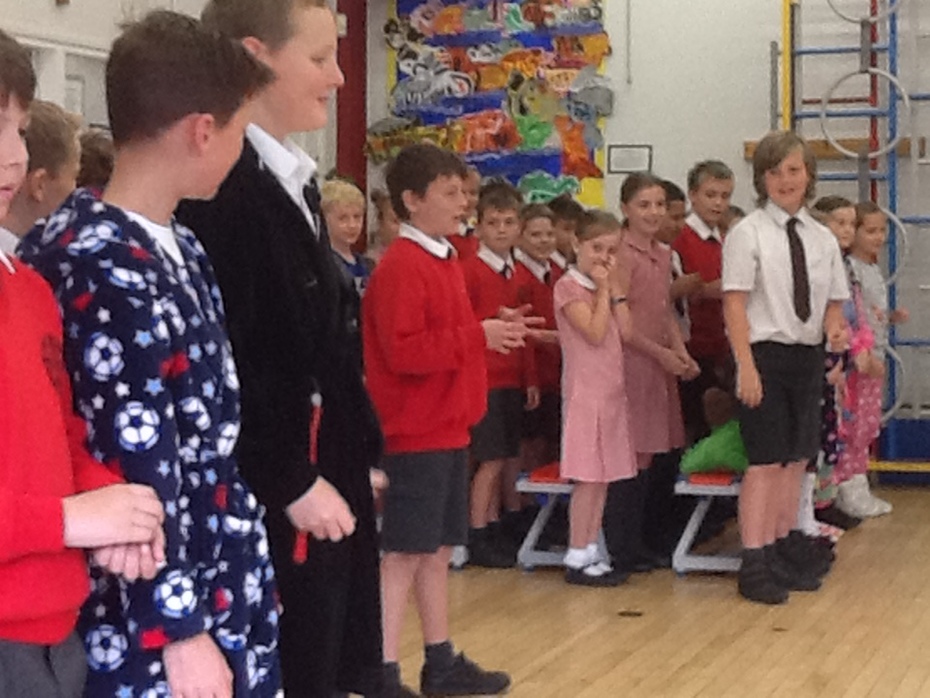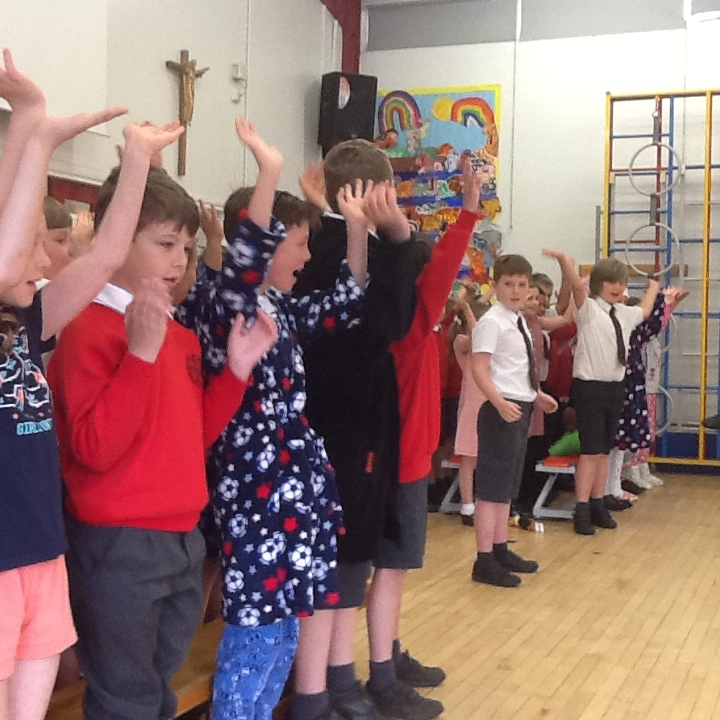 4ST Inspire
Another successful Inspire Workshop, this time for 4ST. The children spent time at each WW2 activity before trying their hand to electrical circuits. Thank you to all the Parents who came. We hope you enjoyed working together.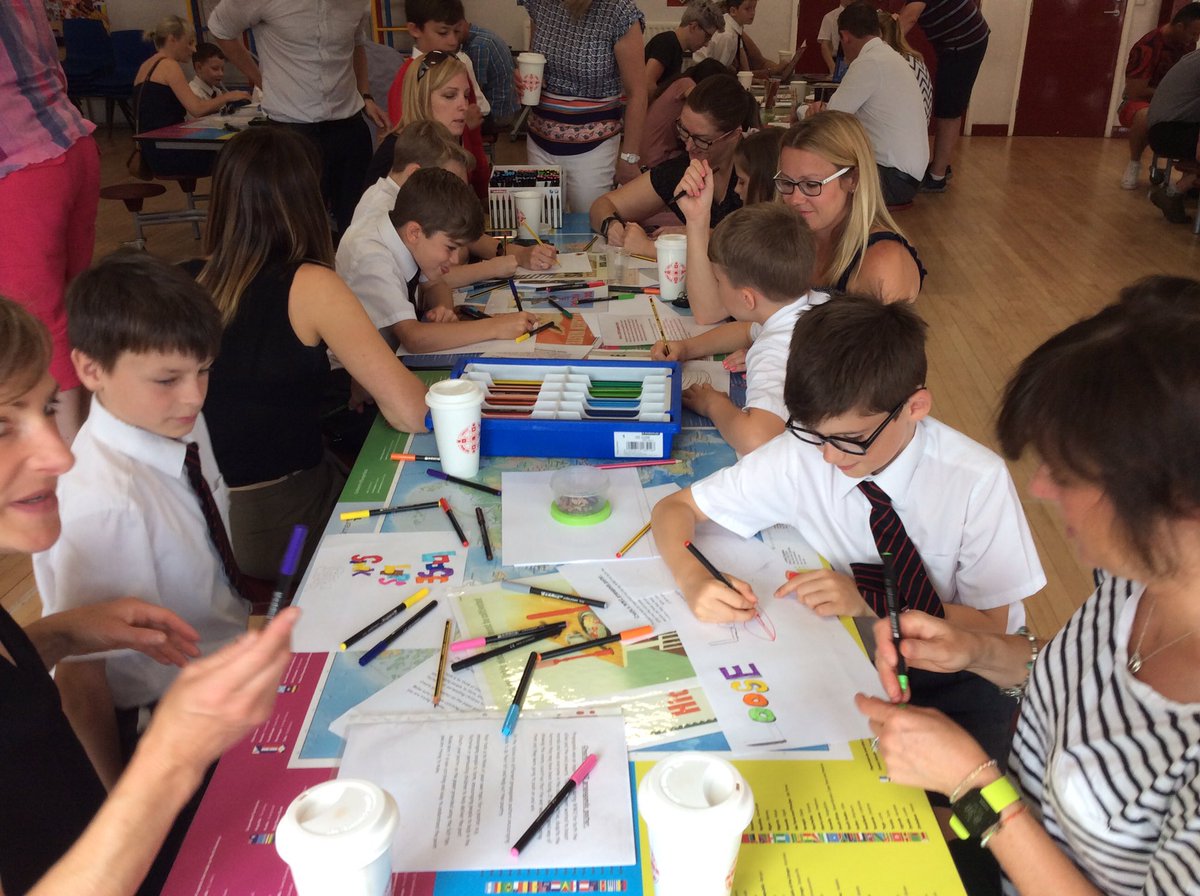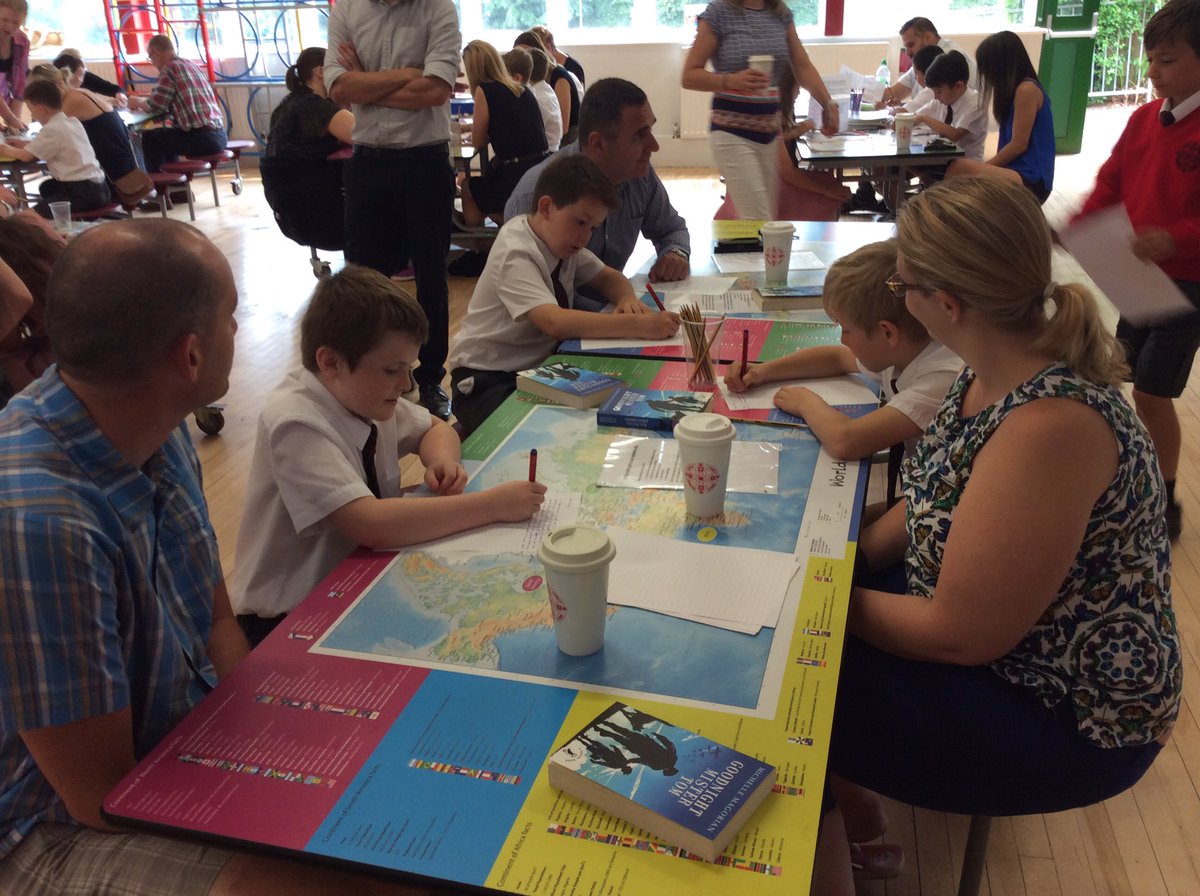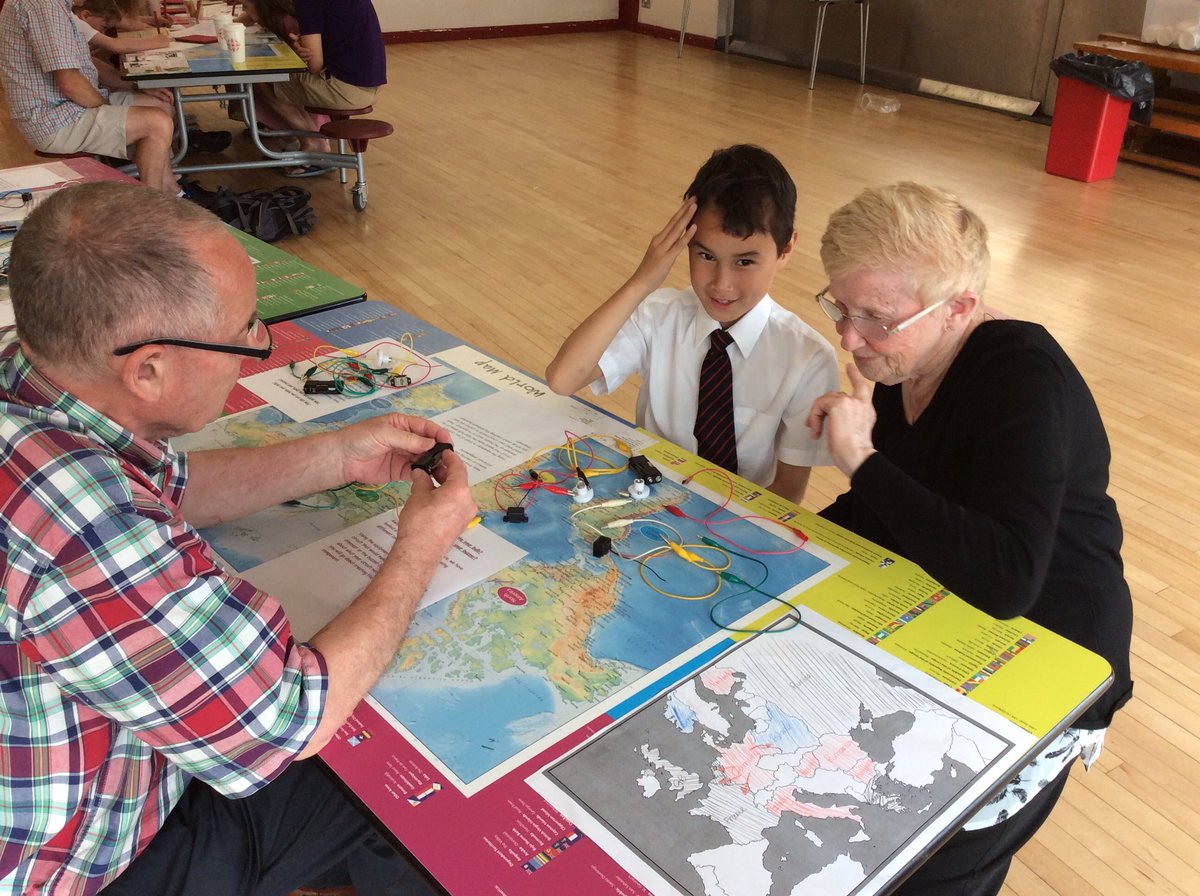 4SC Inspire
Thank you to all the Parents who came to 4SC's Inspire Workshop. We had great fun working our way around the different stations, completing WW2 work. Some even had a go at learning the Jitterbug! We hope you enjoyed working together.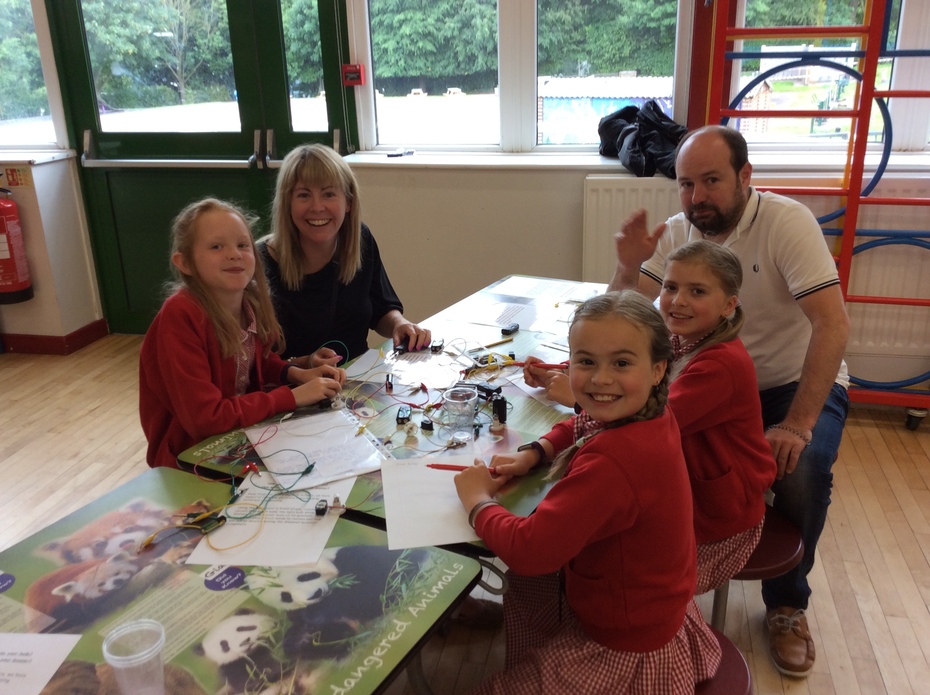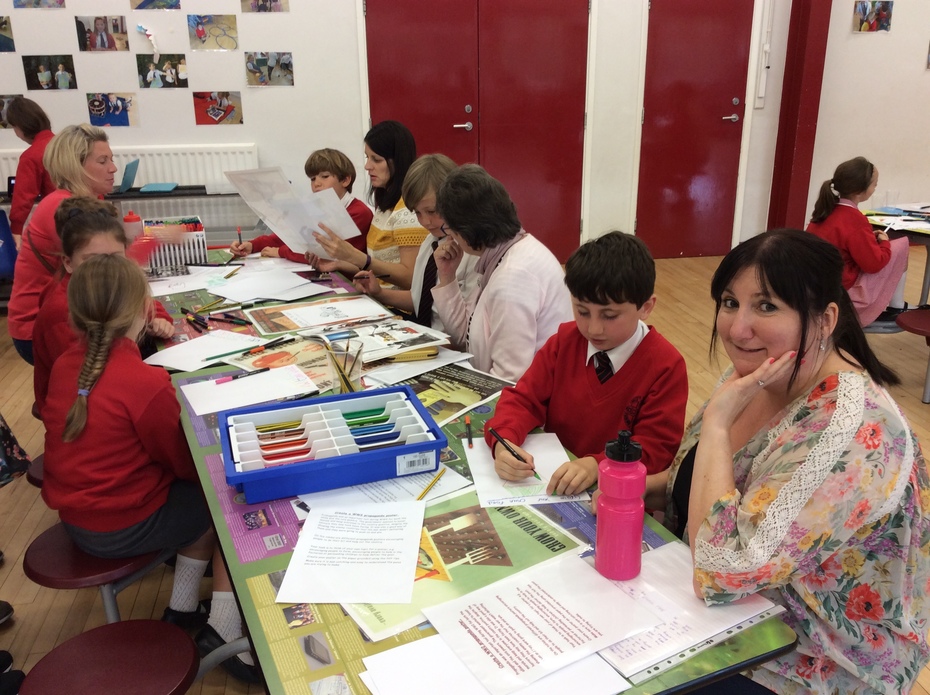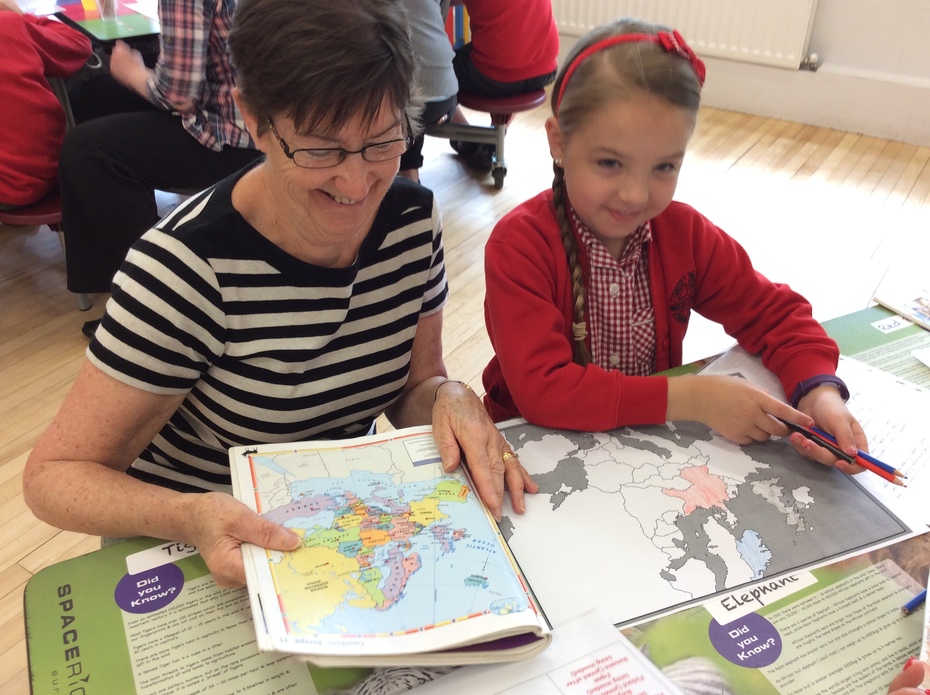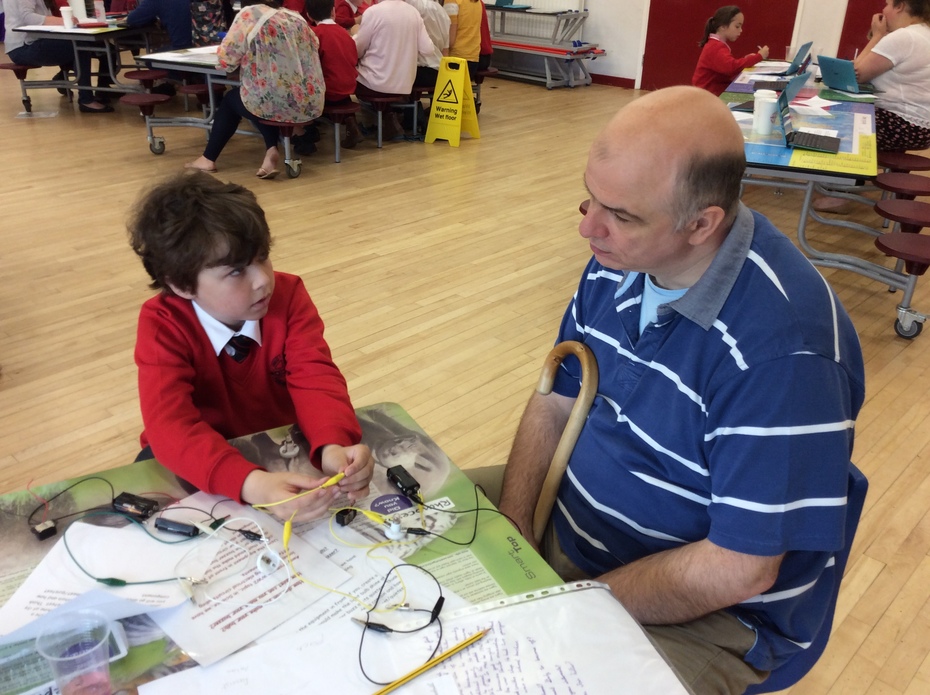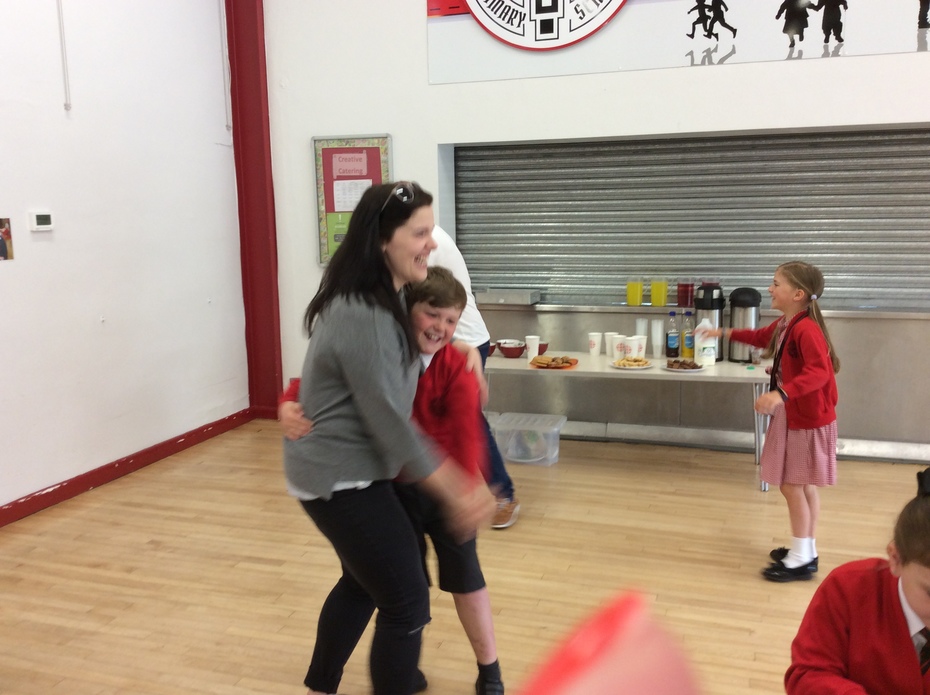 Whitemoor Lakes residential
What an amazing 3 days at Whitemoor Lakes! Despite the changing weather, the children took part in activities like crate stacking, raft building, archery and abseiling and enjoyed songs around the campfire on the last night. They challenged themselves to try new things and reach their own personal goals. They were an absolute joy to take and were a credit to our school. Well done Year 4, we are so proud of your behaviour and achievements.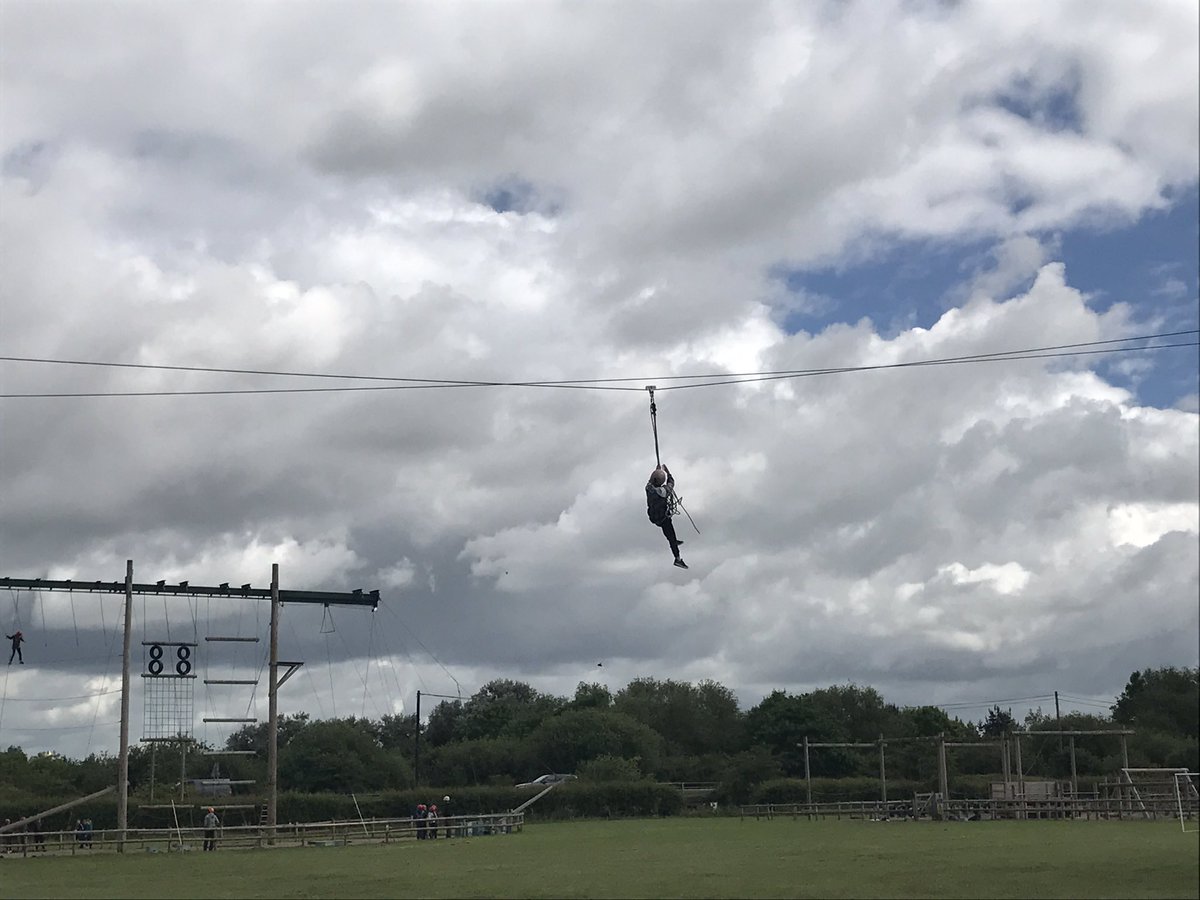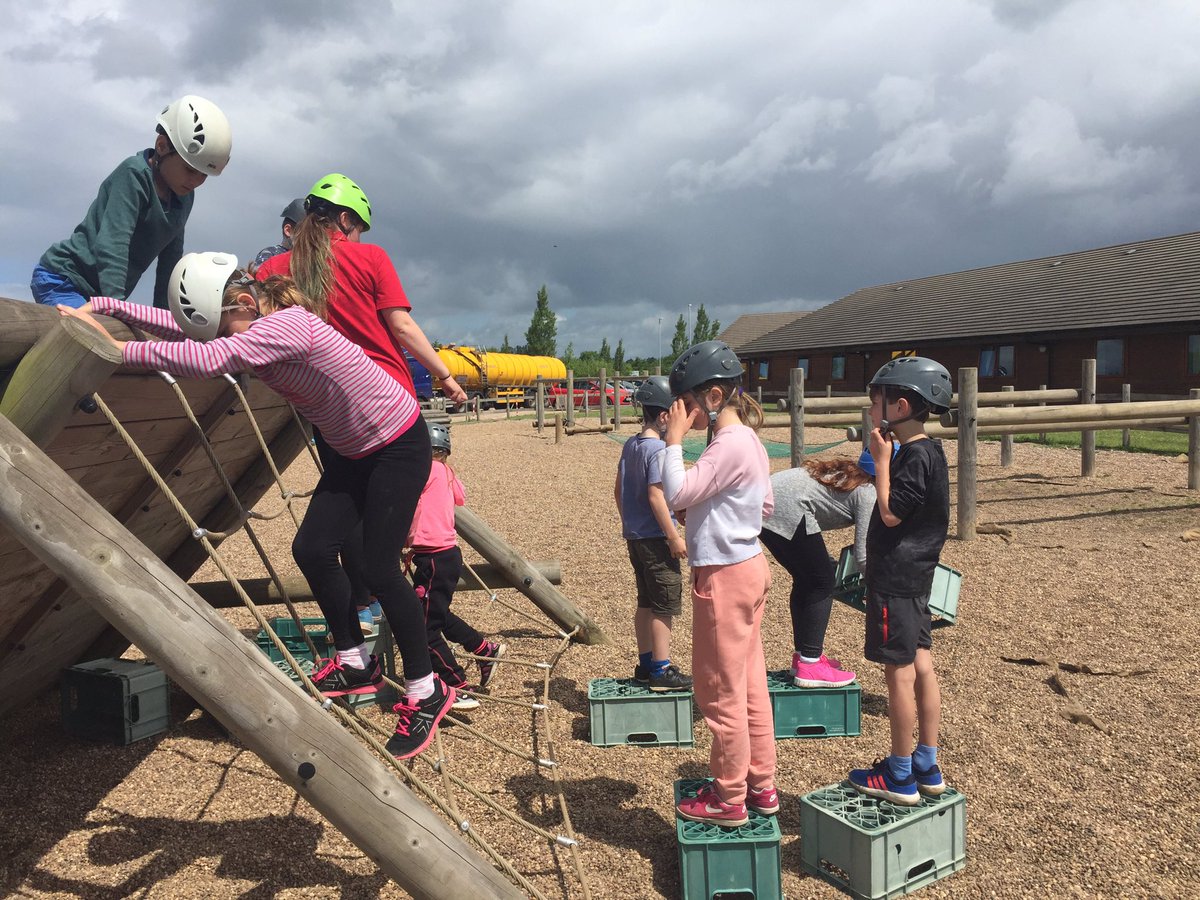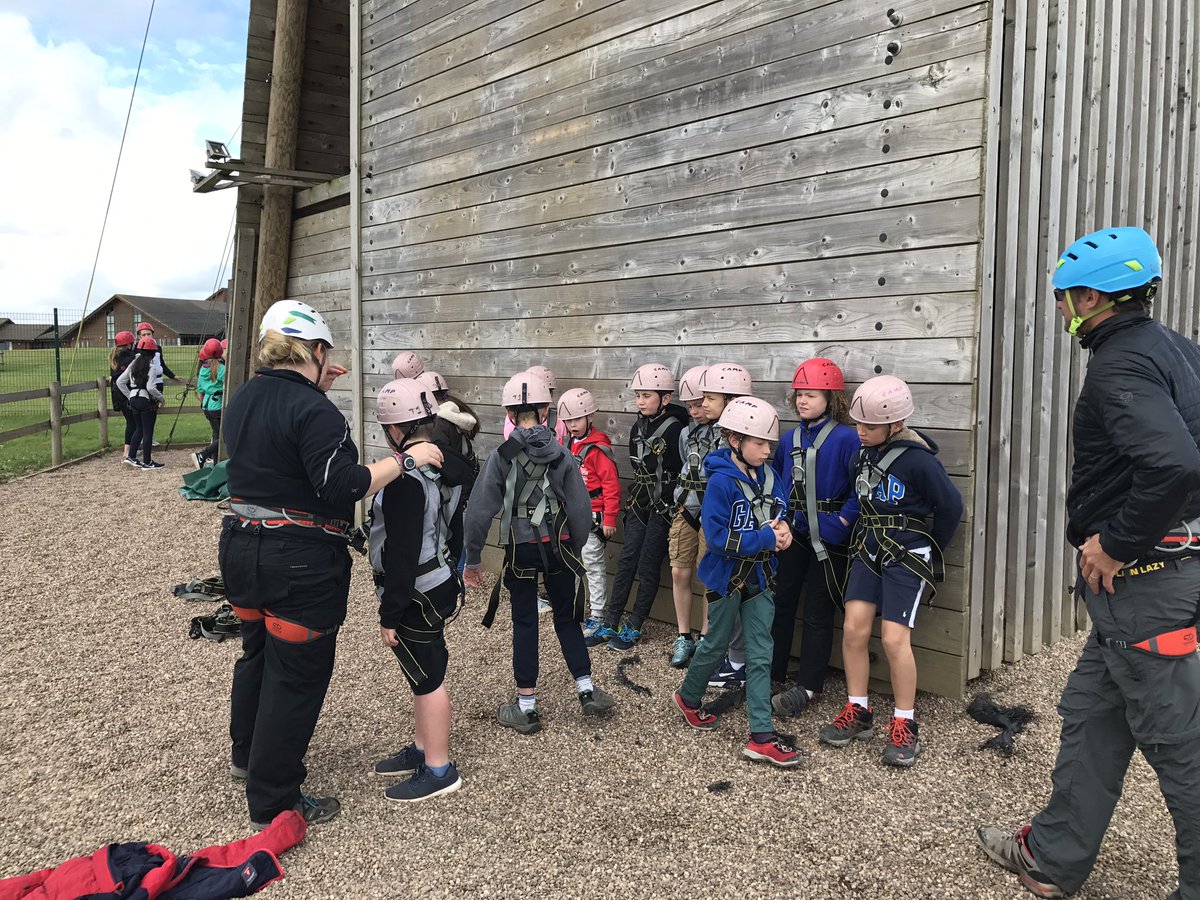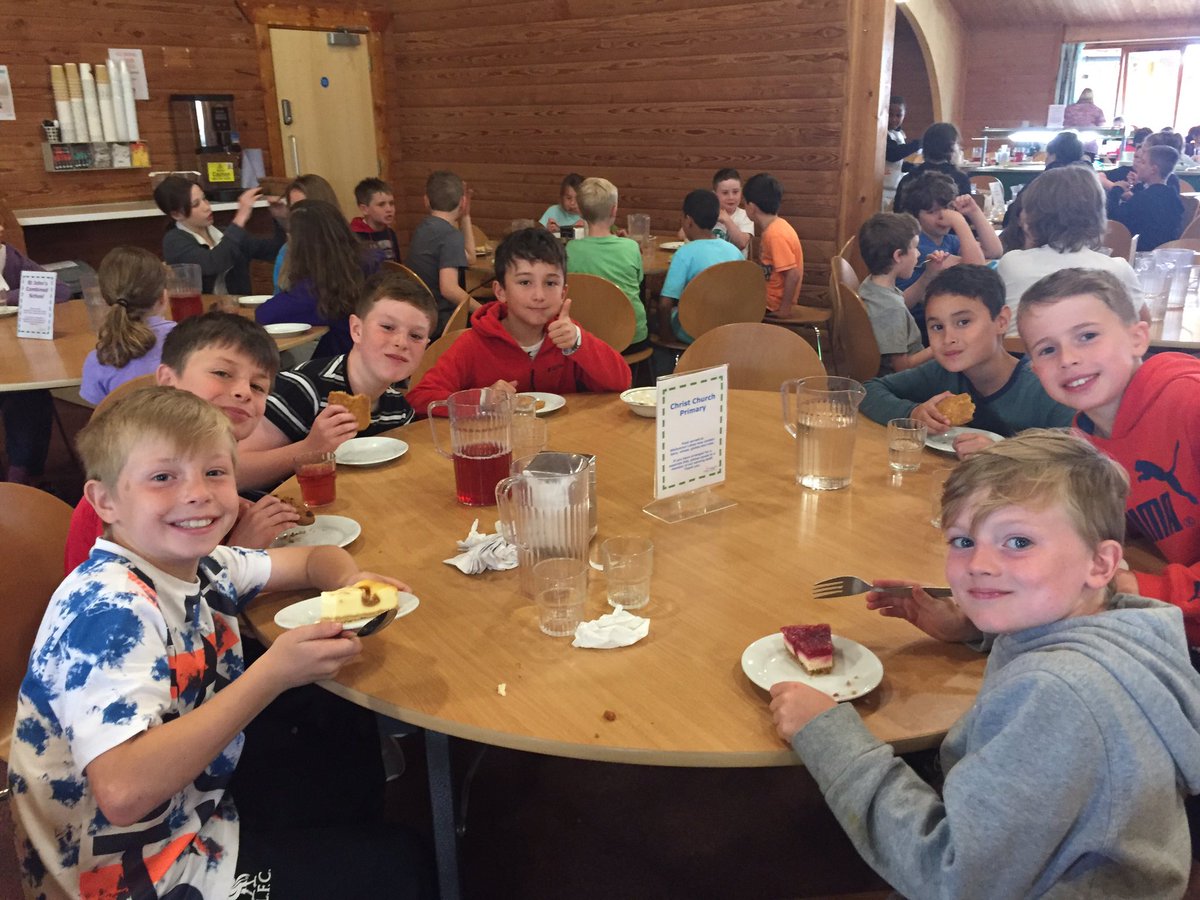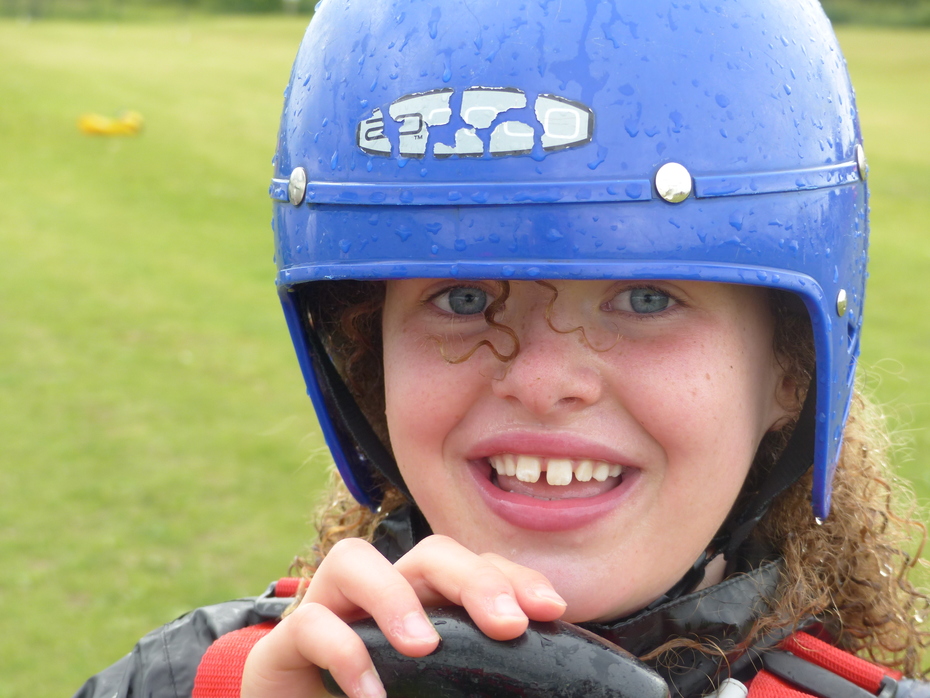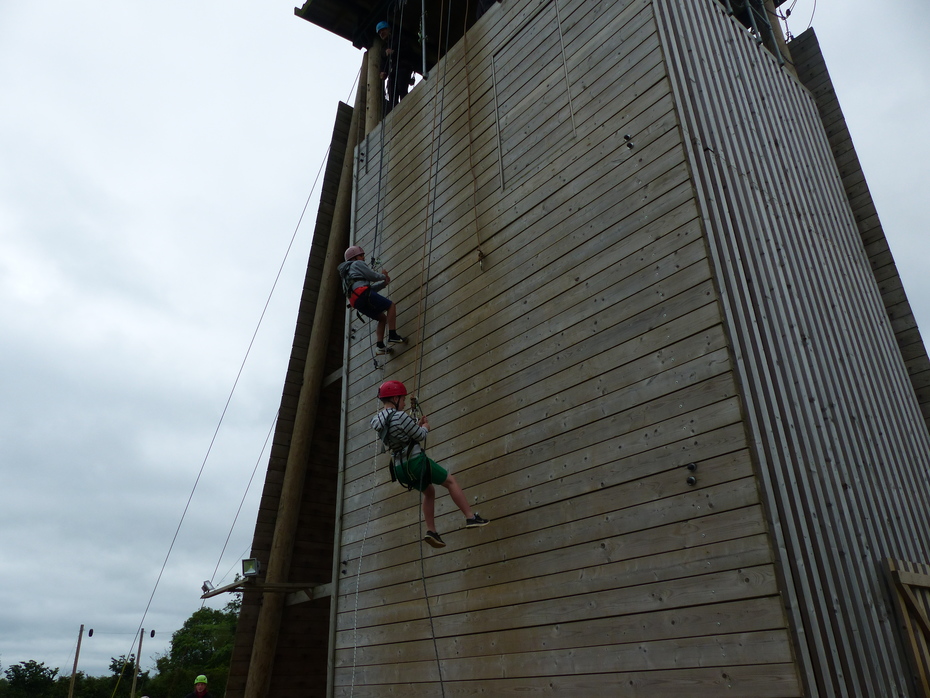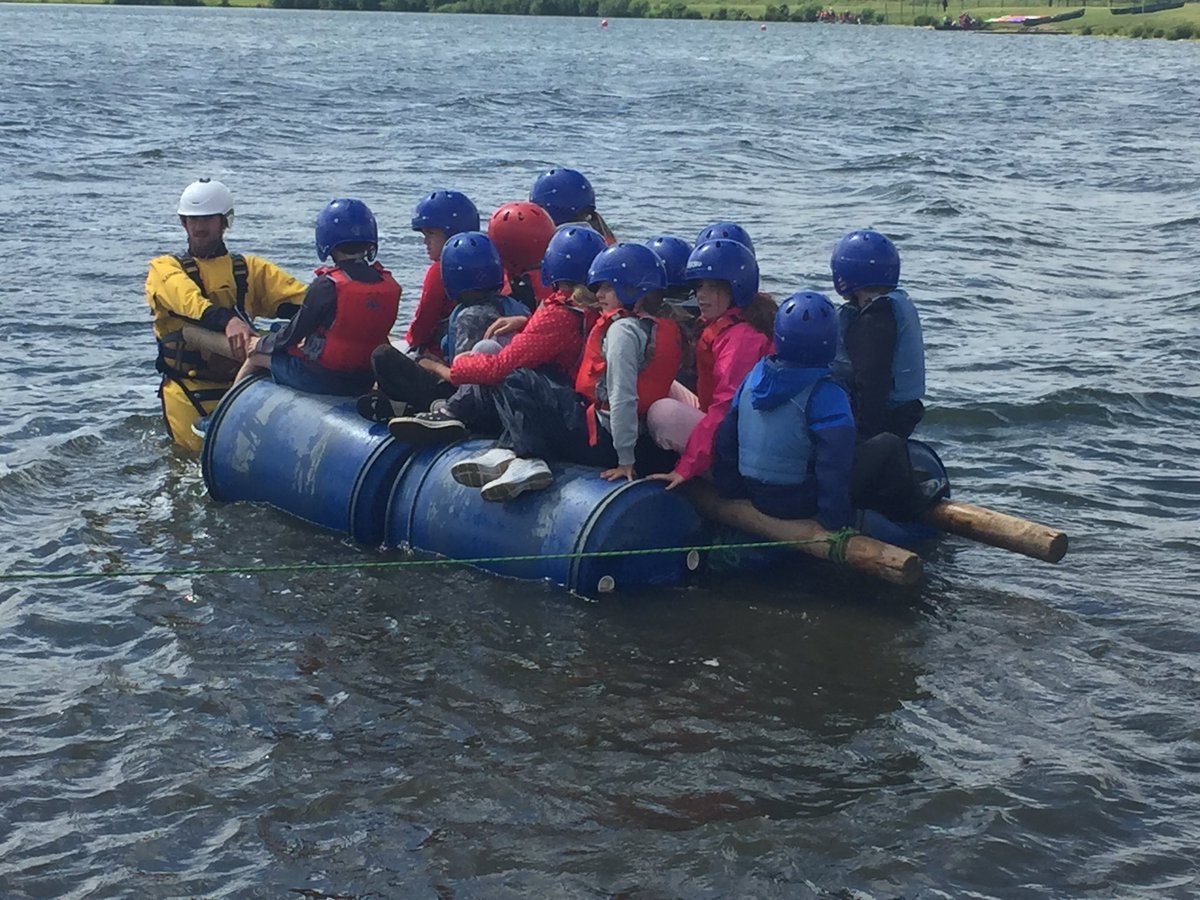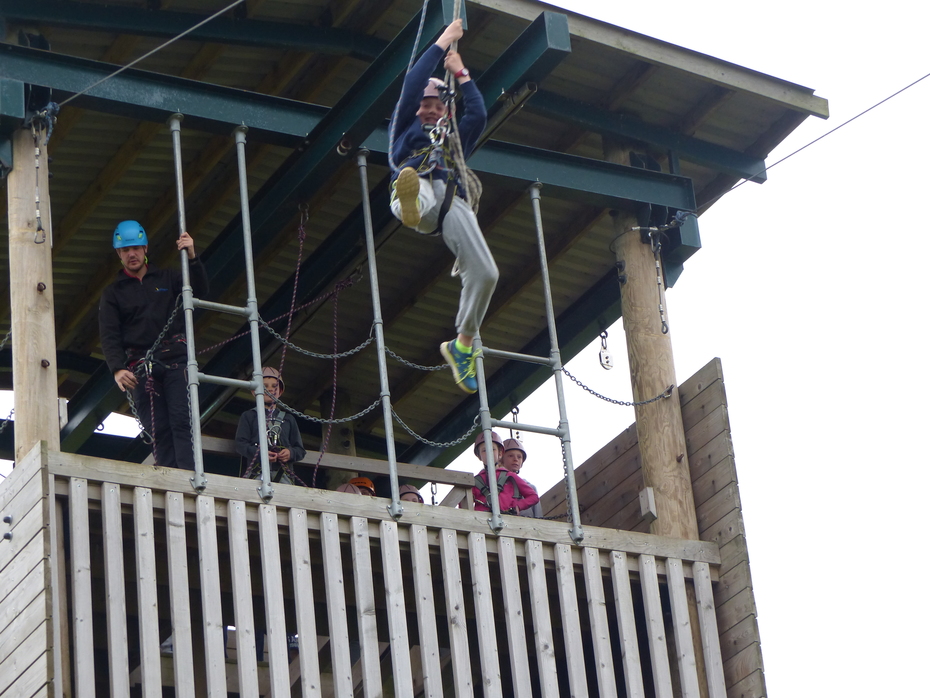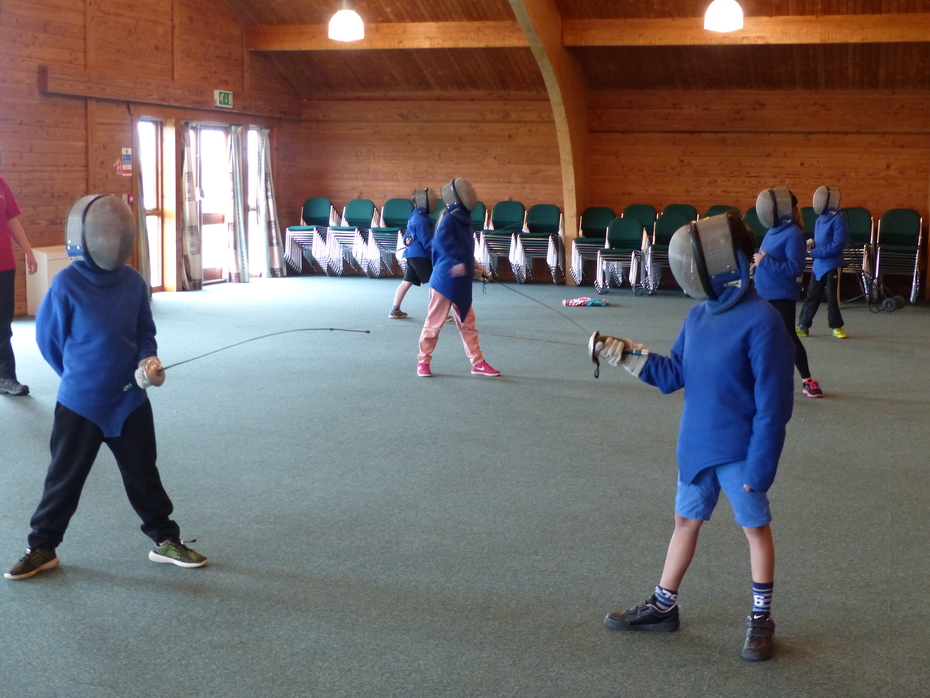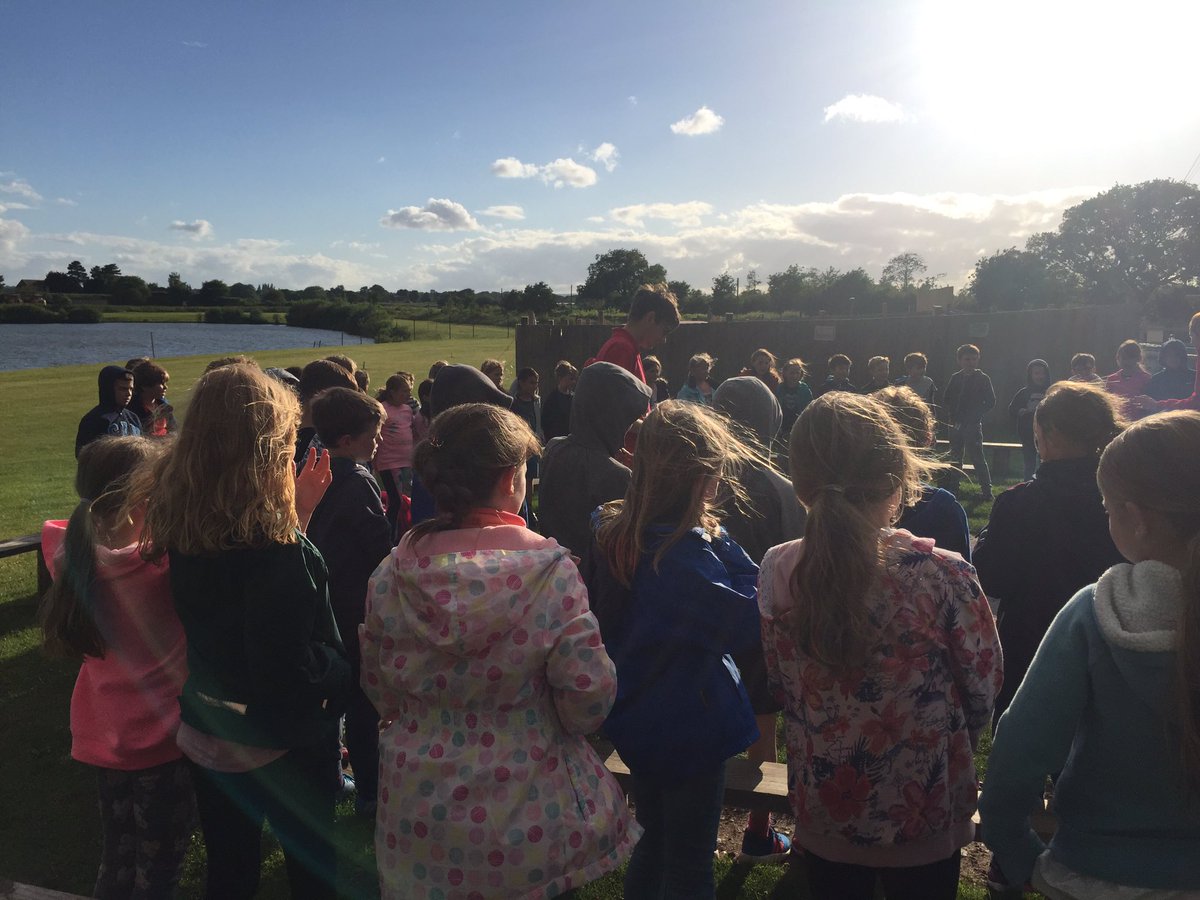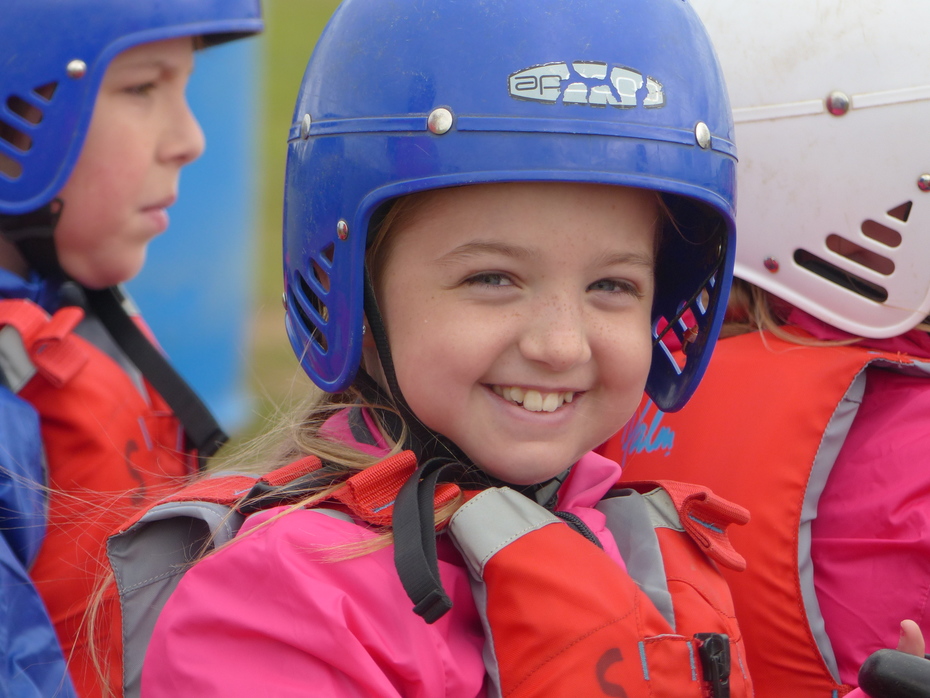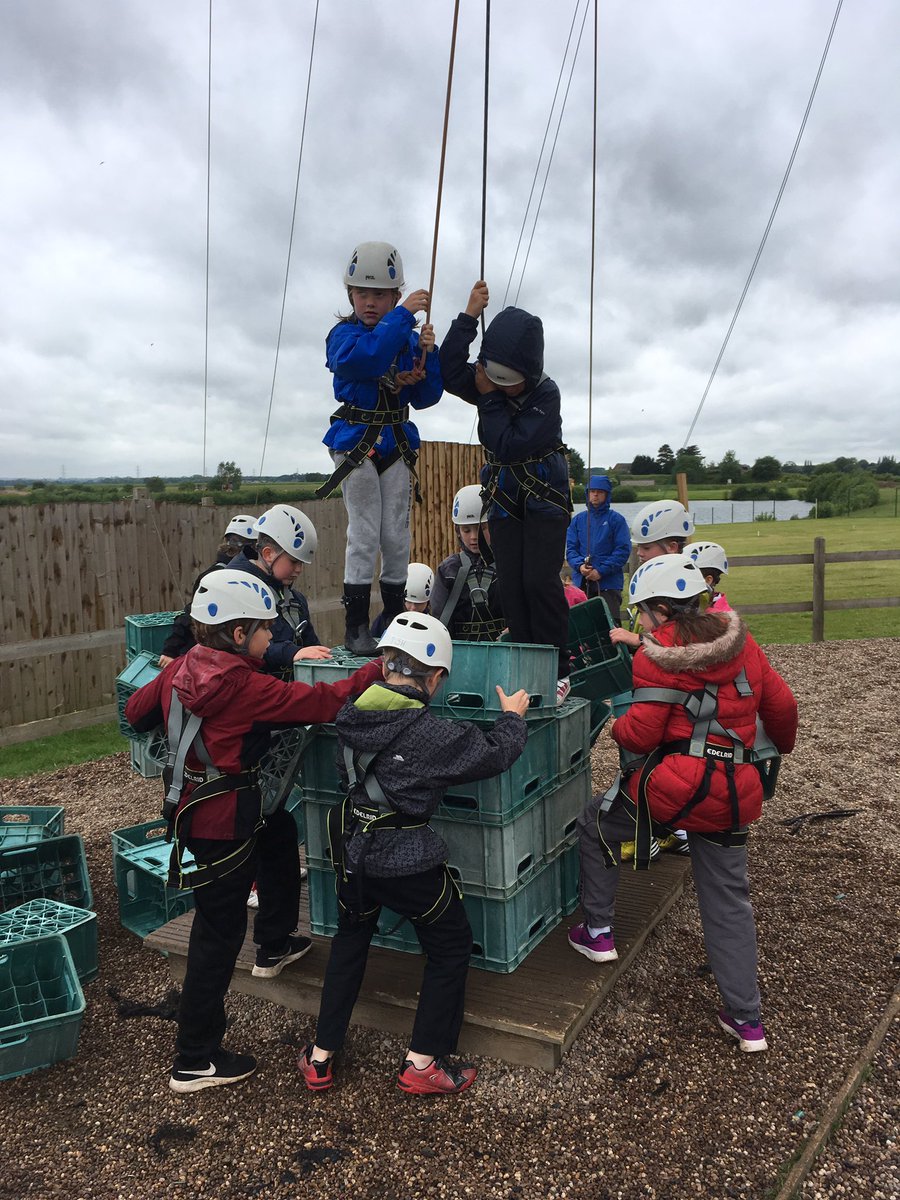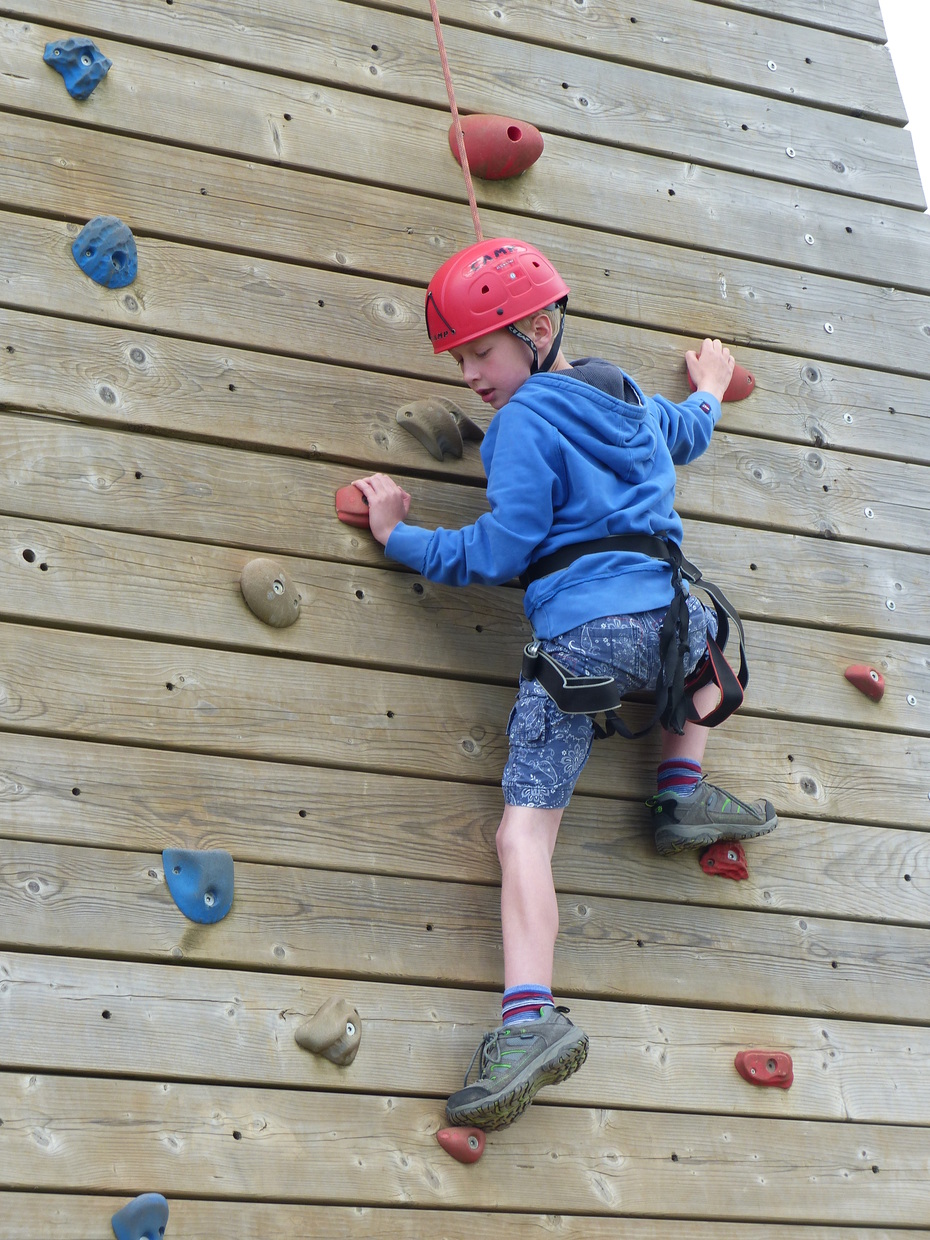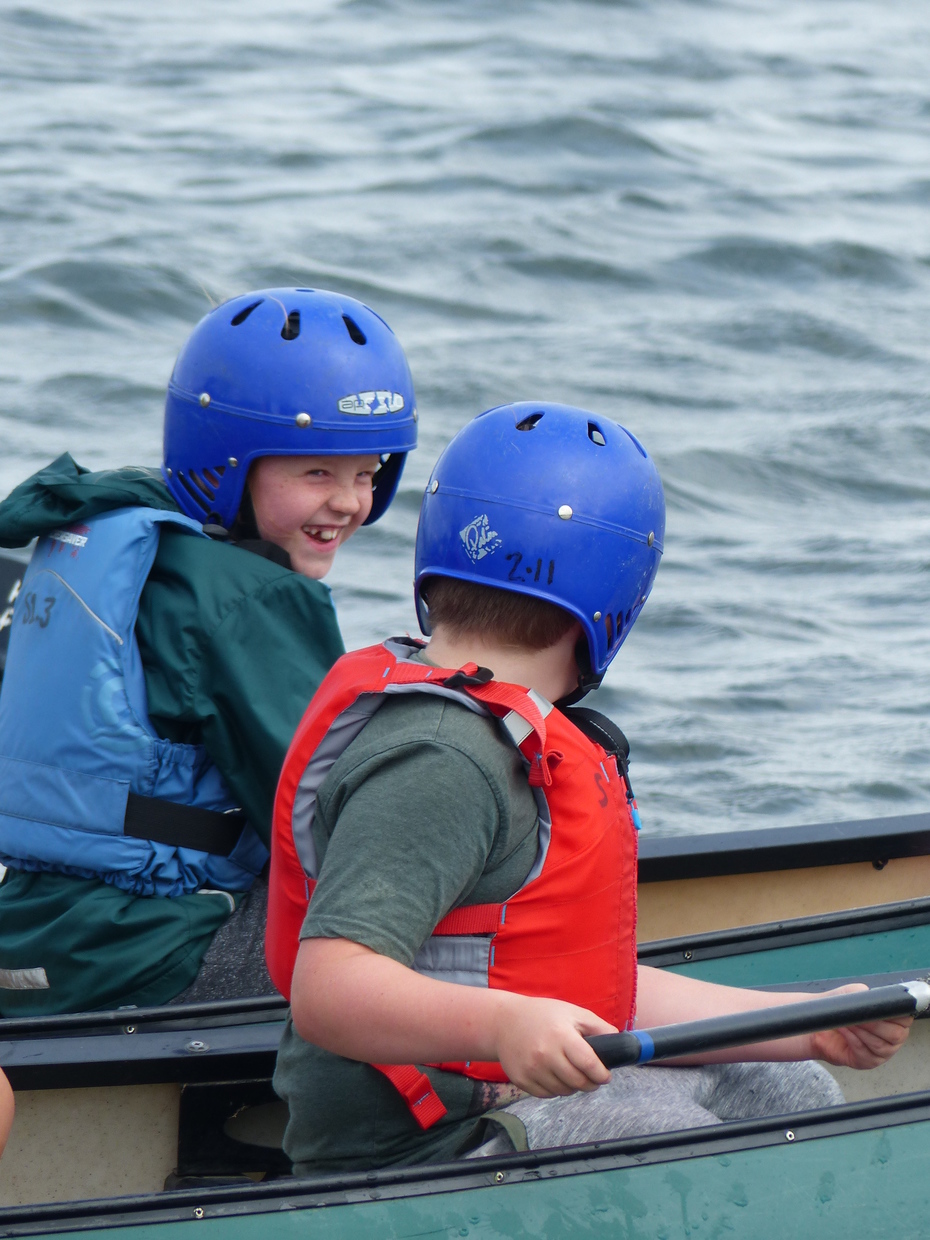 Anyone for pizza?
To end the half term, Year 4 enjoyed creating their own pizza. First, the children had a tasting session and decided which toppings they liked the most. They then chose what they would like on their own pizza and combined their ideas to create a pizza for four. The children made their dough and topped the pizza themselves before enjoying the great taste! They also learnt about a balanced diet and the different food groups. A great day of food!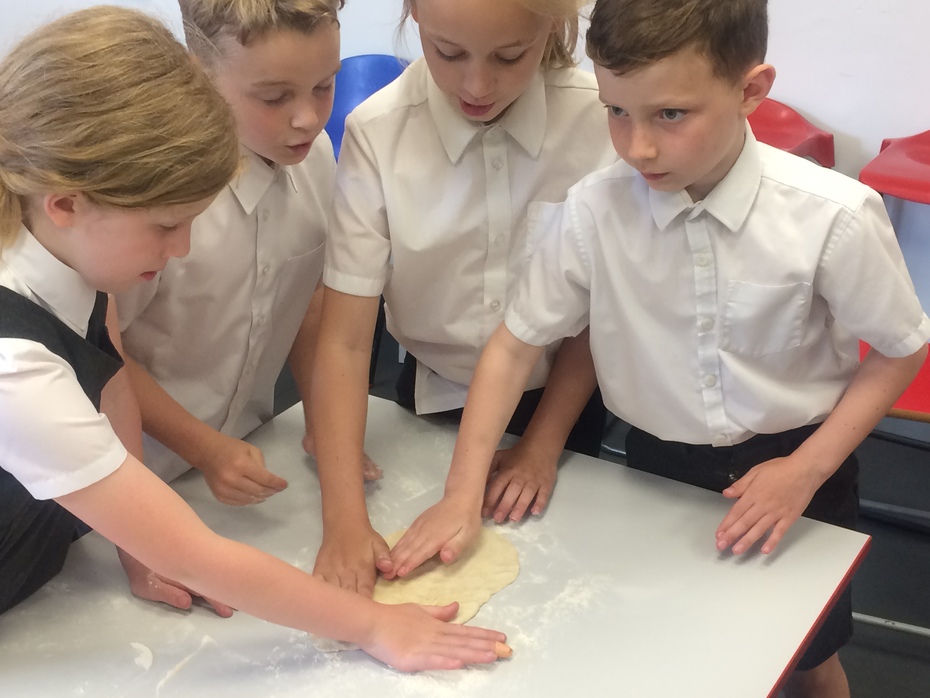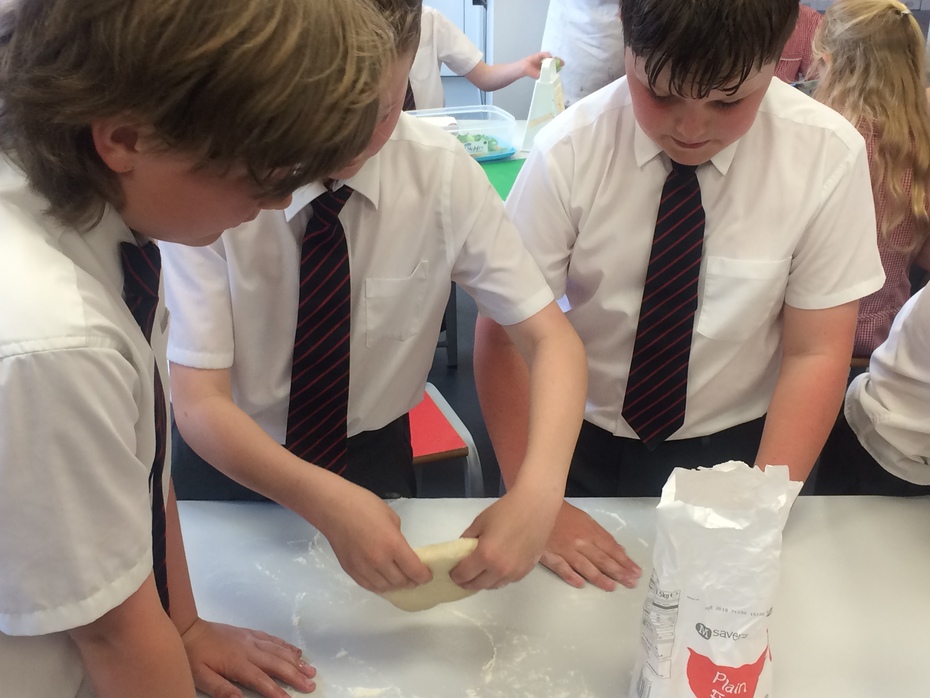 Digestion Revision
We have been checking the children's memory to see if they can remember all the different parts of the digestive system and their functions from last term - we were very impressed with their knowledge!
This term the children are learning how to play the recorder in their music lessons. On Friday, they had their first lesson and learnt the note B.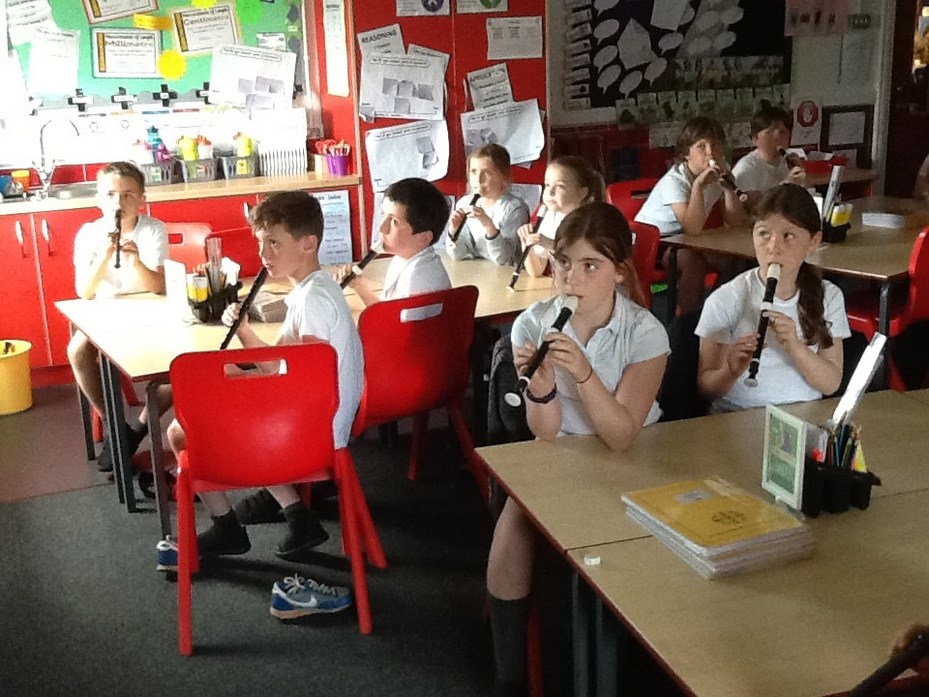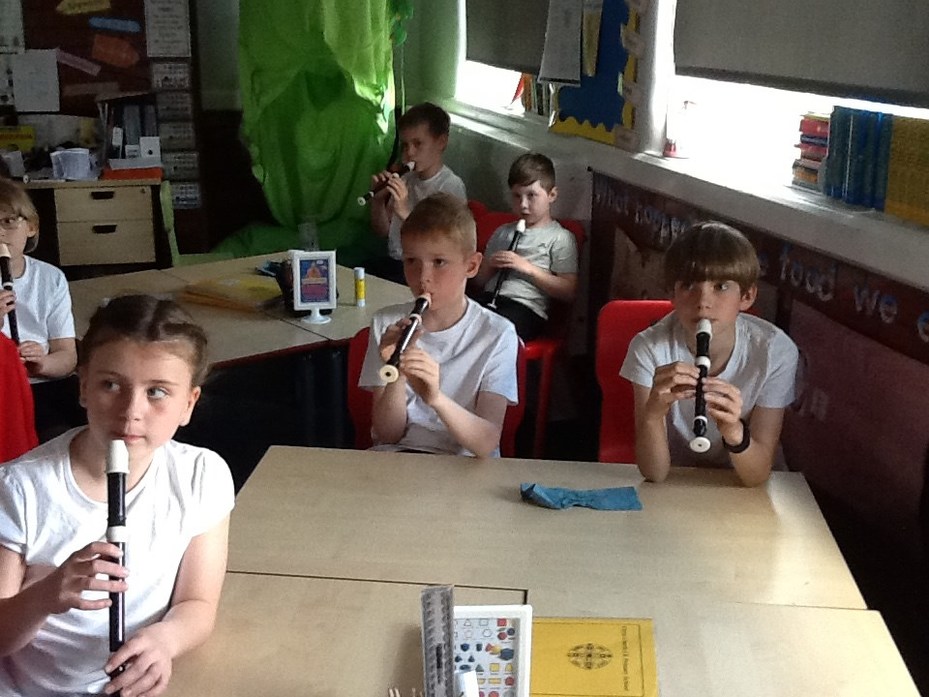 Curriculum football for 4SC
On Friday 5th May, Year 4 had the opportunity to take part in a football training session with a visitor from Derby County. The children practised different skills like keeping the ball up on their knees and dribbling. They finished the session with a festival of matches against each other.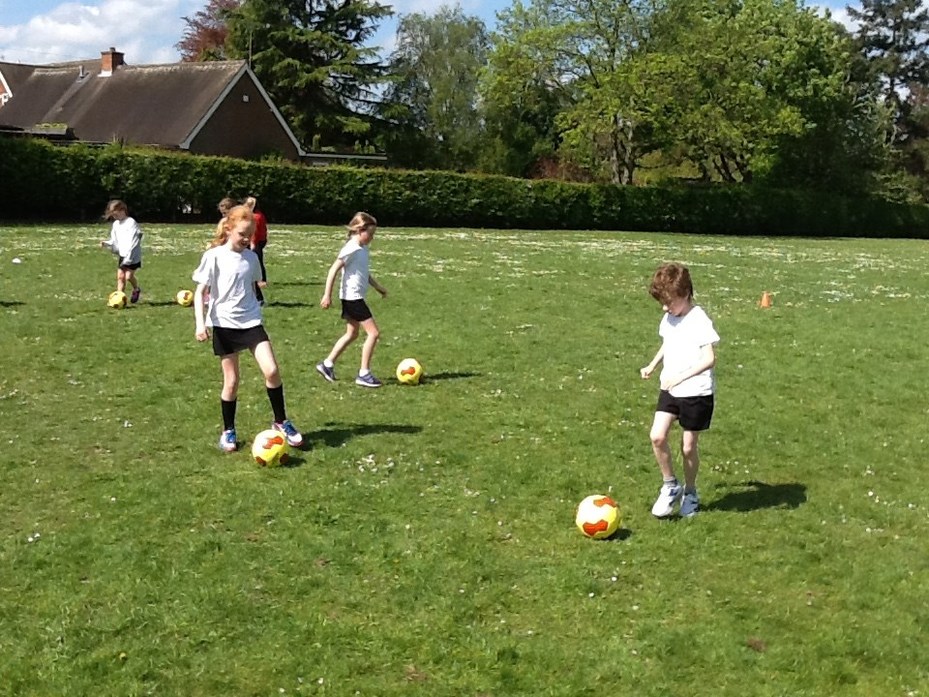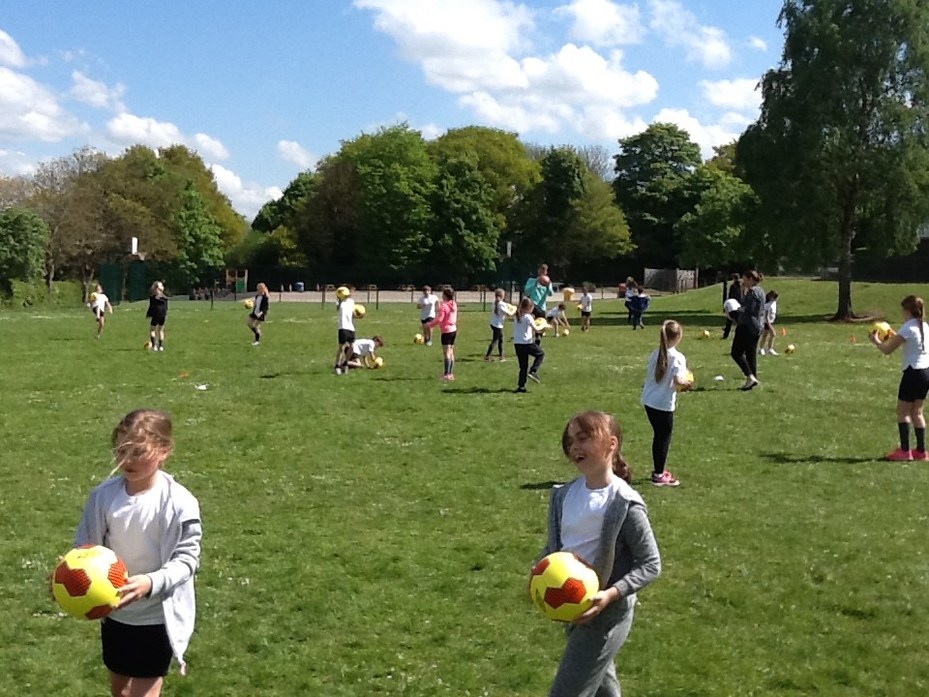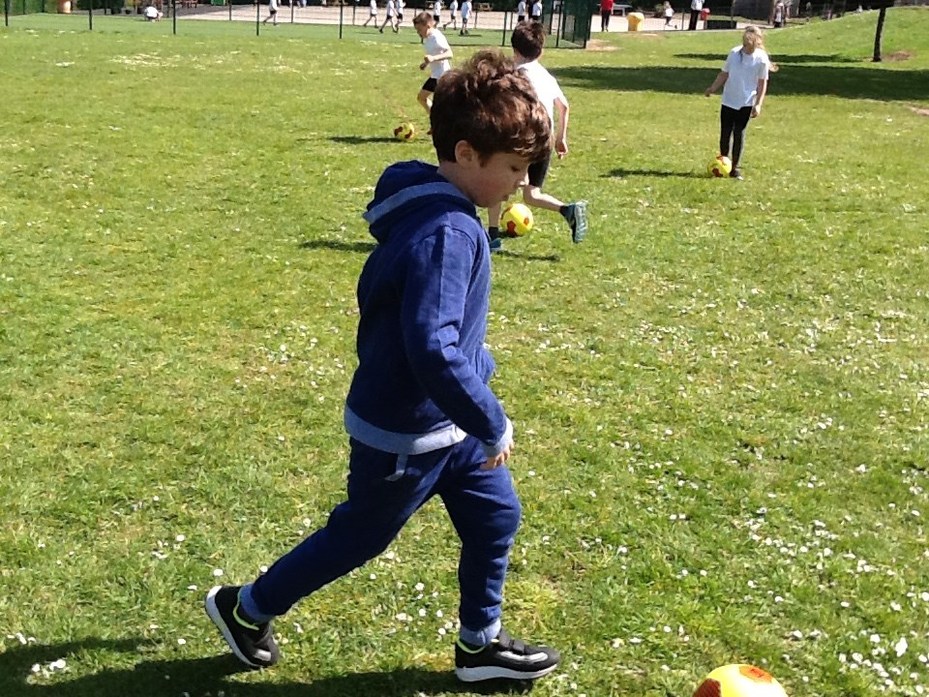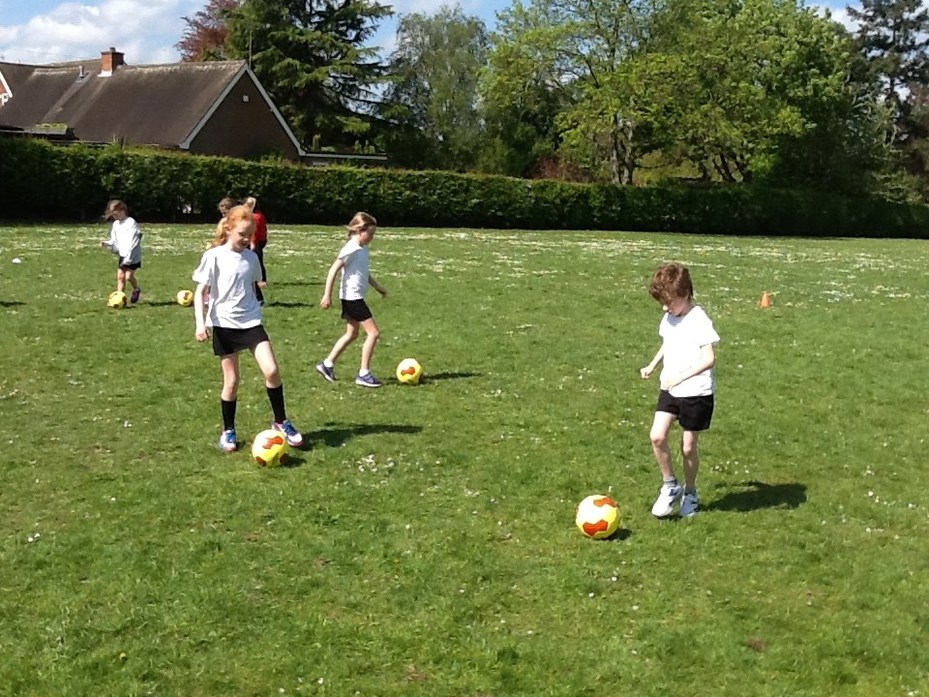 We made the most of the beautiful summer weather on Thursday afternoon and went outside for our Art lesson.
The children used their sketching skills to draw the different parts of nature they could see around our school field.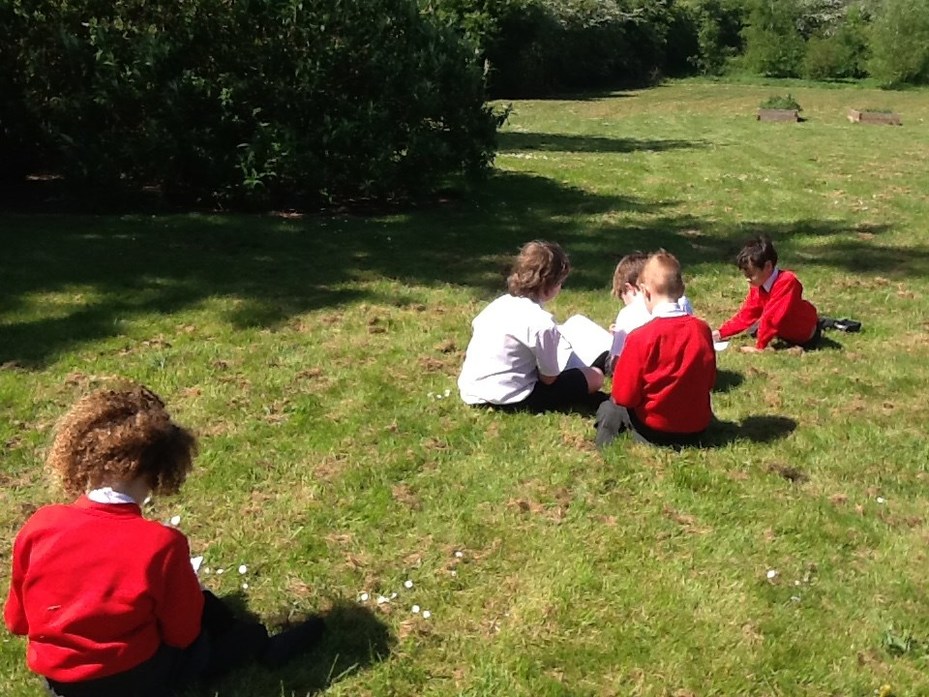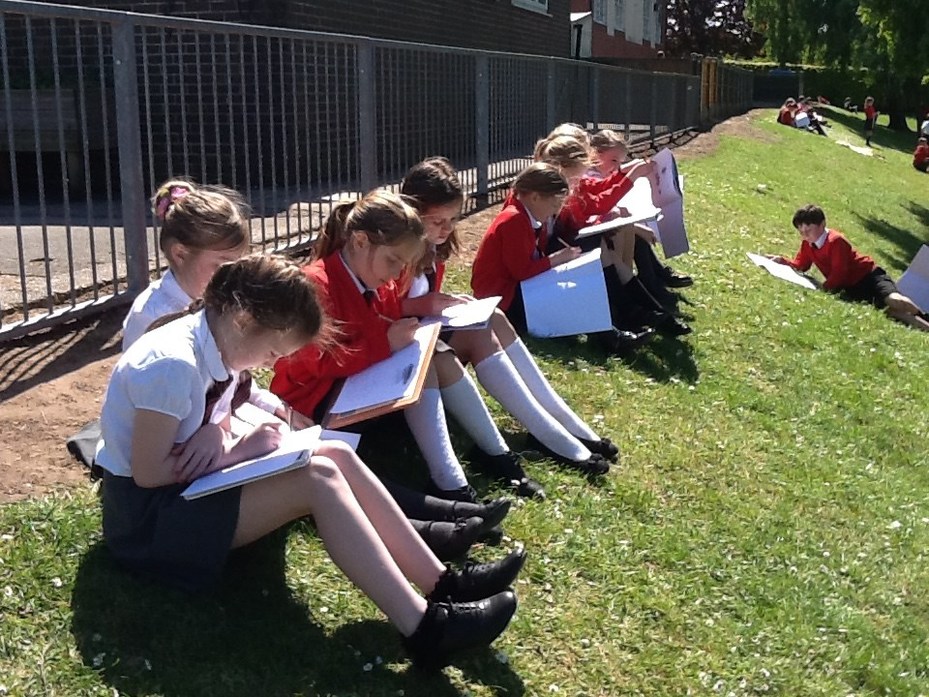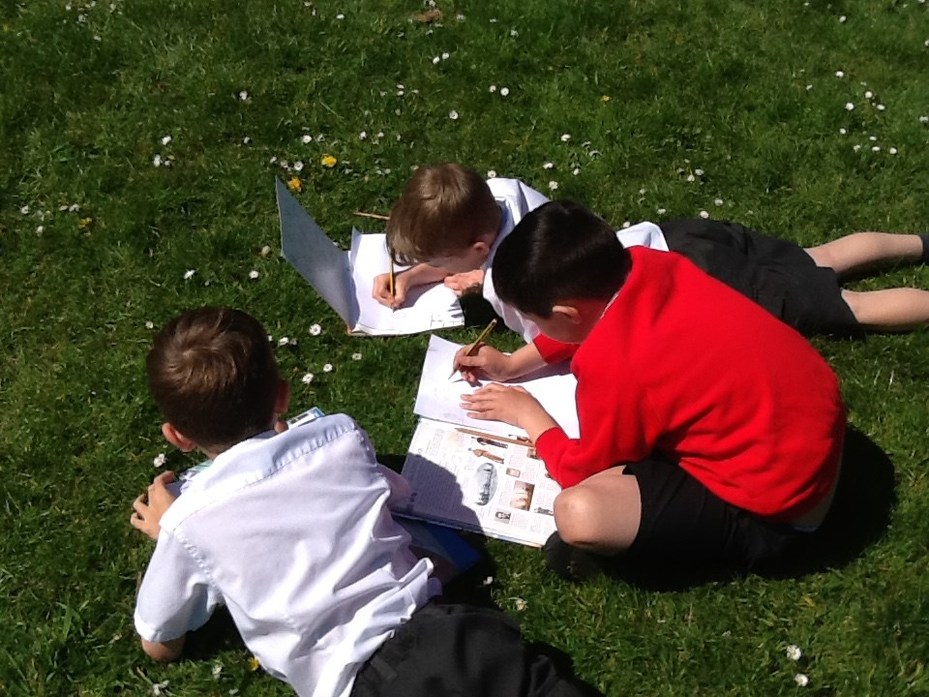 Year 4 have been busy researching the main events of World War II. The children used an ipad with their partner and were able to choose how they presented their research.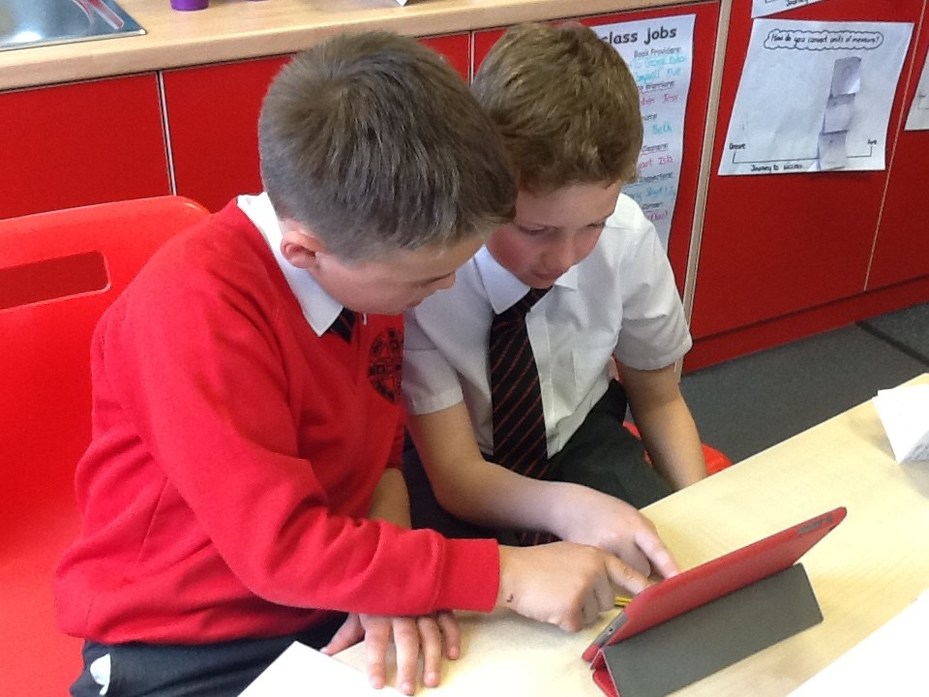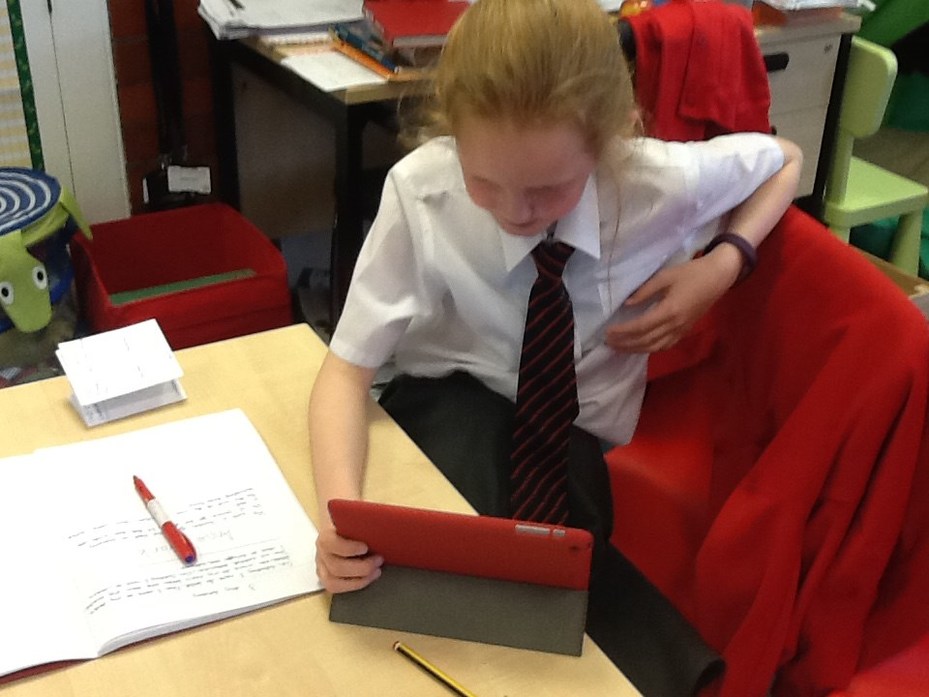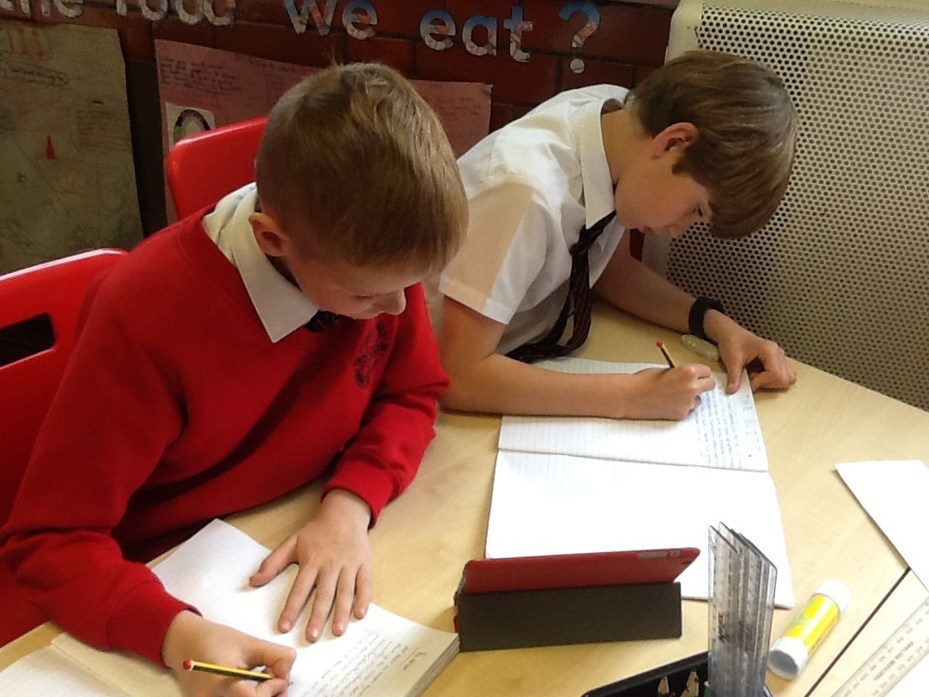 Welcome back to Summer Term in Year 4
The children have returned to school ready for the exciting events taking place during our final term in Year 4. They have been asking lots of questions about Whitemoor Lakes and have enjoyed an introduction to our new History topic. But what will our Big Question be?
Good News!
What a way to end the Spring term! We are so proud of all the children for their wonderful performance in our Easter production 'Good News'. They all worked extremely hard to learn their lines and song words.
A special well done to the children who sang a solo or as part of a small group.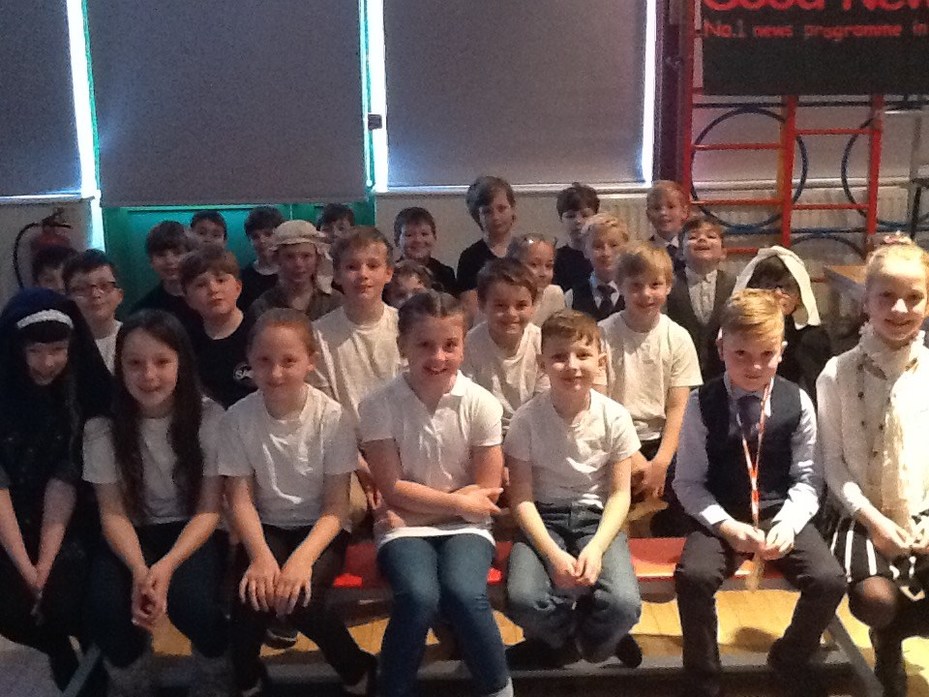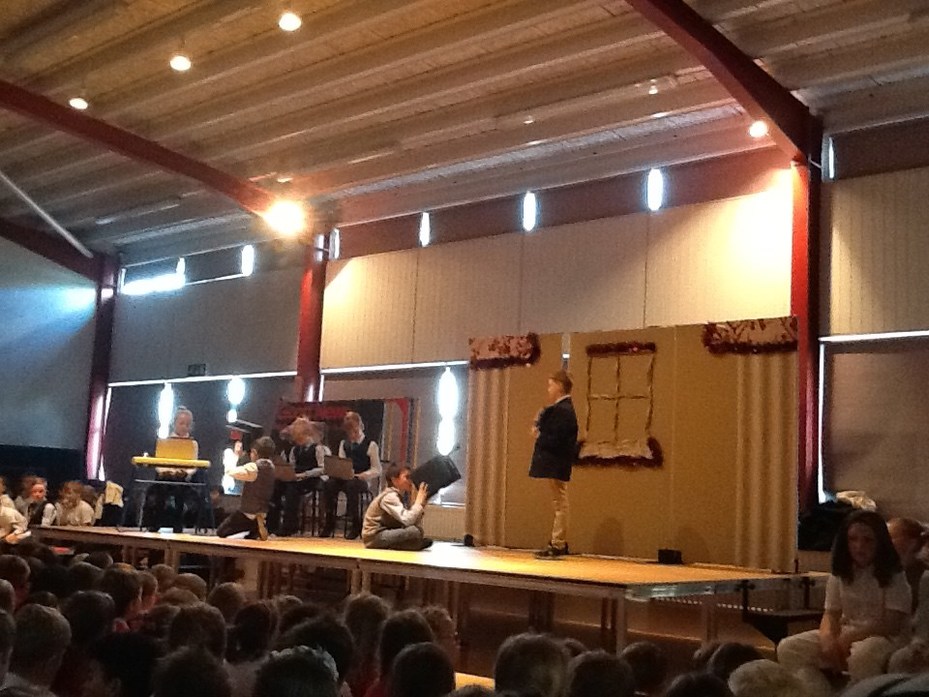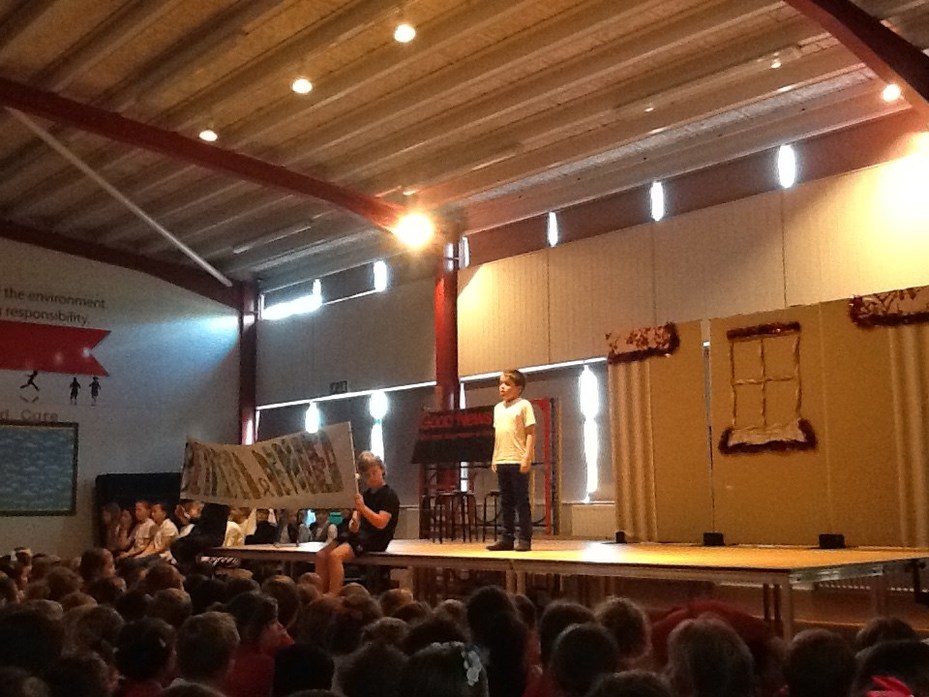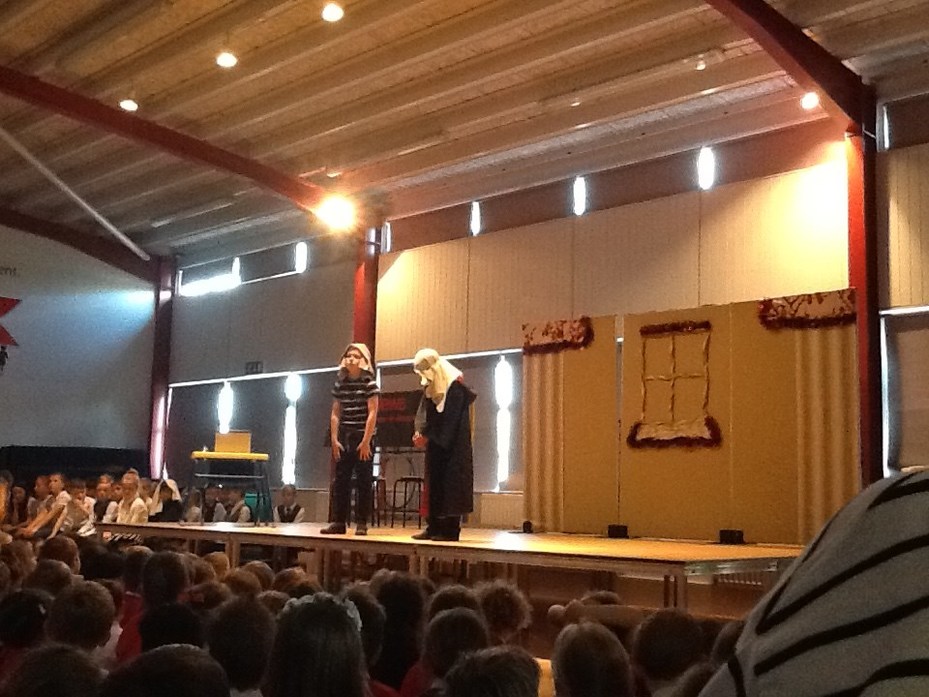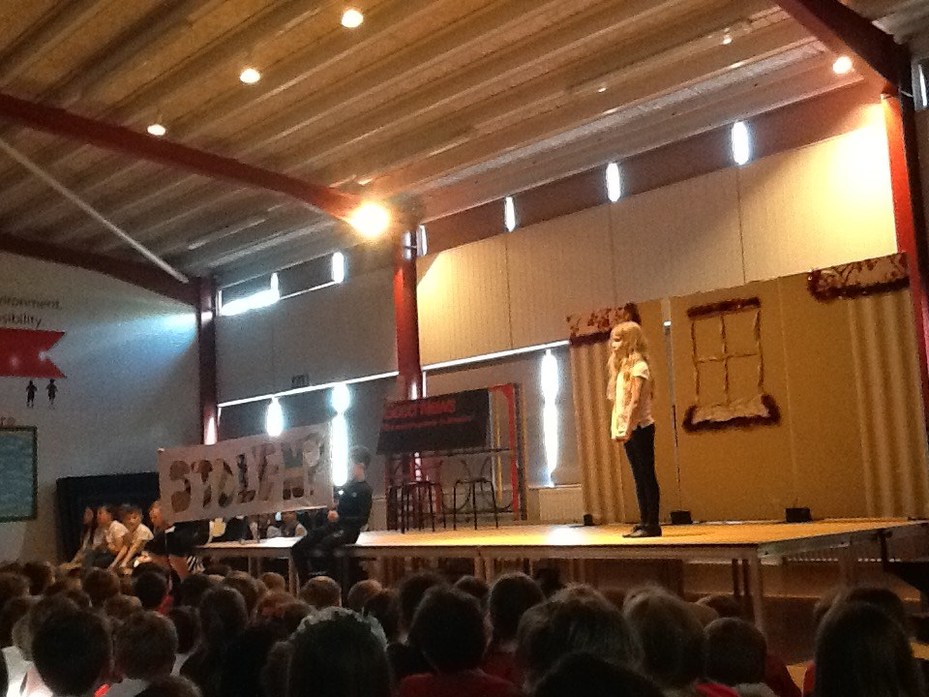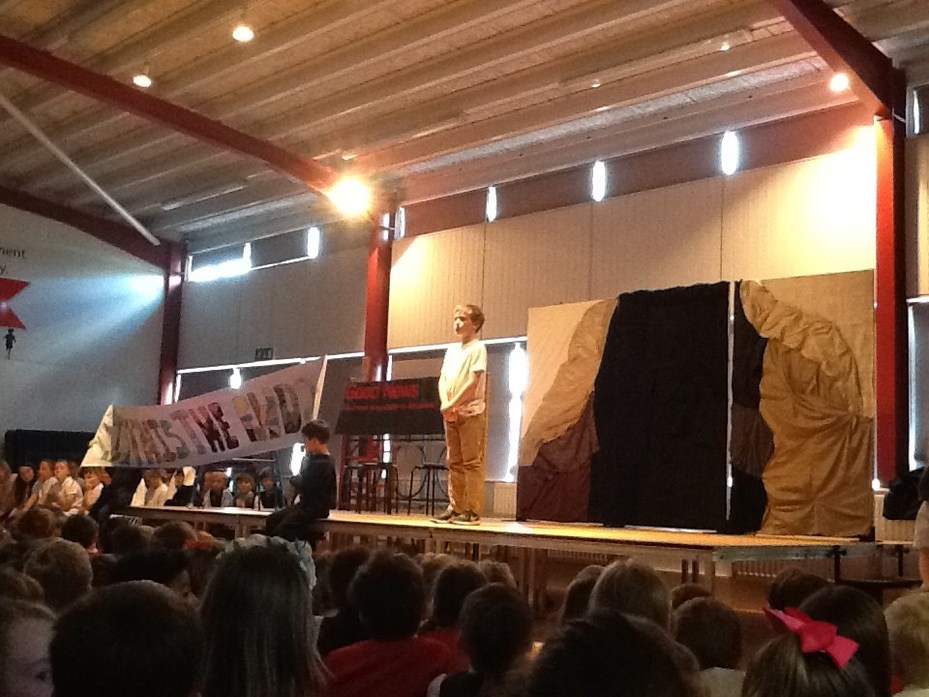 In our Science lessons, we have been learning all about our teeth. We planned and set up an experiment to see what would happen to our teeth if we left them in different drinks. We used egg shells (the closest thing to our teeth) and made our predictions. Which one do you think will cause the egg shell to decay the most?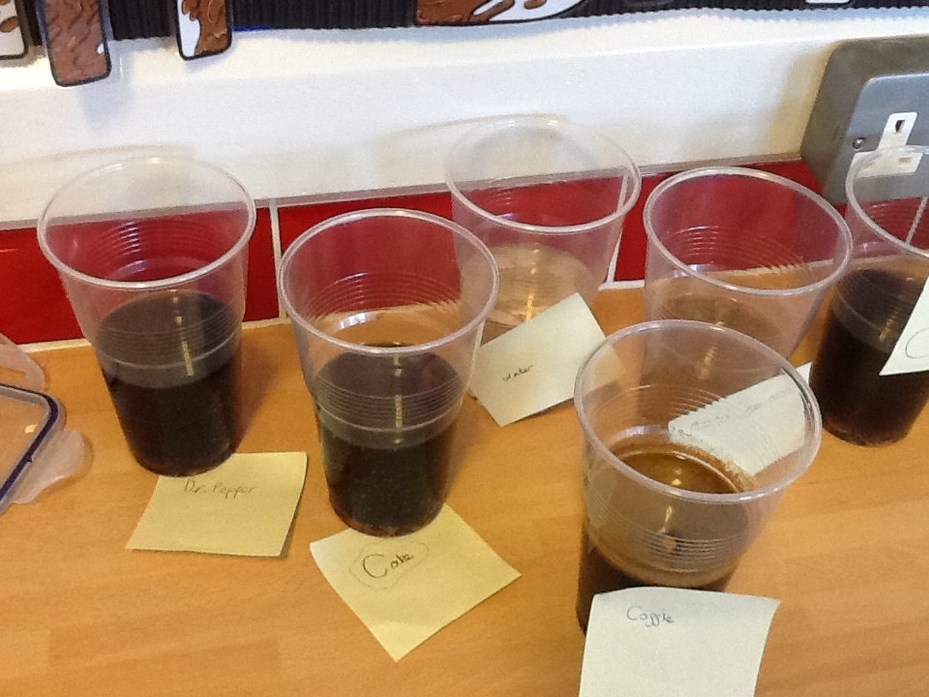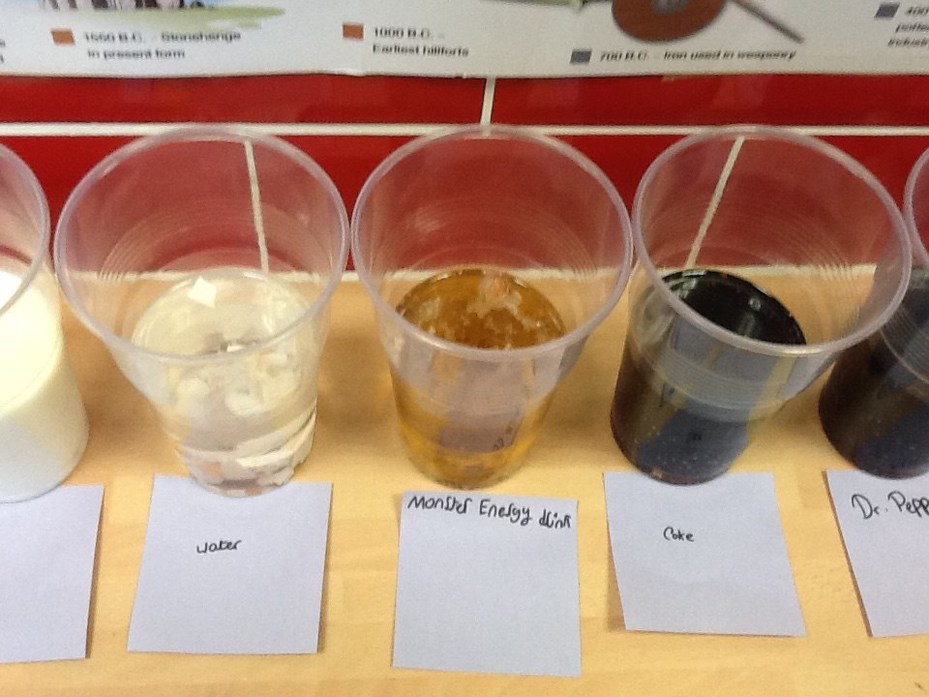 British Science Week
This year's theme was changes so in Year 4 we investigated changes that took place using different liquids. The children carried out three different experiments involving liquids like milk, washing up liquid, food colouring, water and vinegar. They needed to watch carefully to see what changes took place.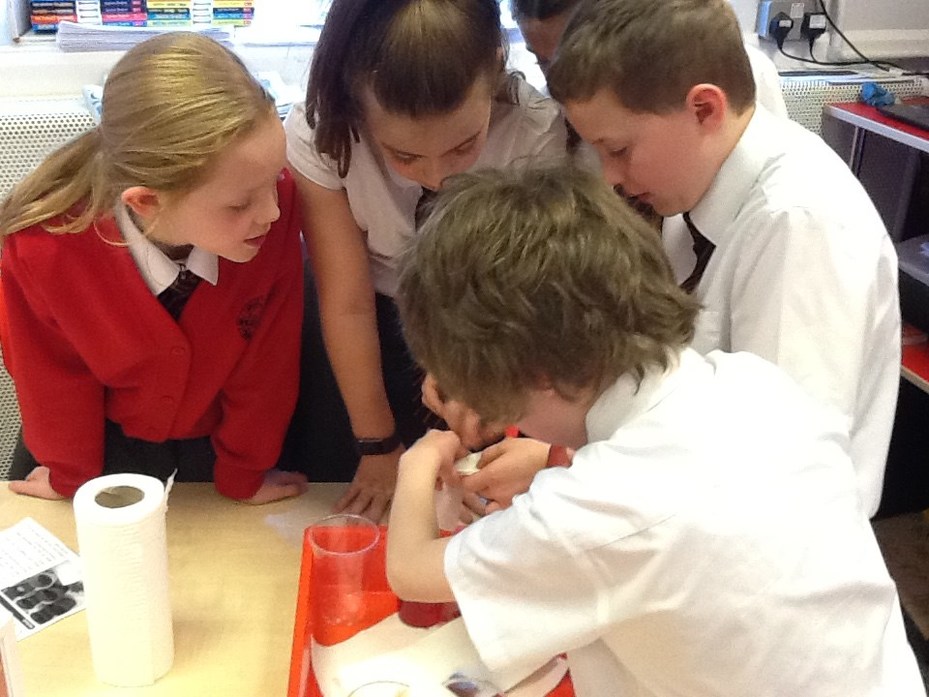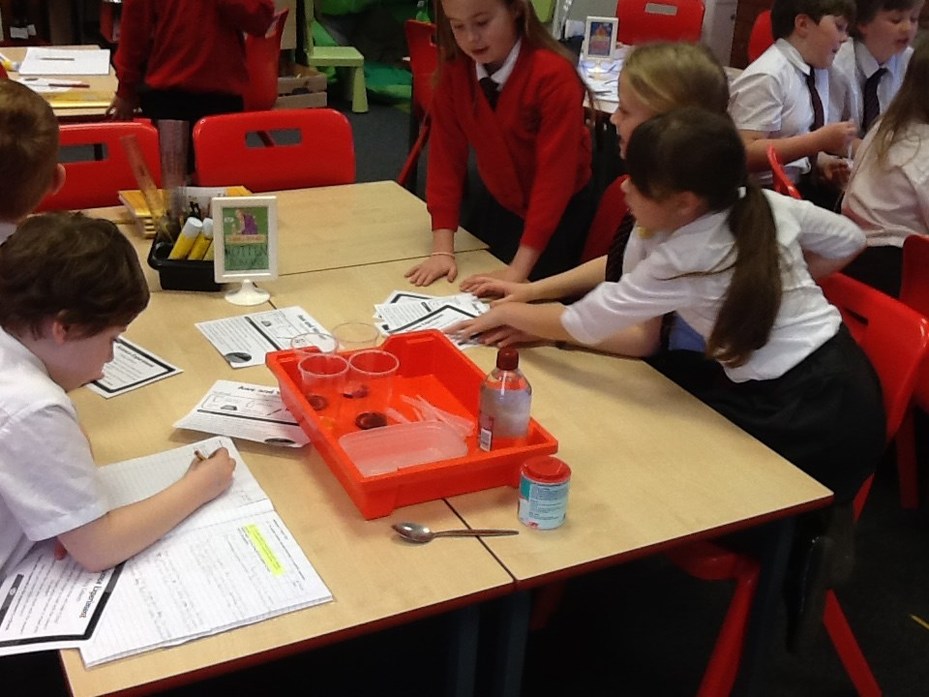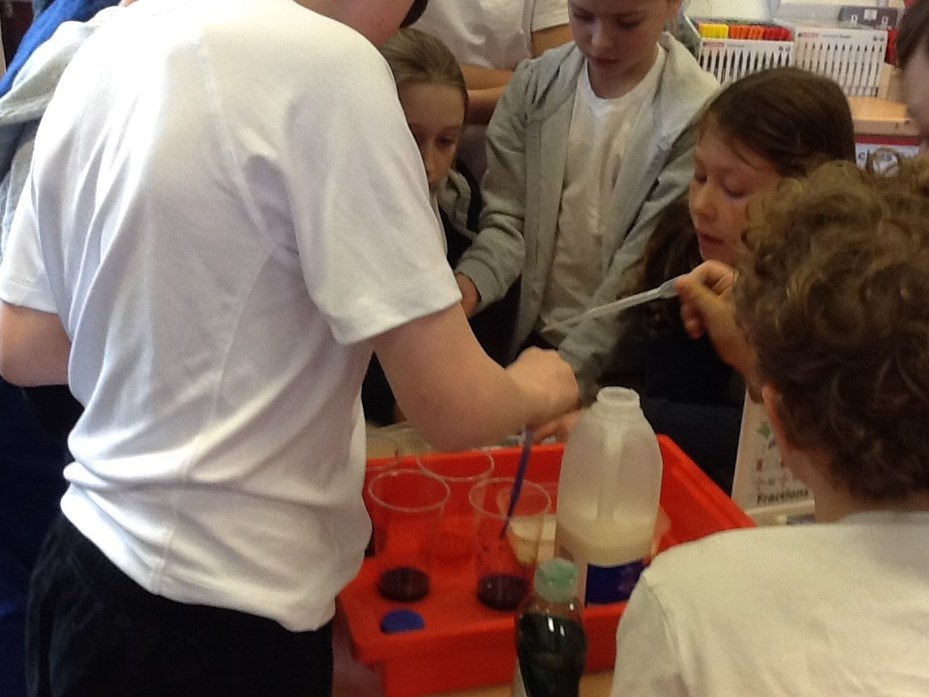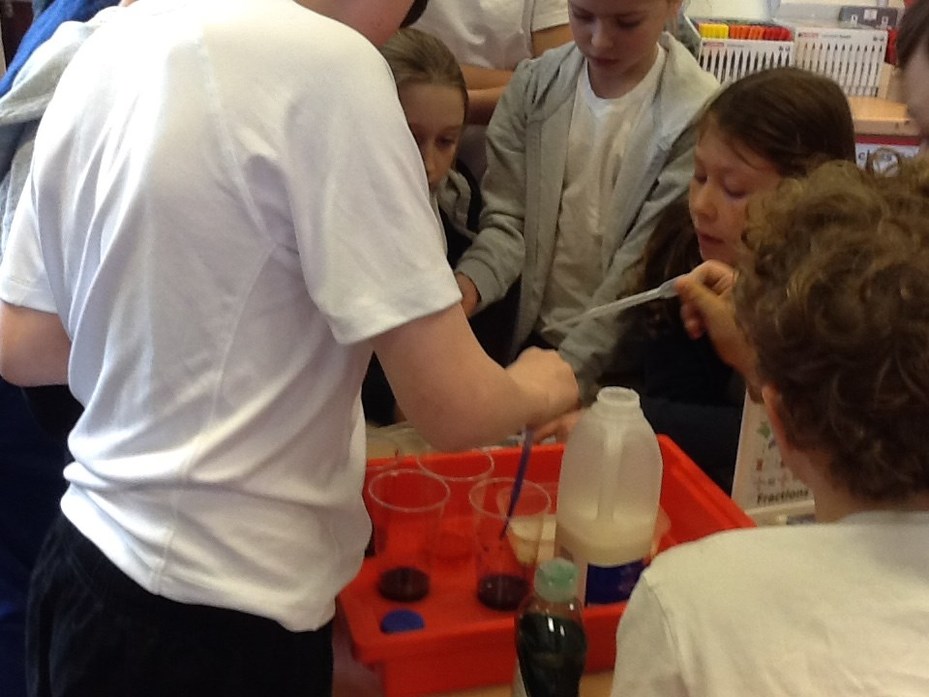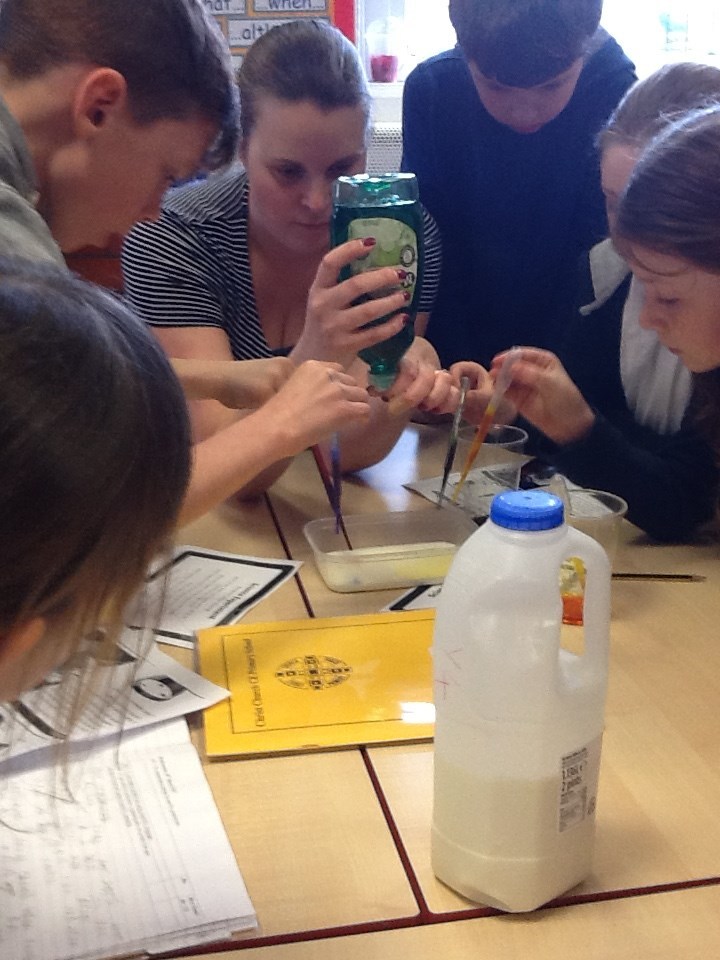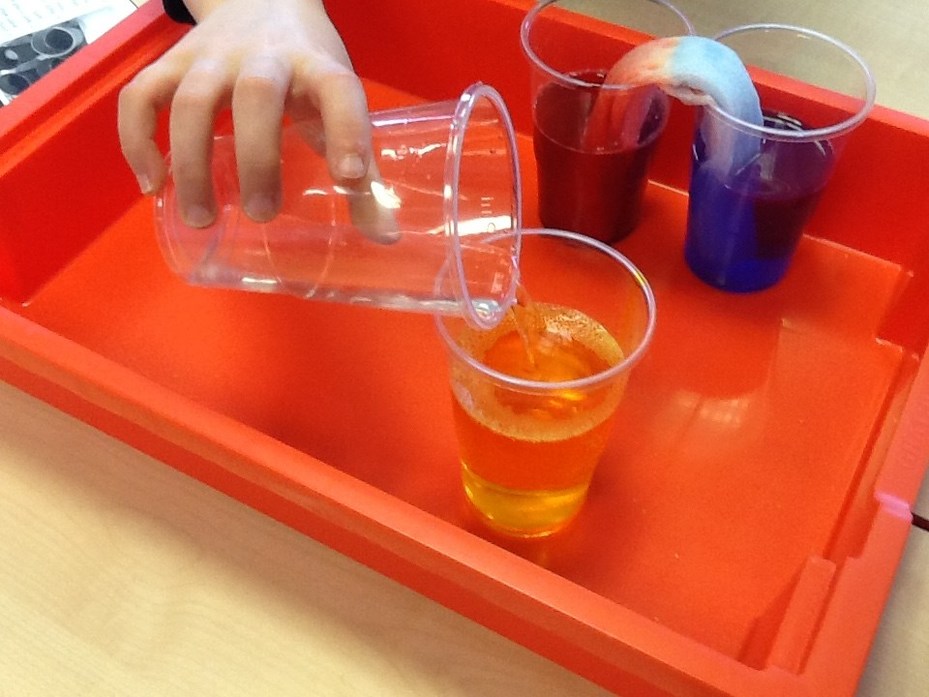 Have you seen our amazing artwork?
The children have been creating some impressive Stone Age cartoons as their art focus this term. They used different materials to add texture to their canvas whilst they were painting them. We hope you'll agree that they look fantastic!
World Book Day
Year 4 had a wonderful time celebrating World Book Day by dressing up as their favourite characters. They spent the morning sharing their favourite books and working on different book related tasks.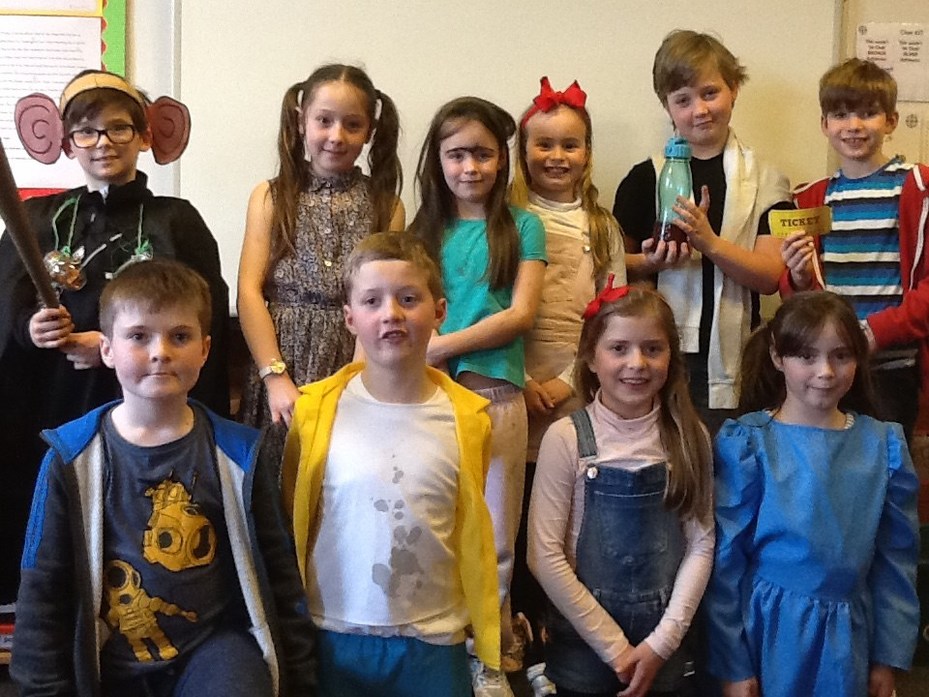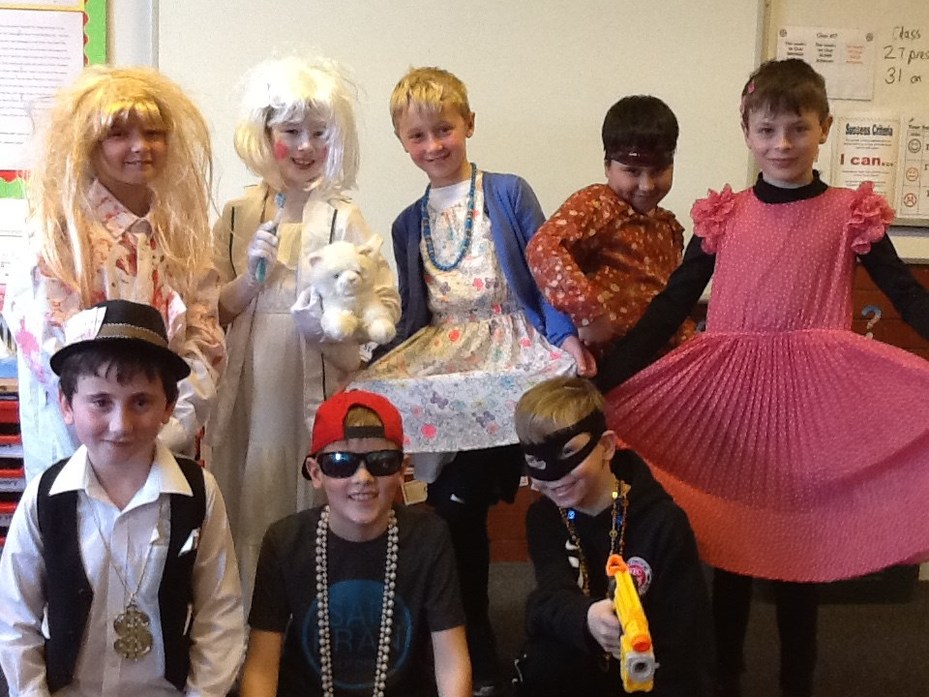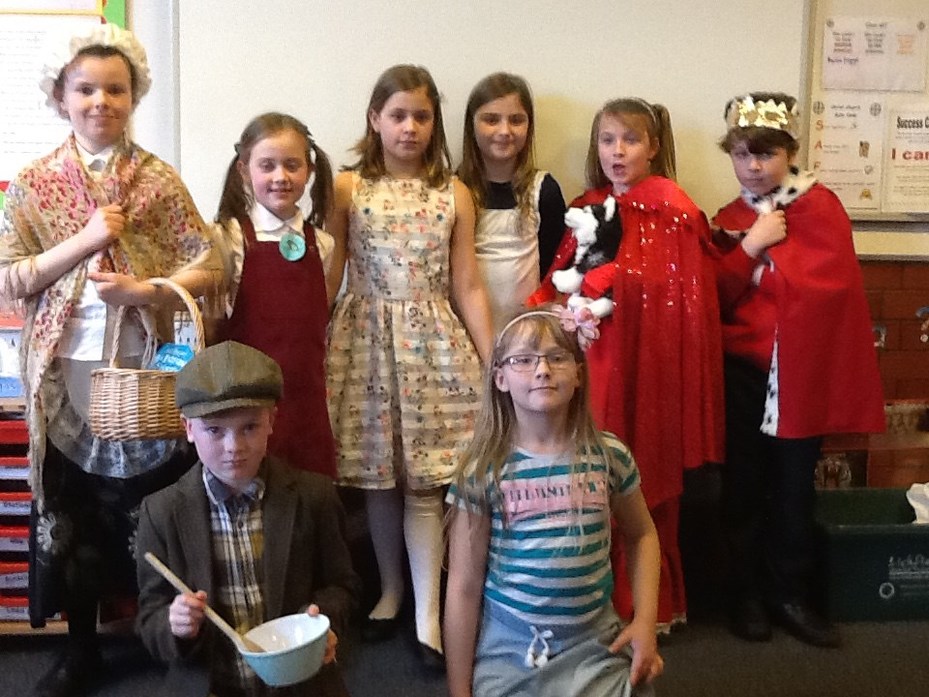 Where's Wally - can you find him?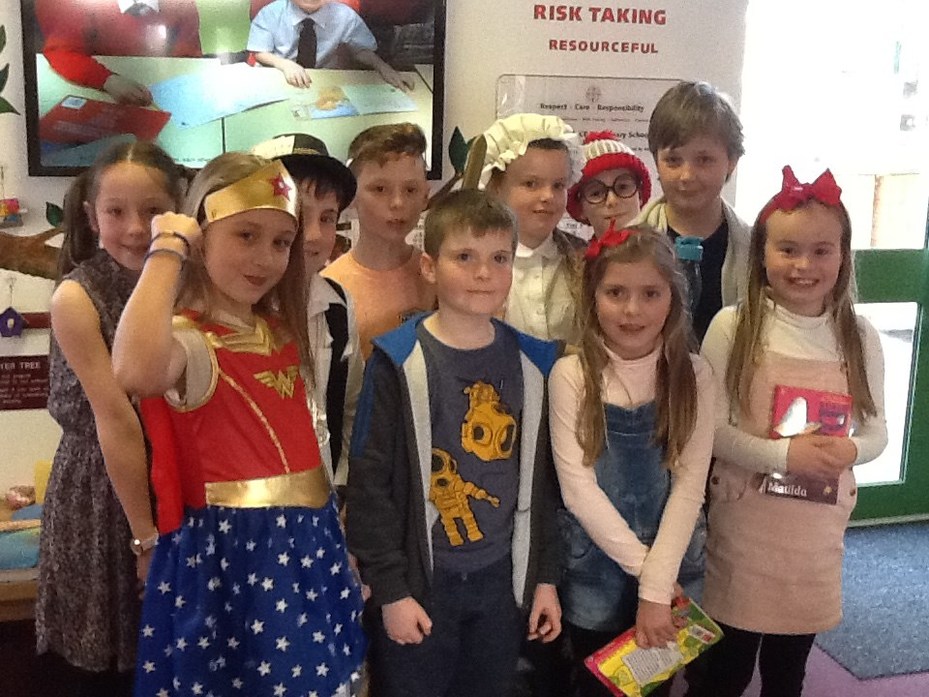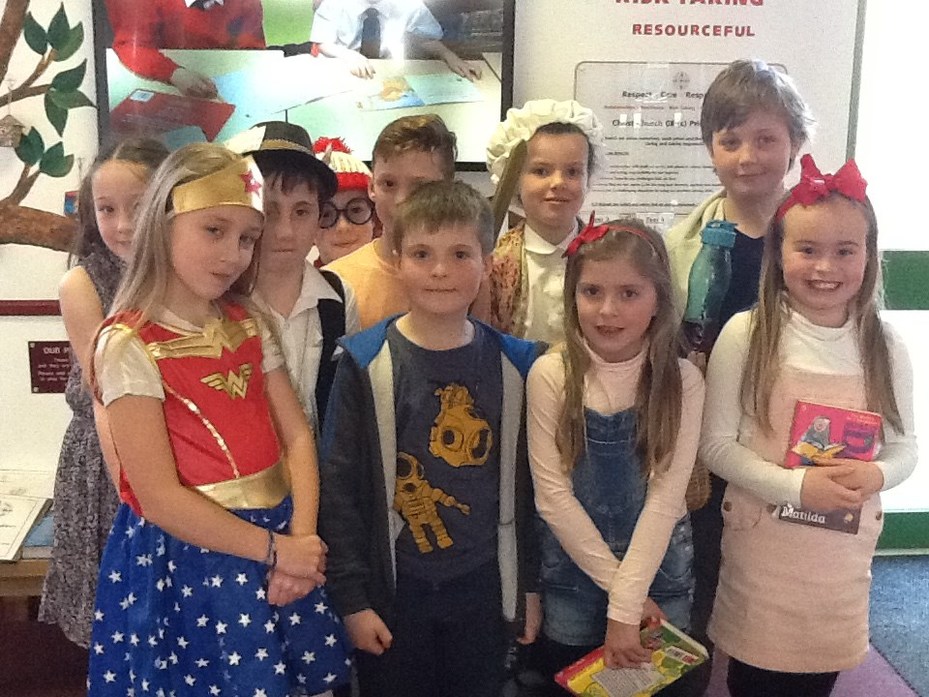 Stone Age shelter homework
We had a great start to the new half term with our Stone Age shelter afternoon showcase. The children clearly worked extremely hard to research, design and make fantastic Stone Age shelters at home and were very proud to show their classmates. Year 1 and Year 2 visited our classrooms during the afternoon to see these wonderful creations and Year 4 enjoyed talking to the younger children about what materials they used and how they made their shelters.
Thank you to Mrs Smith for visiting us too and well done on your hard work Year 4!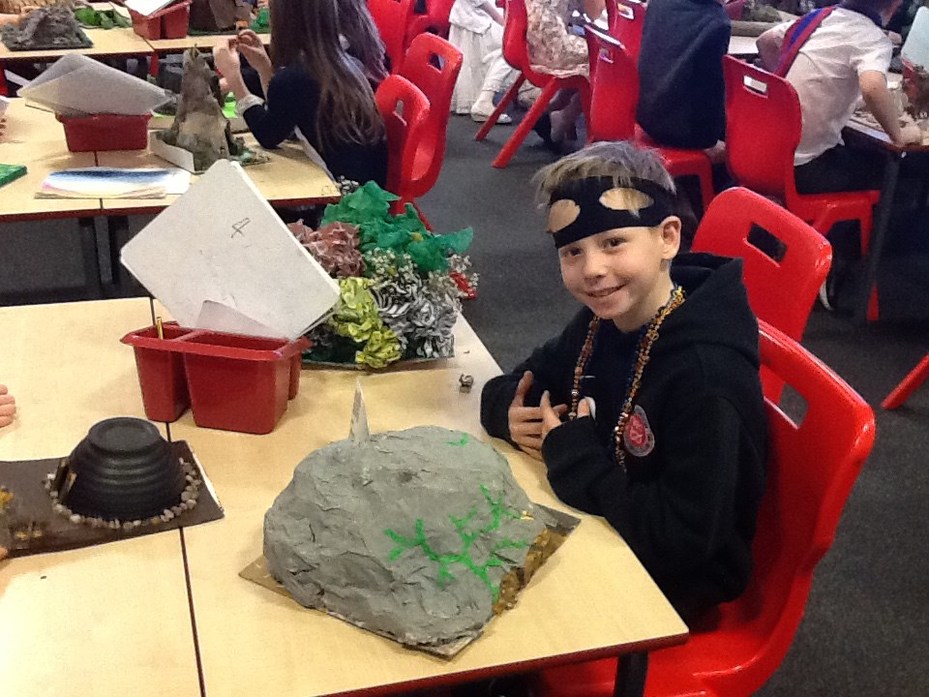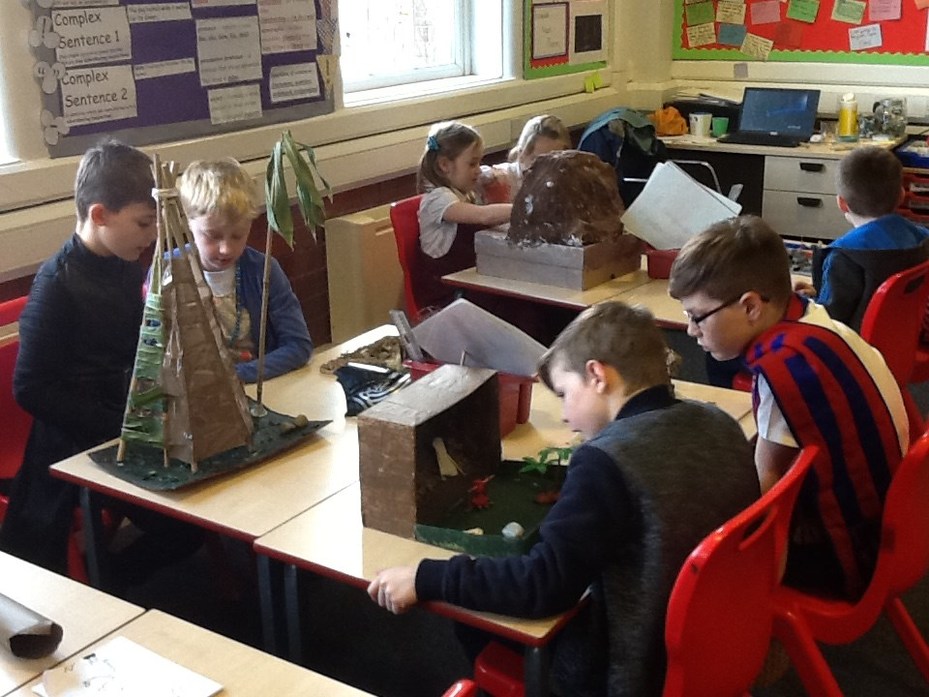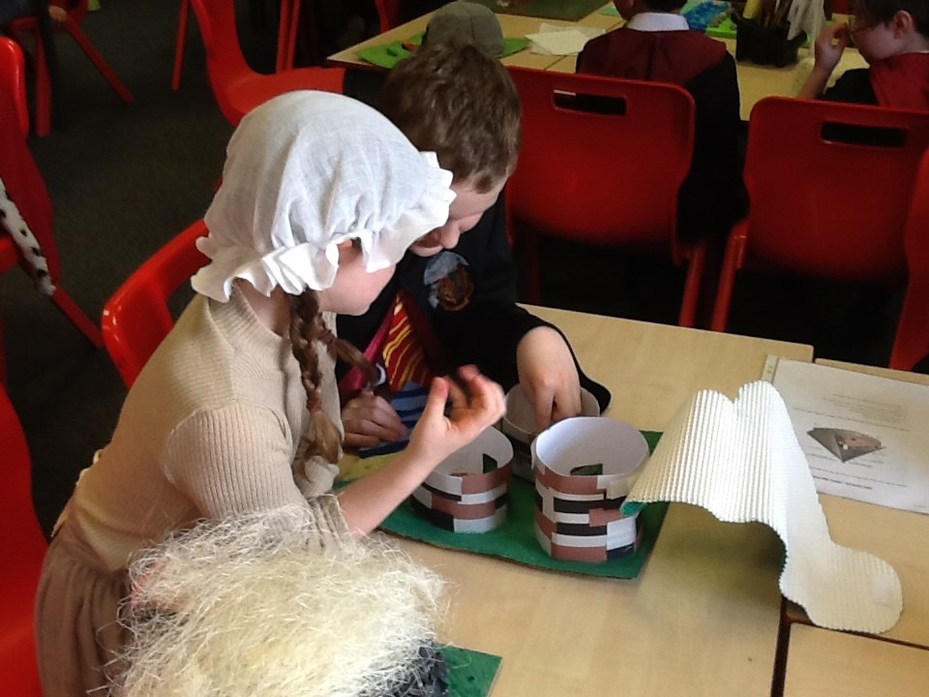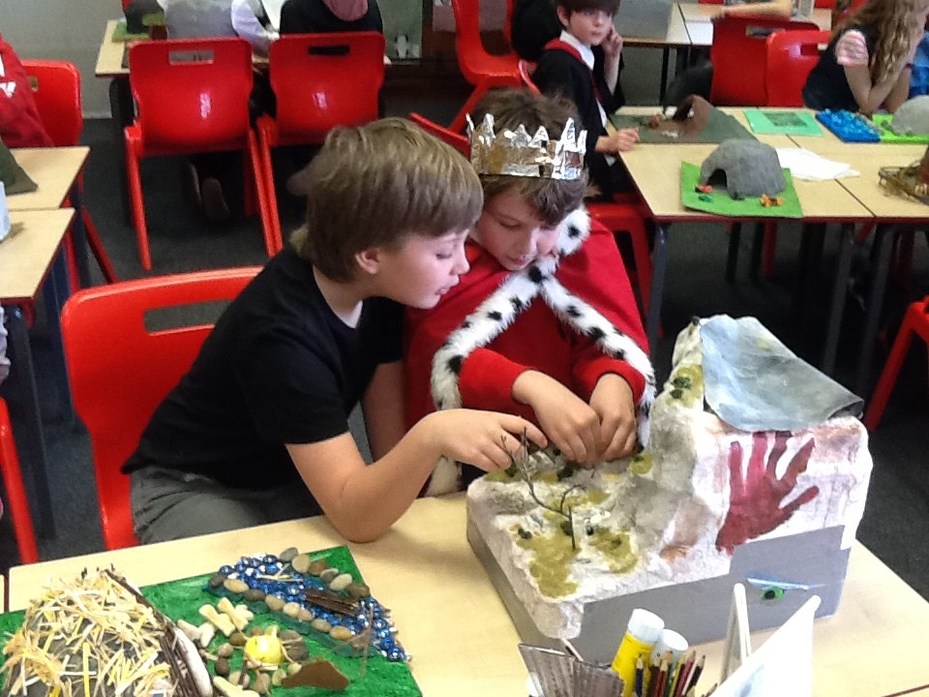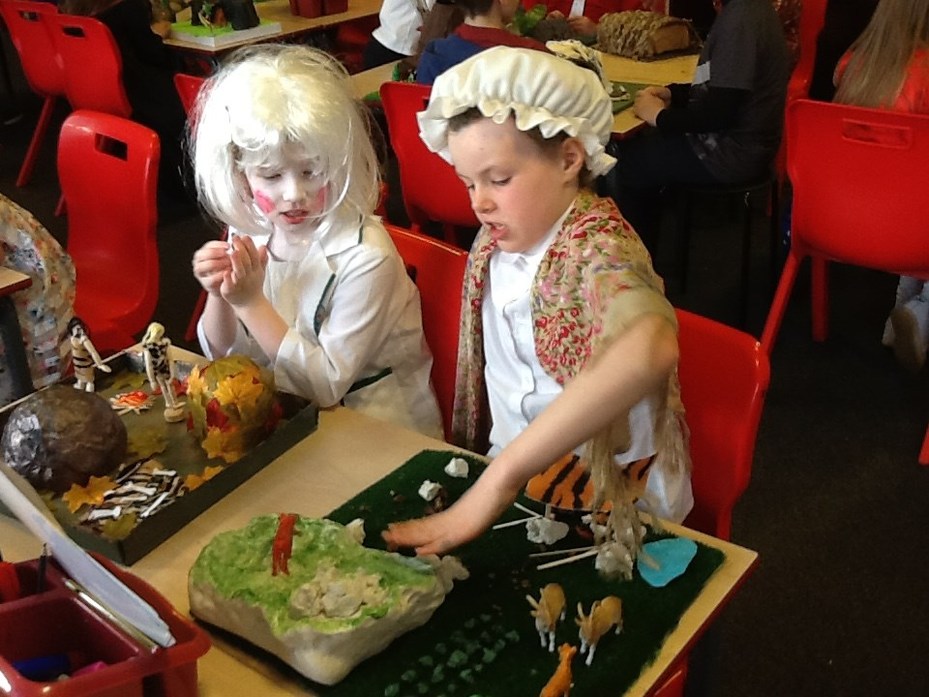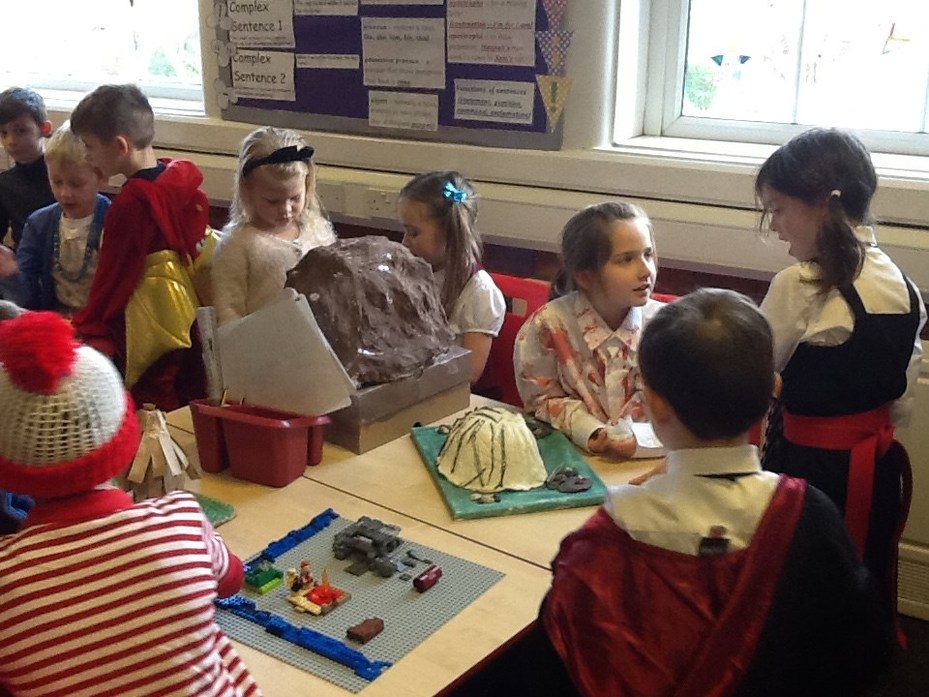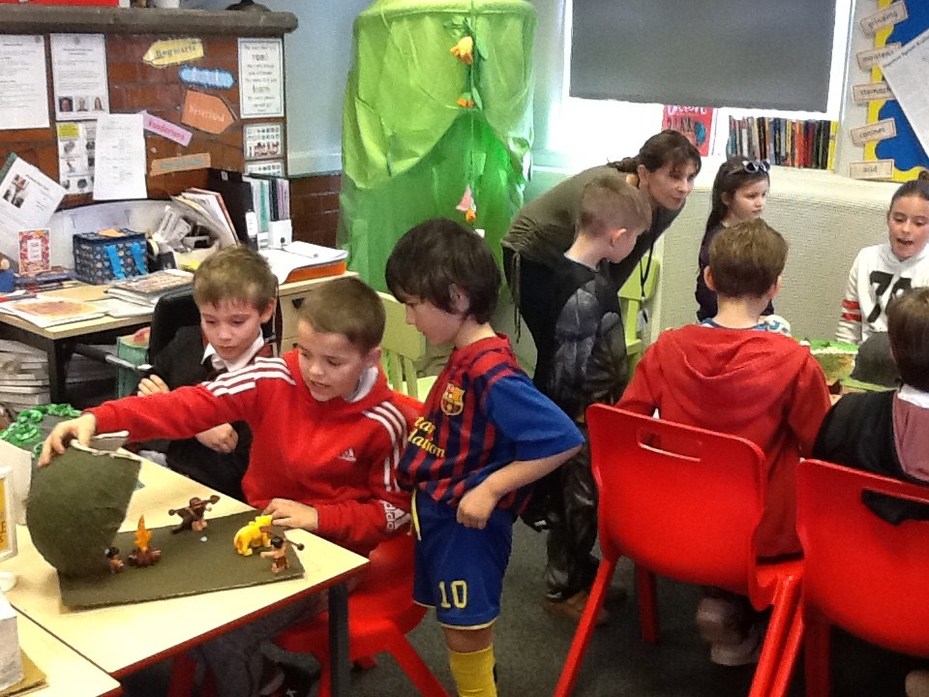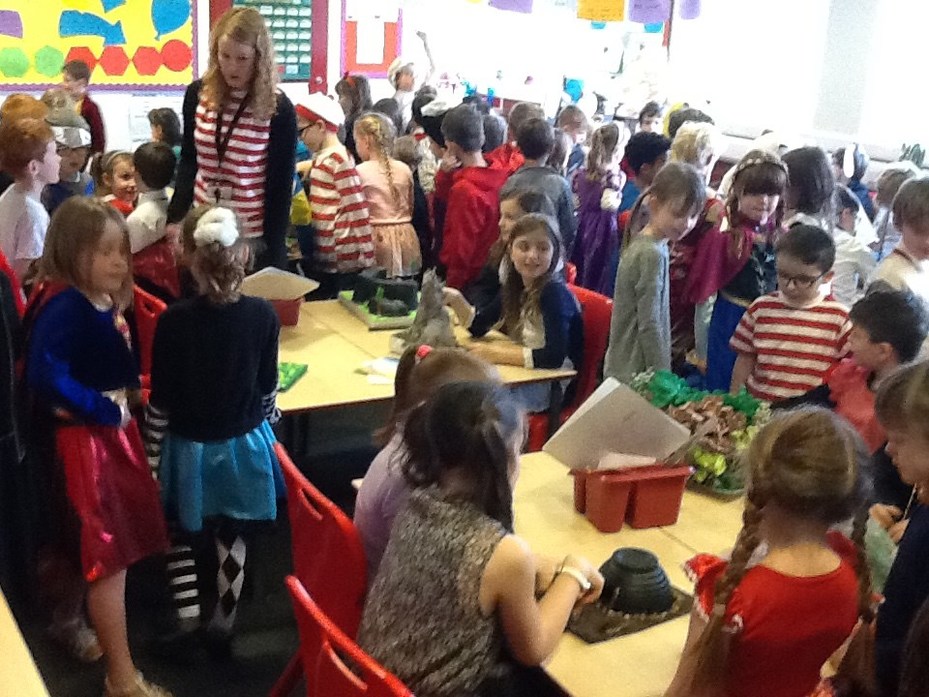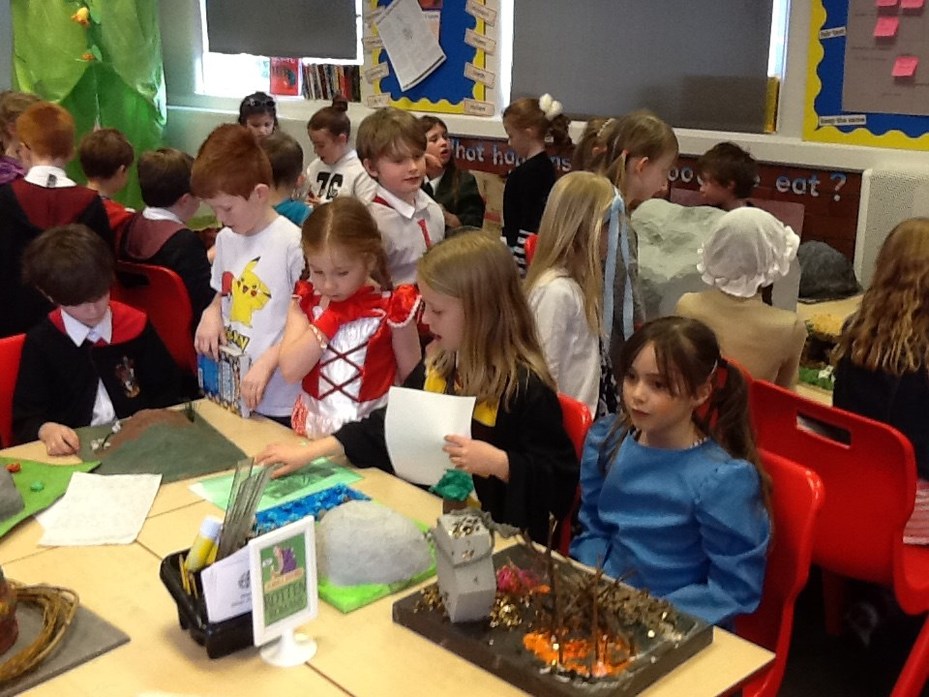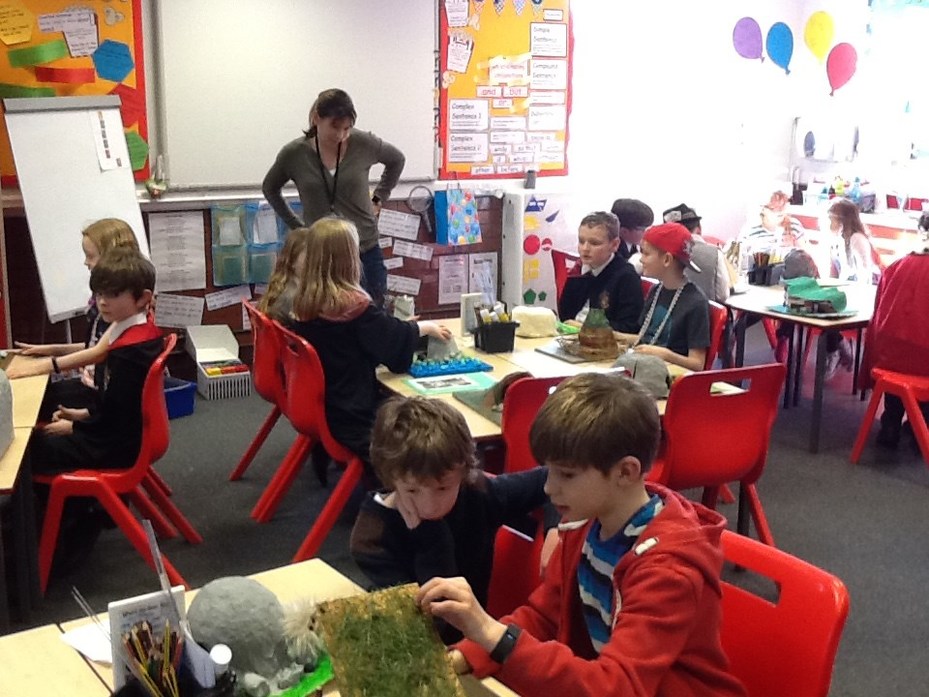 A fun afternoon
On Friday, Year 4 ended the term by becoming mini P.E Teachers! The children worked together to create sports activities for the Year 1 children to take part in. A great afternoon of sport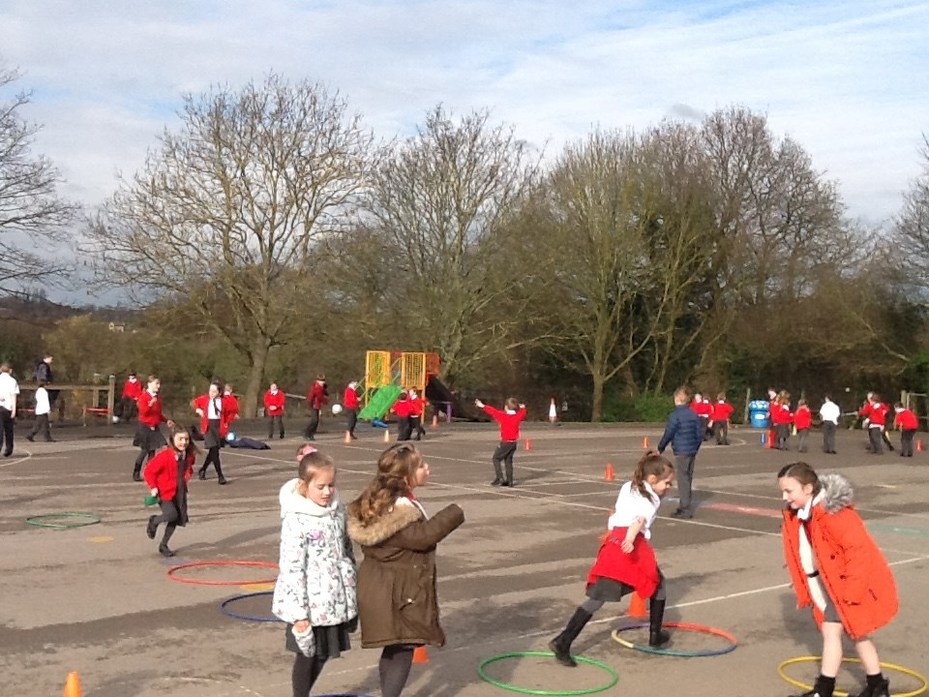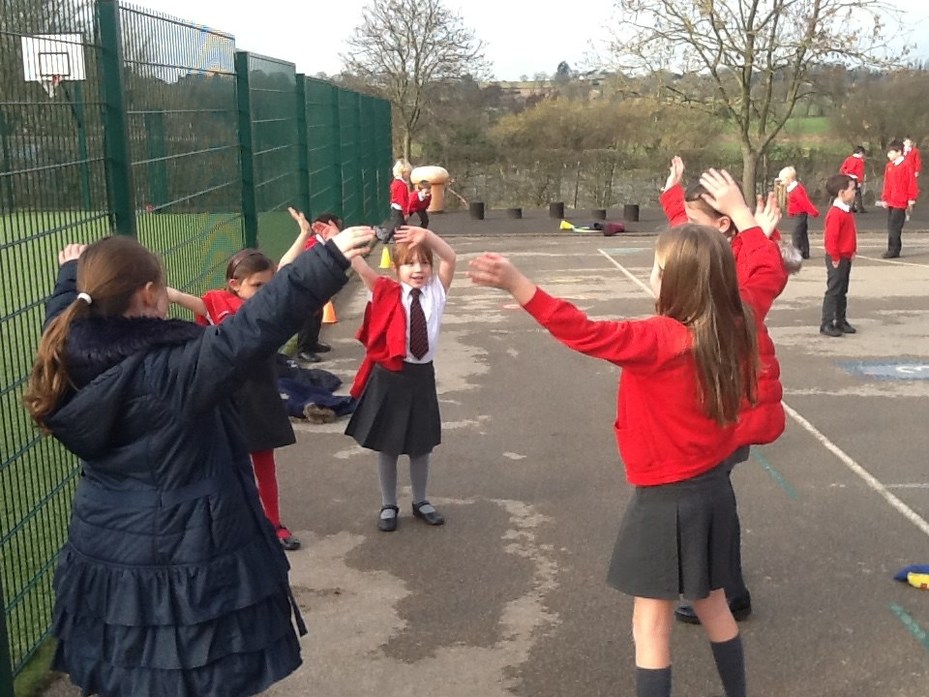 Cave drawings
During the last week of half term, the children put themselves in the position of a cave person and created some wonderful cave drawings. They used their knowledge of our Big Question to draw images that they might have drawn inside caves during the Stone Age period.
These creations are displayed outside Year 4 for everyone to admire!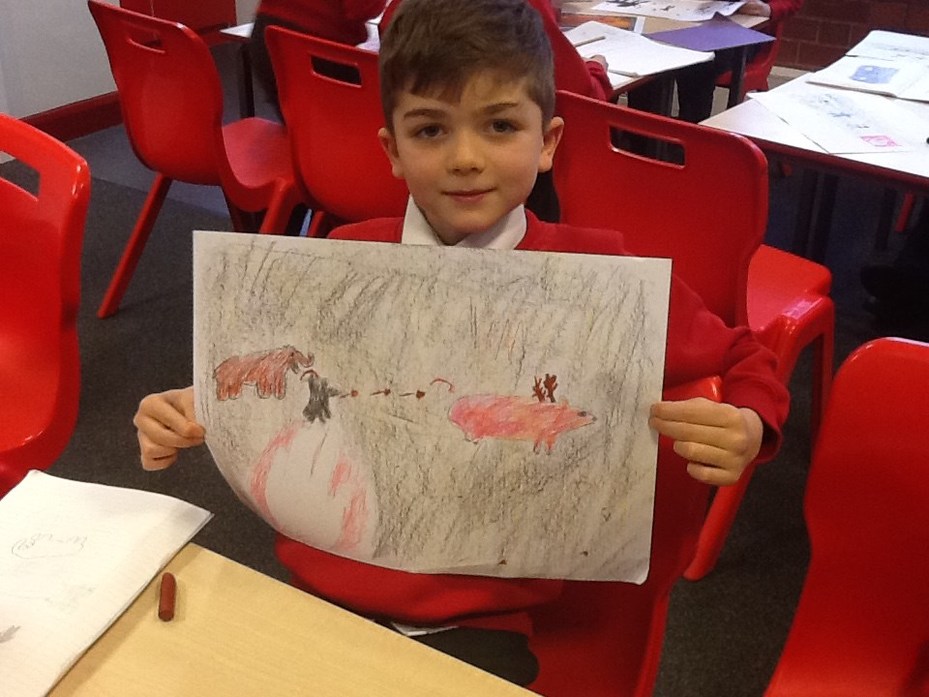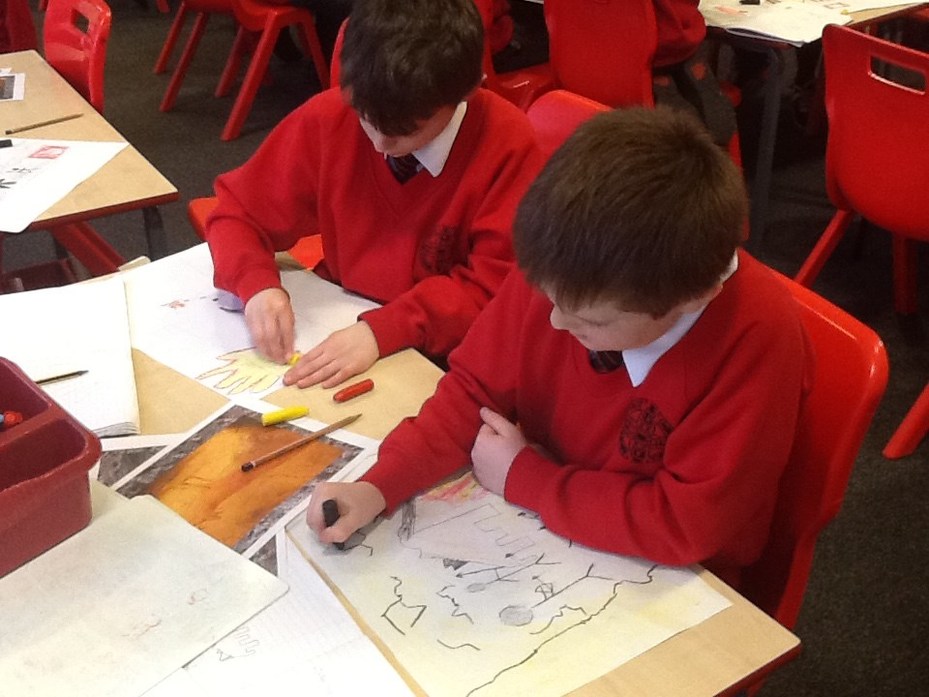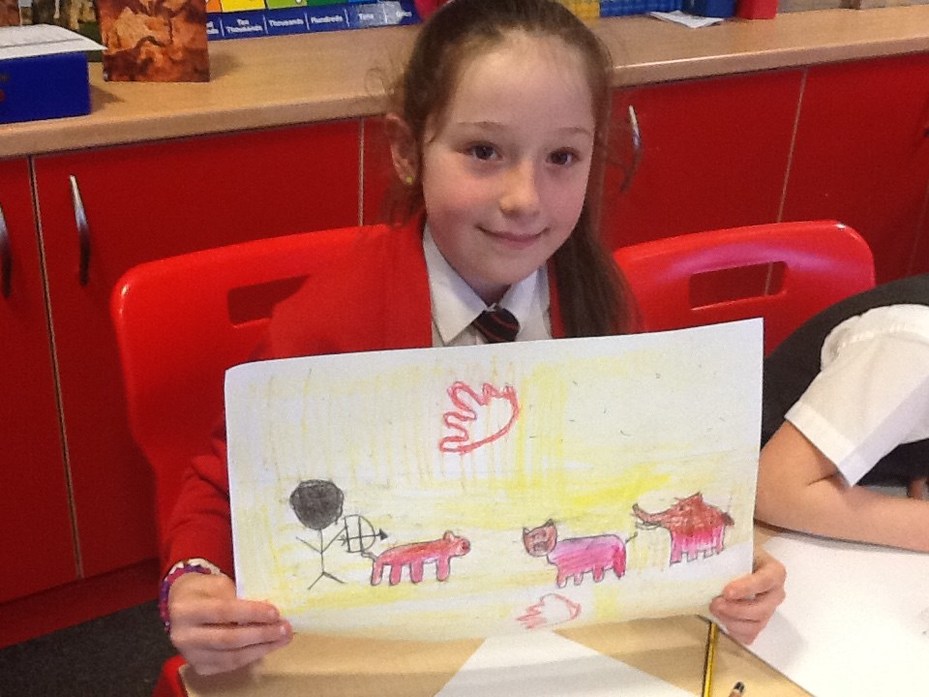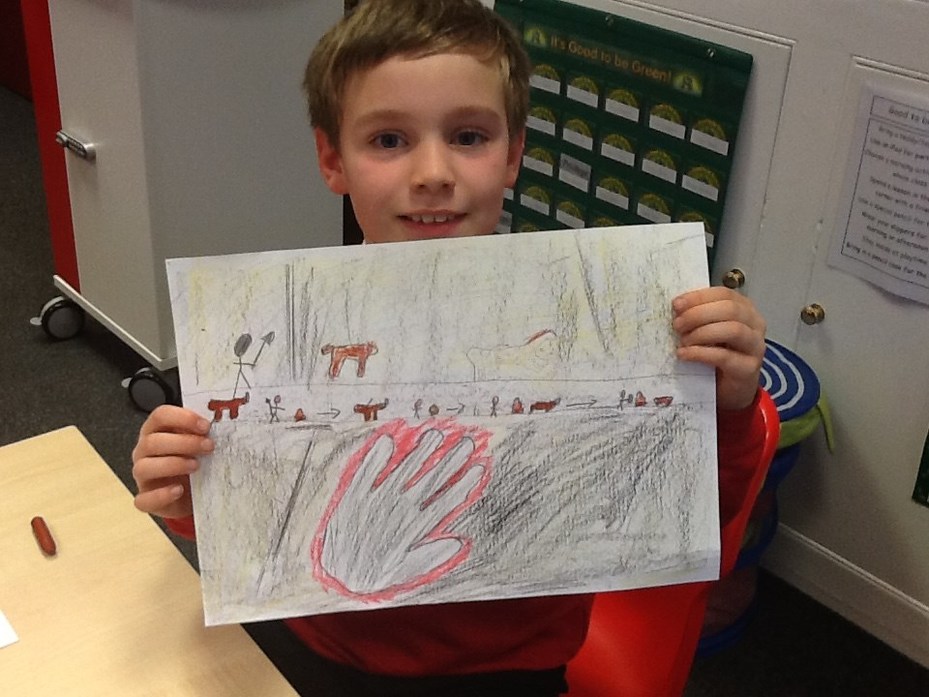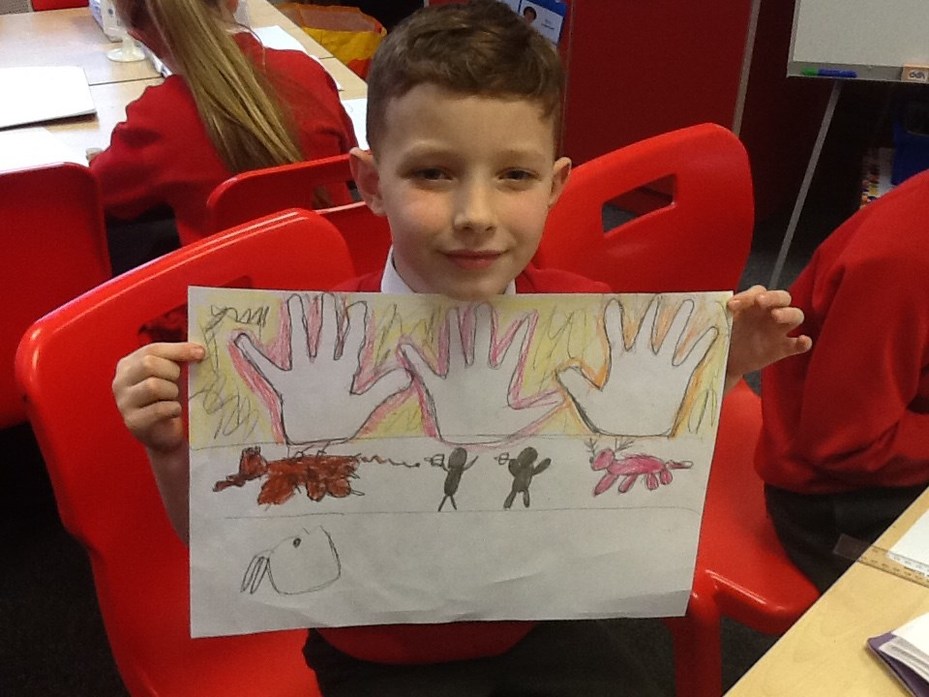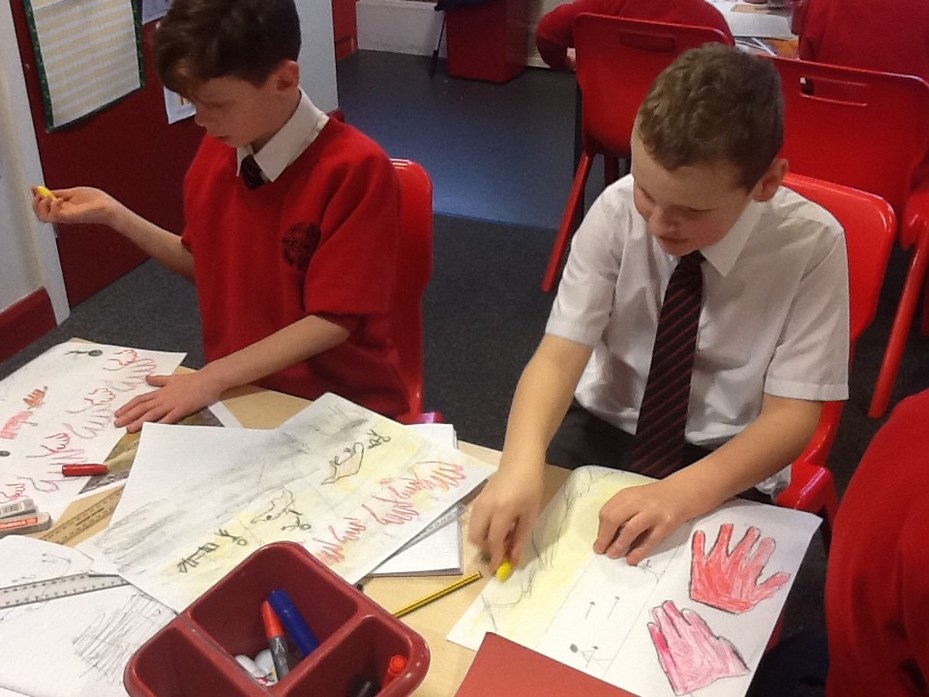 Teeth
As part of our Science question 'What happens to the food we eat?', the children have been learning about their teeth! We used mirrors to see our own teeth as well as learning about adult teeth and their names.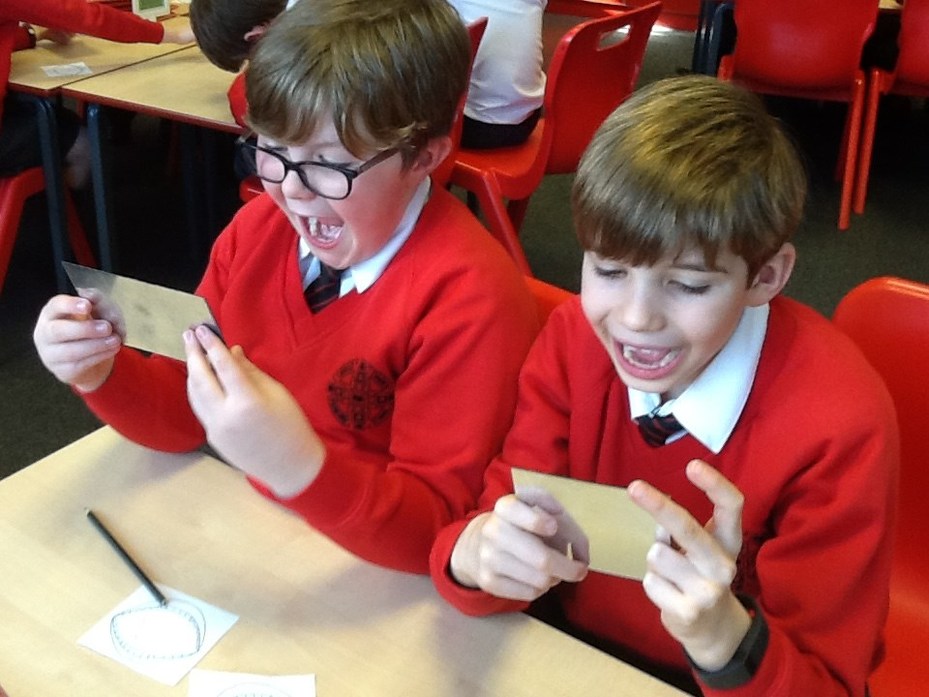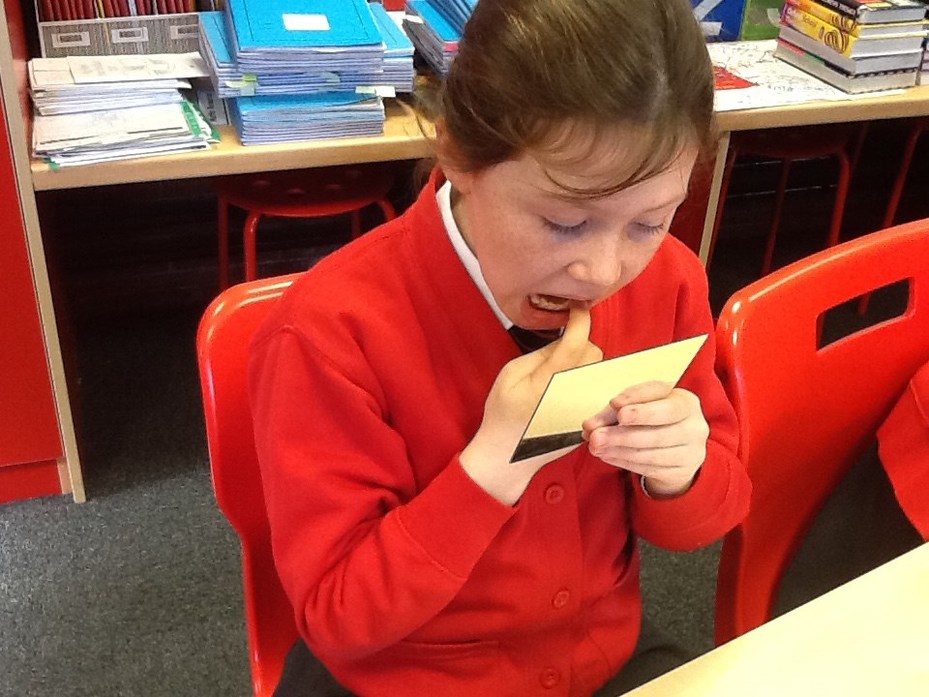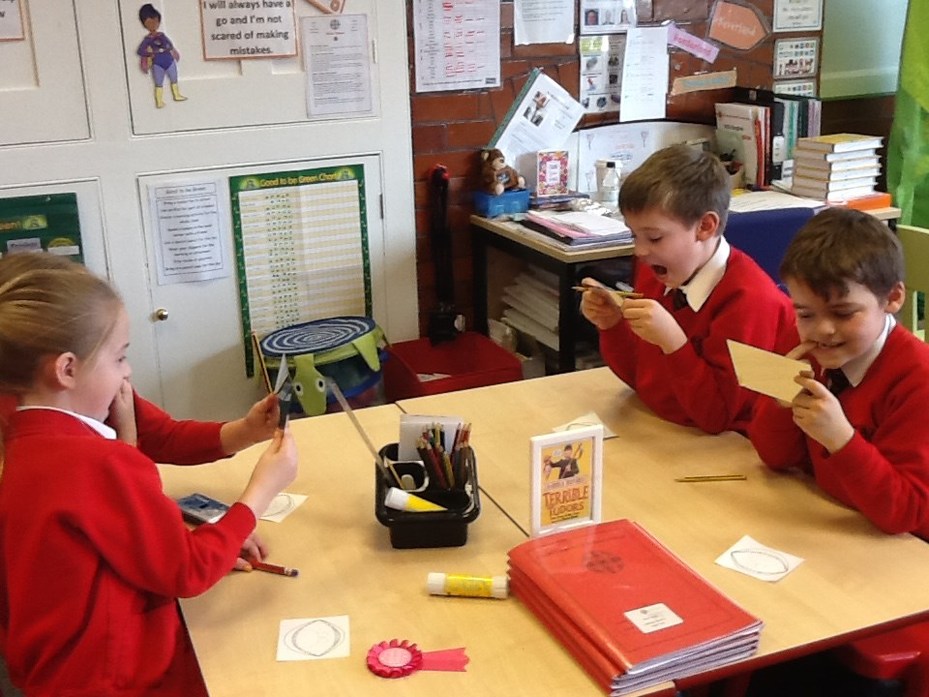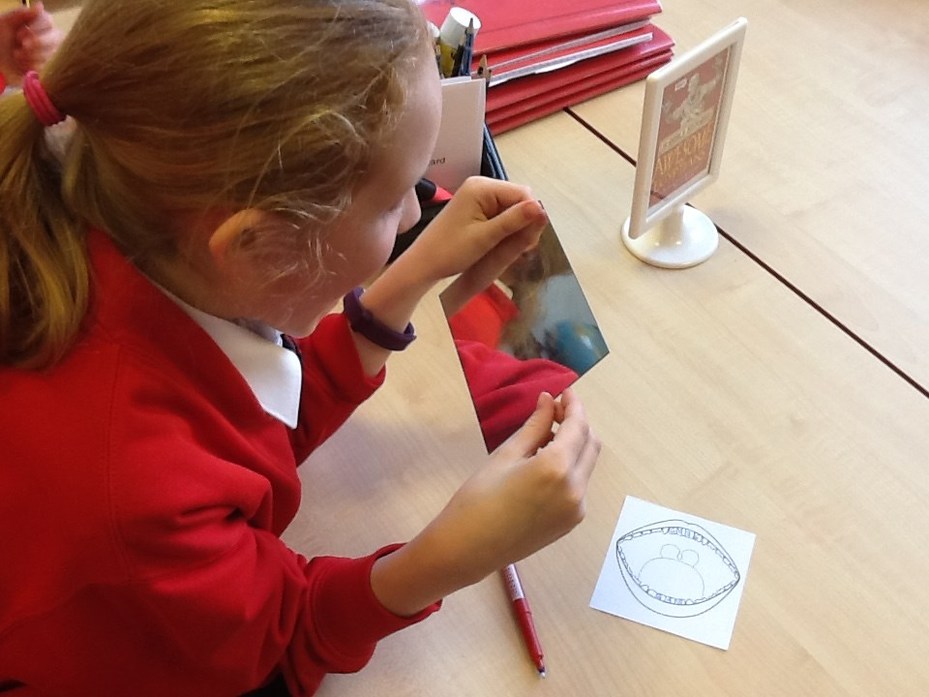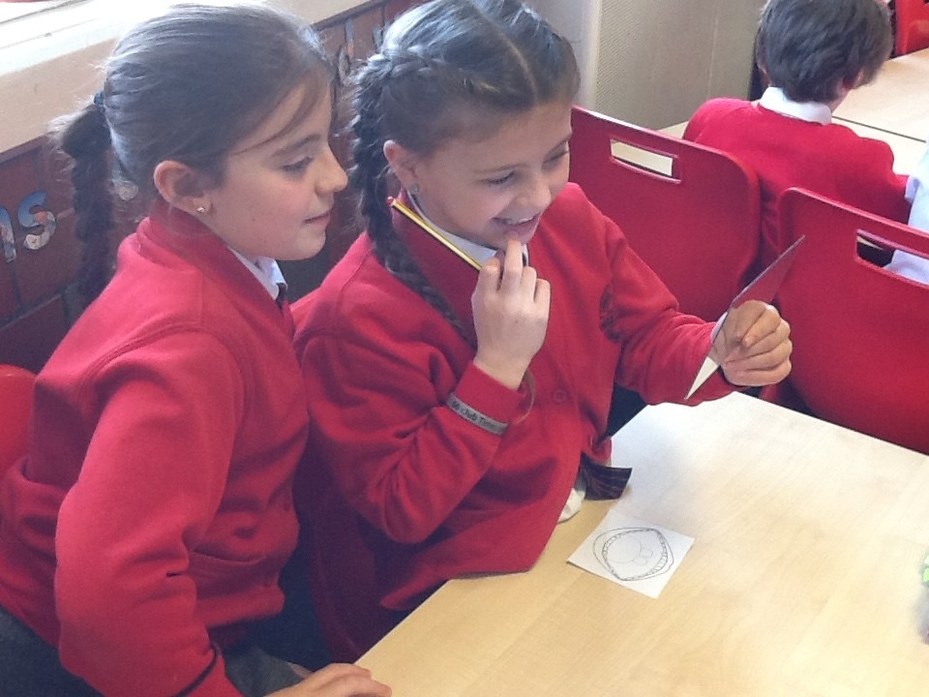 Safer Internet Day
Last week, it was Safer Internet Day in school so Year 4 spent time learning about how to stay safe online, what to do about cyber-bullying and how we can help each other to be safe online. We also thought about what a wonderful place the Internet can be.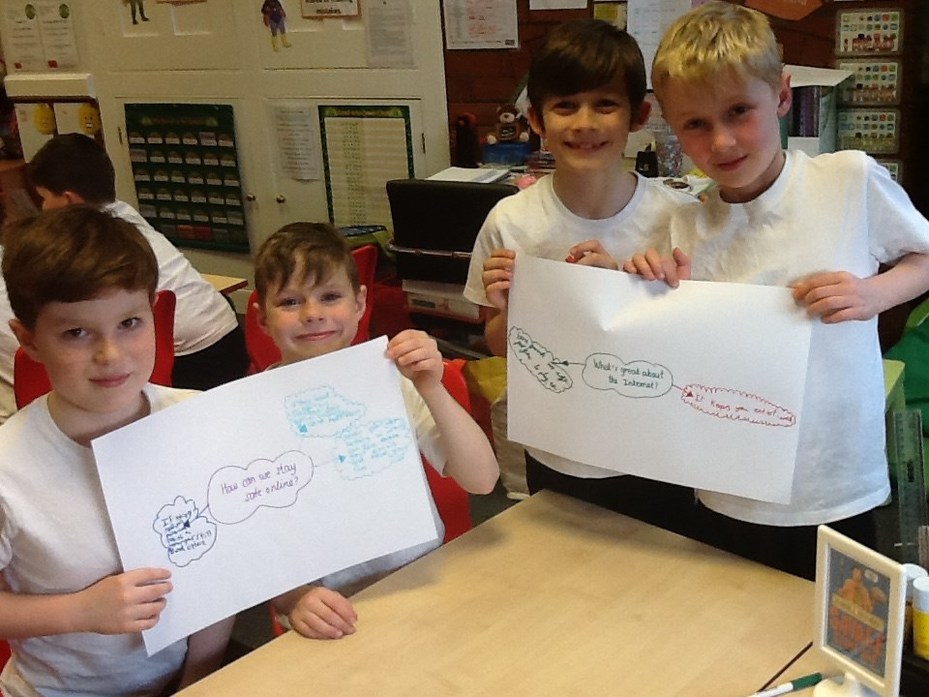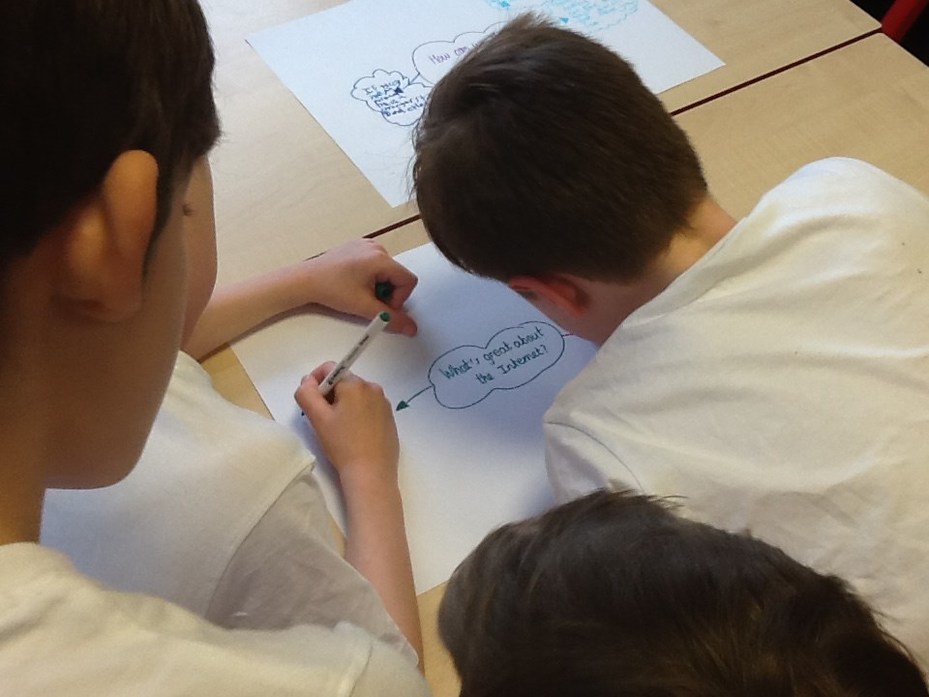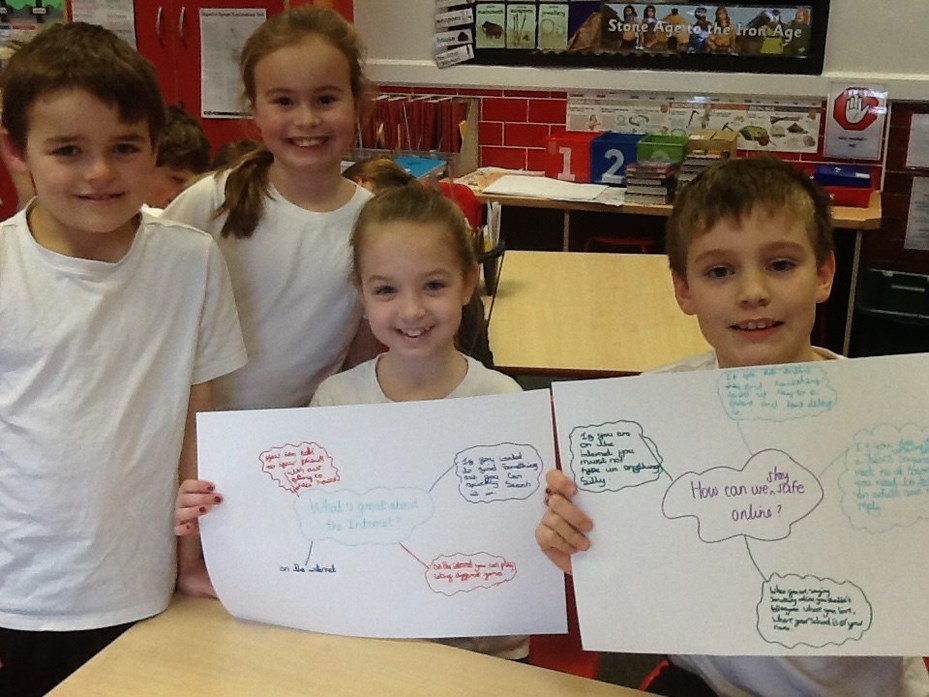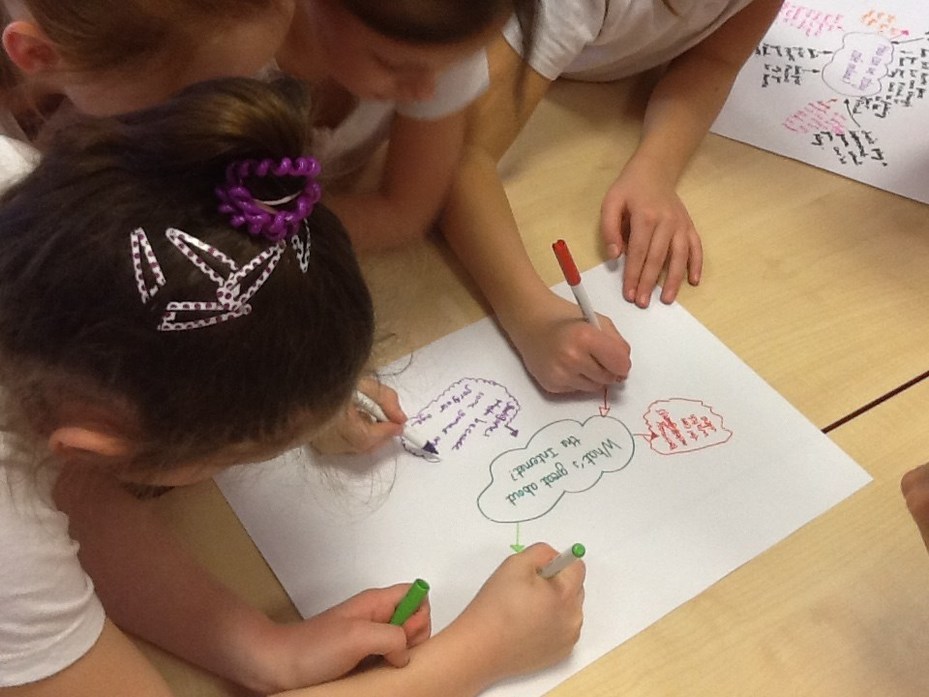 Derby Faith Trail visit
Year 4 enjoyed a fantastic trip to Derby to follow the Faith Trail and learn about other religions. We visited an Islamic Mosque, where we learnt about how regularly Muslims worship and what other traditions they follow. We then walked to a Hindu Temple and learnt about the way Hindu's worship and what happens in the Temple during special celebrations. We had a brilliant time experiencing what life is like for others and the children were praised on their excellent behaviour and how respectful they were. Well done Year 4!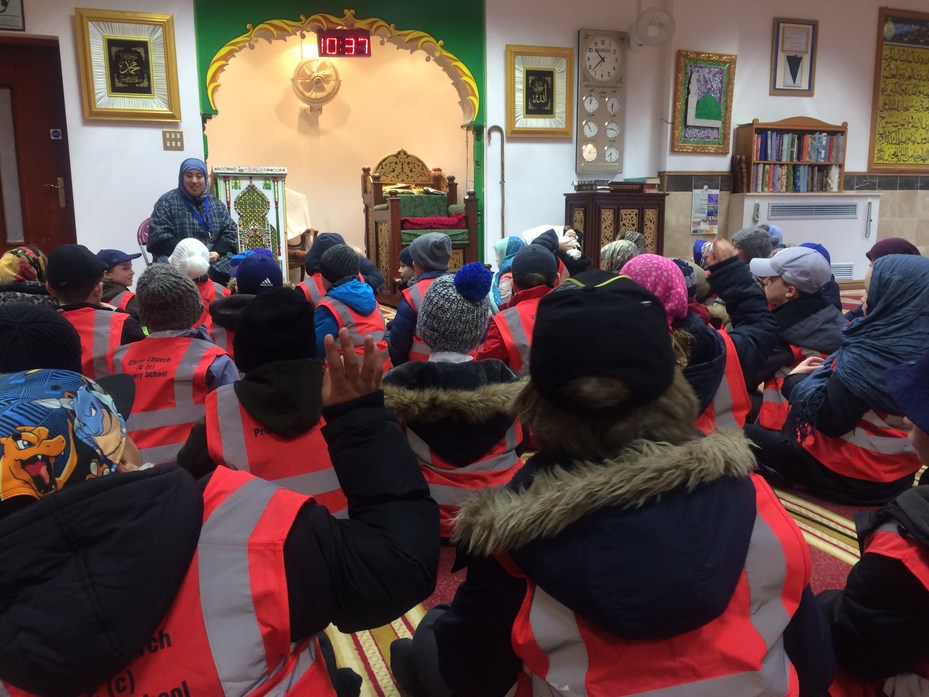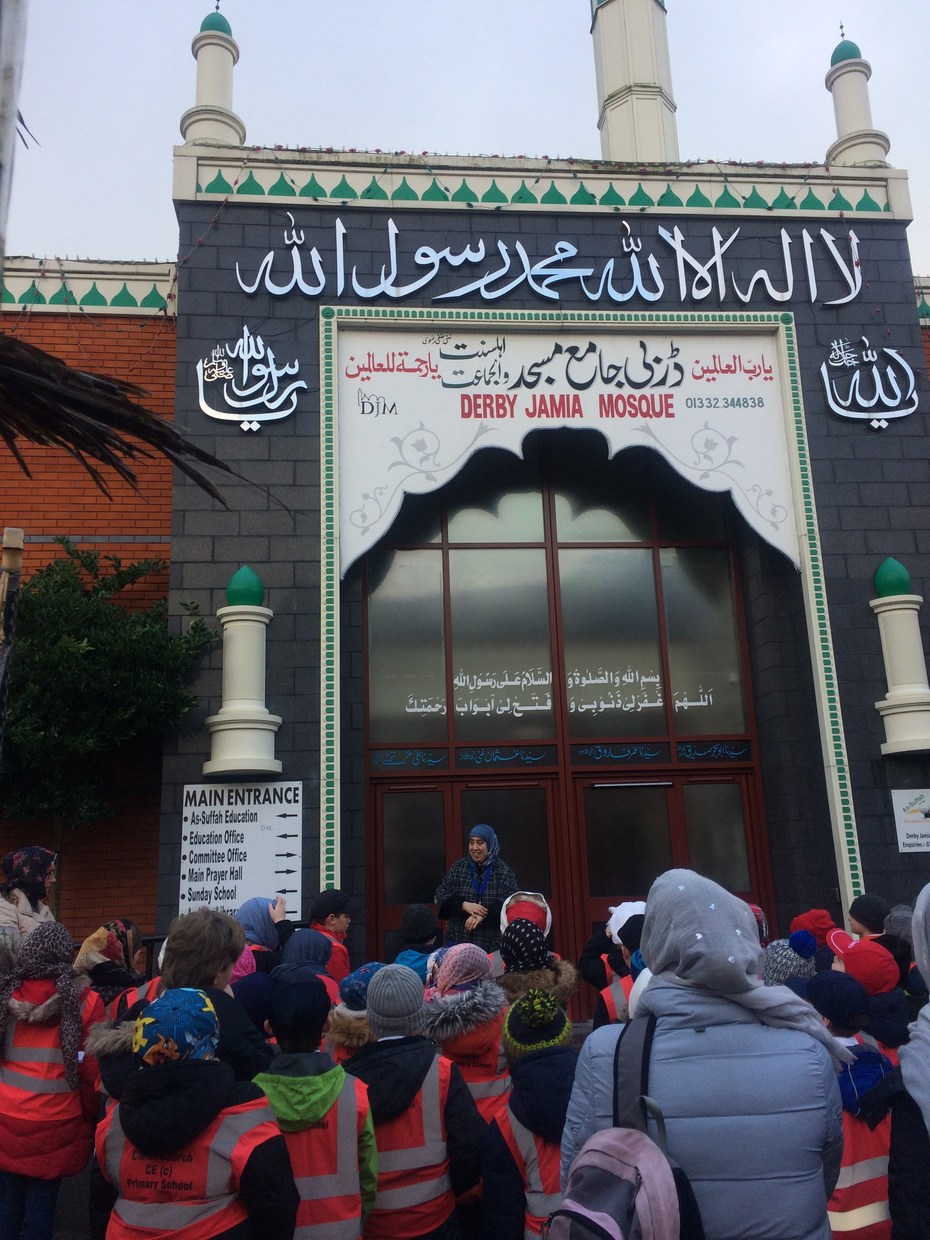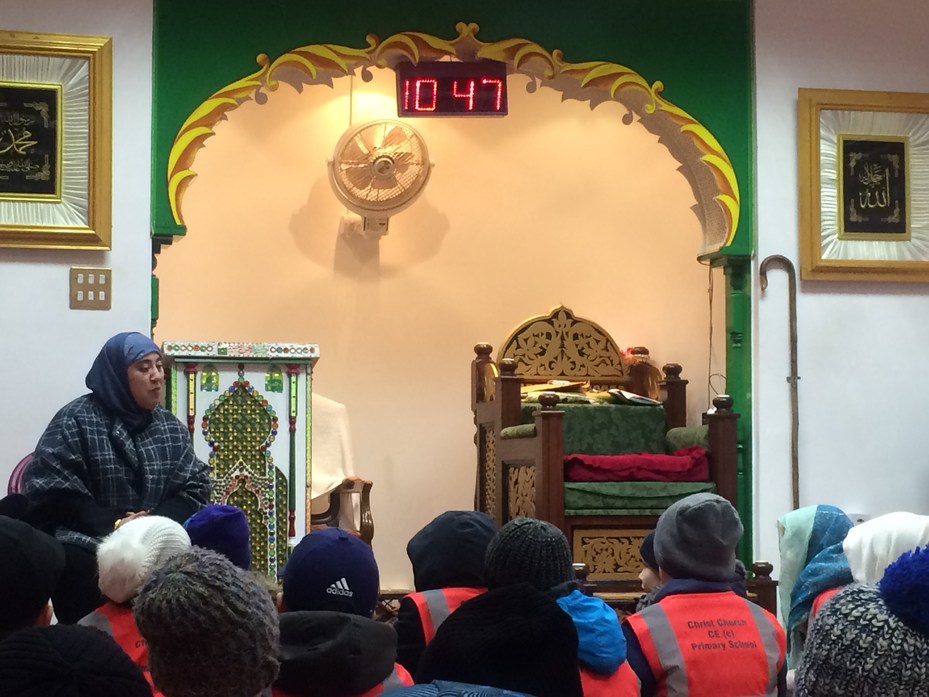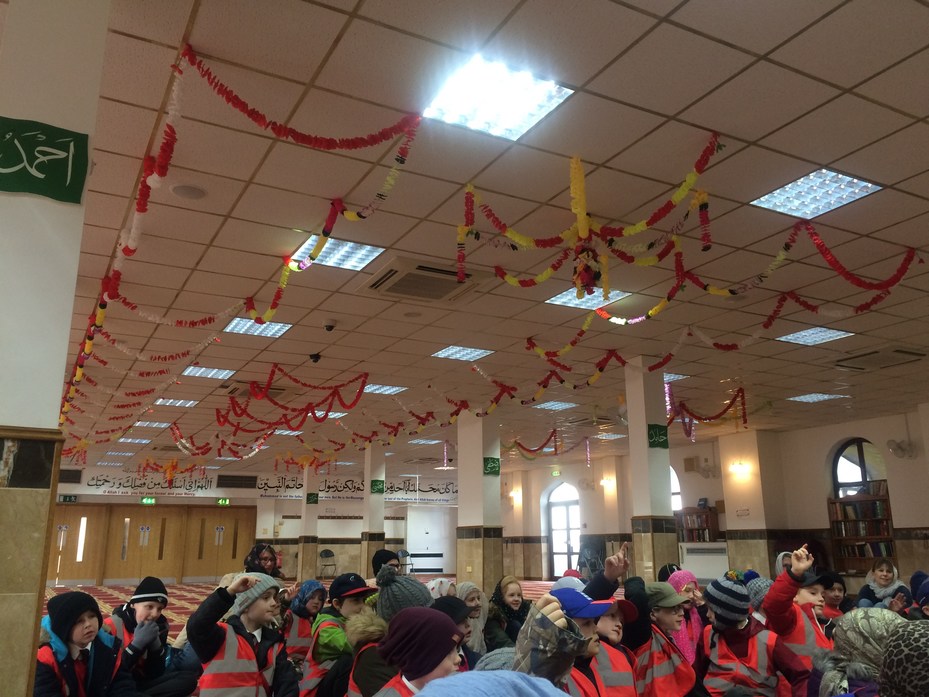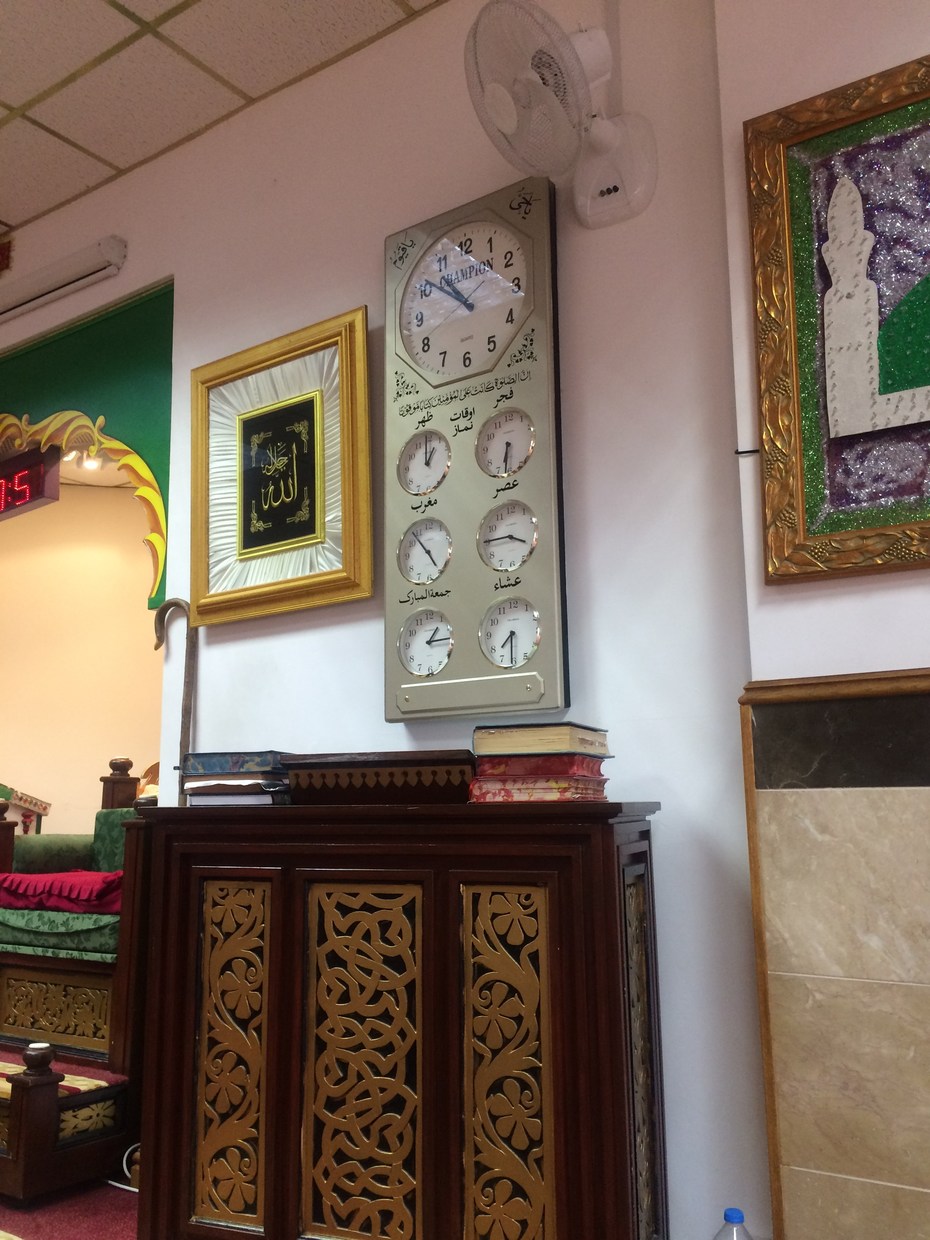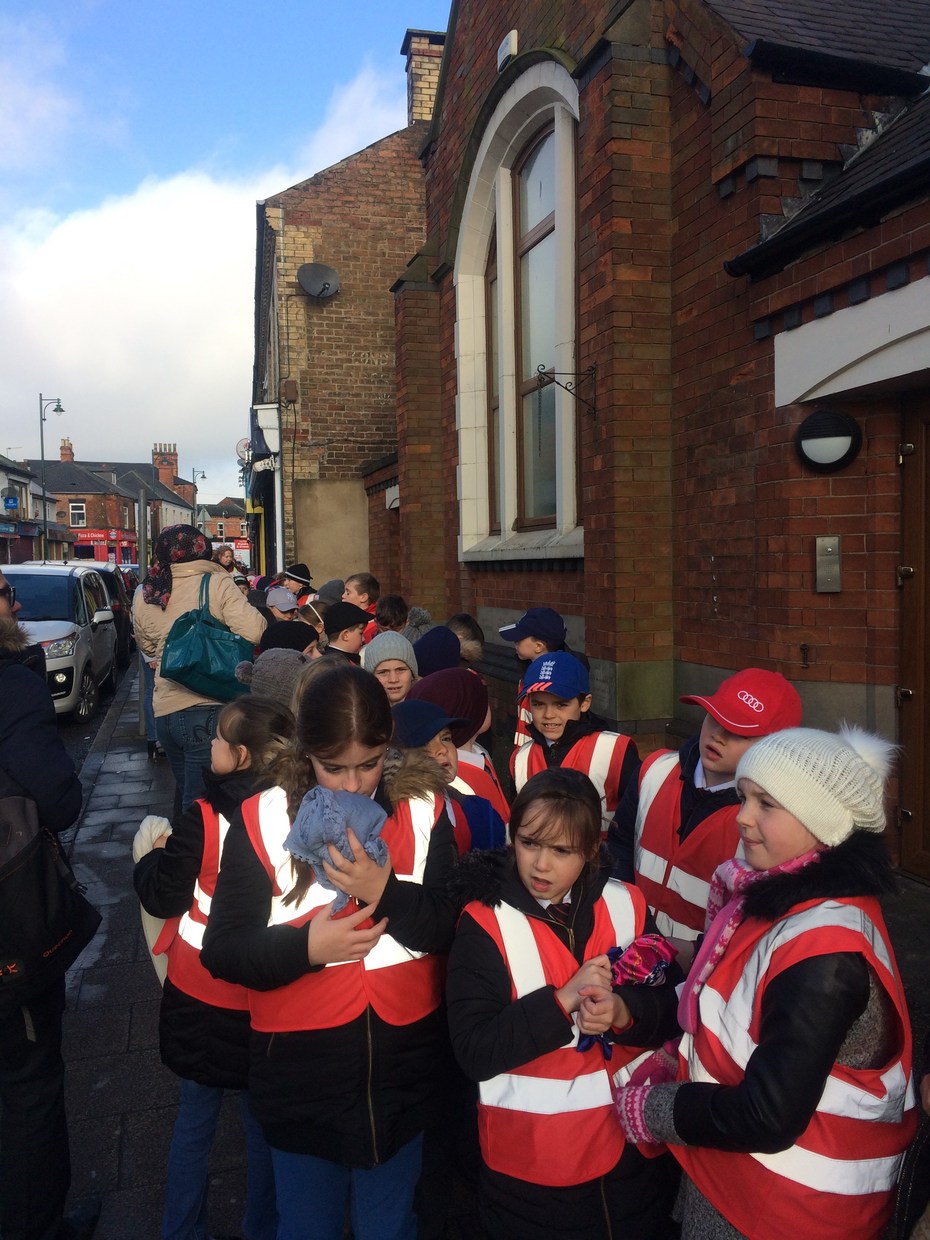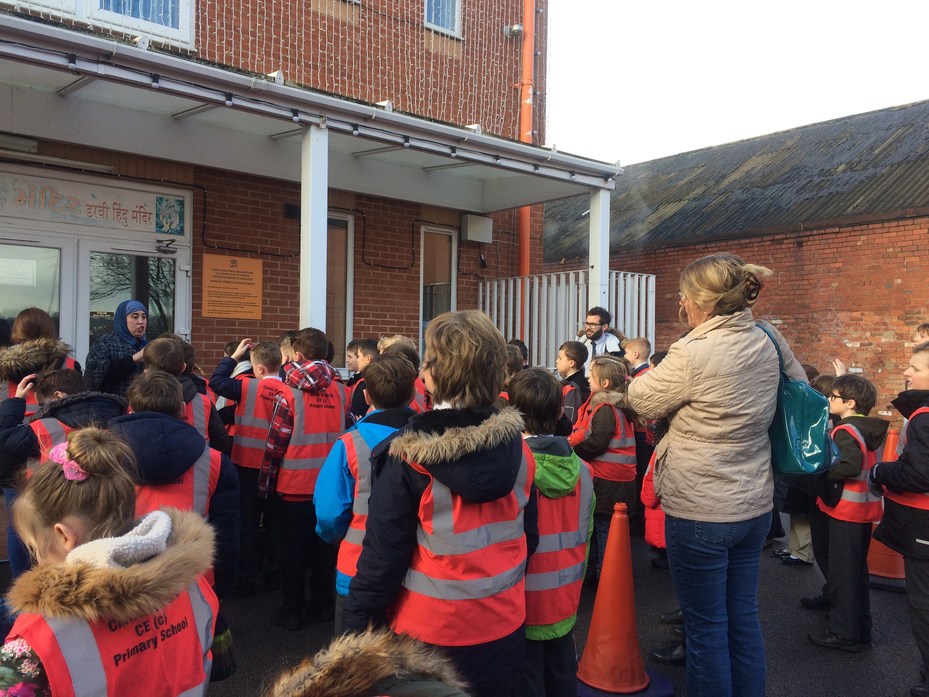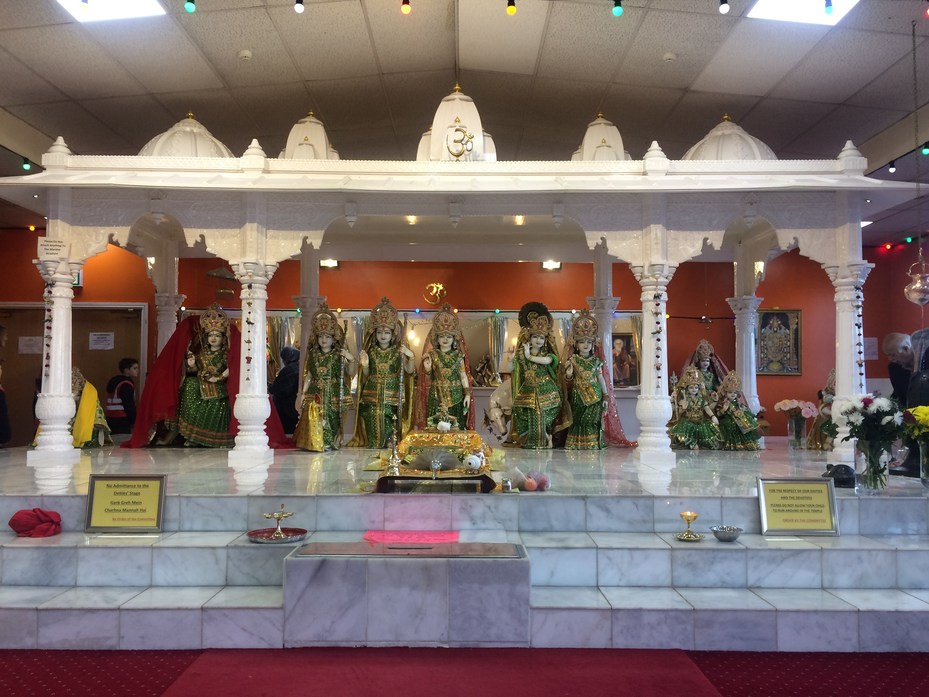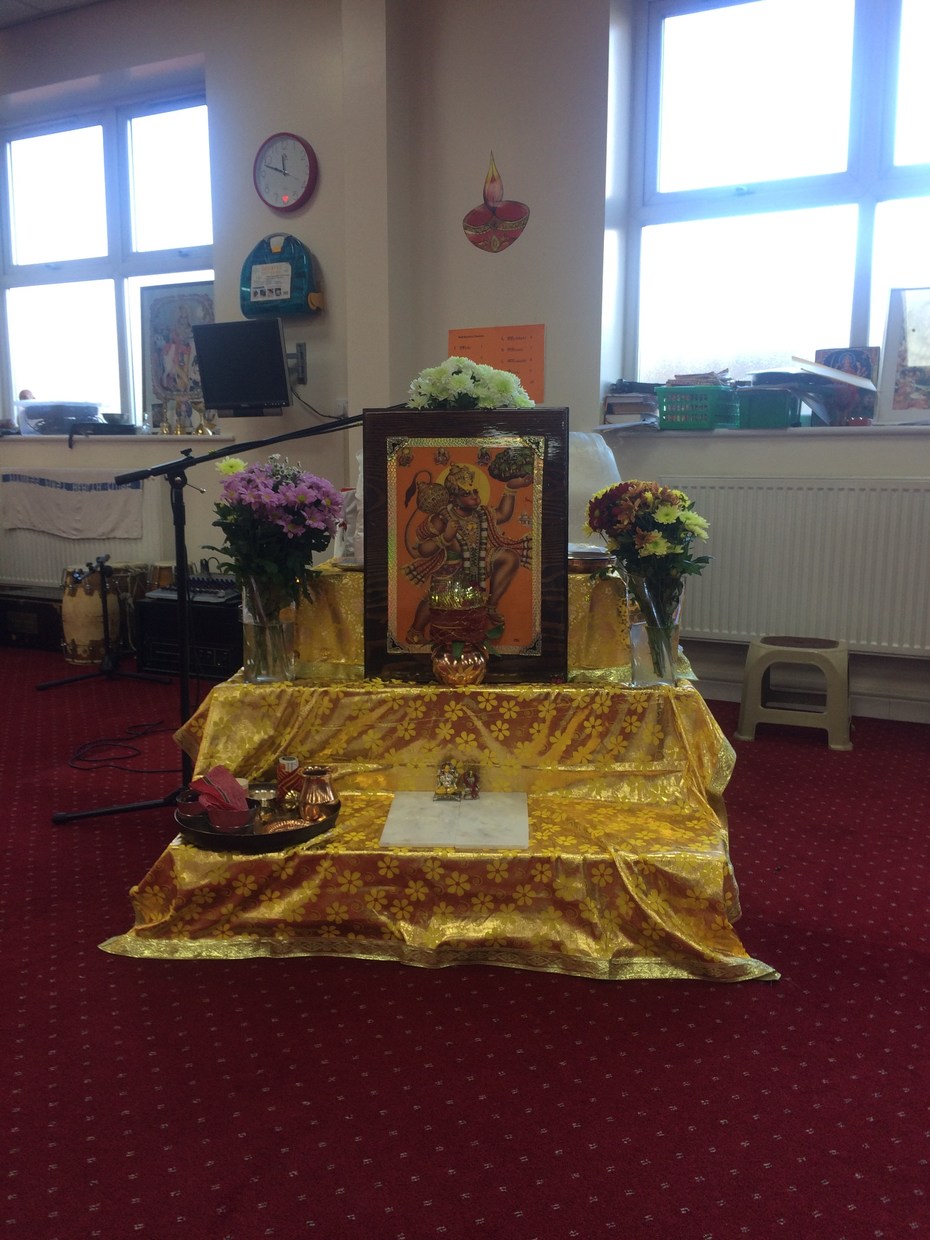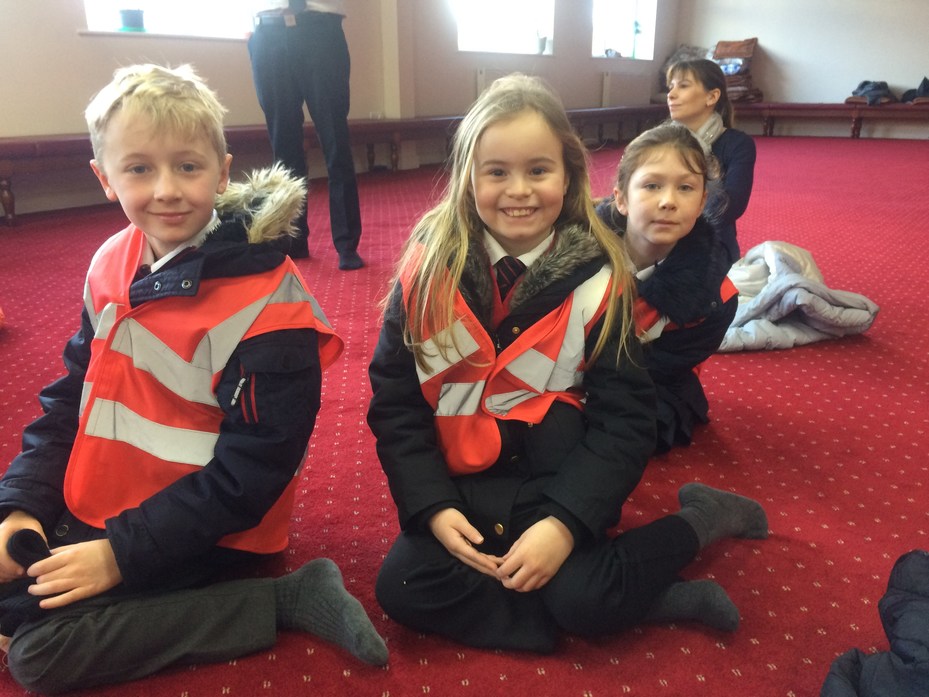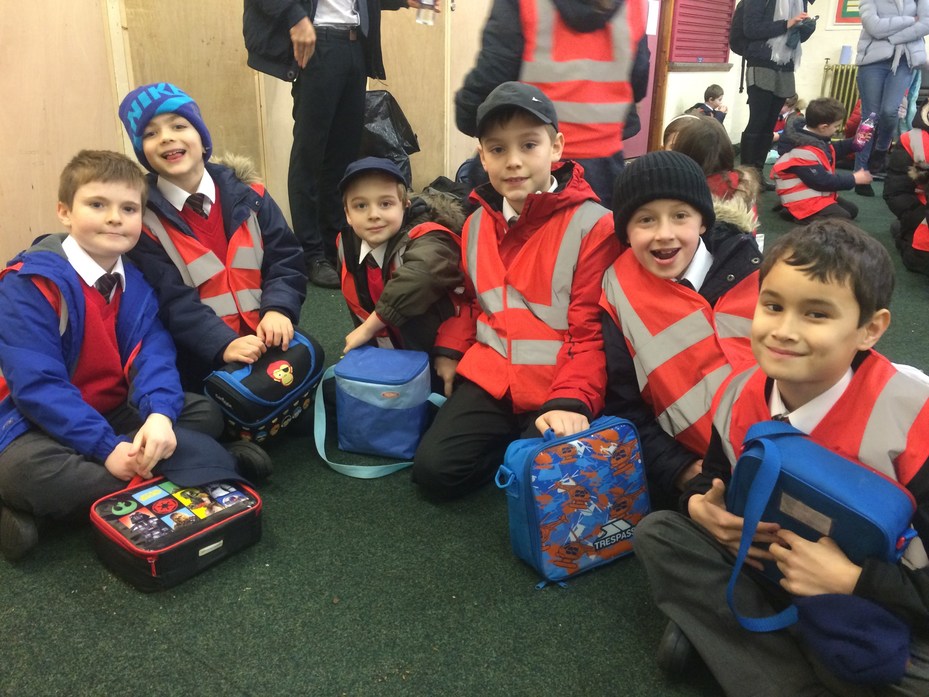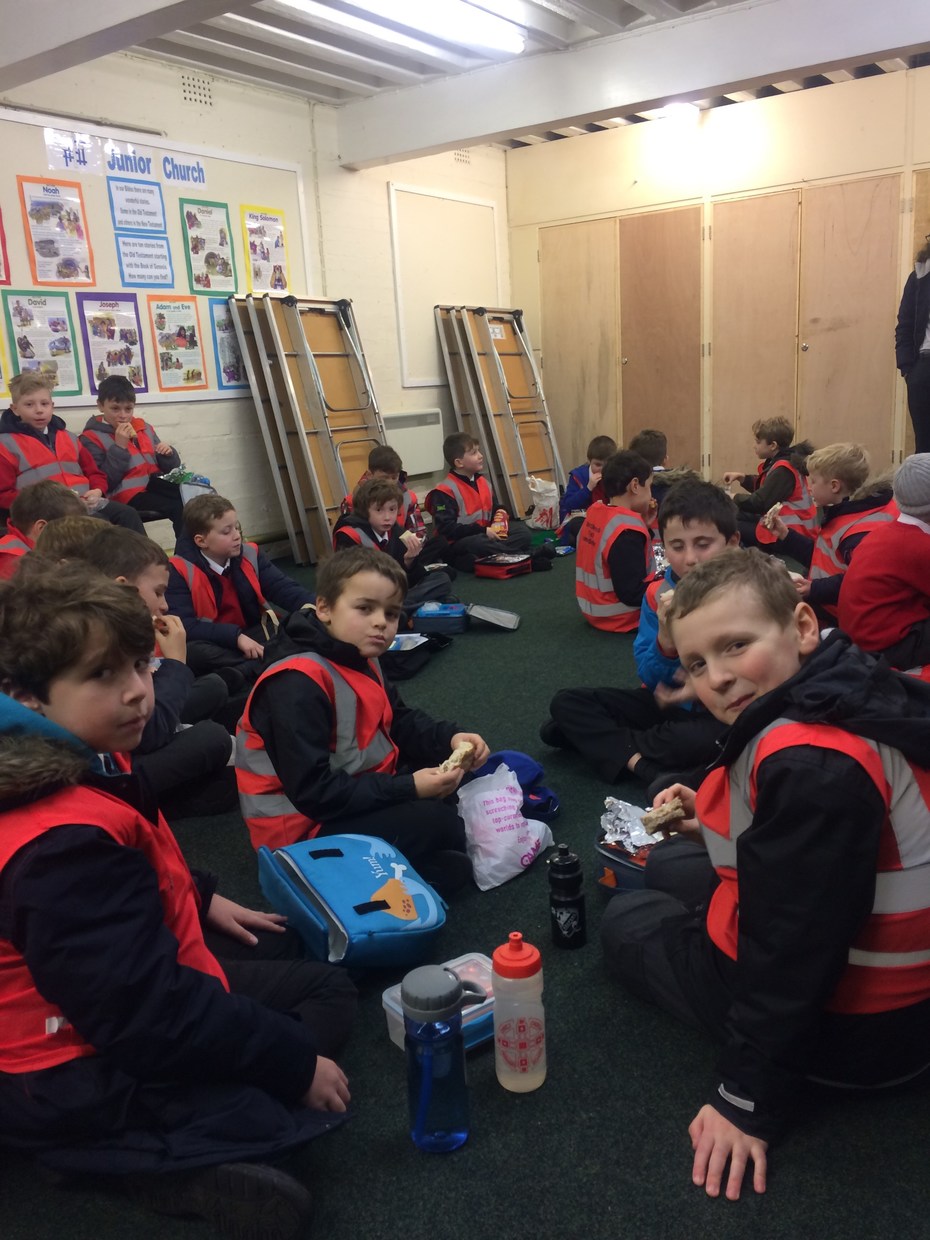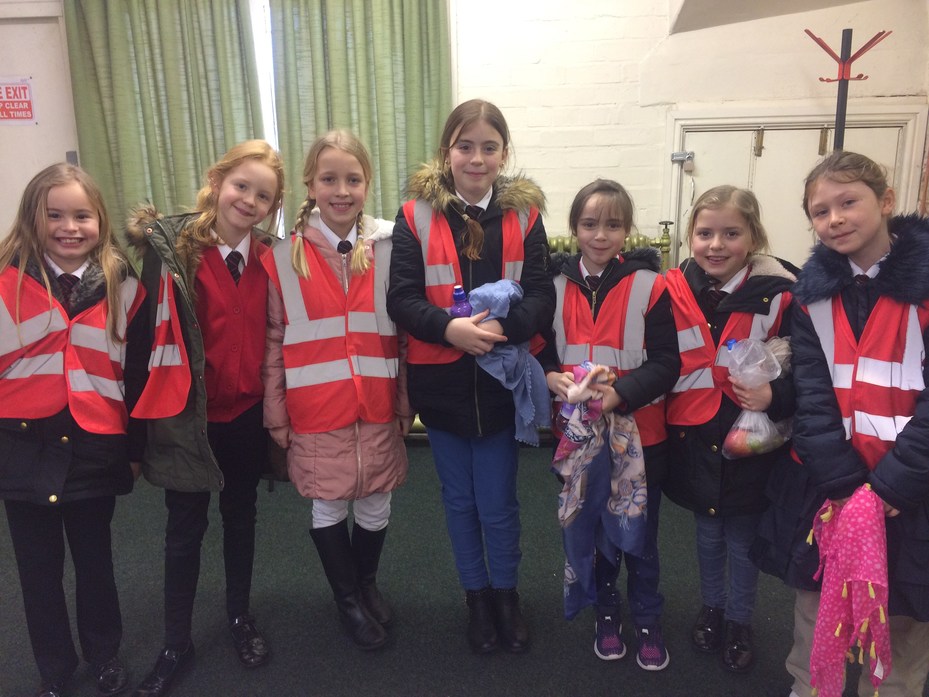 A spot of reading!
The children have been digging into our Year 4 book boxes and spending some quality time reading some of the exciting books that are tucked away in there! It was lovely to see children sharing books or finding a quiet spot to concentrate on a book that caught their attention.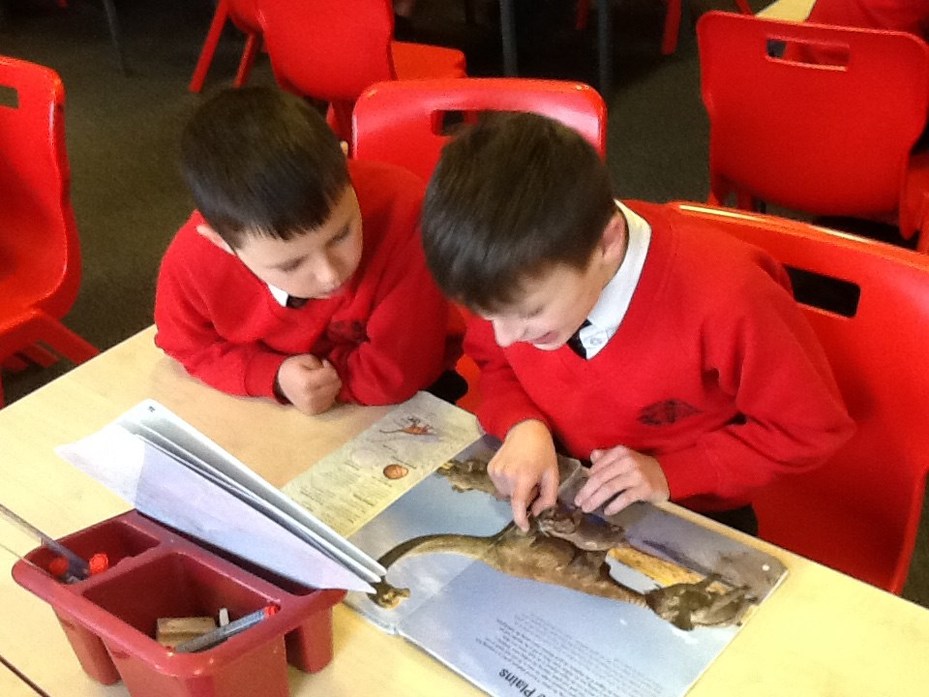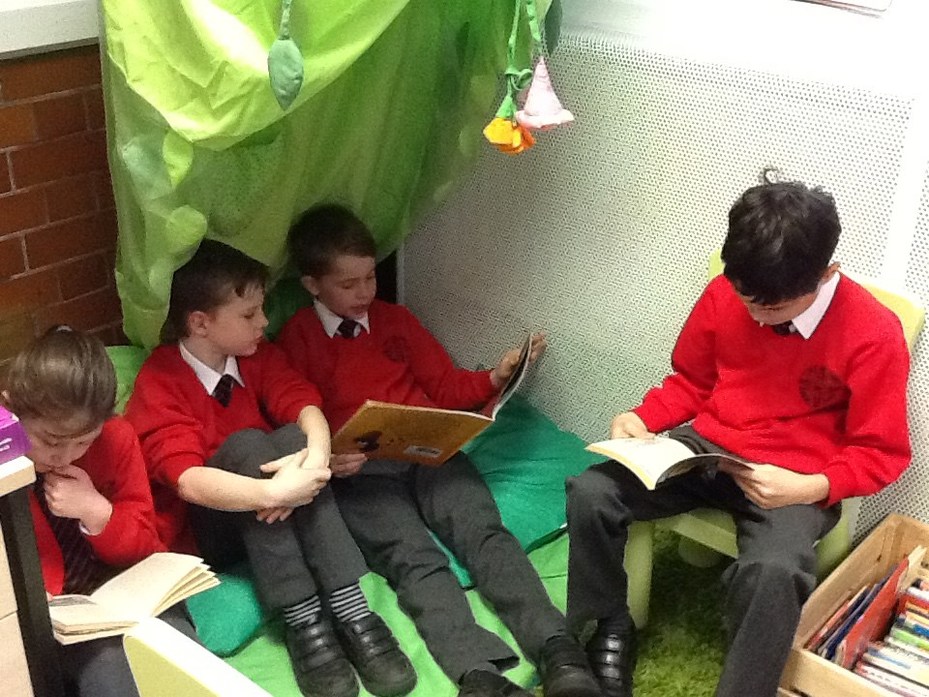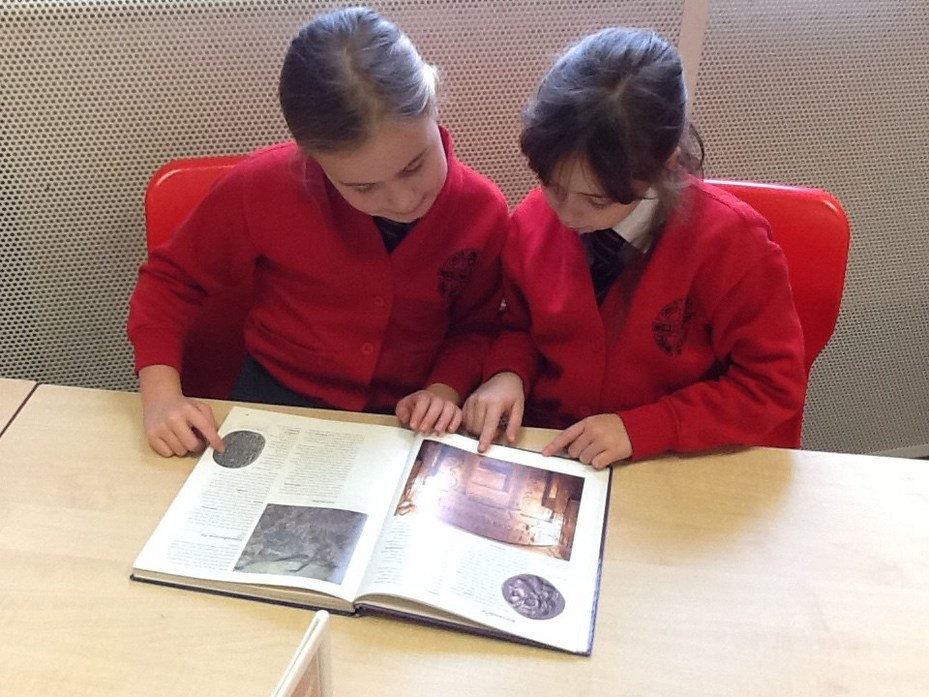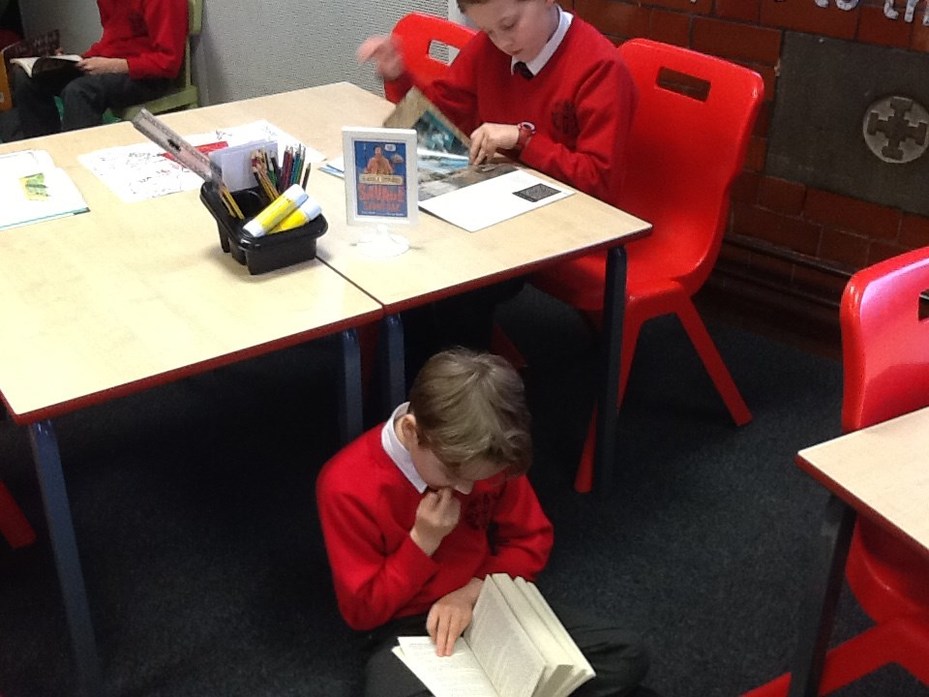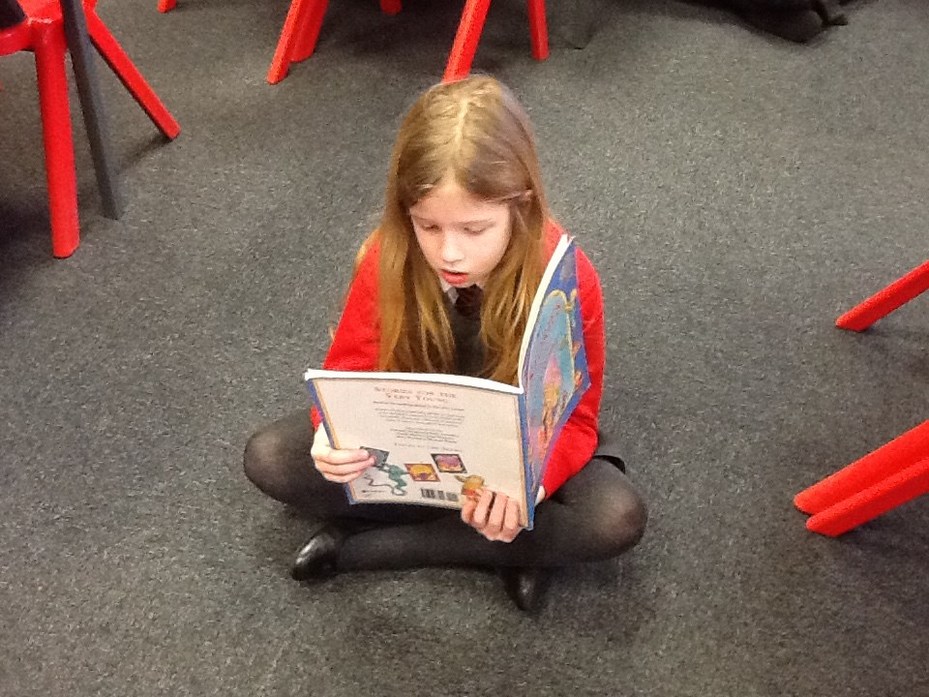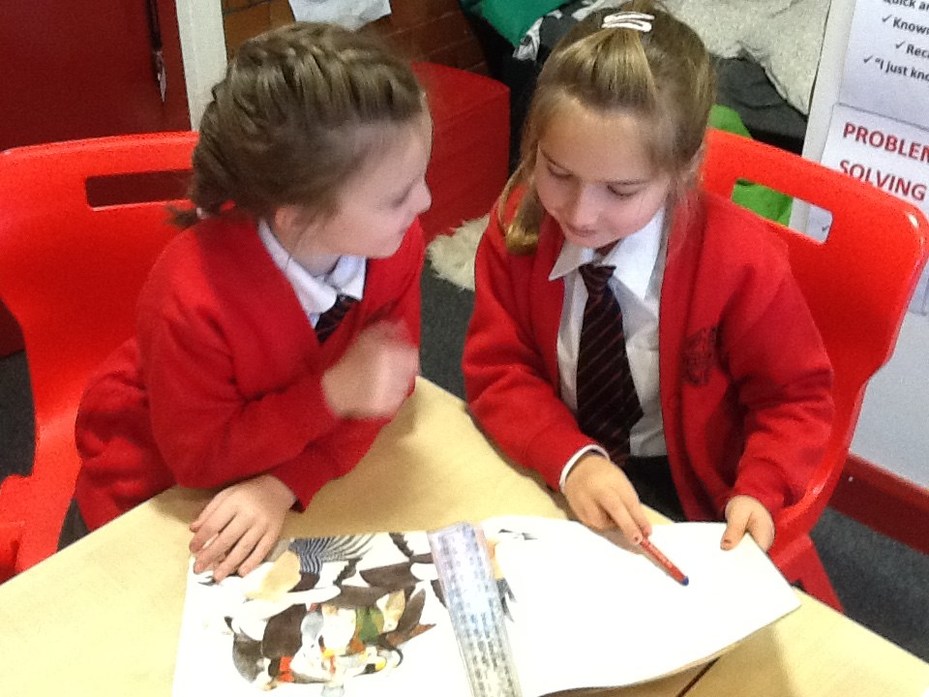 World Religion Day in Year 4 - Buddhism
Today the children have enjoyed learning about the Buddhist religion. After an introduction to how the religion began, the children have found out about the eight fold path that all Buddhists try to follow to live a good life and about the symbols associated with this religion. They also learnt about the celebration of Wesak and made their own lantern to celebrate.
We hope you had a great day learning about a different religion!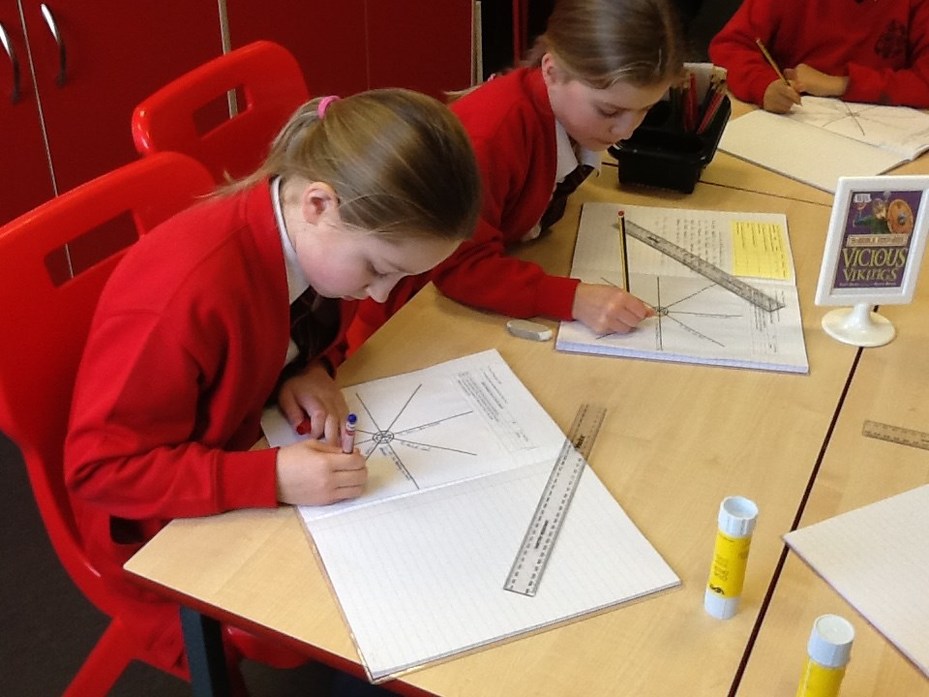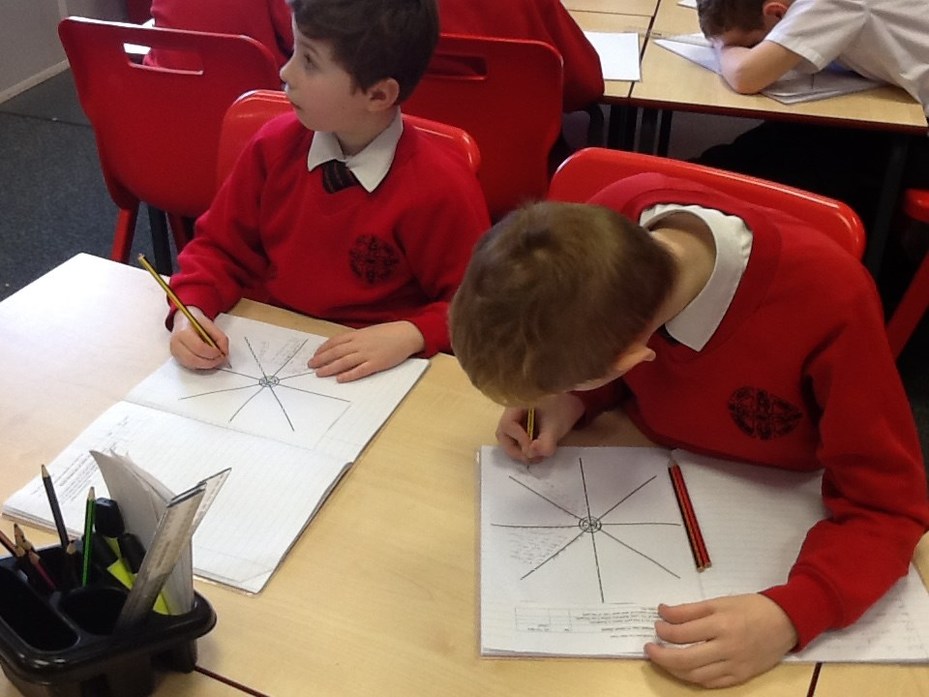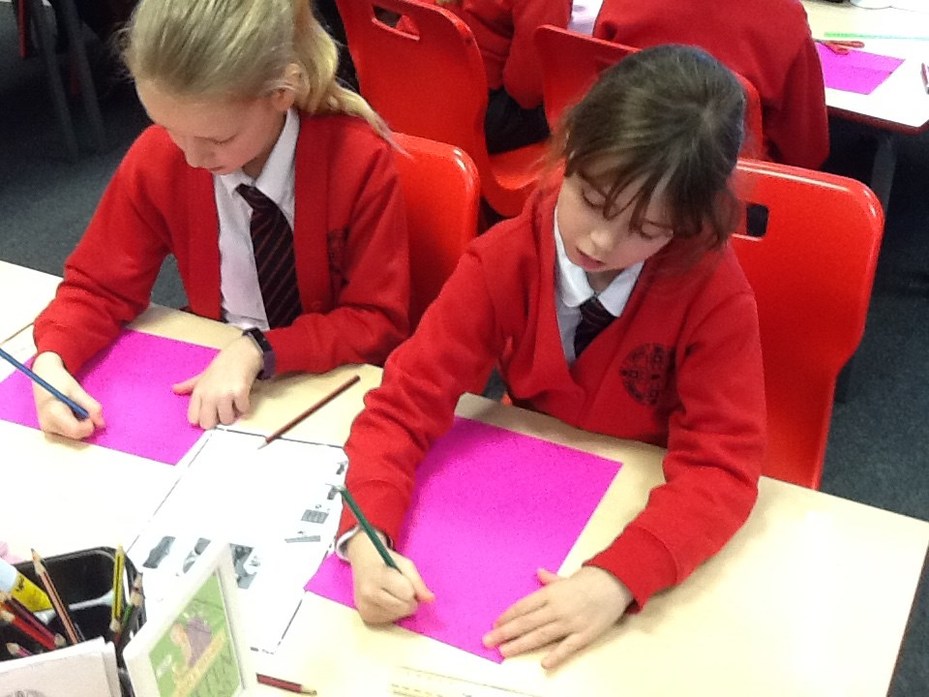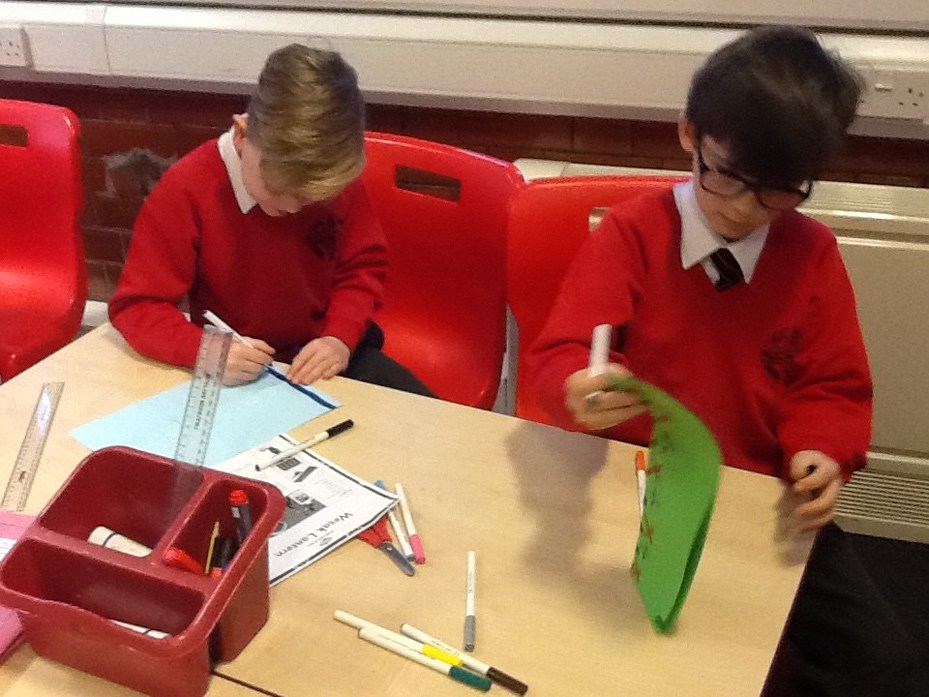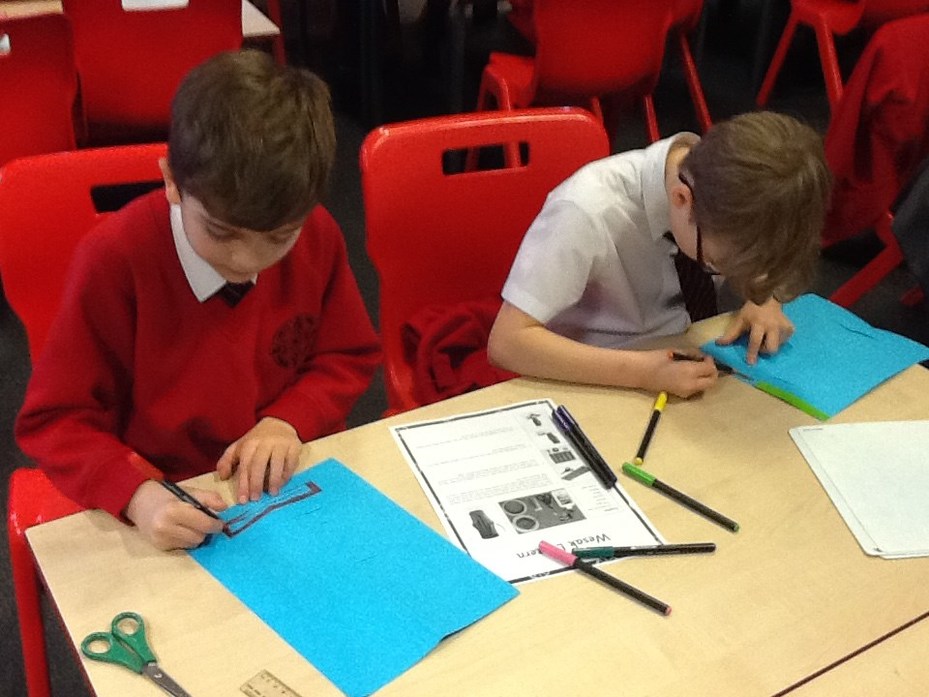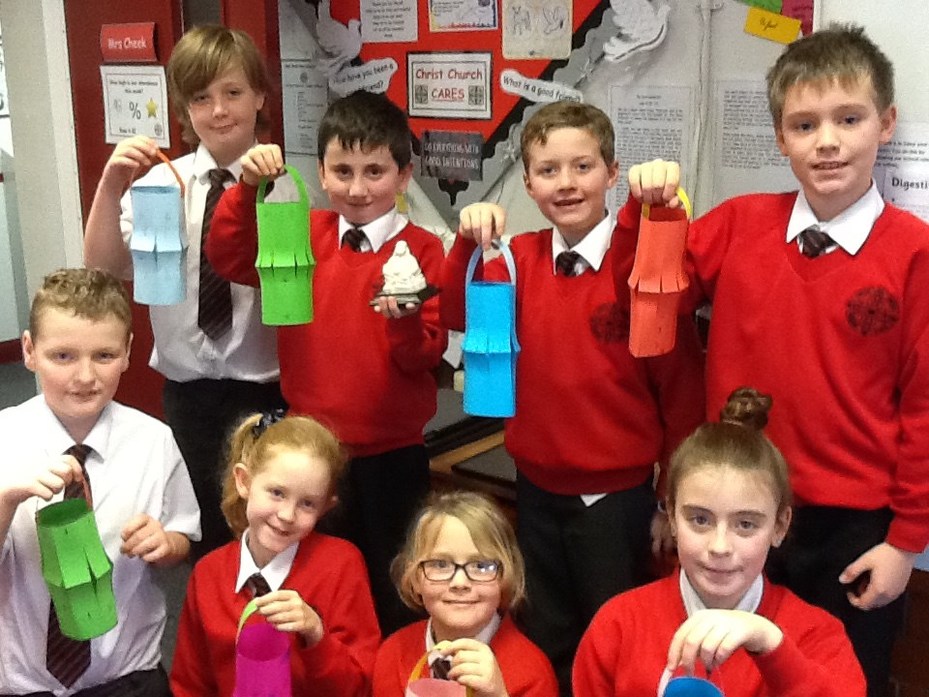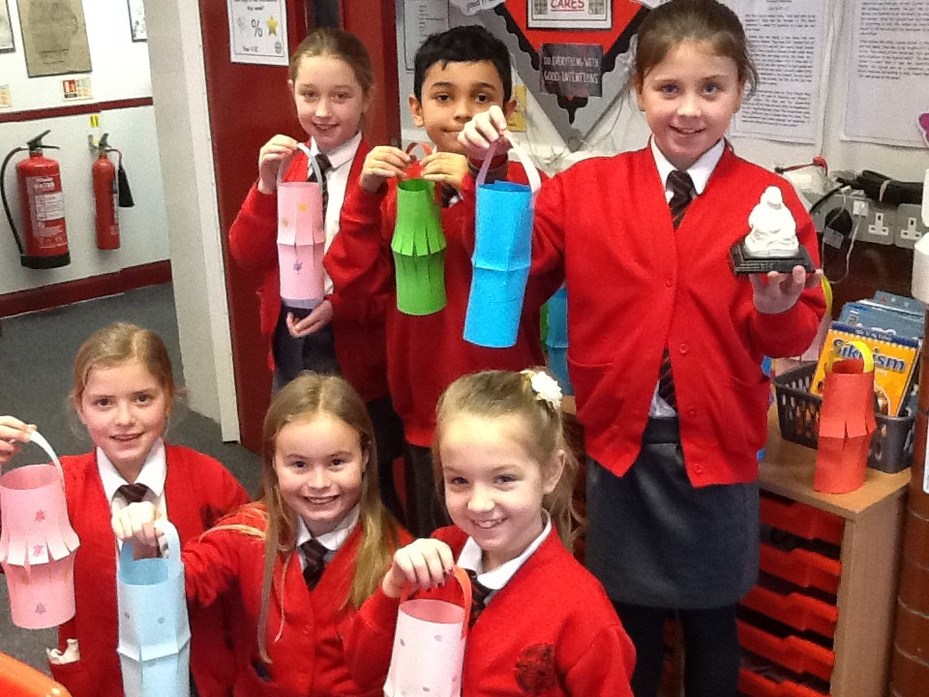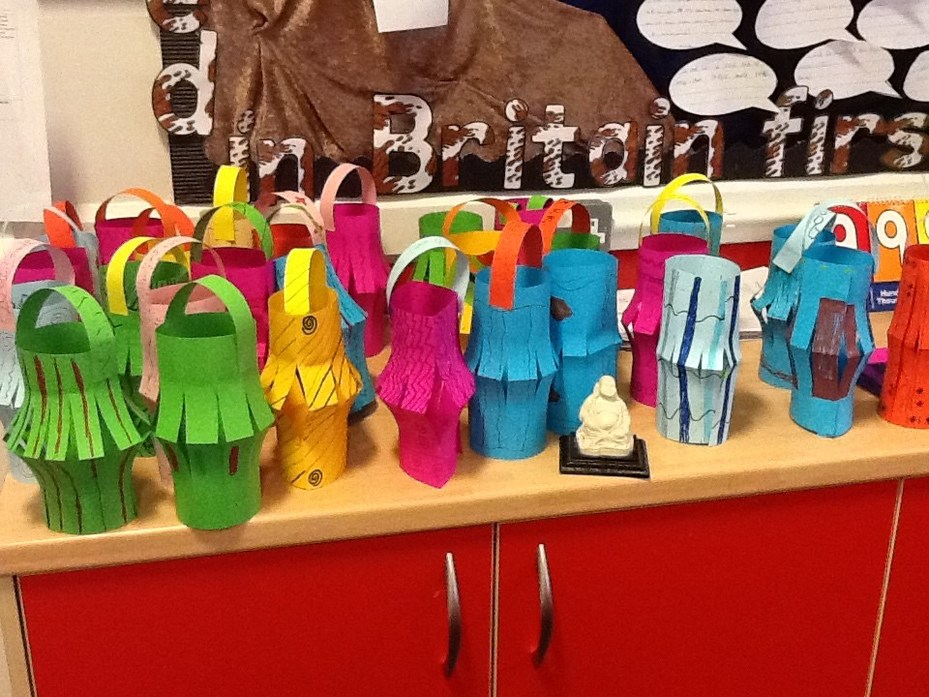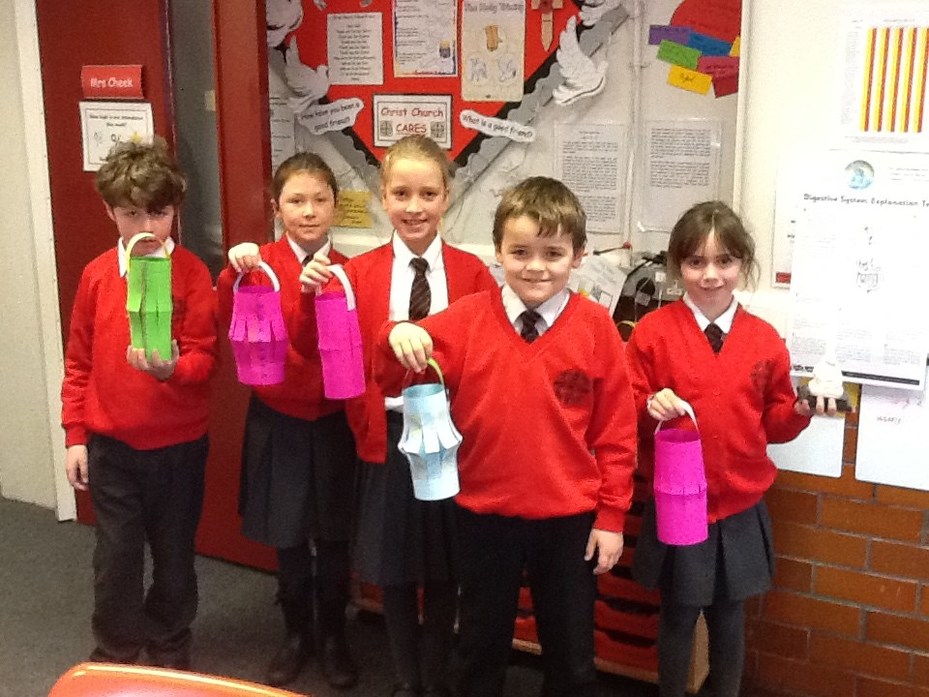 Stone Age shelters
To help the children with their homework project to create their very own Stone Age shelter, this week in Topic lessons we have focussed on the types of shelters they might have built during this time. The children researched the different shelters and made notes on what they discovered. They turned their notes into super information leaflets all about Stone Age shelters.
Remember - your very own Stone Age shelter is due in on the first Wednesday back after half term
(Wednesday 1st March 2017)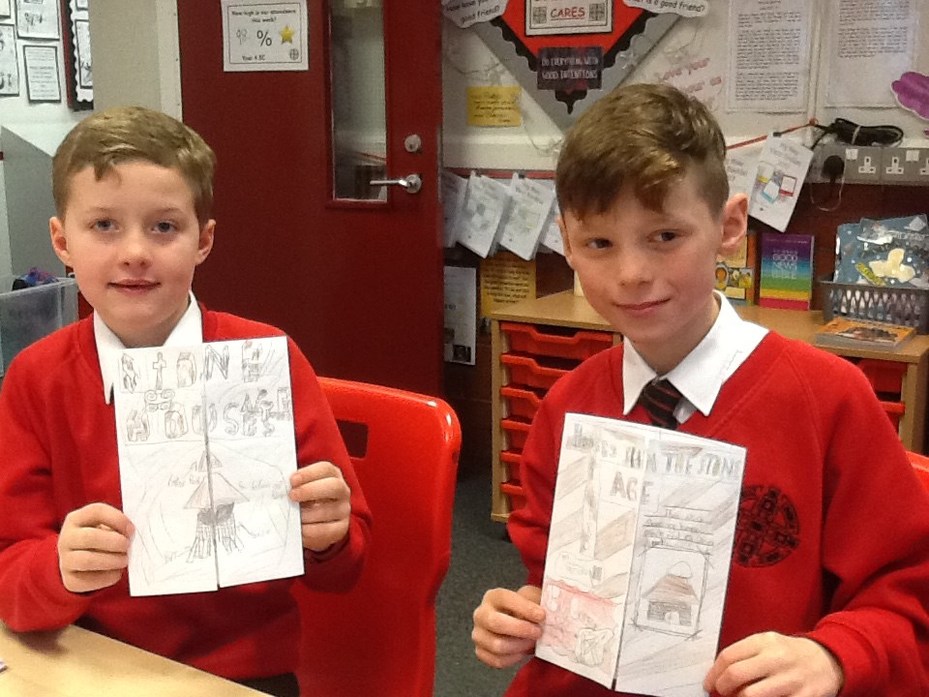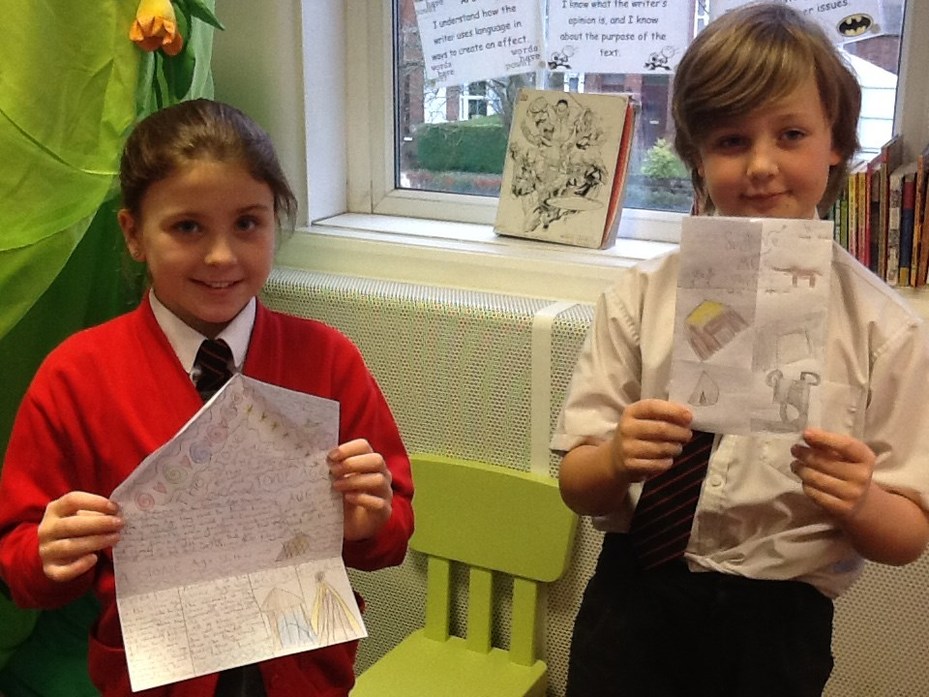 In R.E lessons this half term, the children have been learning about some of the celebrations that take place in different religions. This week, we learnt all about the Jewish celebration of Bar/Bat Mitzvah.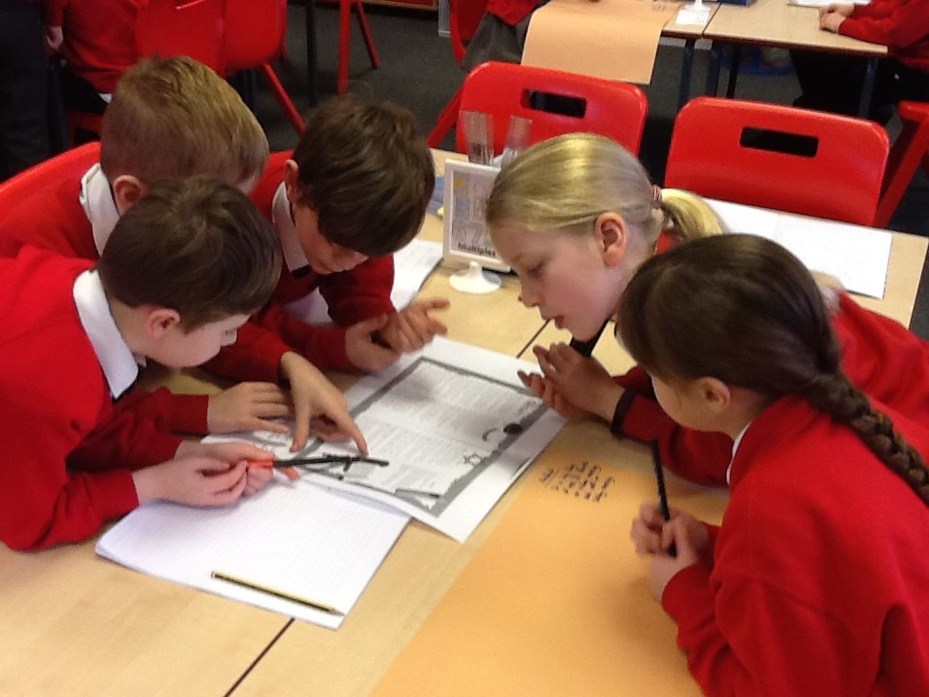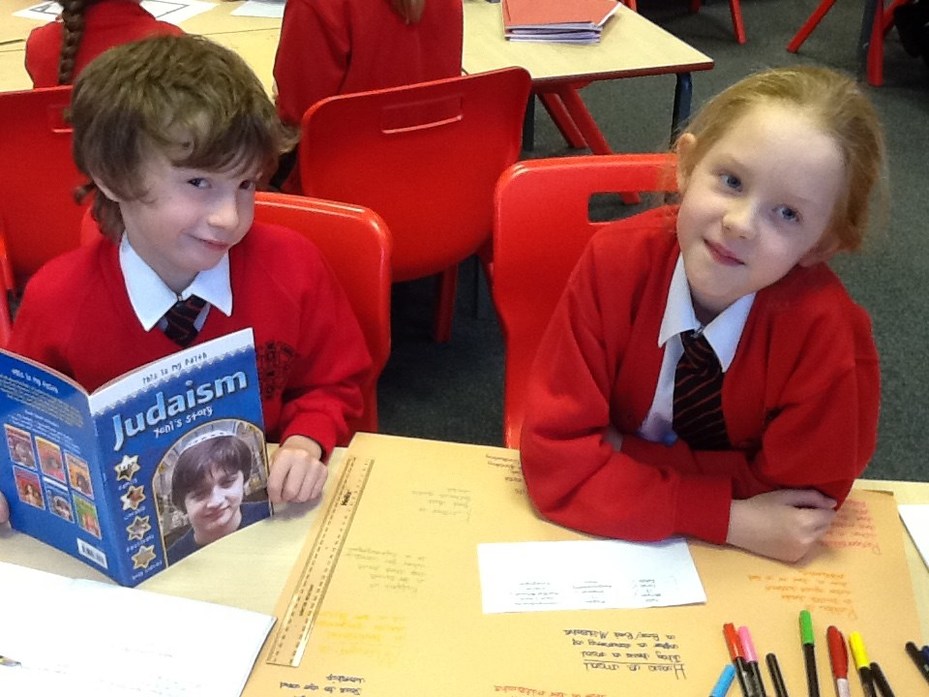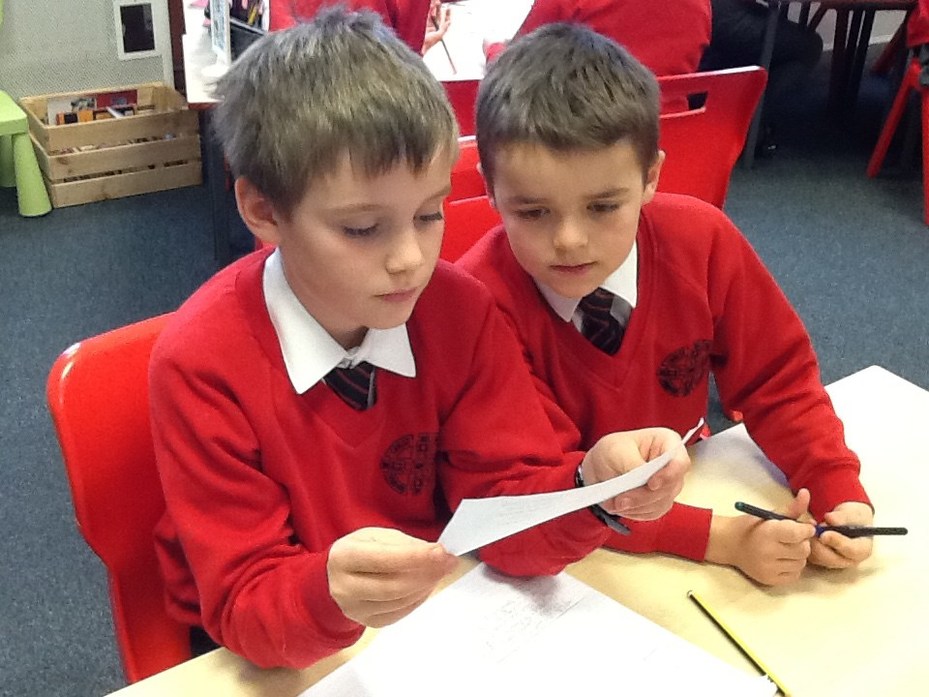 Welcome back to Spring Term in Year 4
The children have had an exciting time discovering their new Big Question for our History. To introduce 'Who lived in Britain first?' the children explored a 'cave' in the classroom and were able to draw on the 'walls' of the cave to experience life during the Stone Age. While they were waiting for their turn, the children had to work hard to decide what they would do first in order to survive during the Stone Age. We're all looking forward to learning about life during this time!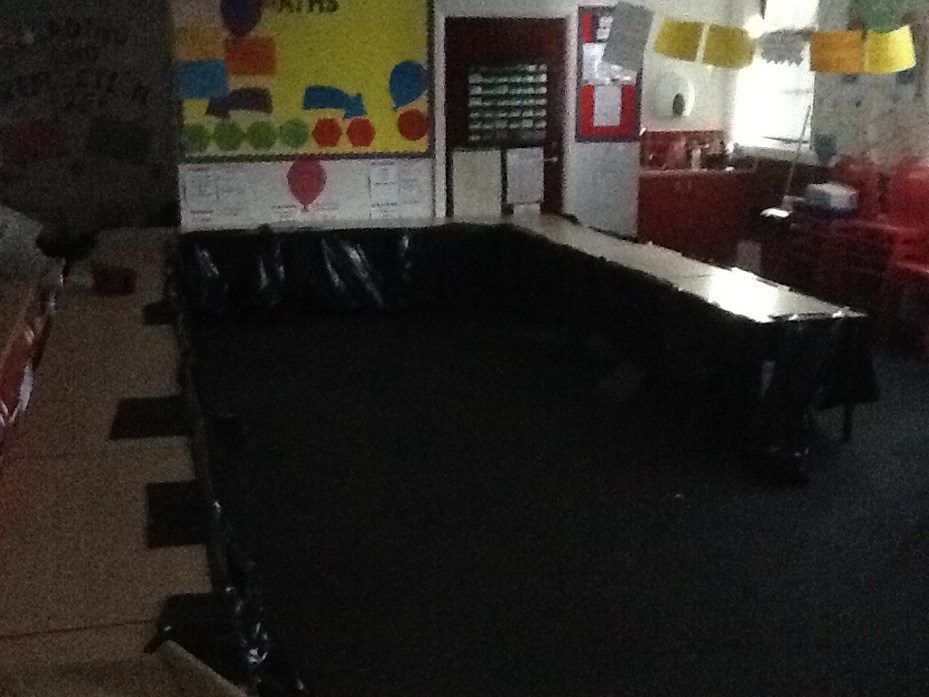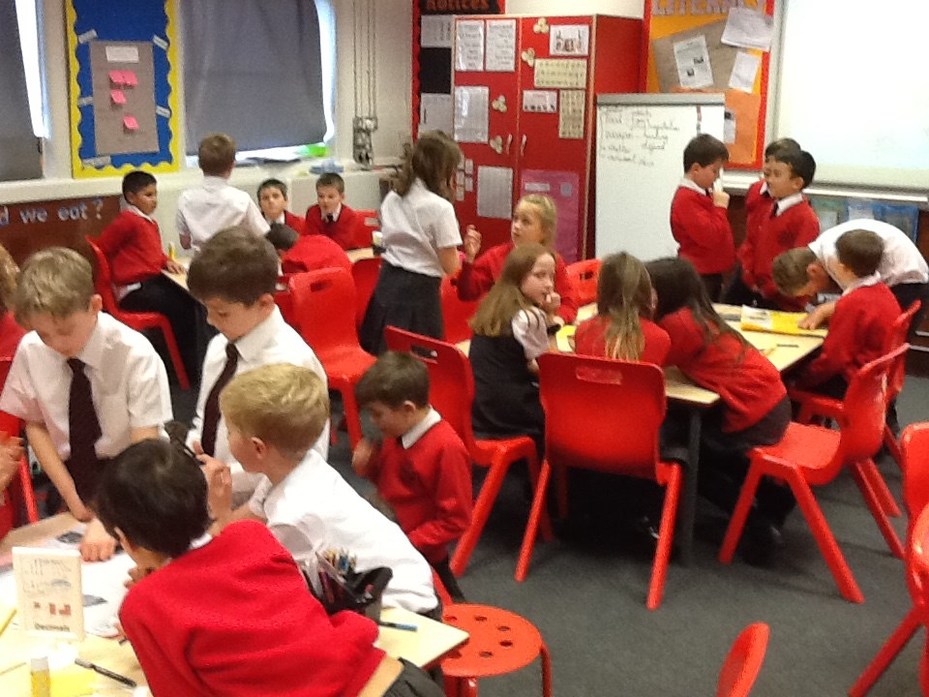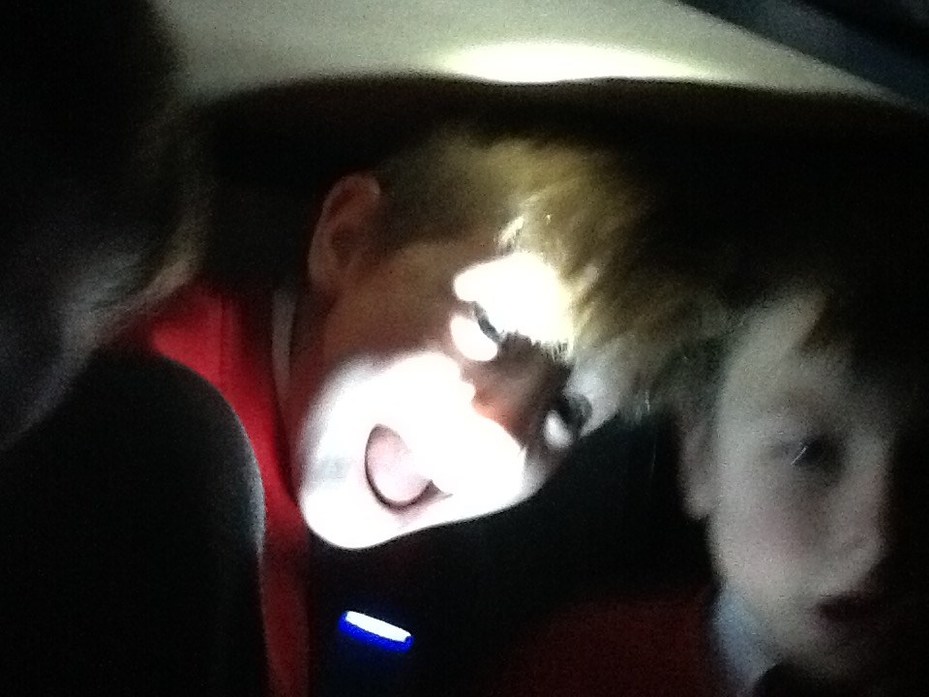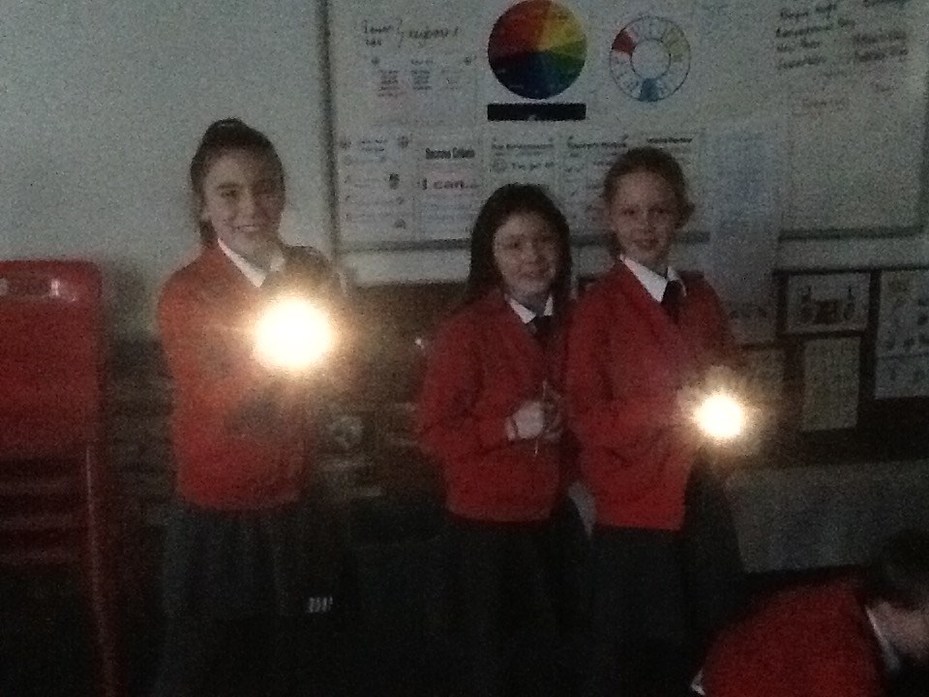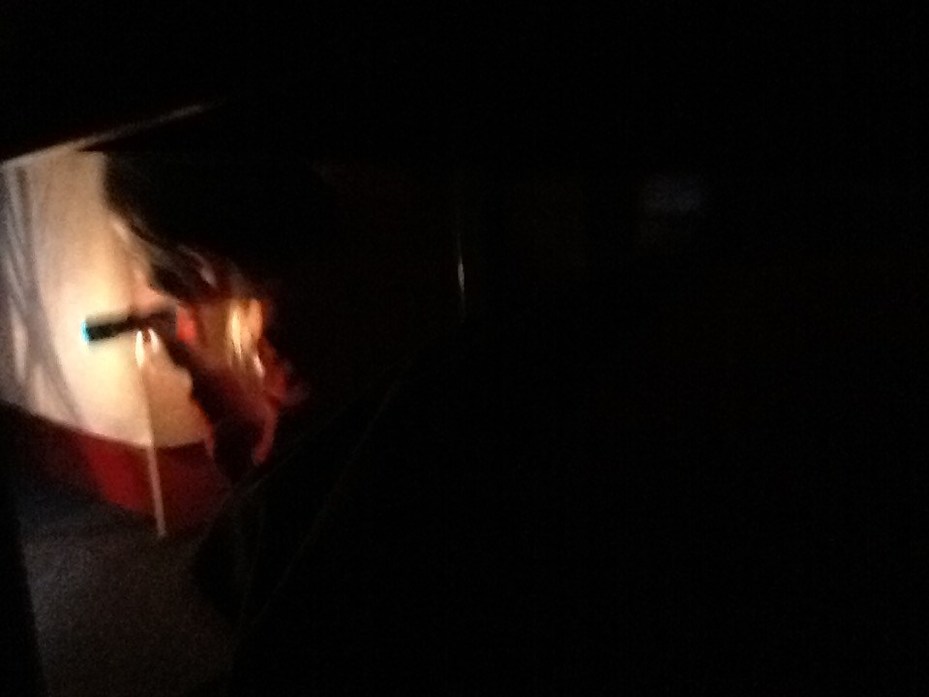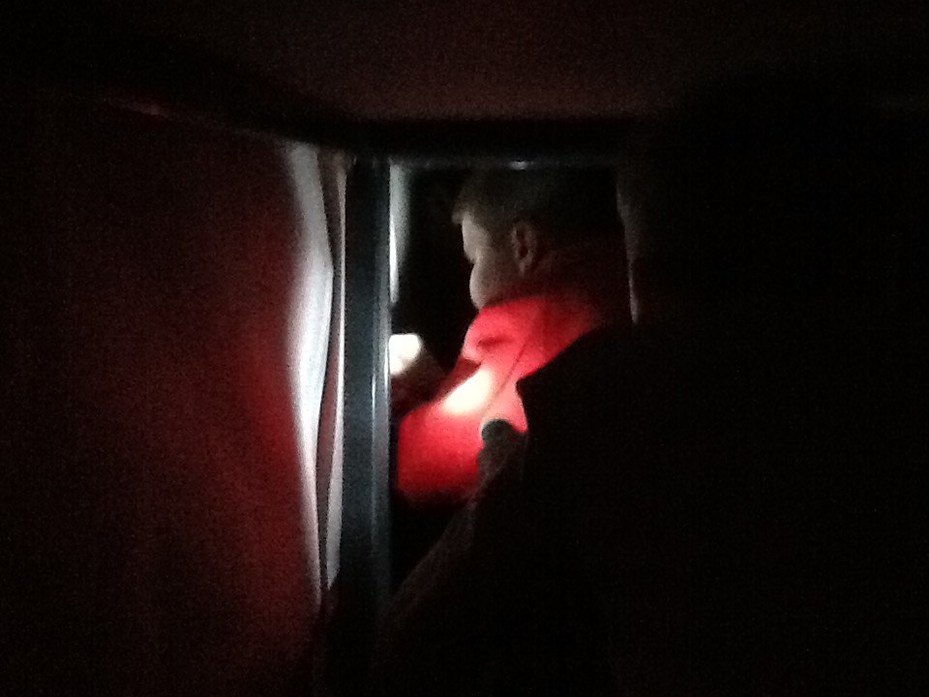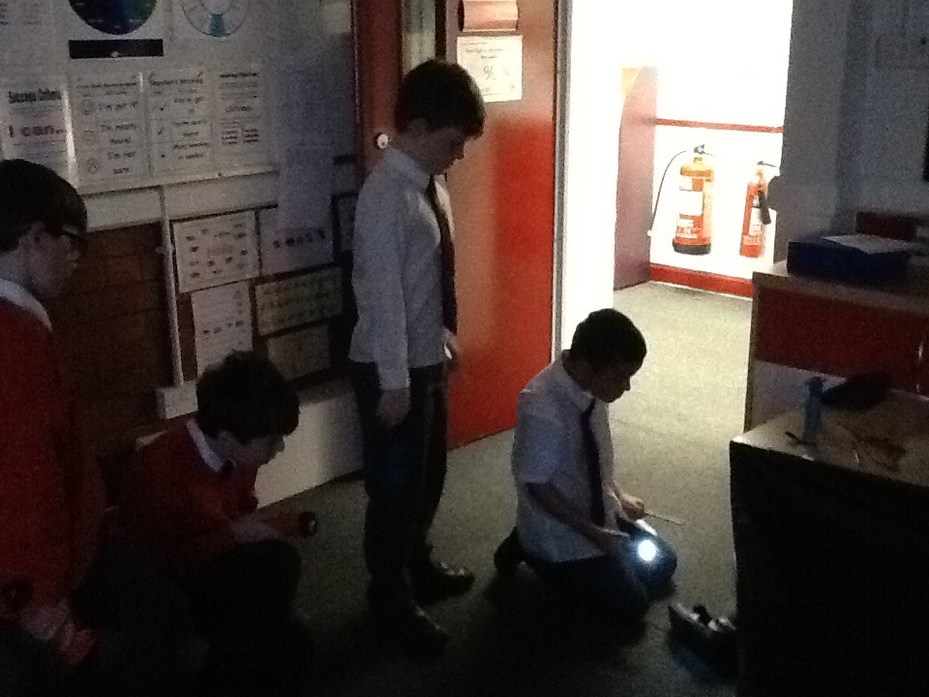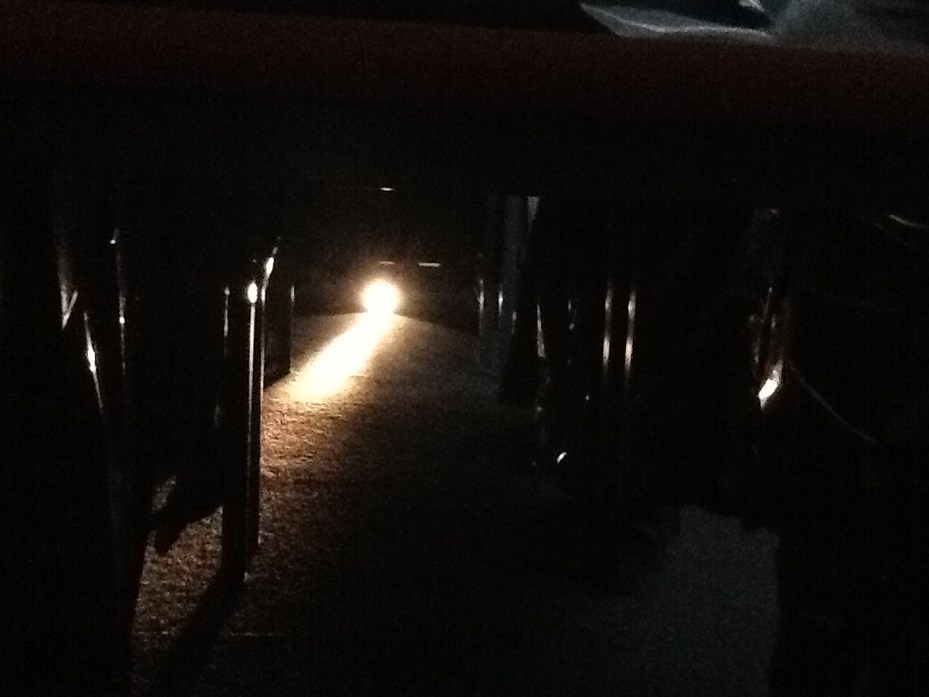 Last week of term
On the last day of term, the children were treated to a violin performance by Emily and Flo. It was lovely to hear Jingle Bells played on their violins. Well done girls, you worked hard to practise your tune.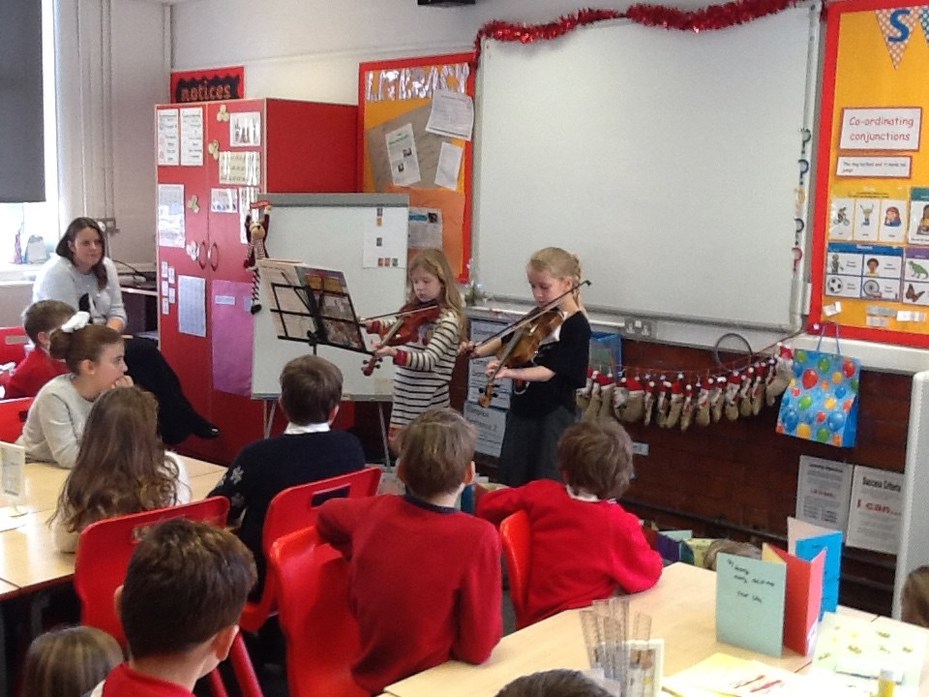 To end the Autumn term, the children worked extremely hard in Geography lessons to find out all about Birmingham and what it has to offer. They discovered the differences between living in a city, town and village and used Ordnance Survey (OS) maps to compare them.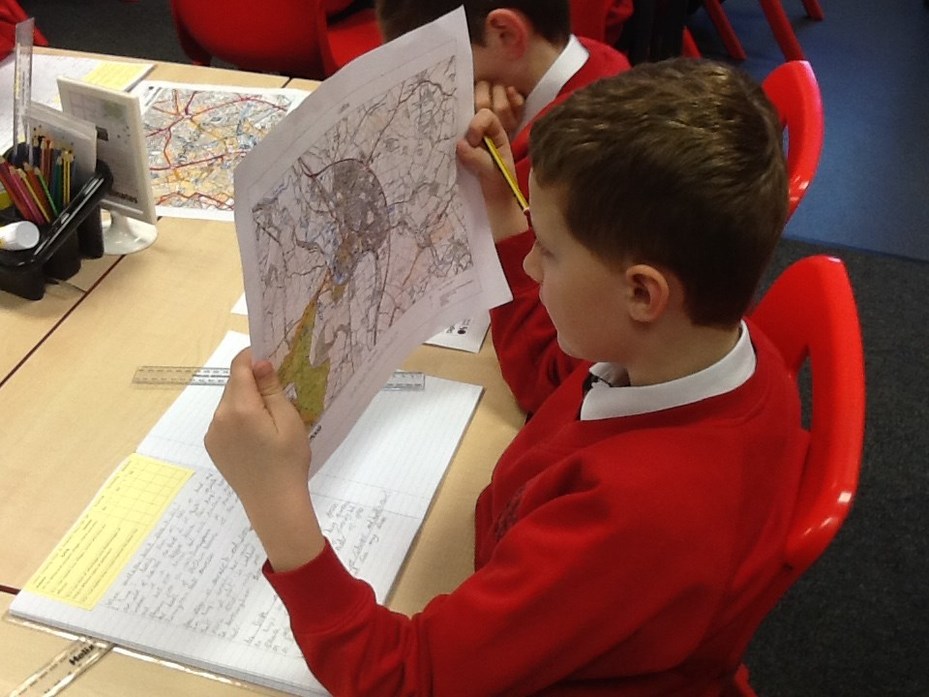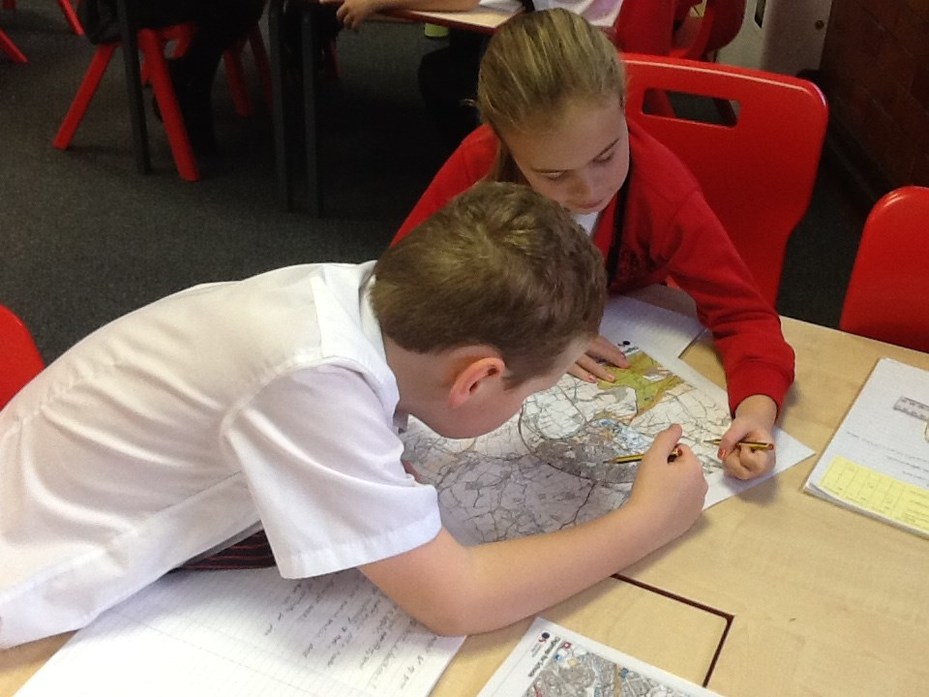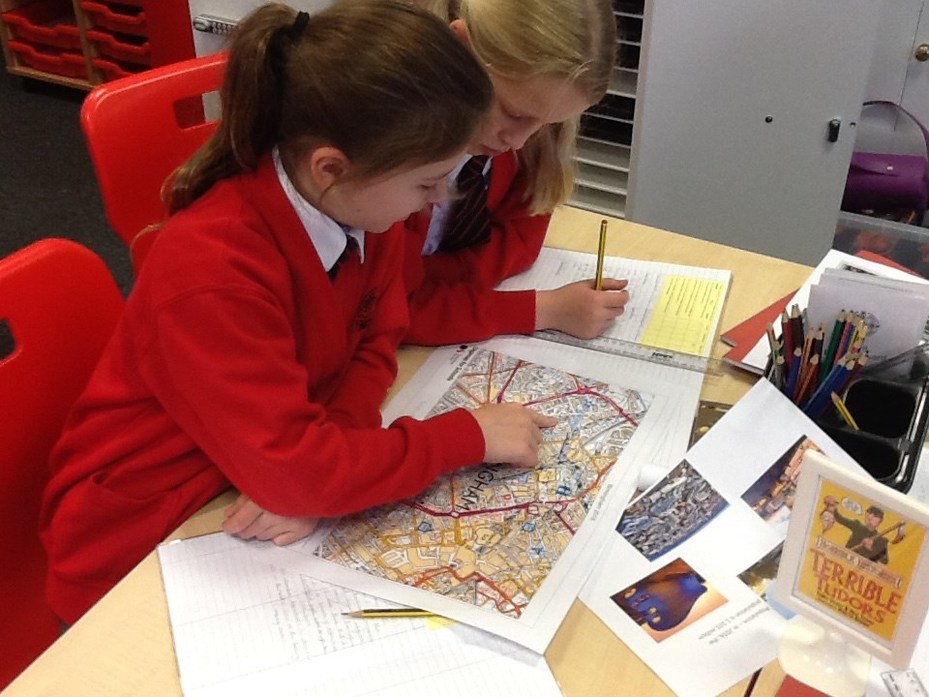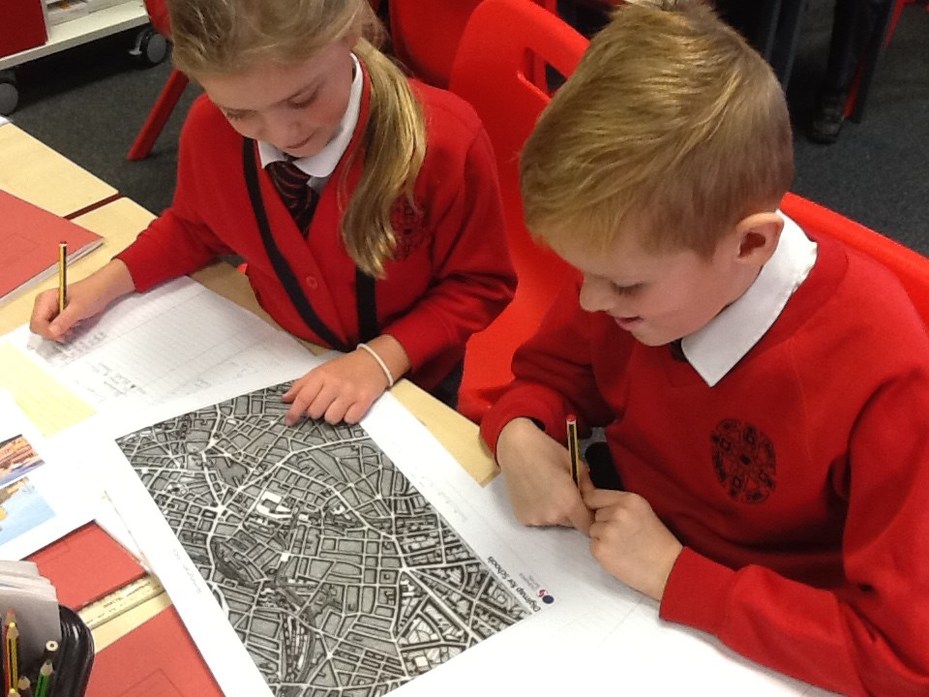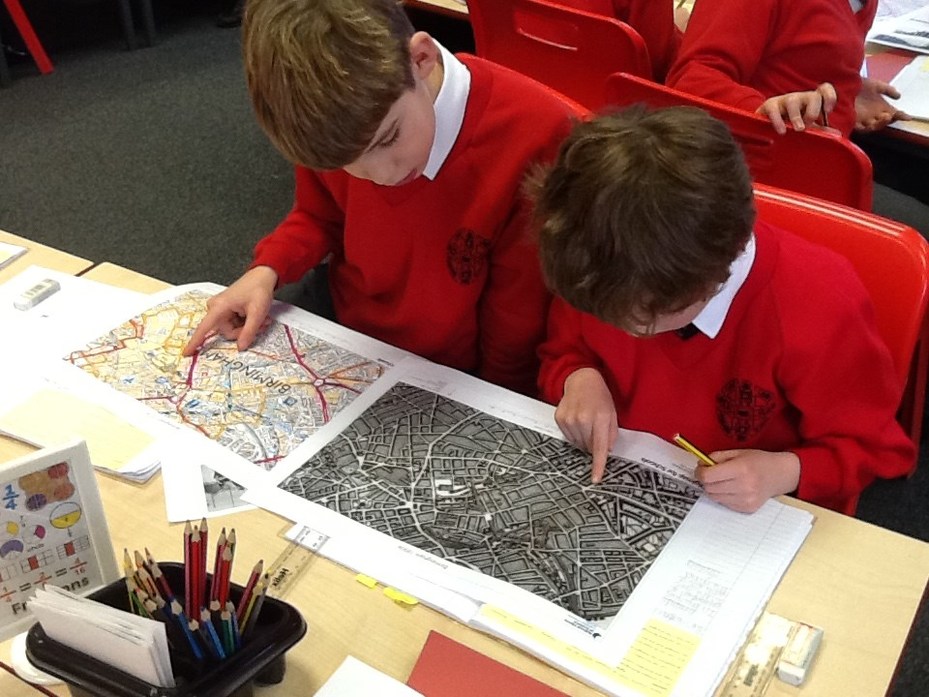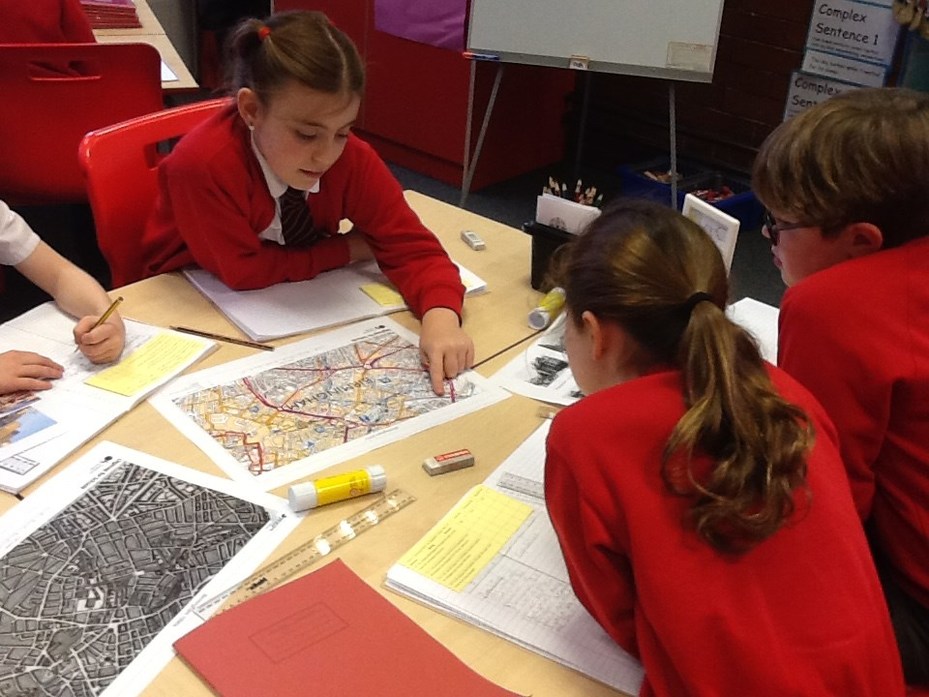 This week in Maths, the children have been learning how to find equivalent fractions. To reinforce their learning, the children enjoyed challenging each other to games to see who could match or find equivalent fractions to win the game.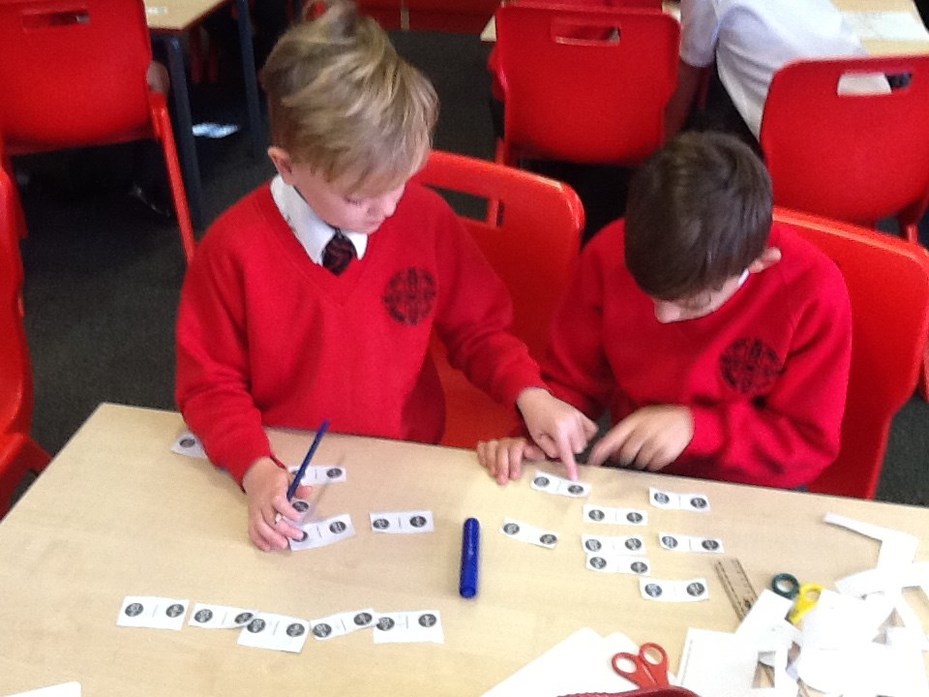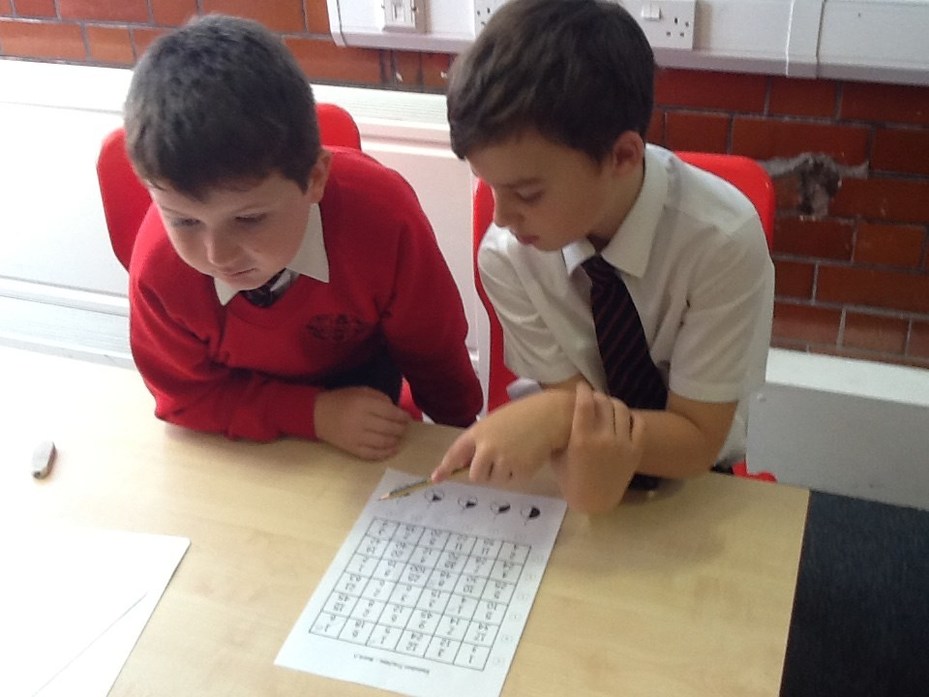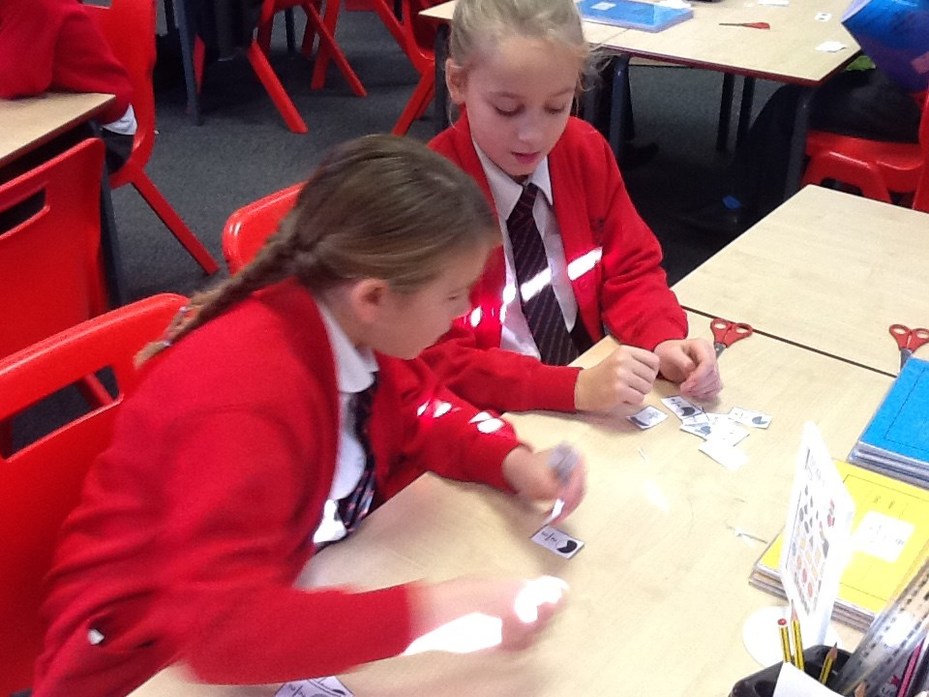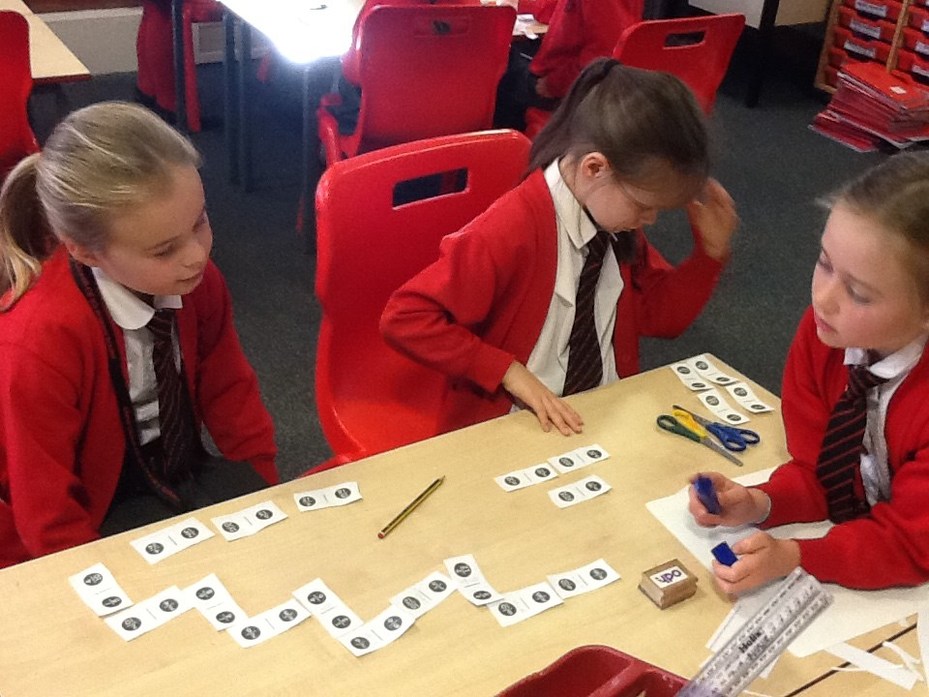 4ST Class Worship
On Friday 25th November, 4ST performed their Class Worship to the whole school. The children told the story of the Good Samaritan and how important it is to help others, even if you don't always get along. Well done 4ST - a great Class Worship!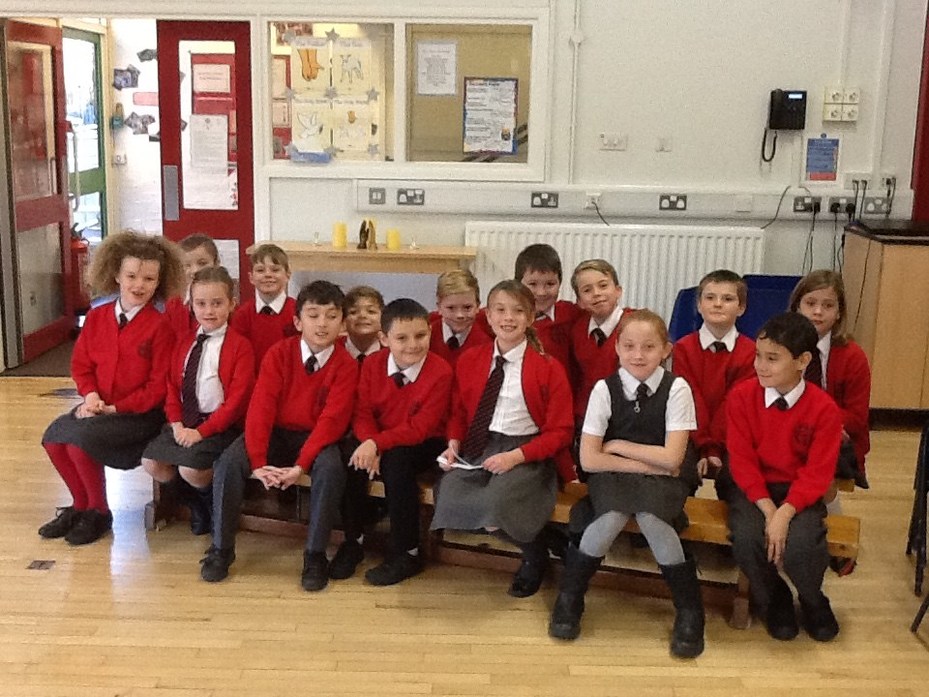 Art Exhibition
On Wednesday 23rd November, Year 4 (along with the rest of Key Stage 2) had the opportunity to view their wonderful pieces of Tinga Tinga Art at the 'Christ Church Art Gallery'. The children worked really hard to complete their animal artwork and the colourful animals looked wonderful in their frames.
As well as their individual pieces, the children also worked as a year group to create 'The flight of the balloons'.

Here are just a few of the wonderful pieces of artwork.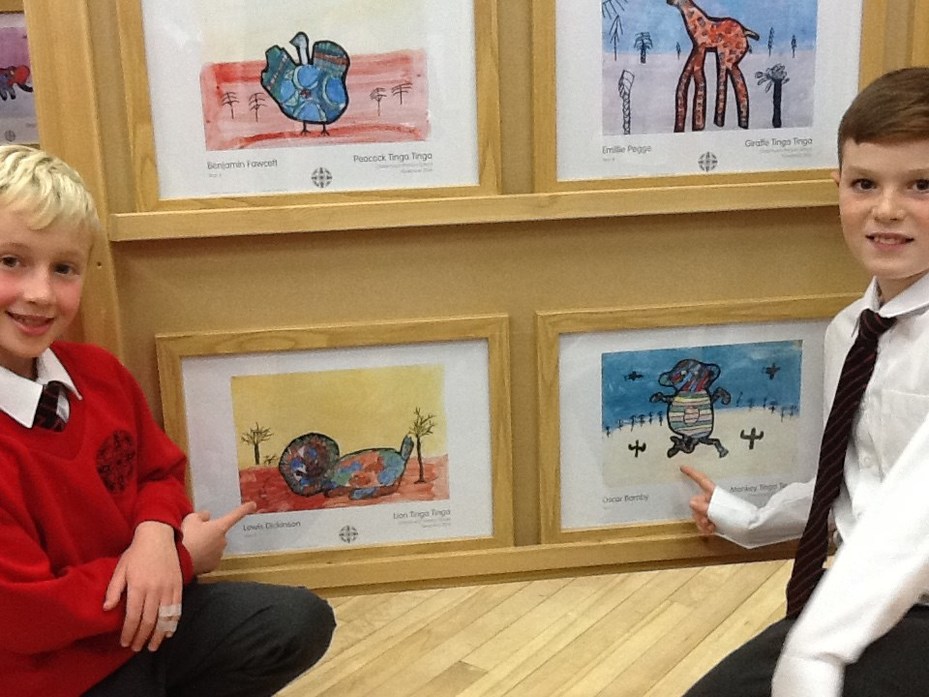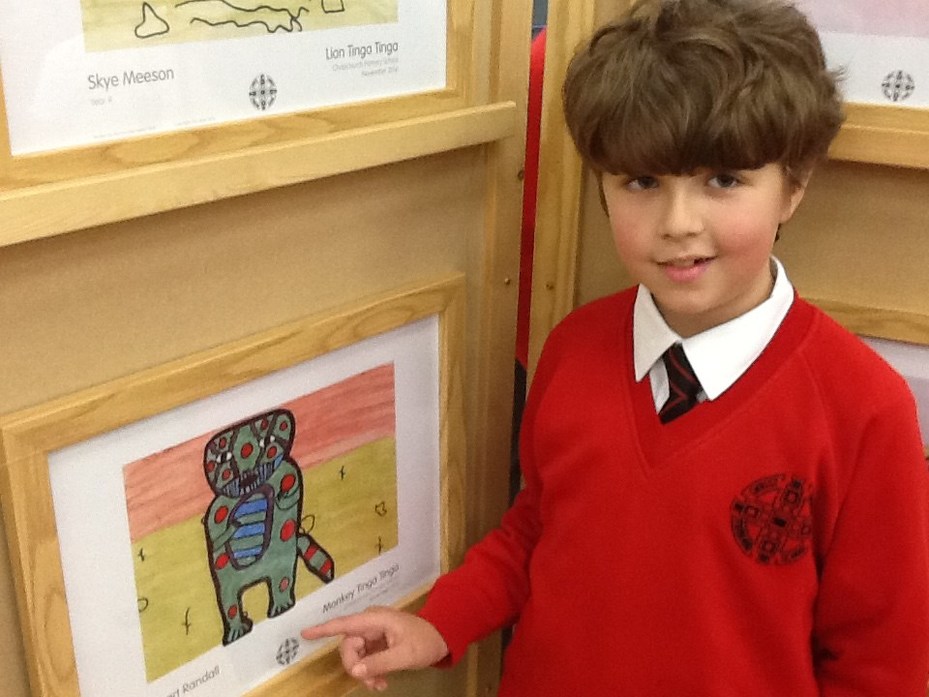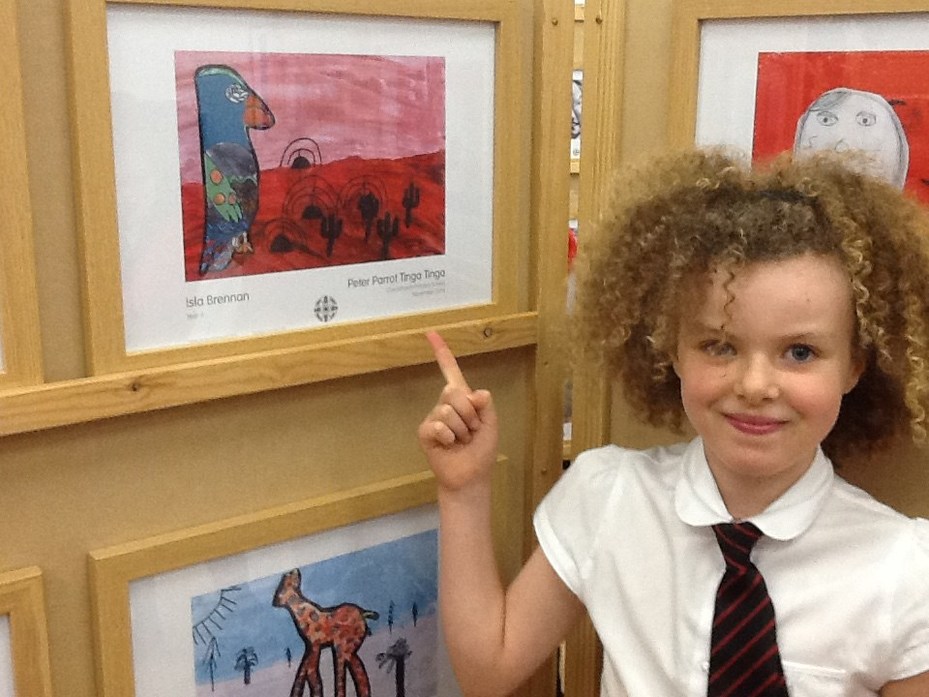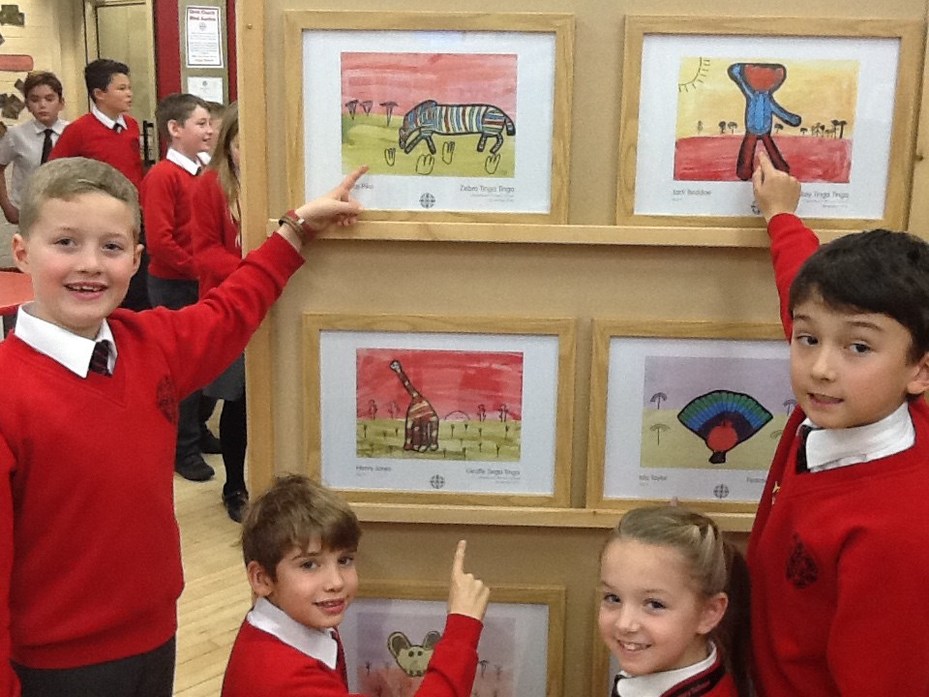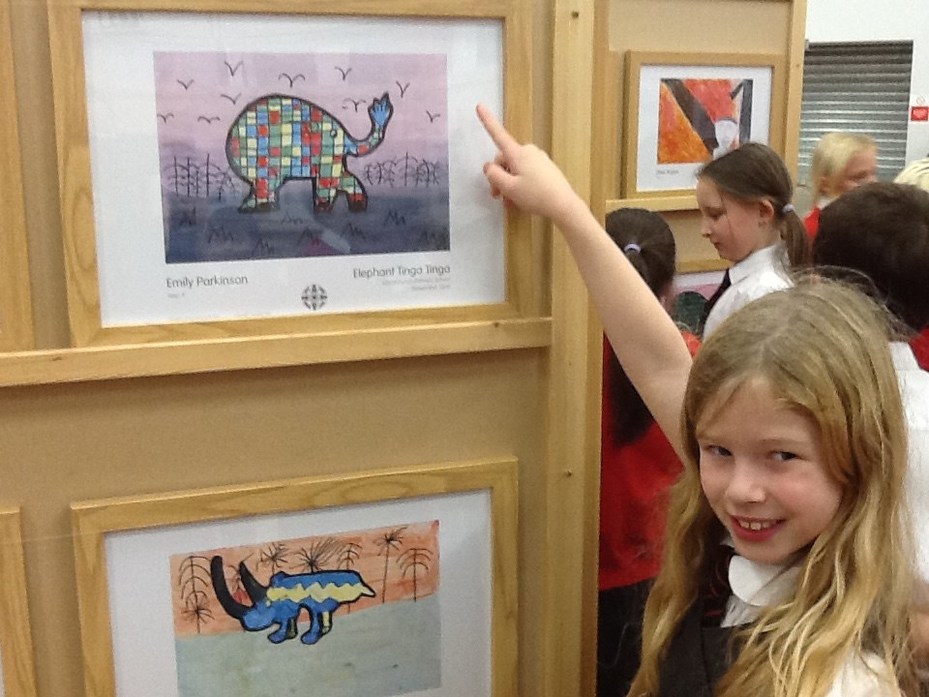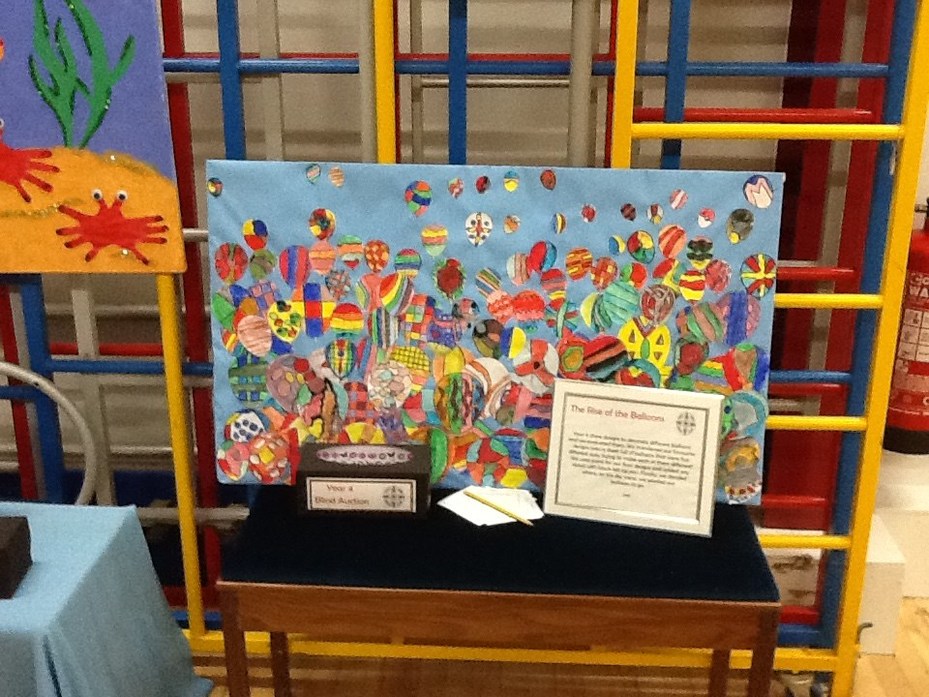 Children in Need Worship
On Friday 18th November, 4SC performed their Class Worship to the whole school. To raise money for Children in Need, everyone was asked to come wearing an item of 'spotty' clothing so 4SC told the story of how Children in Need began and where some of the money the children raised will go.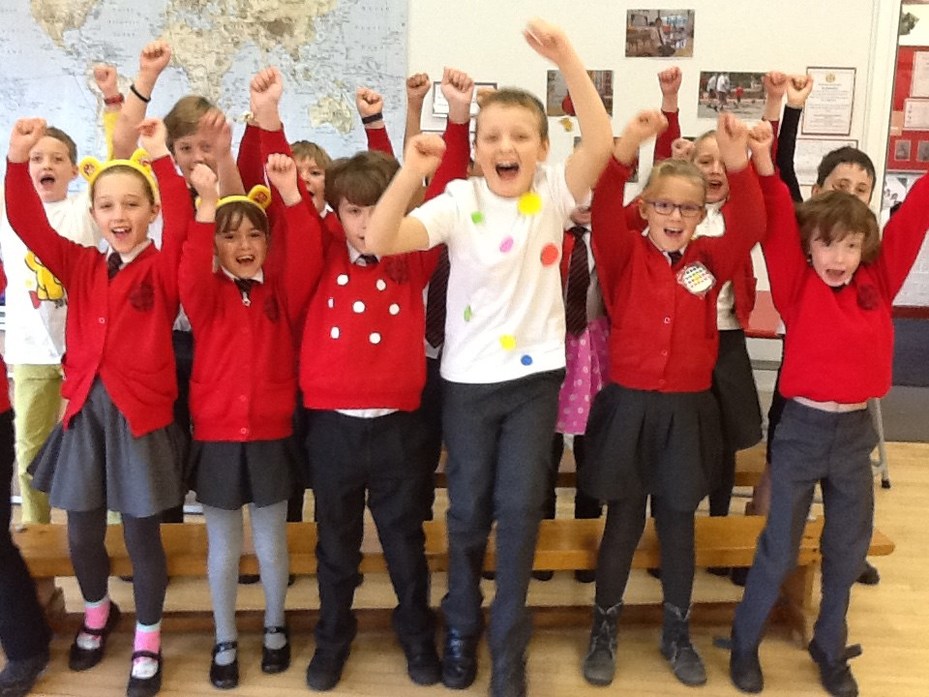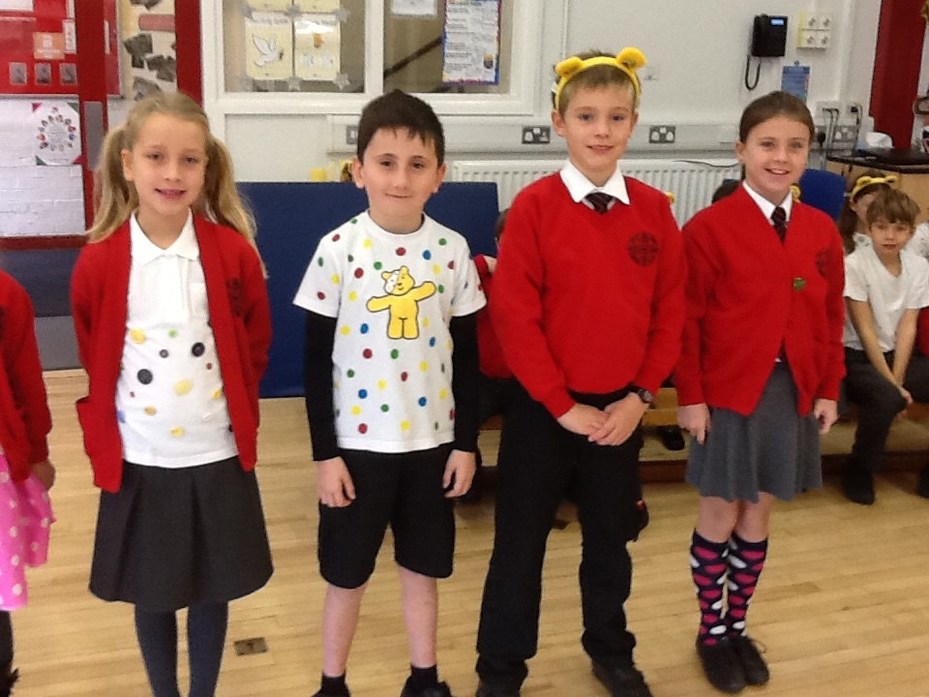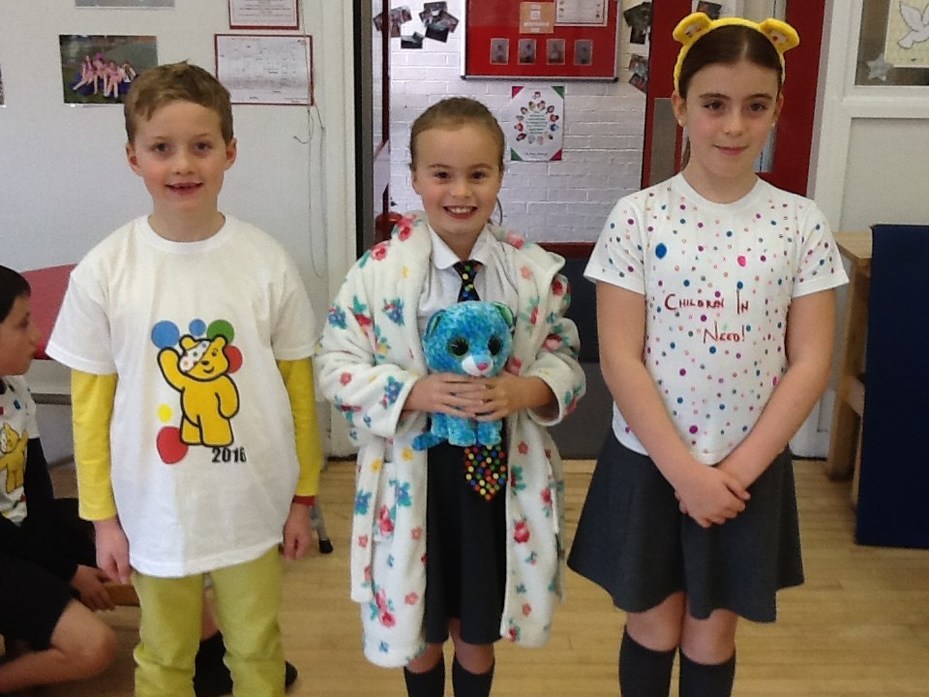 "I was amazed that Children in Need have raised over £740 million as it is a very important charity." Elliot
"It is so important to raise as much money as possible for those who are not quite as fortunate as us!" Amy
"I enjoyed our Class Worship. I thought our Worship gave a good message." George
4SC performed brilliantly - a wonderful Class Worship. Well done!


A busy week!
This week in Year 4 we have been challenging the children to think a 'little differently' with some lateral thinking questions! The children worked in teams to complete as many questions as they could before the end of the lesson. They had to remember that sometimes the most obvious answer wasn't always the one.
Some examples from the lesson...
'What starts with T, ends with T and has T in it?' (Teapot)
'Which month has 28 days in?' (All of them!)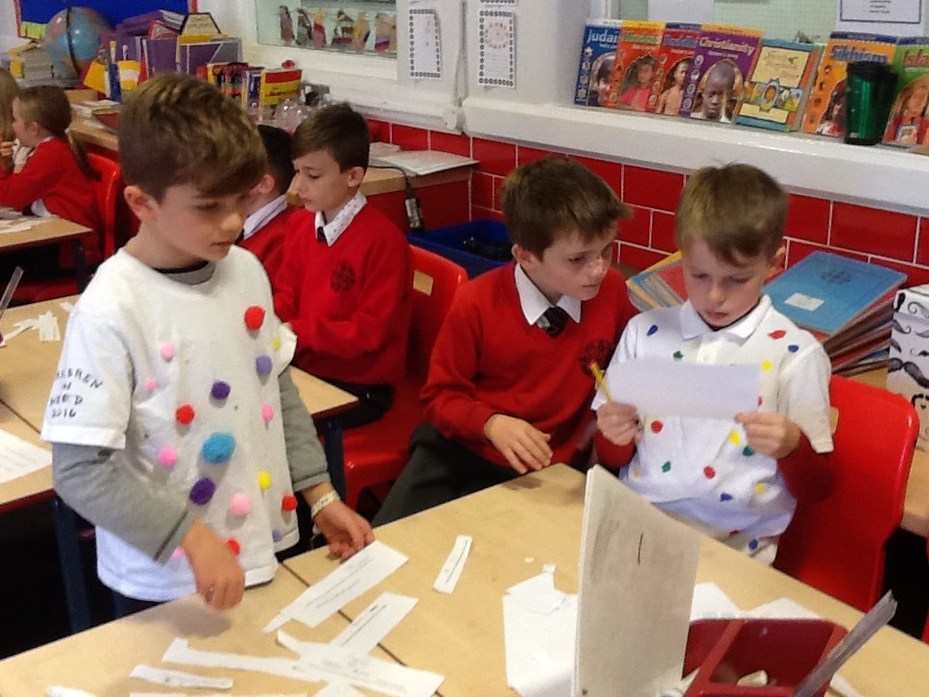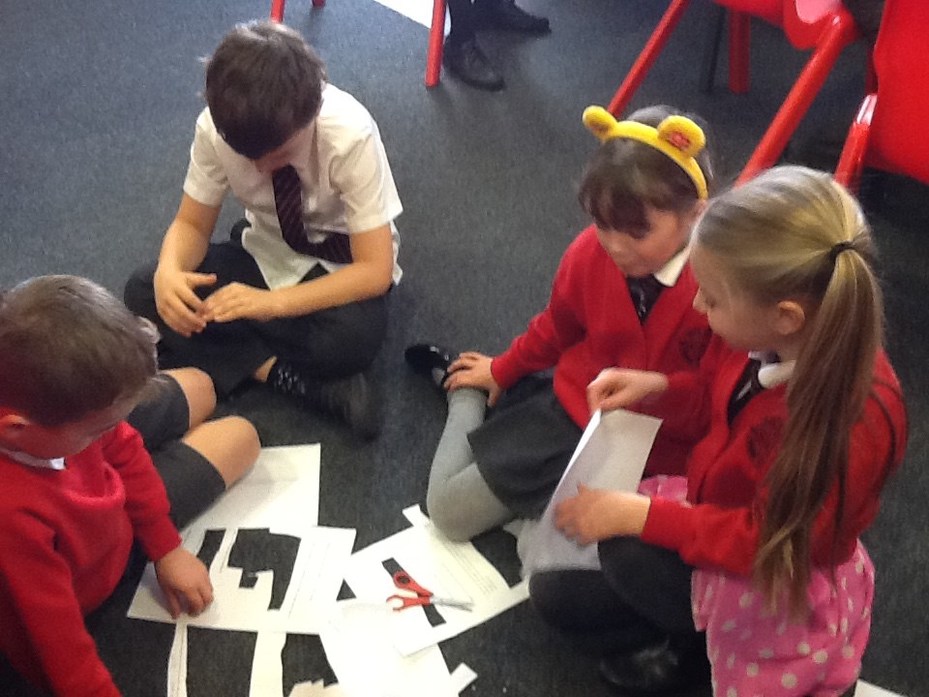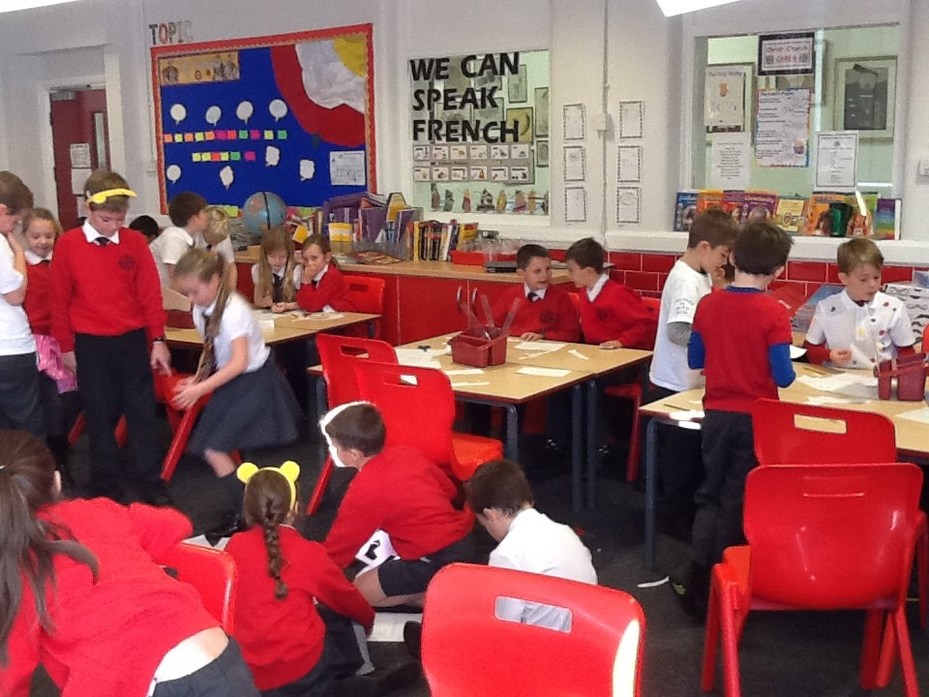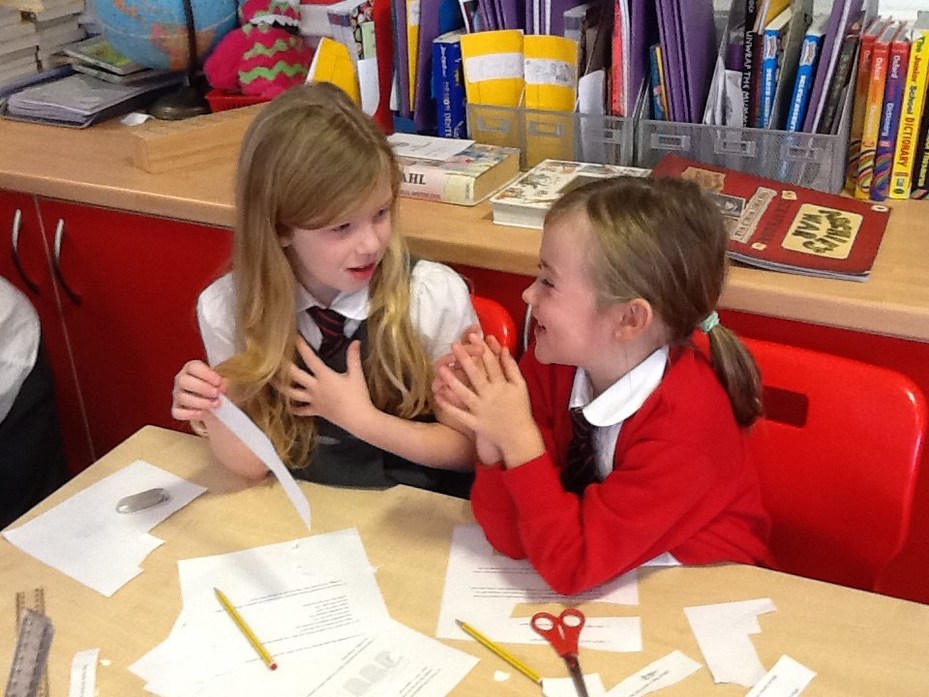 After working extremely hard in Maths on the four operations, the children worked in small groups to create a Maths game to help with fluency and reasoning skills. Once completed, the children had the chance to play each other's games!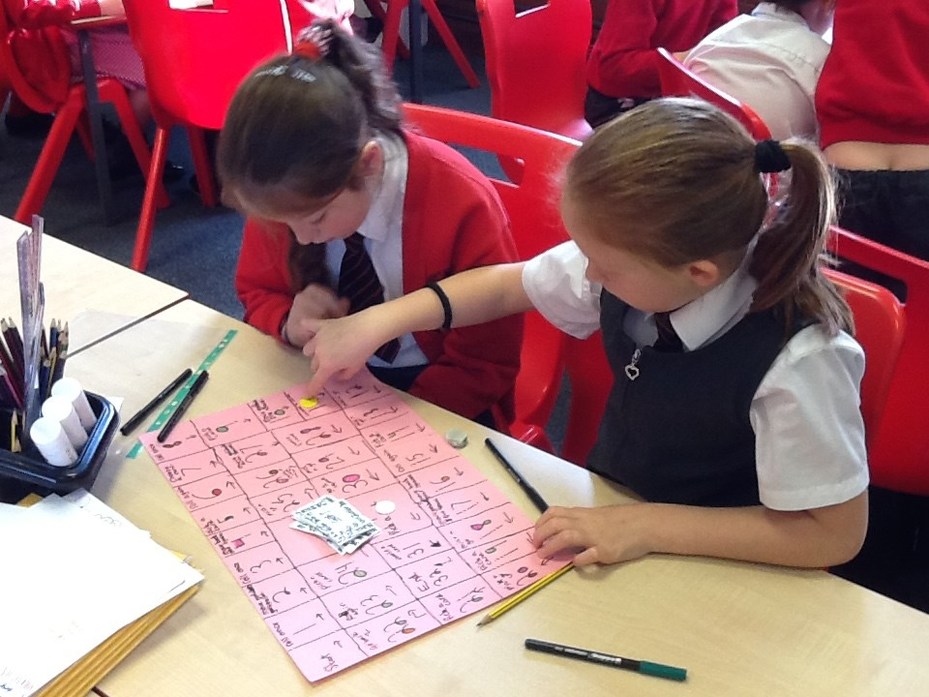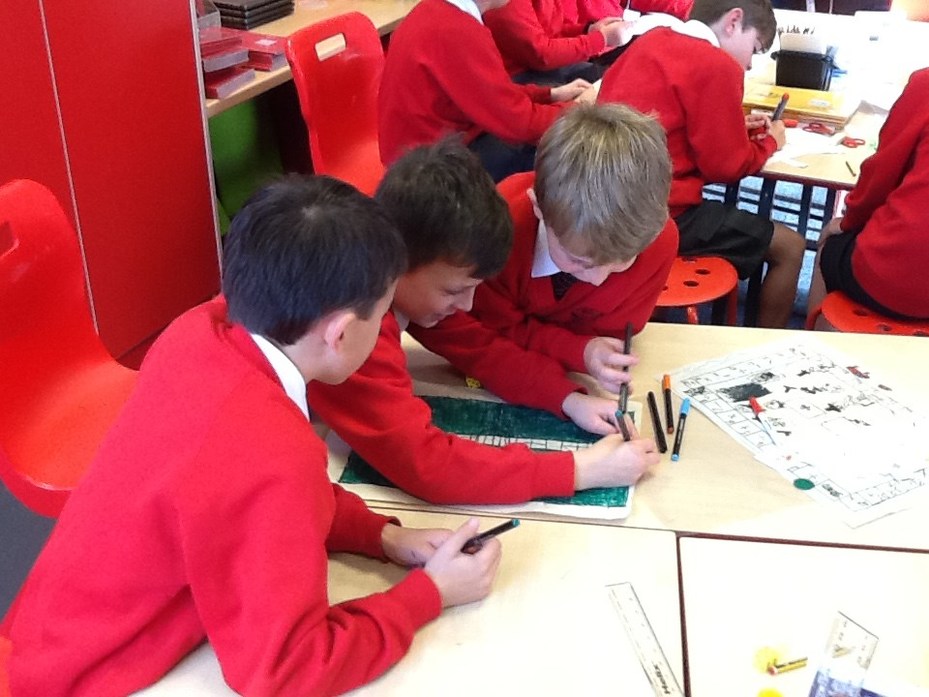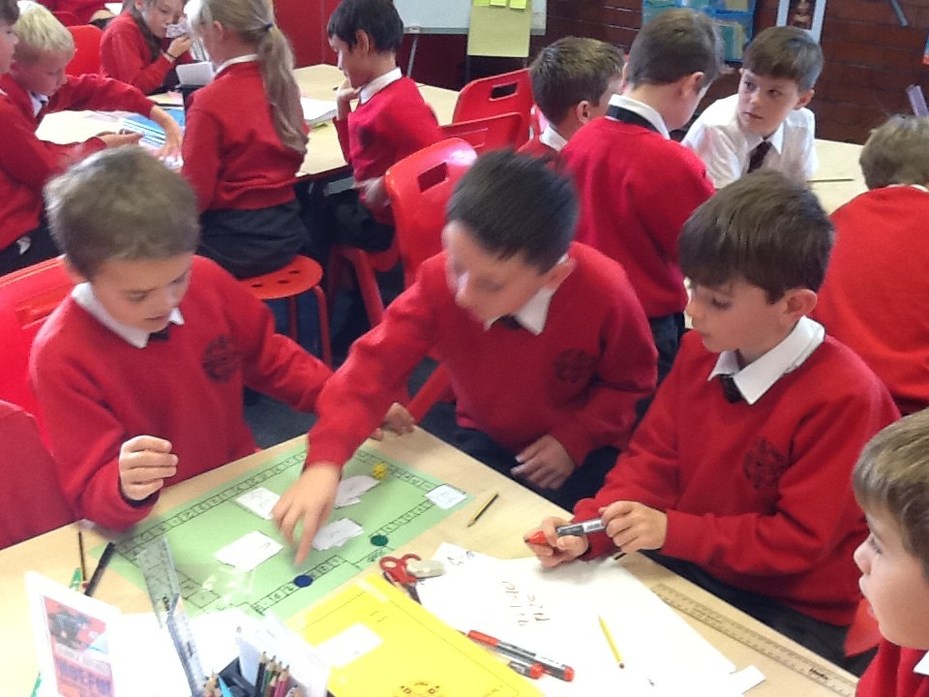 This week in Literacy, the children have been learning about what makes a quality sentence. They have been learning how to use adverbial phrases and expanded noun phrases, making 'human' sentences and using them in their writing.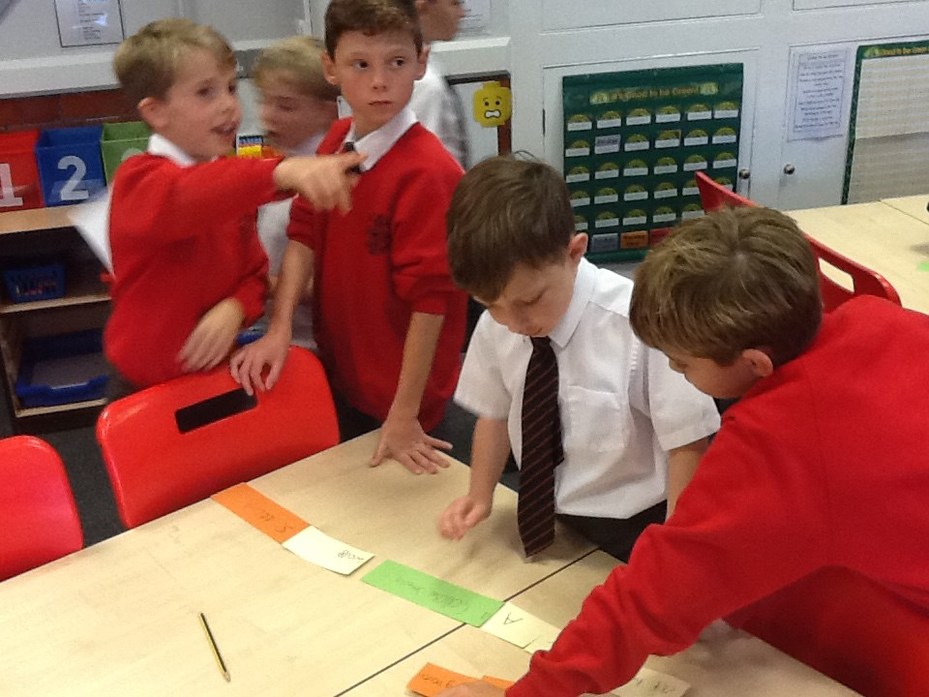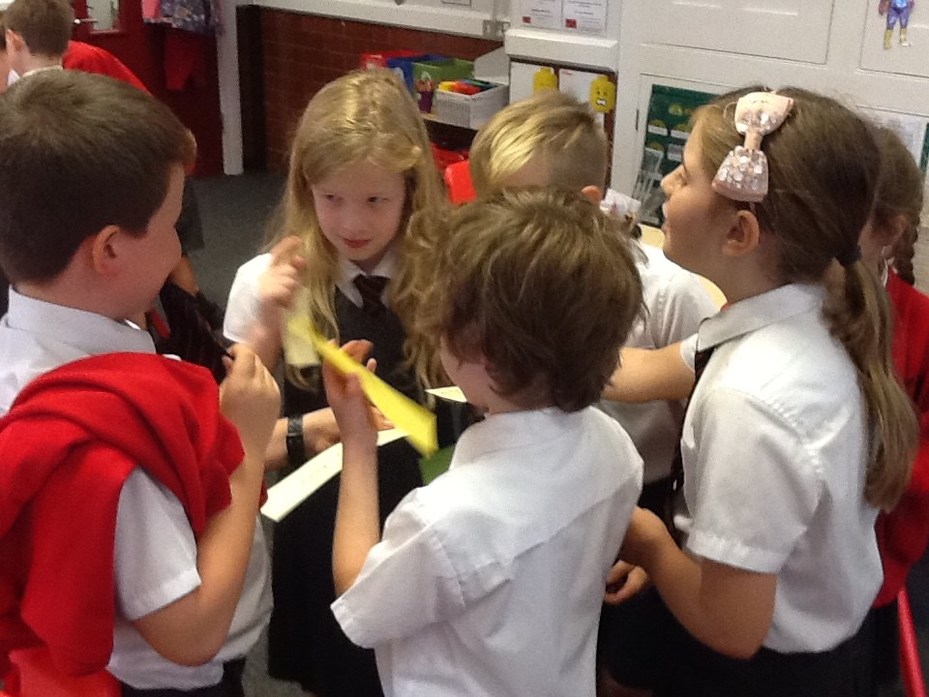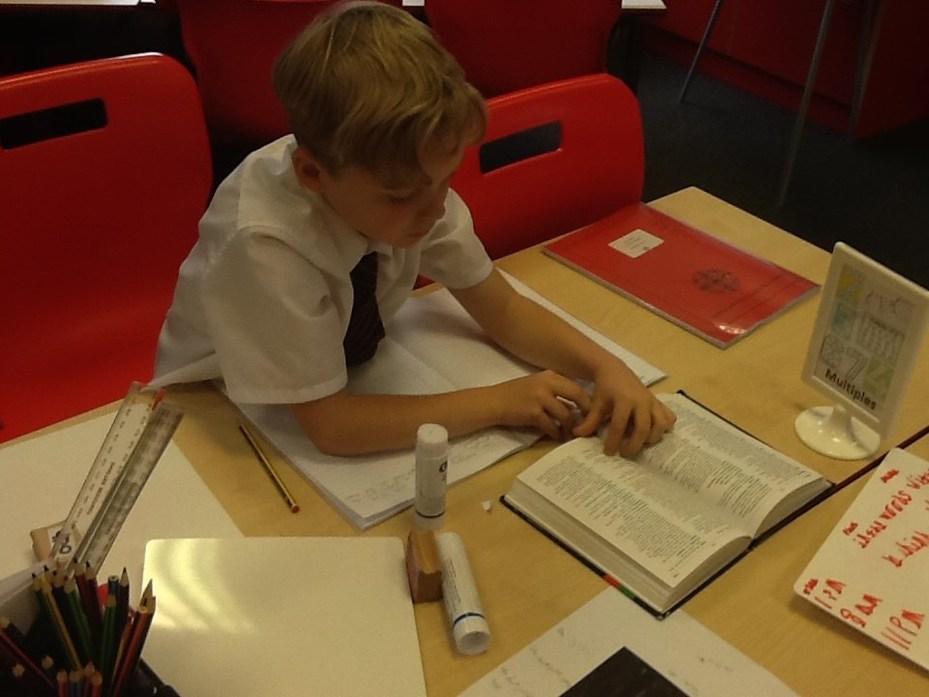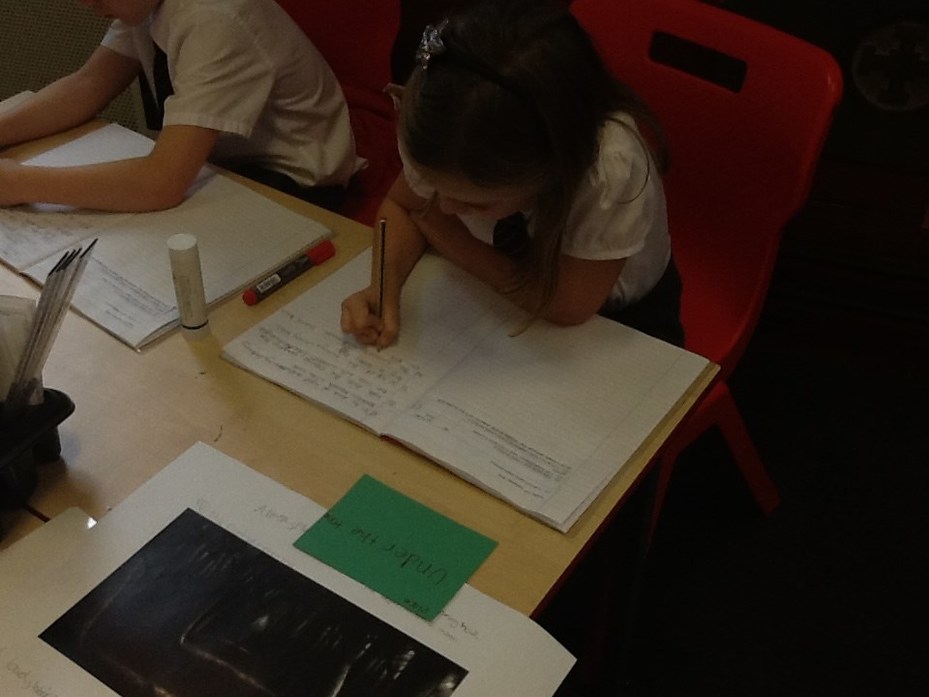 As an introduction to their Big Question, the children recreated the Battle of Bosworth
to learn how the Tudor period began. We had lots of fun pretending to battle!